Vietnam News Today (May 19): RCEP Strengthens Vietnam's Trade Position
Vietnam News Today (May 19): Over 1,830 new Covid-19 cases confirmed on May 18; Vietnam, Singapore agree to further advance parliamentary relations; RCEP strengthens Vietnam's trade position; Fresh opportunities for Vietnam-US cooperation in tourism development and trade.
Vietnam News Today (May 19) notable headlines
Over 1,830 new Covid-19 cases confirmed on May 18
Vietnam, Singapore agree to further advance parliamentary relations
RCEP strengthens Vietnam's trade position
Fresh opportunities for Vietnam-US cooperation in tourism development and trade
Vietnam should shift economic growth model for further development: WB report
SEA Games 31: Vietnam defeat Myanmar in women's football semifinal
Vietnam stresses importance of maritime and aviation security in Bien Dong Sea at ADSOM+
PM visits Silicon Valley tech giants
Ho Chi Minh seeks to promote cooperation with Greece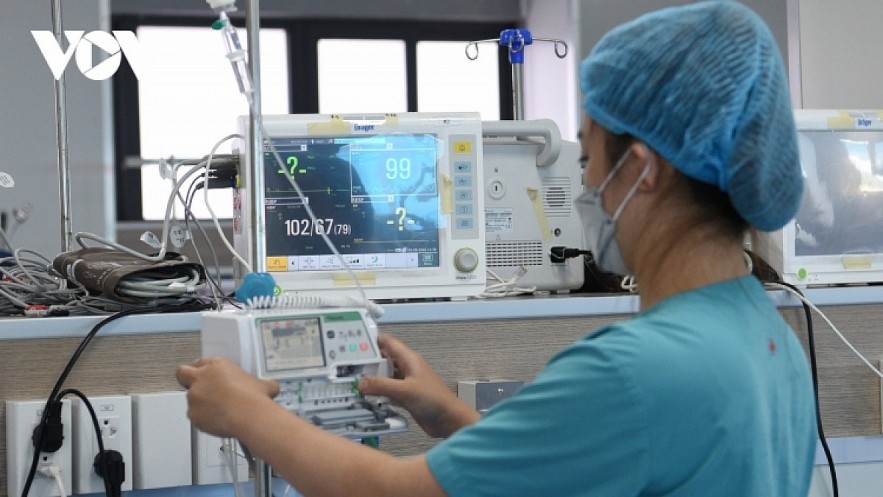 Photo: VOV
Over 1,830 new Covid-19 cases confirmed on May 18
An additional 1,831 fresh infections were confirmed by the Ministry of Health on May 18 across 48 provinces and cities nationwide, thereby raising the national tally since the start of the pandemic to 10,701,796.
Hanoi reported the highest number of new infections on the day with 403 cases, trailed by Vinh Phuc with 139 and Phu Tho with 125.
Of the daily total, 1,830 cases were detected within the community.
The number of recoveries also climbed to 9,373,294 following a further 8,437 Covid-19 cases having fully recovered from the disease.
The latest one fatality brings the Vietnamese death toll up to 43,072, accounting for 0.4% of the national caseload.
Furthermore, over 217.5 million doses of Covid-19 vaccines have been administered throughout the country to date, of which more than 2.781 million have been given to children aged five to 11, cited VOV.
Meanwhile, the Health Ministry has requested that localities nationwide finalize the Covid-19 vaccination for children aged from five to under 12, as well as completing the administration of the third shot for people over 18 by the second quarter of the year.
Most notably, the majority of people age 12 and above have received their basic vaccine shots so far.
The ministry has continued to closely monitor the pandemic situation and the appearance of new strains and regularly discuss with the World Health Organization to update timely and accurate information regarding fresh variants.
Vietnam, Singapore agree to further advance parliamentary relations
Chairman of the National Assembly (NA) Vuong Dinh Hue and visiting Speaker of the Singaporean Parliament Tan Chuan-Jin held talks in Hanoi on May 18, sharing view on the need for their countries to further intensify overall relations and parliamentary ties so as to step up the strategic partnership.
Speaker Tan, who is paying an official visit to Vietnam, thanked the country for supporting Singapore in Covid-19 response, noting the two countries' cooperation and mutual assistance are growing even more strongly.
Chairman Hue congratulated Singapore for successfully containing the pandemic and reopening the economy. He also appreciated its precious provision of Covid-19 vaccine and medical supplies for Vietnam and said he hopes the two sides will continue cooperating in scientific research on Covid-19 and other epidemics, firstly the current unexplained hepatitis in children.
Vietnam attaches great importance to the countries' strategic partnership and views Singapore as one of its leading partners in ASEAN in terms of both politics and economy, he stressed, asking both sides to coordinate closely to prepare for the 50th founding anniversary of bilateral diplomatic ties and the 10th anniversary of the strategic partnership in 2023.
He noted Singapore is a leading investor in Vietnam, and that the Vietnamese NA and Government always welcome foreign investors, including those from Singapore, and pledge to keep reforming and perfecting policies and laws while helping address obstacles to Singaporean projects in the country.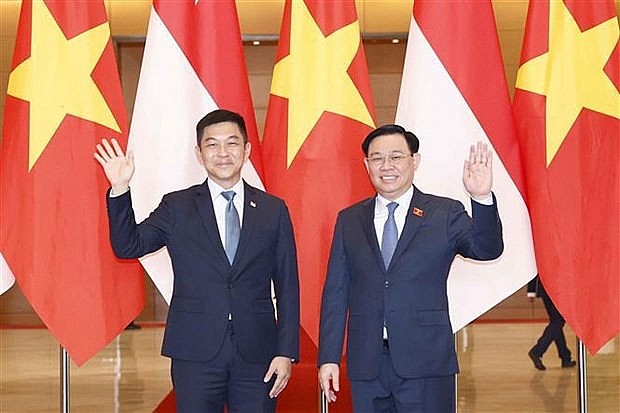 NA Chairman Vuong Dinh Hue (R) and Speaker of the Singaporean Parliament Tan Chuan-Jin in Hanoi on May 18. Photo: VNA
Suggesting the two sides continue sharing experience in developing a digital economy, a green economy, and renewable energy, Hue expressed his hope for stronger cooperation to connect Vietnamese cities with Singapore to exchange experience in green and sustainable development, according to VNA.
The top legislators held that the signing of a cooperation agreement between the two parliaments this time will help further tighten bilateral links, especially by increasing all-level contacts and discussions in different forms, sharing institutional building experience, maintaining coordination at multilateral forums and organizations, and supporting each other's stances on regional and international issues of common concern.
Hue suggested Tan help connect Vietnamese and Singaporean businesses in agriculture, especially hi-tech farming, and promote the city state's import of high-value products from Vietnam.
He asked both countries to focus on a cooperation model in which products are invented in Singapore and produced in Vietnam; effectively implement cooperation in defense, personnel training, humanitarian aid, disaster relief, and crime fight.
The host leader recommended the two parliaments support the negotiation and signing of a memorandum of understanding on cooperation in cyber security and some other important documents on mutual legal assistance and transnational crime combat.
The Chairman voiced his hope that Singapore will bring into play its role in the region, help with connectivity enhancement and community building in ASEAN, maintain the bloc's centrality, and coordinate ASEAN's common stance on regional issues.
He called on his counterpart to continue supporting ASEAN's common stance on safeguarding peace, stability, security, safety, and freedom of navigation in the Bien Dong Sea, and peacefully resolving disputes on the basis of international law, including the 1982 UN Convention on the Law of the Sea (UNCLOS).
Hue thanked Singapore for backing Vietnam's candidacy for membership in the Commission on the Limits of the Continental Shelf for 2023 - 2028, asking it to support Vietnam to run for a seat in the Legal and Technical Commission of the International Seabed Authority for 2023 - 2027.
Agreeing with his host's proposals, Tan said the two countries boast strong economic ties, and Singaporean firms' enormous trust in Vietnam remains unchanged and is still increasing.
He shared the view that the countries can work together more closely in boosting digital transformation, green economy, and sustainable development.
Singapore supports its enterprises to seek investment and business opportunities in multiple localities of Vietnam, he noted, adding that the success in economic relations will create not only value in terms of the money flow but also people-to-people connectivity, friendship, and amity between the two countries.
RCEP strengthens Vietnam's trade position: report
Vietnam's membership of the Regional Comprehensive Economic Partnership (RCEP) continues to strengthen the country's trade position , helping also with its post-pandemic recovery, according to a new report.
In its report entitled "Vietnam-RCEP: Opportunities and Challenges", Standard Chartered said Vietnam's major exports such as IT, garment, footwear, agricultural products, cars and telecommunications will benefit from the trade deal.
With 90% of tariffs between the signatory economies to be eliminated in the next 20 years, the RCEP is expected to lay the groundwork for a new supply chain in the region, as part of which Vietnam plays a key role.
Standard Chartered said small and medium-sized enterprises, which account for 98% of total enterprises in Vietnam and contribute 40% of GDP, are ready to benefit from the RCEP, which offers them opportunities to strengthen their supply chains.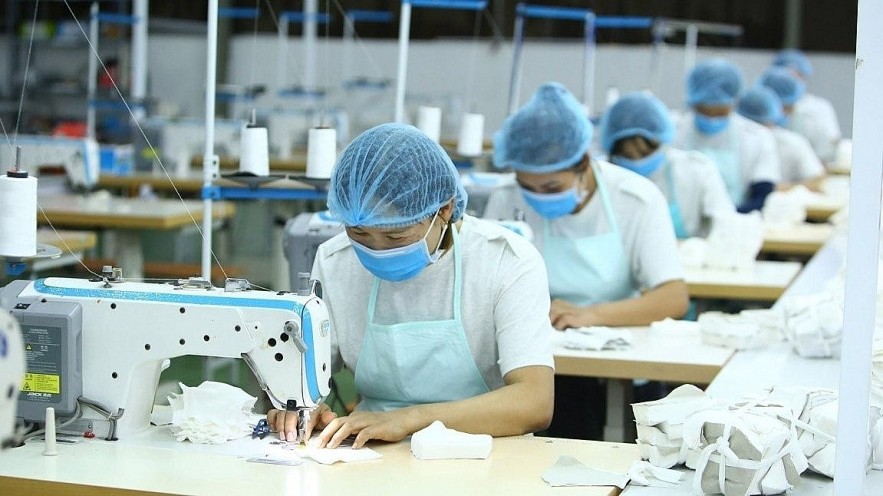 Garment is one of Vietnam's exports to benefit from RCEP. Photo: VNA
The bank added that Vietnam will continue to benefit from its role as an alternative manufacturing hub as companies adopt strategies to diversify their supplies.
According to experts at Standard Chartered, the RCEP is expected to boost Vietnam's exports, support its current account balance and help attract more foreign investment, reported NDO.
An earlier report by the World Bank also stated that Vietnam could be the country to benefit most from the RCEP.
The RCEP comprises of ten ASEAN countries, China, the Republic of Korea, Japan, Australia and New Zealand. The pact was signed in November 2020 in Hanoi and took effect on January 1, 2022.
The 15 countries account for nearly one third of global GDP and one quarter of global trade.
Fresh opportunities for Vietnam-US cooperation in tourism development and trade
Prime Minister Pham Minh Chinh has voiced his hope that US partners to support Vietnam in policy consultation, capital, human resources, infrastructure systems, technology, and governance.
On the afternoon of May 17 (local time), Prime Minister Pham Minh Chinh attended a Vietnam-US trade, investment and tourism promotion conference running theme themed 'Rediscovering Vietnam' in San Francisco.
Co-hosted by national carrier Vietnam Airlines and two travel groups – Saigon Tourists and Thien Minh Group, the event aims to step up trade cooperation between both nations' enterprises
This is an event of great significance when Vietnam and the US are redoubling their economic recovery efforts after two years suffering the impacts of the Covid-19 pandemic, with the opening of a direct air route between Vietnam and the US in late 2021, while Vietnam resumed tourism activities since March 15. The conference also marked the 20th anniversary of the establishment of Vietnam Airlines office in San Francisco.
In his speech, PM Chinh Prime Minister Pham Minh Chinh reviewed the world situation and highlighted orientations, development strategy of Vietnam, as well as Vietnam-US relations and ASEAN-US ties.
The Vietnamese Government chief reiterate Vietnam's consistent foreign policy of independence, self-reliance, diversification and multilateralization, being a good friend, a reliable partner and a responsible member of the international community. The nation is destined to build an independent and self-reliant economy associated with proactive, extensive, substantive and effective international integration, he continued.
PM Chinh affirmed that economic, investment, trade and science-education cooperation is an important pillar in Vietnam-US relations.
In the very challenging year of 2021 due to the Covid-19 pandemic, two-way trade still reached US$112 billion, accounting for nearly one-third of the total US-ASEAN trade turnover, cited VOV.
The average growth of two-way trade between Vietnam and the United States stands at about 17-20% per year.
The US is Vietnam's second largest trade partner while Vietnam is the US' 9th largest. Trade between the two nations has contributed to making Vietnam one of the 20 largest import-export countries in the world.
PM Chinh said he hopes that the economic cooperation between Vietnam and the US to continue growing and flourishing in the time ahead, mentioning a number of priority areas for Vietnam such as capital market development, digital and energy transformation, climate change response, tourism, and trade, while simultaneously suggesting US firms study opportunities and ramp up cooperation in these areas.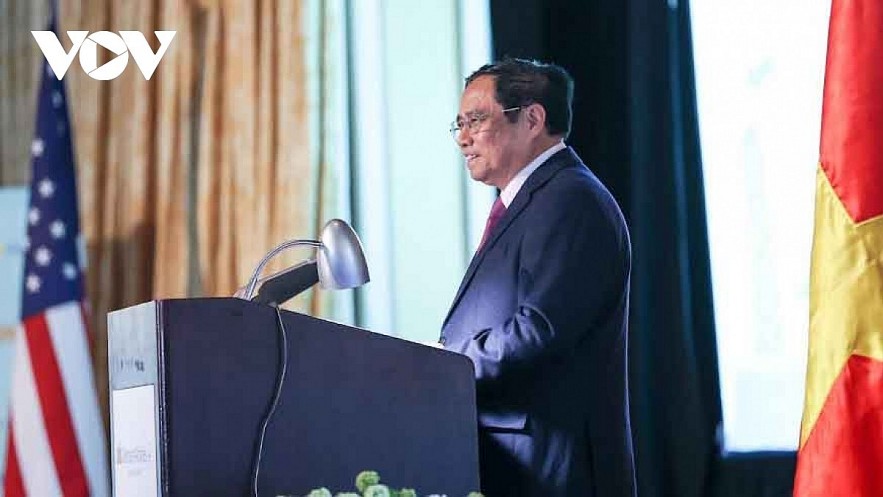 Prime Minister Pham Minh Chinh highlights economic, investment, trade and science-education cooperation as an important pillar in Vietnam-US relations. Photo: VOV
Regarding tourism, the US has been continuously put in the list of Vietnam's biggest markets. Before the pandemic, the number of tourists from the US hit more than 746,000 in 2019, with the year-on-year growth rate in the 2014-19 averaging 11 %, PM Chinh said.
The PM said that thanks to internal efforts and the support of friends and international partners, Covid-19 pandemic has been brought under control domestically and inbound and outbound tourism and air routes have been resumes, with the start of the first group of US tourists to the nation.
The Vietnamese cabinet leader called on foreign investors, including those from the US, to continue to cooperate with Vietnam in tourism in the spirit of 'harmonized benefits, shared risks.'
Upon addressing the event, US Ambassador to Vietnam Marc E. Knapper highlighted aviation, tourism, education, people-to-people exchanges as an important pillar in the bilateral relations.
Vietnam should shift economic growth model for further development: WB report
For Vietnam to realize its aspiration for reaching high income status by 2045, the country will need to shift its economic growth model and sharply improve the government's capacity to coordinate and implement economic policy reforms and public investments, a World Bank Group report says.
The World Bank Group's Systematic Country Diagnostic Update, entitled "How Will Vietnam Blossom? Reforming Institutions for Effective Implementation", emphasizes that Vietnam's traditional growth model faces major challenges from the Covid-19 pandemic, slowing globalization, and the country's increasing vulnerability to external shocks, especially climate risks.
After identifying a series of policy responses and reform priorities, many of which are not new, the report argues that adapting institutions will be the key to success.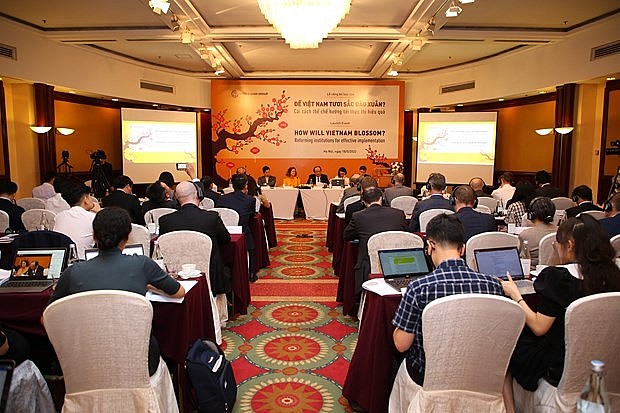 An overview of the event to launch the report. Photo: WB
Vietnam's GDP per capita has increased five fold over the past three decades, while its institutions have not adapted at the same speed since the Doi Moi (Renewal) of the late 1980s," said World Bank Country Director for Vietnam Carolyn Turk.
"A series of institutional reforms can help the country avoid the middle-income trap by increasing its efficiency to respond to new and complex global and domestic challenges," stated Turk.
Vietnam has implemented its development priorities unevenly over the past 35 years. It has exceeded expectations in trade openness and social inclusion but lagged considerably in promoting green growth and upgrading national core infrastructure. Such variability is explained by its institutions that have not been always well prepared to address increasingly complex, often cross-cutting development priorities, or to facilitate the transition to a higher-income society. Adapting and modernizing existing institutions is a key priority of the socio-economic development strategy adopted by the Party Congress in February 2021.
Improving Vietnam's implementation performance will require five institutional reforms, the report says. Vietnam will need to create a solid institutional anchor that will transform development priorities into concrete actions; streamline administrative processes to increase the effectiveness of government at all levels; use market-based instruments to motivate public and private stakeholders; enforce rules and regulations to enhance motivation, trust, and fairness; and engage in participatory processes to secure greater transparency and accountability, VNA reported.
Vietnam has already transformed itself from one of the most closed economies in the world to one of the most open economies during the 1990s and 2000s. But the road from lower middle income to high income will be far more challenging. By adopting these institutional reforms more systematically, Vietnam will underpin its vision for economic development, strengthen its capacity to implement national strategies, and boost its motivation to produce results in several key areas – green growth, digital transformation, financial inclusion, social protection and infrastructure upgrading – that will help it achieve its development goals.