Vietnam News Today (May 2): Vietnam Manufacturing Expo, NEPCON to Attract 200 Brands
Vietnam News Today (May 2): Vietnam, Japan push ahead with all-around cooperation; Vietnam seeks ways to boost logistics industry; Vietnam Manufacturing Expo, NEPCON to attract 200 brands; HCMC still Vietnam's biggest exporter in 2021 despite Covid impact.
Vietnam News Today (May 2) notable headlines
Vietnam, Japan push ahead with all-around cooperation
Vietnam seeks ways to boost logistics industry
Vietnam Manufacturing Expo, NEPCON to attract 200 brands
HCMC still Vietnam's biggest exporter in 2021 despite Covid impact
Singapore interested in energy cooperation with Vietnam
Southeastern region oriented towards dynamic development
Mobile payment value hoped to surge 80 - 100 percent annually
Prime Ministers of Vietnam, Japan hold talks
New findings help with building dossier to seek recognition for Oc Eo archaeological relic as World Cultural Heritage Site
Vietnam, Japan push ahead with all-around cooperation
Prime Minister Pham Minh Chinh and his Japanese counterpart Kishida Fumio have consented to step up cooperation across multiple fields such as investment, trade, agriculture, energy, and the environment.
During their talks held following an official welcoming ceremony for Japanese PM Kishida Fumio in Hanoi on May 1, both government leaders had a wide-ranging discussion on bilateral relations alongside international and regional issues of shared concern.
They expressed their delight at the remarkable development of Vietnam-Japan relations and the broad common perception on major directions and measures aimed at further deepening cooperation across a variety of fields, thereby opening a new development stage in the extensive strategic partnership between the two countries.
The pair agreed to continue consolidating political trust by maintaining high-level visits and meetings, and improving the effectiveness of cooperative and dialogue mechanisms.
PM Chinh was appreciative of PM Kishida's early visit to Vietnam which shows the Japanese Government's recognition of importance to the two countries' relations. He congratulated Japan on its tremendous achievements in COVID-19 prevention and control as well as socio-economic recovery and development. Chinh expressed his belief that Japan will continue to successfully implement important strategies and policies towards opening a brighter future for Japanese people.
Vietnam consistently considers Japan a leading important and reliable strategic partner, the Vietnamese Government chief said, while displaying his thanks to the Japanese Government for actively supporting Vietnam in the fight against COVID-19.
In response, PM Kishida reaffirmed the importance of further developing relations with Vietnam and hailed the achievements in socio-economic development, stature and increasingly important role of Vietnam in the region and the wider world.
The two PMs welcomed the considerable progress in carrying out the results of Prime Minister Pham Minh Chinh's official visit to Japan in November 2021, and concurred to step up cooperation in post-Covid-19 economic recovery.
They agreed to effectively implement the new-generation ODA loan program with preferential conditions, flexibility, simple and long-term procedures relating to the fields of strategic infrastructure construction associated with traffic infrastructure development, digital transformation, climate change response, health care, technological innovation, and supply chain promotion, cited VOV.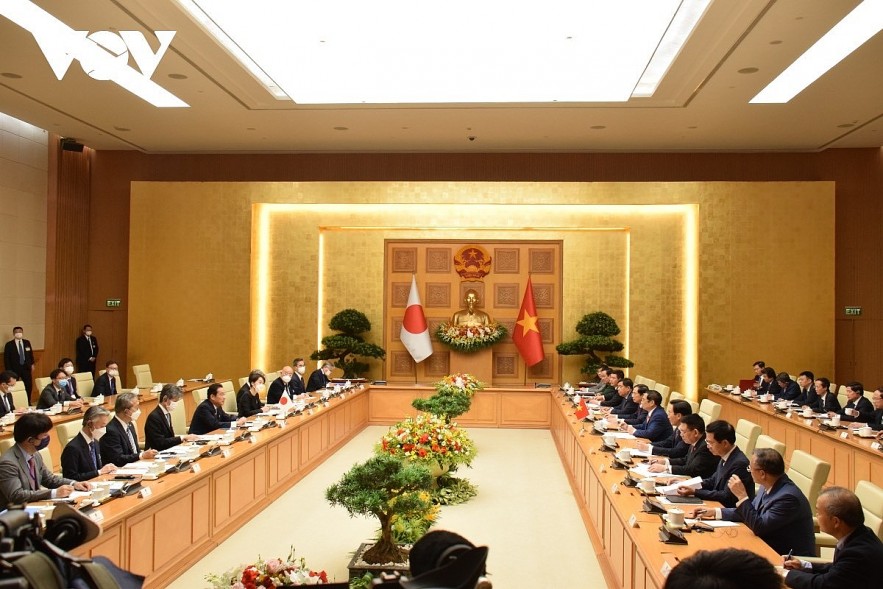 Prime Minister Pham Minh Chinh and his Japanese counterpart Kishida Fumio hold talks as part of Fumio's official visit to Vietnam from April 30 to May 1. Photo: VOV
The two sides will speed up procedures regarding Japanese opening of its market for Vietnamese longan exports in September 2022, and continue to create favorable conditions for other Vietnamese fruits such as grapefruit, avocado, and rambutan to enter the Japanese market.
This is addition to ramping up cooperation in technology transfer in order to help Vietnam become involved more deeply in global and regional supply chains. Japan will support Vietnam in accelerating digital transformation, building a digital government, digital economy, and digital society, and make a commitment to reaching net zero emissions by 2050.
Both sides will boost closer collaboration in security-defense, UN peacekeeping operations, and war consequences settlement in Vietnam.
PM Chinh asked Japan to assist Vietnam in successfully carrying out the cause of industrialization, modernization, independence, economic self-reliance and deeper international integration, while suggesting both sides set up a working group on this issue.
The Japanese PM re-affirmed that his nation treasures its relations with Vietnam and will continue to work with and support the South East Asian nation in boosting socio-economic development, receiving Vietnamese trainees and students, and assisting the Vietnamese community in Japan.
Vietnam seeks ways to boost logistics industry
Vietnam's geography gives it a logistical advantage in boosting production, export and logistics services. This year, the Government has set targets of tapping its full potential.
The comment was made by Deputy Minister of Trade and Industry Nguyen Sinh Nhat Tan at a seminar on "Enhancing competitiveness for logistics businesses", held in Hanoi on April 28.
Delivering a speech at the seminar, Tan said the Government has identified logistics as an important service industry in the economy. The industry is playing a role in supporting, connecting and boosting socio-economic development, contributing to improving the competitiveness of the economy.
At the seminar, Truong Tan Loc, Marketing Director of Saigon Newport Corporation, said that in April this year the World Bank forecasted the country's GDP growth to be around 5.3 percent in 2022 and then stabilize around 6.5 percent next year.
Loc said the country's signed free trade agreements (FTAs) needed to be more proactively implemented for strong growth in domestic industries, especially in electronics, machinery and equipment, furniture, plastic, textiles and seafood. This was an opportunity to develop port and logistics services to serve the needs of connecting goods with major markets in the world.
Sharing the view of Loc, Pham Thi Lan Huong, general director of Vinafco JSC, said Vietnam's logistics industry has a lot of potential but it is fragmented. She noted the number of small and medium-sized businesses accounted for a majority with 90 percent of them having capital of less than VND10 billion (US$434,000).
Currently, the number of businesses providing 3PL (third-party logistics) and 4PL services (fourth-party logistics) remains modest. They account for only 16 percent of the entire logistics industry. Huong said it needed to develop more 3PL and 4PL businesses to push the domestic logistics industry.
Another participant suggested that it was necessary to promote technology application in the domestic logistics industry to improve efficiency and optimize productivity, to save costs for logistics businesses. In addition, a close connection between logistics businesses was also a need to improve operational efficiency involving production, logistics and transport.
At the seminar, representatives of the authorities also pointed out the shortcomings in import and export activities in 2021, and logistics activities in Vietnam.
The Import and Export Report 2021 points out significant problems such as the continued high level of trade deficit or surplus for some markets, which is likely to affect sustainable import and export activities.
The export growth of some commodities is mainly based on the increase in quantity and price due to the scarce supply in the market. Exported goods still face congestion at border gates and seaports, especially from the end of 2021.
In logistics services, although there has been a strong development recorded, the logistics industry still has many limitations. One of them is that logistics enterprises have not yet developed up to the potential of the industry, according to VNA.
According to data from the Vietnam Logistics Business Association, currently, 90 percent of logistics enterprises operating are Vietnamese enterprises. However, they only account for about 30 percent of the market share. The rest belongs to foreign enterprises.
There are many enterprises, but mostly small ones, with limited scale in the capital, human resources and experience.
In the framework of the seminar, the Vietnam Import and Export Report 2021 compiled by the Ministry of Trade and Industry was also announced, highlighting the positive points in international trade activities. Despite many difficulties due to the Covid-19 pandemic, the country's import and export still reached a record number with a total turnover of US$668.55 billion. While, exports reached more than US$336.3 billion, up 19 percent compared to 2020; imports reached US$332.2 billion, up 26.5 percent; trade surplus of more than US$4 billion.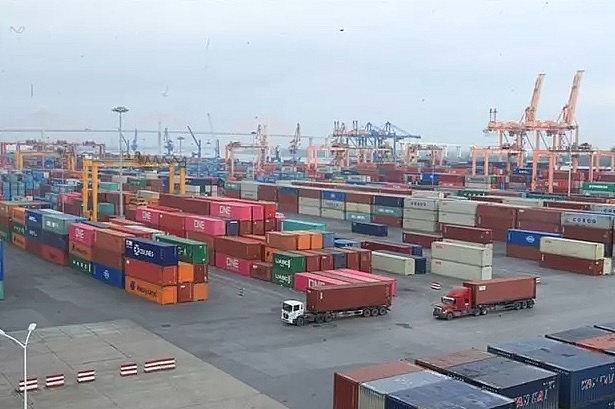 Unloaded goods at Hai Phong city's port. Photo: VNA
With this result, Vietnam has entered the top 20 economies in terms of international trade. The export structure has changed positively, and the area of export products is diversified.
The group of processed products continues to be the driving force for the overall growth of exports. Vietnam has also made efforts to diversify export and import markets to meet the needs of domestic production and consumption.
Vietnam Manufacturing Expo, NEPCON to attract 200 brands
The 2022 Vietnam Manufacturing Expo and Vietnam's Only Exhibition on SMT, Testing Technologies, Equipment and Supporting Industries for Electronics Manufacturing (NEPCON Vietnam 2022) will be held in Hà Nội on August 10-12 and September 14-16 respectively.
They are expected to attract the participation of nearly 200 brands in the manufacturing and electronics industries from more than 10 countries and territories, including Japan, the US, South Korea, mainland China, Taiwan, Singapore, Thailand, Germany, and India and others, who will set up international pavilions and remote booths.
There will also be a series of customized seminars, technology updates from leading brands around the world and free business consulting sessions under the Business Innovation Zone Project.
Launched in 2020 by Reed Tradex Vietnam, the Business Innovation Zone Project seeks to help businesses in manufacturing and electronics recover from the impacts of Covid-19.
Under the project, Reed Tradex partners with business leaders, consulting experts, industry professionals, government officers to organise webinar series that will offer new insights and successful business case studies.
At ceremony in HCM City this week, Reed Tradex, the World Trade Centre Expo, PNA Consulting, PR Newswire Vietnam, and Sufex Trading signed a memorandum of understanding to kick-start a new chapter of the project this year.
Phạm Trung Hung, chief advisor, PNA Consulting, partner of Business Innovation Zone Project since 2020, said: "Humans are one of the key factors in business. For small and medium-sized enterprises, human resources are the driving force for development and overcoming challenges, especially in the current changing business environment, reported VNS.
With a focus on three elements: human, technology and media this year, the project would offer with "practical sharing as well as seminars and consultation programs to help businesses utilize the power of human resources in production and business activities," he said.
Lee Jung Won, director of the World Trade Centre Expo, said, "To develop sustainable manufacturing, it is critical to balance all factors and we believe that the initiative Business Innovation Zone 2022 will offer more insights into how to develop human – tech – media in the new normal."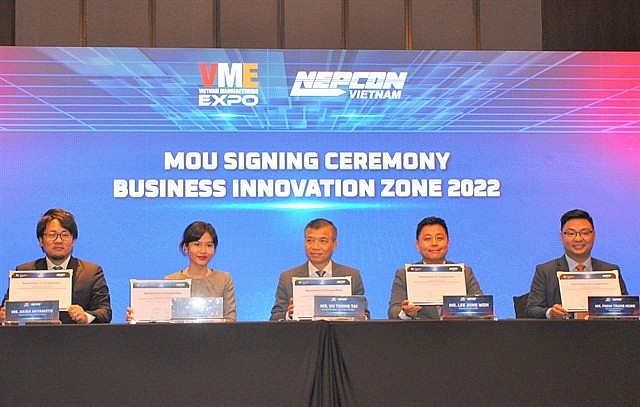 Reed Tradex Vietnam signs a MoU with partners to kick-start a new chapter of the Business Innovation Zone Project this year. Photo: VNS
Vu Trong Tai, general manager, Reed Tradex Vietnam and a member of the organizing committee, said with the annual offers and many new activities, "We believe that VME & NEPCON Vietnam will create more and more business matching opportunities for sellers and buyers."
HCMC still Vietnam's biggest exporter in 2021 despite Covid impact
Even though it was heavily hit by the Covid pandemic in the third quarter of 2021, HCMC remained the country's biggest exporter last year, generating a staggering US$44.9 billion in export revenue.
This was the straight sixth year that the city had taken the lead by export revenue, the local media reported.
Bac Ninh Province came second, with an export value of US$44.8 billion, according to a recent report on the 2021 import and export released by the Ministry of Industry and Trade.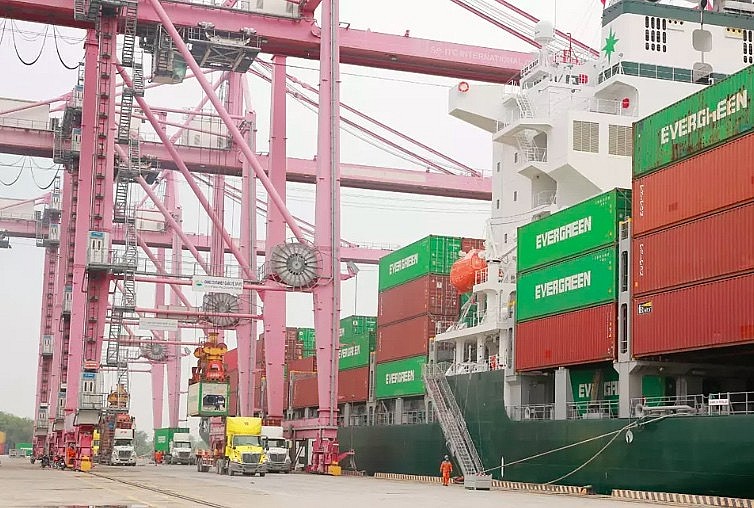 A container ship docks at a port in HCMC. Photo: SGT
Binh Duong Province surpassed Thai Nguyen Province to take the third spot, with its export revenue amounting to US$32.7 billion. Meanwhile, Hanoi City dropped to the eighth spot, with a value of US$15.5 billion.
In 2021, Vietnam exported goods worth over US$336 billion, up 19% against 2020.
The processing sector was still the largest earner, with a total export value of some US$290 billion, rocketing 86% against the previous year, while the agro-forestry-fishery sector ranked second with a value of US$28 billion, up 8% against 2020.
According to the ministry, the impact of the pandemic at the end of the second quarter and at the beginning of the third quarter of 2021 forced a series of firms in the southern region to suspend production, leading to disruptions in export.
Besides, high logistics costs, the rising prices of materials and a shortage of shipping containers pushed up production costs and the export prices of products, cited SGT.
Apart from the State agencies' policies, firms proactively adapted to the pandemic, diversified import markets and ramped up their sales to major partners to help export activities bounce back in the fourth quarter of 2021.
Singapore interested in energy cooperation with Vietnam
Singapore wants to further promote cooperation with Vietnam in clean and renewable energy, Singaporean Ambassador to Vietnam Jaya Ratnam said at a recent working session with Deputy Minister of Industry and Trade Dang Hoang An in Hanoi.
​Deputy Minister An appreciated Singapore's suggestion on furthering the bilateral partnership in energy.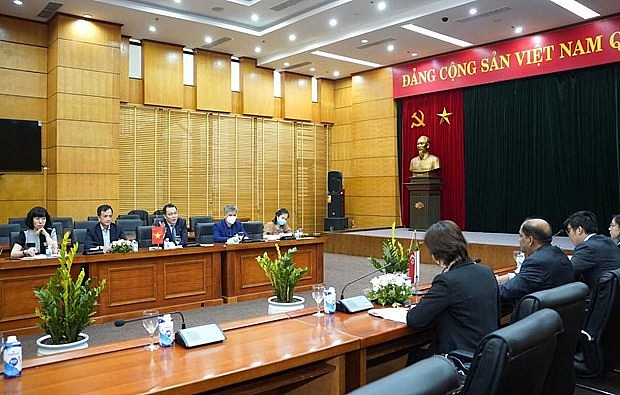 At the working session. Photo: Ministry of Industry and Trade
The two sides took note of the progress of bilateral collaboration in industry and energy, VNA reported.
They shared the view on the need for a sustainable platform for energy cooperation toward joint response to climate change and sustainable development in accordance with commitments at the COP26.
The two sides agreed to maintain the exchange mechanism in order to put forth specific ideas on energy cooperation.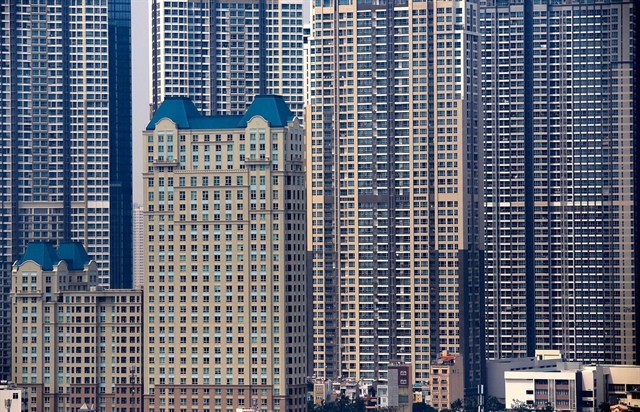 Economy
The United Overseas Bank (UOB) has revised up Vietnam's 2022 GDP growth forecast to 7.0% from 6.5%, assuming no further severe domestic disruptions from Covid-19, and projected growth of around 7.6 – 7.8% in the second half of the year (H2).