Vietnam News Today (May 24): Foreign Arrivals Soar Two Months after Border Reopening
Vietnam News Today (May 24): Covid-19: Vietnam records 1,179 new cases, 3,862 recoveries on May 23; Foreign arrivals soar two months after border reopening; Vietnam, Cambodia boost defense ties; Heavy rain floods parts of northern Vietnam.
Vietnam News Today (May 24) notable headlines
Covid-19: Vietnam records 1,179 new cases, 3,862 recoveries on May 23
Foreign arrivals soar two months after border reopening
Vietnam, Cambodian boost defense ties
Heavy rain floods parts of northern Vietnam
Vietnam, Canada red cross societies eye long-term cooperation
SEA Games 31 a safe, fair, impressive festival for all
Da Lat Flower Festival 2022 to take place in November
HCM City to host Smart City Asia 2022
Van Don – Mong Cai highway: new launch pad for Quang Ninh's economic growth
A woman gets vaccinated against Covid-19. Photo: VNA
Covid-19: Vietnam records 1,179 new cases, 3,862 recoveries on May 23
A total 1,179 new cases of Covid-19 were recorded from 4pm May 22 to 4pm May 23, according to the Ministry of Health.
Hanoi reported the highest number of infections on the day with 332 cases, followed by Vinh Phuc with 75 and Quang Tri with 72.
The national tally reached 10,710,066, cited VNA.
A total 3,862 Covid-19 patients were given the all clear on May 23, bringing the number of recoveries so far to 9,405,908.
There are 216 patients needing breathing support, while one death was recorded in the past 24 hours, taking the total fatalities to 43,076.
By May 12, the country had injected 219,119,853 doses of Covid-19 vaccines, including 3,452,471 doses for children from five to under-12 years old.
Foreign arrivals soar two months after border reopening
The number of foreign visitors to Vietnam has increased rapidly with 252,000 arrivals after the government reopened borders on March 15, according to the Vietnam National Administration of Tourism (VNAT).
The past month saw travelers from traditional markets such as Europe, America, and the Republic of Korea (RoK) visit the country, along with from emerging markets like Mongolia, Kazakhstan, and India
On April 29, Da Nang welcomed back the first 220 RoK visitors following the Covid-19 pandemic, while the ancient town of Hoi An and Ho Chi Minh City received roughly 130 American travelers.
In order to attract further international visitors, especially during the peak season from September onwards, the VNAT emphasized that the local tourism industry has been advised to deploy a range of major solutions by organizing international tourism fairs abroad, facilitating entry and exit procedures, and granting visas for guests from key markets.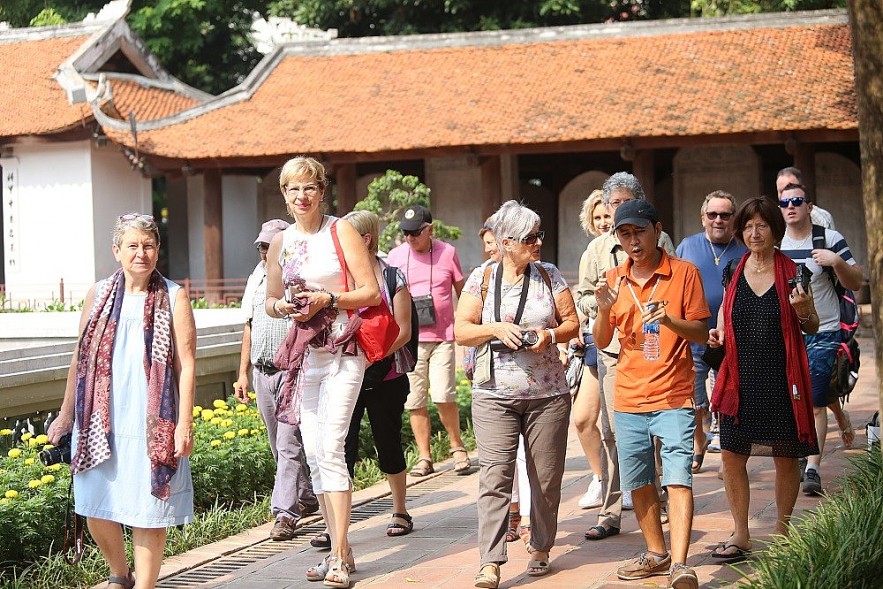 Photo: hanoimoi
The VNAT also underscored the importance of resolving difficulties faced in establishing representative offices for overseas tourism promotion activities, which is anticipated to greatly contribute to elevating Vietnamese tourism abroad, according to VOV.
The VNAT also reported between April 30 and May 1 Vietnam received about five million domestic tourists, earning a revenue of roughly VND22 trillion.
Most notably, Thanh Hoa, Hanoi, and Da Nang welcomed nearly 900,000 visitors, 550,000 visitors, and 254,000 respectively during the recent four-day national holiday.
The recovery of the tourism market during the recent holiday is anticipated to offer fresh impetus to reviving the local tourism industry moving into the post-pandemic period.
Vietnam, Cambodian boost defense ties
Vietnamese Minister of National Defense Gen. Phan Van Giang held a reception for visiting Cambodian Deputy Prime Minister and Minister of National Defense Tea Banh in Hanoi on May 23.
Expressing his delight at the success of the first ministerial-level Vietnam-Cambodia border defense exchange, Minister Giang highlighted its significant meaning in strengthening the two countries' solidarity and friendship.
He affirmed his ministry's desire for further close collaboration and assistance for the Cambodian Ministry of National Defense to successfully conduct its role as ASEAN Chair in 2022, reported VNA.
The minister stressed the sides need to work closely to practically and effectively implement their cooperation activities this year in line with the plan and with the common perception of the two defense ministries' leaders.
In the immediate future, they will join hands to prepare for the 45th anniversary of Cambodian Prime Minister Hun Sen's path to topple the Pol Pot genocidal regime (June 20), Giang said.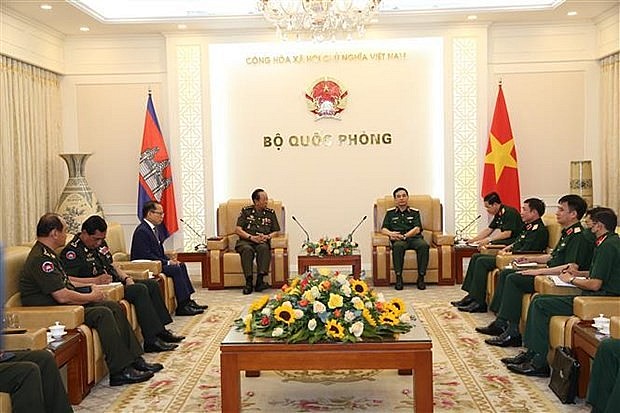 At the event. Photo: VNA
For his part, Tea Banh lauded Vietnam's idea of holding the border exchange in contribution to pushing the nations' relations to new heights.
The Cambodian official said he is pleased with outcomes of bilateral defense cooperation, particularly the effective implementation of the protocol for 2020-2024 and plan for 2022.
He also wished for their collaboration to continue this year, which marks the 55th anniversary of the Vietnam – Cambodia diplomatic ties (June 24).
Heavy rain floods parts of northern Vietnam
Heavy rain has over the past 24 hours submerged parts of northern localities, including Hanoi, Vinh Phuc, and Ha Giang.
Lashing rain poured down in Hanoi capital on May 22 evening and lasted till early hours of May 23 morning, flooding many sections of roads in outlying districts such as Ba Vi, Phuc Tho, Thach That, Me Linh, and Dan Phuong.
Continuous rain also inundated many areas of its inner districts, causing difficulty for commuters during morning rush hours.
In neighboring Vinh Phuc province, overnight rain flooded major arteries in Vinh Yen city, disrupting traffic between local wards. Police officers were immediately deployed to regulate traffic flows in support of local people's movement.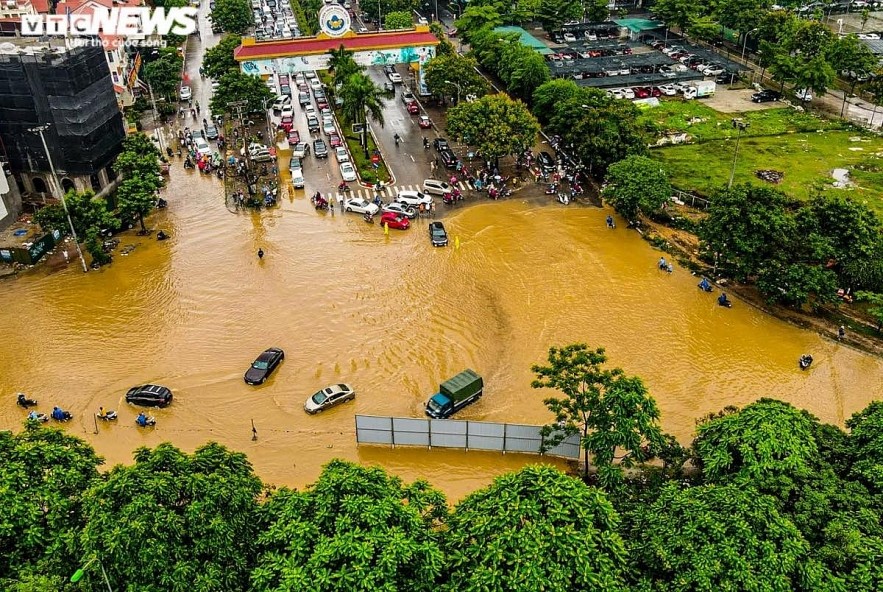 Commuters could not move during morning rush hours due to severe flooding in some parts of Hanoi. Photo: VTC

A landslide occurred overnight, burying a local house in Tham Ve village, Vi Xuyen district.Meanwhile, the northern mountainous province of Ha Giang reported initial property damage caused by heavy rain and strong winds, cited VOV.
Heavy downpours also submerged subsidiary crops and damaged several roads, causing total estimated loss of approximately VND500 million.
Rain is forecast for May 24, and weather experts warned about risks of flash floods, landslides and severe flooding in mountainous and low-lying areas of Lai Chau, Hoa Binh, Lao Cai, Yen Bai, Phu Tho, Ha Giang, Tuyen Quang, Vinh Phuc, Hai Phong, Bac Giang, and Quang Ninh.
Vietnam, Canada red cross societies eye long-term cooperation
The Vietnam Red Cross Society (VRCS) and its Canadian counterpart have agreed to support each other in humanitarian activities and look towards a long-term cooperation agreement in the time ahead.
Vice President and Secretary General of the VRCS Nguyen Hai Anh told visiting President and CEO of the Canadian Red Cross (CRC) Conrad Sauvé during their talks in Hanoi on May 21 that he is delighted at the fruitful cooperation between the two countries and the associations.
Anh spoke highly of the Canadian government and the CRC for their support to Vietnam, both material and spiritual, and in international activities.
The VRCS will further back the CRC to engage in the executive councils of the International Red Cross and the Red Crescent Movement, and support its Canadian counterpart in movements.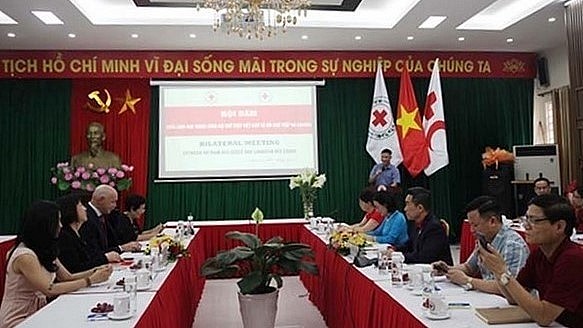 At the talks between the two red cross societies. Photo: redcross.org.vn
Sauvé said both Vietnam and Canada face such challenges as climate change and natural disasters, and possible risks relating to the Covid-19 and socio-economic impacts of armed conflicts.
The CRC has strength in the spheres like public health care, humanitarian aid, personnel training, technological application, and emergency aid, he said, affirming that Canada stands ready to help Vietnam in these areas, NDO reported.
Briefing the guest on the VRCS's operations, Anh said his association is actively participating in the Government's major programs, including those on poverty reduction, new-style rural area building, and socio-economic development in ethnic minority-inhabited regions.
The VRCS is willing to cooperate with Canada to implement programs on public health care given impacts of extreme heat, he stressed.
The two sides also concurred to cooperate in supporting their governments to address climate change impacts, improving the capacity for their workers, digital transformation, volunteer management and development, public health care and emergency aid.