Vietnam News Today (May 23): Vietnam Aims to Deepen Partnership with UN, ESCAP
Vietnam News Today (May 23): Vietnam's new Covid-19 caseload stands at 1,319 on May 22; Vietnam aims to deepen partnership with UN, ESCAP; AMRO forecasts Vietnam's strong recovery amidst external headwinds; SEA Games 31: Vietnam beats Thailand to win women's football gold medal.
Vietnam News Today (May 23) notable headlines
Vietnam's new Covid-19 caseload stands at 1,319 on May 22
Vietnam aims to deepen partnership with UN, ESCAP
AMRO forecasts Vietnam's strong recovery amidst external headwinds
SEA Games 31: Vietnam beats Thailand to win women's football gold medal
Urgent action needed on primate protection
Vietnam triumph in SEA Games 31 three-cushion carom
15th National Assembly to commence third session on May 23
Gia Lai seeks partnerships with Japan in agriculture, renewable energy, tourism
Vietjet reopens flights between Seoul and Vietnam's beach destinations
Photo: VNA
Vietnam's new Covid-19 caseload stands at 1,319 on May 22
A total of 1,319 new Covid-19 cases, all community infections, were confirmed over the past 24 hours to 4pm May 22, according to the Ministry of Health.
Hanoi remained the largest coronavirus hotspot with 347 cases, followed by Bac Ninh (138) and Vinh Phuc (90).
The national tally now reached 10,708,887, cited VNA.
Over 8,940 Covid-19 patients were given the all clear on the day, bringing the number of recoveries so far to 9,402,046.
A total of 211 patients are currently given breathing support. No deaths were recorded in the past 24 hours, keeping the fatalities at 43,075.
By May 21, the country had injected 219,084,118 doses of -19 vaccines, including 3,406,264 first doses and 24,272 second doses for children from five to under 12 years old.
Vietnam aims to deepen partnership with UN, ESCAP: Diplomat
Deputy Prime Minister Vu Duc Dam will attend the 78th session of the Economic and Social Commission for Asia and the Pacific (ESCAP) which will be held in Bangkok, Thailand from May 23-27.
His attendance is made at the invitation of Armida Salsiah Alisjahbana, UN Under Secretary General and Executive Secretary of ESCAP.
The Deputy PM's participation at the session will deliver an important message from the Vietnamese Government that it highly values the effective cooperation with the UN in general and ESCAP in particular over the past 45 years, while demonstrating the country's strong commitments to promoting its partnership with the UN and ESCAP in the coming time, according to Vietnamese Ambassador to Thailand Phan Chi Thanh, who is also the Permanent Representative of Vietnam to ESCAP .
Vietnam wants to further accelerate the dialogue and cooperation process with member countries, effectively optimise ESCAP's support to implement Vietnam's development strategies and goals, especially during the post-pandemic recovery and sustainable development process, and realise its commitments at the 26th UN Climate Conference (COP26), he stressed.
Ambassador Thanh affirmed that the Deputy PM will be the highest leader of Vietnam to attend a session of the commission in person in many years, which shows the significance of the event for both sides as this year, the ESCAP is celebrating its 75th founding anniversary, and Vietnam will mark its 45 years of joining the UN, according to VOV.
The session will bring together leaders, senior government officials, representatives from international organisations and other stakeholders from 62 countries and territories, who will work to shape the future of regional cooperation to speed up the 2030 Agenda for Sustainable Development and realise the promise of "leaving no one behind".
The ambassador said that the event is taking place when regional countries are in the period of post-pandemic economic recovery, while the region and the world are experiencing instability, conflicts and obstacles hindering sustainable development process, along with non-traditional security challenges such as climate change and the pandemic that have put great burdens onto many regional countries, especially developing and under-developing countries.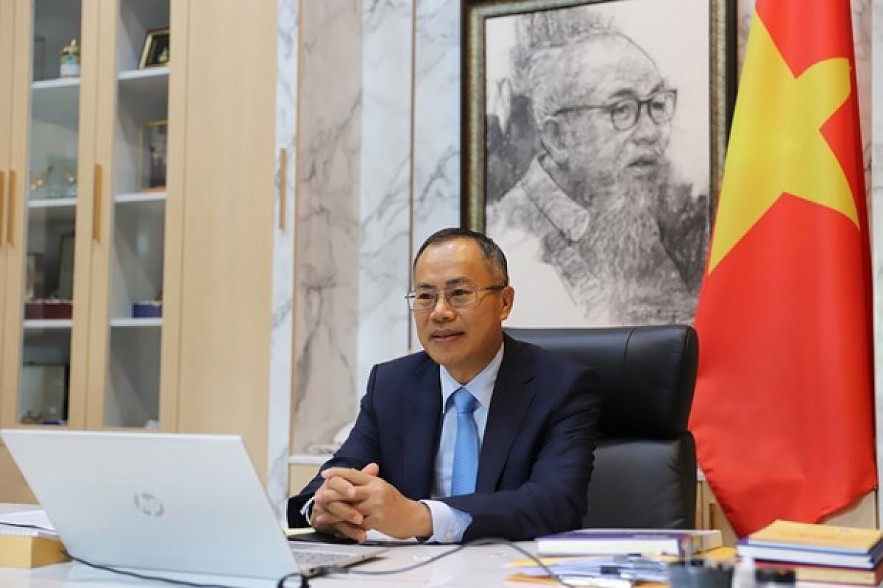 Vietnamese Ambassador to Thailand Phan Chi Thanh. Photo: VNA
Guided by the theme "A common agenda to advance sustainable development in Asia and the Pacific", the annual session will be an opportunity to review achievements of the Asia-Pacific region in socio-economic development and discuss future cooperation and linkage to deal with challenges and speed up the 2030 agenda, ensuring that no one is left behind.
Regarding ESCAP's support to Vietnam over the years, Ambassador Thanh said that the commission has provide practical help in two major aspects of designing socio-economic development policies and strategies, and building capacity of officials through training courses and seminars organised by ESCAP in many areas such as business policy, macroeconomy, social issues, agricultural development, transportation, information - communication, statistics, disaster prevention, and environmental protection.
Many cooperation programmes launched by the ESCAP have made significant contributions to the socio-economic development and SDG implementation process of Vietnam, including the building of a database and statistical system on the implementation of the SDGs at the national level, he said.
The diplomat underlined that over the years, Vietnam has made active and responsible engagement in all activities and mechanisms run by the commission, while giving many proposals on overall and long-term solutions to deal with urgent issues in sustainable development in the region, thus contributing to promoting sustainable growth in the region.
Vietnam and the ESCAP have maintained regular high-level dialogue, he said, noting that Vietnam has joined annual meetings of the commission. In 2021, Deputy Prime Minister Pham Binh Minh sent a video message to the commission's 77th session.
He added that leaders and representatives of relevant ministries have also regularly attended Ministerial Conferences/High-Level Forums organised by the ESCAP. Vietnamese ministries and sectors have actively participated in activities of regional centers/mechanisms run by the ESCAP such as the Asian and Pacific Centre for the Development of Disaster Information Management (APDIM), Centre for Sustainable Agricultural Mechanisation (CSAM), Asian and Pacific Training Centre for Information and Communication Technology for Development (UN-APCICT), Asian and Pacific Centre for Transfer of Technology (APCTT), and United Nations Statistical Institute for Asia and the Pacific (SIAP). In particular, in the 2018-2022 period, Vietnam has successfully completed its role as the Chair of the CSAM Executive Council, receiving approval from member countries.
According to Ambassador Thanh, Vietnam's active and high-level participation in the ESCAP session is in line with the country's foreign policy of promoting and elevating multilateral foreign relations, affirming Vietnam's activeness, positivity and responsibility in multilateral systems, especially the UN, thus enhancing the country's role and position and contributing to the promotion of a peaceful, stable environment, cooperation and development in the region and the world.
AMRO forecasts Vietnam's strong recovery amidst external headwinds
The Vietnamese economy picked up strongly in early 2022, thanks to a strong vaccination drive, robust global demand for its manufacturing products, momentum in domestic demand, and resilient foreign direct investment (FDI) flows.
This preliminary assessment was made by the ASEAN+3 Macroeconomic Research Office (AMRO) after its Annual Consultation Visit to Vietnam from May 3 - 18.
"The Vietnamese economy is expected to grow at 6.3 percent in 2022 and 6.5 percent in 2023. Inflation is projected to remain contained," said AMRO Group Head and Lead Economist Kalra. "This positive outlook rides on strong external demand, a recovery in domestic consumption and healthy investments inflows, bolstered by an appropriate macroeconomic policy stance."
The domestic outbreak of the Omicron variant receded sharply in April 2022, and border restrictions and domestic containment measures were eased. The aggregate output gap is expected to narrow significantly by the end of this year. The recovery is, nevertheless, uneven across sectors. While both the manufacturing and service sector outputs have surpassed their 2019 levels, the service sector still has pockets of distress, especially in the tourism, hospitality and logistics sectors.
Consumer price inflation is projected to remain below 3.5 percent in 2022, as authorities plan to utilise their oil price stabilisation fund and administer prices to offset pressures emanating from global developments in energy prices.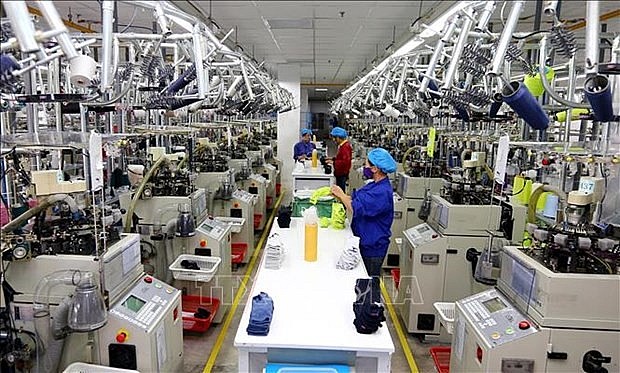 Production at Chinese-invested Jasan Textile and Dyeing Vietnam Co., Ltd. at Hai Phong's Vietnam-Singapore Industrial Park (VSIP). Photo: VNA
Given the economy's cyclical position, AMRO recommended Vietnam to adopt a mildly supportive fiscal policy stance in 2022. With the availability of fiscal space and the uneven recovery across economic and social sectors, policy should provide targeted support to those that continue to be dislocated by the pandemic, especially micro- , small- and medium-sized enterprises (MSMEs) and low-income households, reported VNA.
Monetary conditions should be normalised to contain inflationary pressures and reduce financial imbalances that emerged in the environment of low interest rates. However, it is essential to ensure that financing needs of vulnerable MSMEs and households are met, and that sufficient funding is available to productive sectors. The State Bank of Vietnam should continue to allow greater exchange rate flexibility, as it balances growth, inflation and financial sector stability objectives, according to AMRO.
On the financial stability front, efforts are needed to increase provisioning and capital buffers to prepare for an increase in impaired assets, in view of the impending expiry of the forbearance policy. A macroprudential policy framework needs to be put in place, including to address imbalances in the real estate market.
As Vietnam progresses beyond the lower middle income country status, it will need to implement reforms across a broad range of issues and sectors to mobilise financing for growth and development and to strengthen investor confidence, AMRO emphasised.
SEA Games 31: Vietnam beats Thailand to win women's football gold medal
The only goal of captain Huynh Nhu in the 59th minute helped the Vietnamese women's team defeat Thailand with a score of 1-0 to win the SEA Games gold medal for the third time in a row.
The women's football final at SEA Games 31 between Vietnam and Thailand took place on May 21 at the Cam Pha Stadium in the northern province of Quang Ninh, drawing the participation of more than 16,000 spectators.
In the first half, both teams' players launched some attacks and had good chances but failed to score any goals. The first half ended with a score 0-0, cited VOV.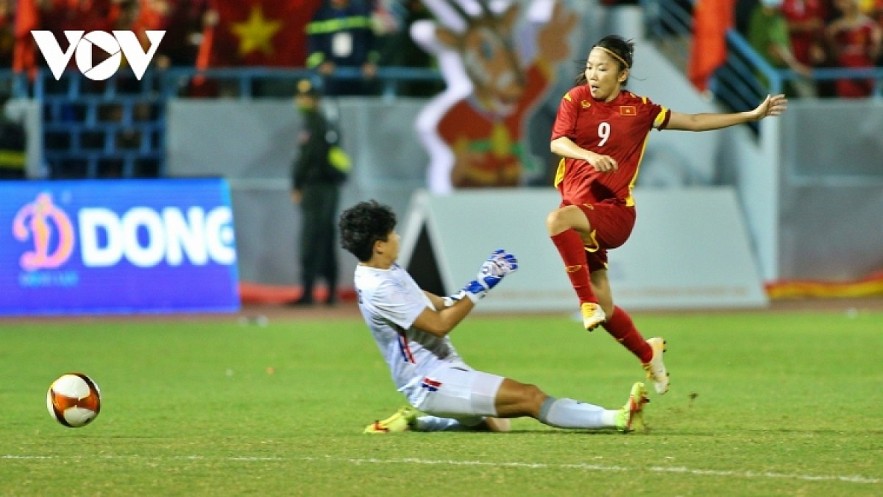 Captain Huynh Nhu of Vietnam correctly finish the ball to bring the victory to the women's football team. Photo: VOV
The game's turning point was seen in the 59th minute in the second half, when captain Huynh Nhu of Vietnam scored goal after receiving the from her teammate.
Though Thailand also launched many attacks to seek a leveling goal, Vietnamese players made all-out efforts to keep their precious goal safe. They also had several chances to raise the score after that but missed.
Finally, the final ended with a 1-0 win for Vietnam. With the convincing victory, the Vietnam women's football won the championship for the 3rd consecutive time.
Urgent action needed on primate protection
Since the Government's decision on action plan for the protection of the primate species in Vietnam was issued in 2017, a total of 684 endangered douc langurs, including 86 grey-shanked douc langurs (Pygathrix cinerea), one of the world's 25 Critically Endangered primates, have been captured by rangers and authorities in 80 illegal hunting and wildlife trafficking cases.
However, a report by the ENV, an NGO focused on wildlife protection, showed that only 30 per cent of total poaching violations in Vietnam were discovered, while 70 per cent were unknown, meaning that the number of the langurs hunted in the forest was unclear.
Biologists, conservationists and experts shared the report at a conference on the conservation activities on endangered primates in the central provinces Quang Nam, Quang Ngai, Binh Dinh, Phu Yen, Gia Lai and Kon Tum, and discussed further actions from 2025 to 2030, VNA reported.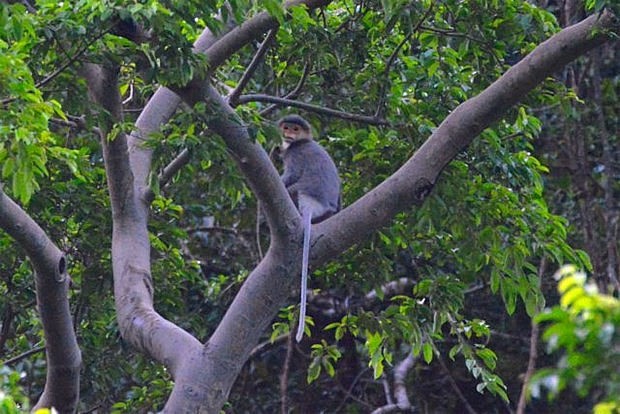 An individual grey-shanked douc langur (Pygathrix cinerea), one of the world's 25 Critically Endangered primates, is found living in a forest of Quang Nam Province. Photo: Ai Tam
They agreed that illegal wildlife hunting, the expansion of coffee and log farms, poor management and planning on the protection of the primates species in the six provinces had been raising threats to the conservation of endangered primates.
Expert Ha Thang Long, head of the representative office of the Frankfurt Zoological Society in Vietnam, said urgent action was needed for more effective protection of the langurs from becoming extinct in the six provinces where from 2,200 to 2,500 individuals are living in the primary forest or strictly protected nature reserves.
A report from the Ministry of Agriculture and Rural Development unveiled that the central region lost 34,000ha of forest due to illegal logging and land clearance for coffee, rubber and acacia plantations.
The forested area had dropped by 180,000ha, of which 112,000ha had been destroyed or occupied by the expansion of other crop plantations, and 37,000ha for building hydropower plants and roads between 2010-15, the report detailed.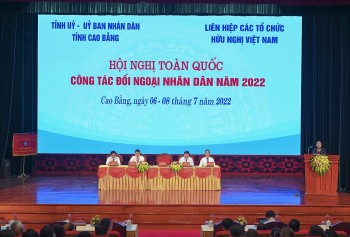 Friendship
During the event, many important issues will be discussed, and constructive suggestions and solutions will be provided to promote more effective people-to-people diplomacy operations.