Vietnam News Today (May 28): Vietnam Likely to Extend E-visa Validity to Three Months
Vietnam News Today (May 28): Vietnam considers US a leading partner in foreign policy; New Zealand highly values potential for cooperation with Vietnam; Vietnam likely to extend e-visa validity to three months; Most localities record very high-risk UV levels.
Vietnam News Today (May 28) notable headlines
Vietnam considers US a leading partner in foreign policy
New Zealand highly values potential for cooperation with Vietnam
Vietnam likely to extend e-visa validity to three months
Most localities record very high-risk UV levels
Vietnam ready for AFC U20 Women's Asian Cup's second qualifying round
Air, rail transport to be prioritised in Central Highlands
HCM City int'l food expo slated for late June
Tourism week "The Golden Colour of Tam Coc - Trang An" opens in Ninh Binh
Cooking, dance classes help popularise Vietnamese culture in Venezuela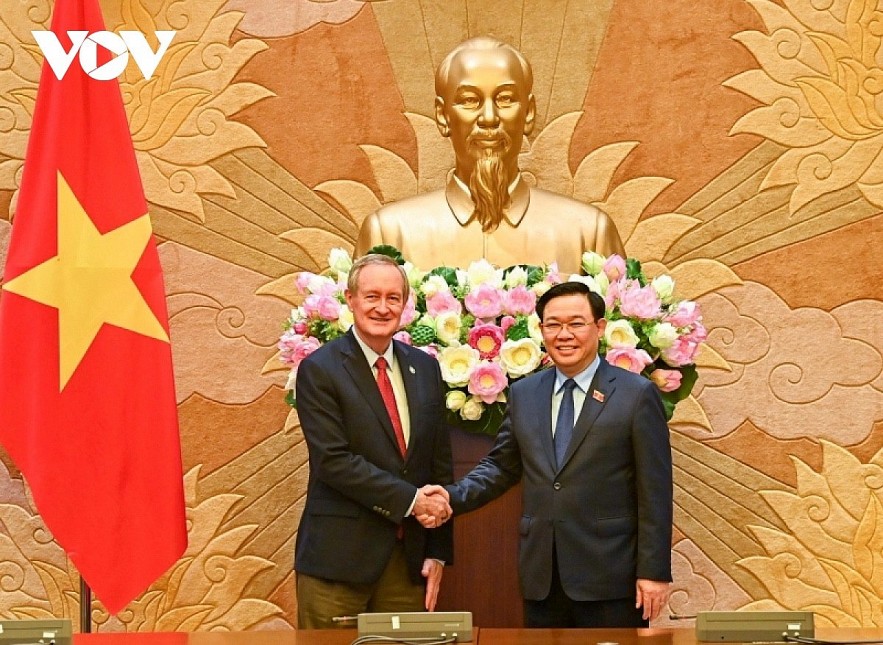 Vietnamese National Assembly Chairman Vuong Dinh Hue (R) receives US Senator Mike Crapo in Hanoi on May 26.
Vietnam considers US a leading partner in foreign policy
National Assembly Chairman Vuong Dinh Hue has highly valued the positive development of the Vietnam – US partnership in recent times and affirmed Vietnam in its foreign policy considers the US one of the leading partners.
Receiving a delegation of US Senators led by Senator Mike Crapo in Hanoi on May 26, Hue also highly appreciated the US administration's consistent support for a strong, independent, resilient and prosperous Vietnam.
He recalled recent contacts and exchanges between the two sides, including a phone call between Vietnamese Party General Secretary Nguyen Phu Trong and US President Joe Biden in March 2023 and a meeting between Vietnamese Prime Minister Pham Minh Chinh and President Joe Biden on the sidelines of the expanded G7 Summit in Japan in May 2023, hoping the two sides would continue to promote high-level visits this year.
Vietnam appreciates the US strengthening cooperation with partners the Indo-Asia-Pacific region, thereby making more active contributions to peace, stability, cooperation and development in the region, said Hue.
He expressed hope that the US, through new strategies and initiatives, would continue to demonstrate its strong commitment to upholding ASEAN centrality, the ASEAN-US Comprehensive Strategic Partnership, as well as the Mekong – US Partnership.
During the reception, the Vietnamese legislature leader and US Senators frankly discussed and highly agreed on cooperation issues between the two countries as well as the two legislative bodies in the coming time, cited VOV.
They agreed that economic cooperation remains a bright spot and a driving force for bilateral relations, with two-way trade turnover last year reaching a record of US$123 billion. Currently Vietnam is one of the eight largest trading partners of the US, while the US is Vietnam's largest export market.
Hue suggested that the US Congress continue to support the maintenance of stable and long-term trade relations between the two countries, and at the same time create favourable conditions for Vietnamese agricultural products such as pangasius, shrimp, and fruit to enter the US market.
He requested that the US recognize Vietnam's market economy regulation, explaining that the Southeast Asian economy has joined many new-generation Free Trade Agreements with very high market standards. Vietnam is committed to engaging deep in regional and international cooperation to promote linkages and economic recovery, and maintain peace and stability for cooperation.
He appreciated the two sides coordinating closely during the Indo-Pacific Economic Framework (IPEF) negotiations, as well as US efforts in promoting this framework.
Through this framework, Hue said Vietnam wishes to promote free, open and fair trade and maintain a multilateral trading system based on international law, contributing to driving growth and sustainable development, and bringing practical benefits to all in the region.
Senator Mike Crapo and other Senators affirmed that the US prioritises promoting economic and trade cooperation with Vietnam. They acknowledged Hue's proposals and said the two countries need to 'reverse' the US investment position in Vietnam from No. 7 to No. 1.
The Senators appreciated Vietnam's ongoing activities related to IPEF, and expected that all parties concerned would make positive progress on each pillar of this cooperation framework. They welcomed Vietnam's approach to global trade issues, and wished to work with Vietnam to realize cooperation plans.
Also at the meeting, Hue voiced Vietnam's support for the US in its role as the APEC Chair 2023, and hoped that the US would support Vietnam's bid to host APEC Year 2027.
He appreciated the US supporting Vietnam and ASEAN's stance regarding the East Sea, including ensuring freedom of navigation and overflight, and peaceful settlement of disputes on the basis of the 1982 UN Convention on the Law of the Sea (UNCLOS).
National Assembly Chairman Vuong Dinh Hue and US Senators also agreed that cooperation in overcoming war consequences continues to be a bright spot in bilateral relations.
Senator Crapo and other members of the delegation affirmed that the US would promote more effective cooperation with Vietnam in this field.
The two sides expressed wish to further strengthen cooperation between the two legislative bodies through ramping up the exchange of delegations.
Hue on this occasion invited the US to attend the ninth Global Conference of Young Parliamentarians of the International Parliamentary Union (IPU) to be hosted by the National Assembly of Vietnam in September 2023 in Hanoi.
New Zealand highly values potential for cooperation with Vietnam
Deputy Secretary for Foreign Affairs and Trade of New Zealand Vangelis Vitalis has expressed his belief in stronger trade ties between Vietnam and his country, saying that the two sides will expand their cooperation to other areas in the future.
Vitalis spotlighted outcomes of the 8th meeting of the Vietnam-New Zealand Joint Trade and Economic Commission (JTEC) recently held in Hanoi, stressing that the two sides focused on practical issues that benefit their businesses and people.
According the Deputy Secretary, the two sides discussed customs procedures to make it easier for both sides' businesses to export goods to each country, during which they underlined the need for electronic certification and the establishment of a process to check each other in the field of agriculture.
He emphasised the two sides' commitment to realising the 2-billion-USD goal in two-way trade by 2024.
The completion of the market opening process for Vietnam's lemons and grapefruits, and New Zealand's squash and strawberries in late 2022 has demonstrated that effort, helping the two countries move closer to this goal, he said.
Vietnam and New Zealand are complementing each other in agriculture cooperation, he said, noting that the partnership has benefited both peooples because they can buy high-quality agricultural products at good prices.
He mentioned the possibility for New Zealand to export medical management software products to Vietnamese hospitals, adding that through the ASEAN-Australia-New Zealand Free Trade Area (AANZFTA), it is possible for Vietnamese engineers to work in New Zealand.
There will be many opportunities for the two nations to promote multifaceted cooperation in the near future, thus further strengthening the bilateral relations, he went on.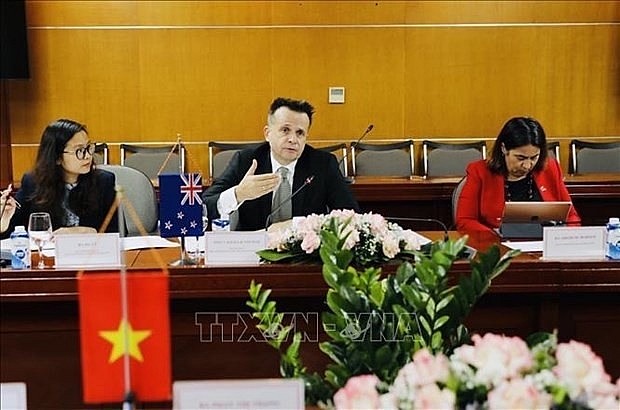 Deputy Secretary for Foreign Affairs and Trade of New Zealand Vangelis Vitalis speaks at the 8th meeting of the Vietnam-New Zealand Joint Trade and Economic Commission (JTEC). (Photo: VNA)
According to Vitalis, education the most important field in bilateral relations, and the two sides should consider speeding up cooperation in this area.
New Zealand can provide training courses for Vietnam, while Vietnam can benefit from the Oceania nation's high-quality education, he said.
Regarding investment in Vietnam, Vitalis said his country prioritises investment in high-quality sectors that can bring about positive changes such as health and education, thus making great contributions to Vietnam and also benefiting New Zealand itself.
Trade between Vietnam and New Zealand has grown strongly since the two countries established the comprehensive partnership in 2009, with an annual average growth rate of 14.2%, according to VNA.
Vietnam is now New Zealand's 13th largest trade partner. The two-way trade hit 1.2 billion USD in 2022, up 14% year-on-year.
The two sides set a goal to lift their two-way trade to 2 billion USD by 2024.
Established in 2006, JTEC is an important cooperation mechanism to promote economic and trade cooperation between the two countries.
During the 8th meeting, the two sides agreed to strengthen bilateral cooperation in trade, investment and economy, including multilateral trade negotiations, agriculture and agribusiness, clean technology, development of agricultural supply chain, education, aviation and tourism.
Vietnam likely to extend e-visa validity to three months
Minister of Public Security To Lam on May 27 submitted to the National Assembly amendments to a bill, proposing to increase the duration of e-visas from no more than 30 days to a maximum of three months.
The ministry also proposed that e-visa holders enter and exit Vietnam multiple times during their visa validity.
Under the current law on entry, exit, transit and residence of foreigners in Vietnam, a foreigner can apply for an e-visa which is valid for a single entry and up to 30 days.
Lawmakers of the ongoing session of the National Assembly are scheduled to give opinions on the amendments on May 27 afternoon.
The National Defense and Security Committee of the National Assembly that oversees the bill agreed with the proposal, saying that the regulation of the e-visa validity for many times would create favourable conditions for foreigners when they enter and exit the country, contributing to reducing administrative procedures, and saving time and costs.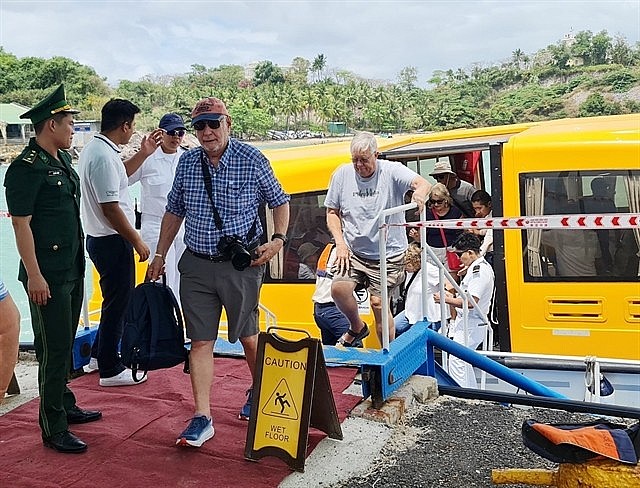 Foreign tourists on an international cruise docking at the coastal city of Nha Trang, Khanh Hoa Province, come on the mainland for sightseeing in March 2023. Photo: VNA
The extension of the e-visa validity is said to meet the needs of international travelers and foreigners entering Vietnam to explore business and investment opportunities.
Some members of the committee asked the bill drafting agency to clarify why the EV validity should not exceed three months, while some others even proposed to extend the validity to no more than six months.
The bill watchdog also agreed with the proposal to expand the list of countries with e-visa entry, saying the current regulation that allows citizens of 80 countries and territories applying for an e-visa to enter Vietnam has yet to meet the needs of foreign tourists and investors in Vietnam.
The committee also agreed with the proposal to extend the validity of the temporary residence certificate granted to people subject to unilateral visa exemption at border gates from the current 15 days to a maximum of 45 days, reported VOV.
As of 2023, citizens of 25 countries can travel to Vietnam without having to apply for a visa, with visitors allowed to stay between 14 and 30 days on average. Meanwhile, some other countries in Southeast Asia such as Singapore, Malaysia, Indonesia, the Philippines and Thailand allow citizens from 158, 166, 169, 157 and 70 countries and territories, respectively, to enjoy their visa exemption policy when entering their territories.
The bill watchdog proposed that the bill drafting agency expand the list of countries and territories and relax unilateral visa exemption conditions, in an effort to facilities tourism and investment activities in Vietnam.
The lawmakers are scheduled to put amendments to a vote on June 24.
Most localities record very high-risk UV levels
Most of provinces and cities nationwide have recorded ultraviolet levels of "high" and "very high" risk of harm on May 27, according to the National Centre for Hydro-Meteorological Forecasting.
The UV index was at highly hazardous levels between 11am and 2pm in such cities as Ha Long (Quang Ninh province) 9.4, Hai Phong 9.4, Hanoi 8.4, Hue (Thua Thien-Hue province) 9.4, Da Nang 9.8, Hoi An (Quang Nam province) 9.6; Nha Trang (Khanh Hoa province) 8.4; Ho Chi Minh City 8.5, Can Tho 7.7, and Ca Mau (Ca Mau province) 9.6.
The UV index will remain "high" and "very high" (7.0 - 10.0) nationwide from May 28 to 30, the centre said.
On the UV index scale, 2.5 - 5.4 is the moderate level, 5.5 - 7.4 high, and 7.5 - 10.4 very high, cited VNA.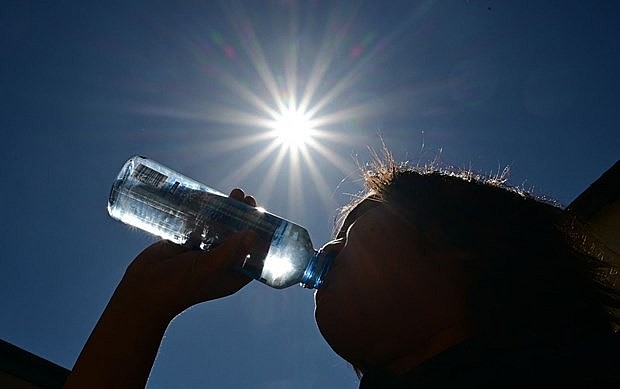 Illustrative image (Photo: VNA)
At the "very high" level, UV rays can cause sunburn if the skin is continuously and unprotectedly exposed to the sun for 25 minutes.
If the index is 10.5 or over – "extremely high", the body is at risk of skin injuries or eye burns after about 15 minutes of unprotected sun exposure.
Vietnam ready for AFC U20 Women's Asian Cup's second qualifying round
The Vietnam national U20 female team are ready for the 2024 AFC U20 Women's Asian Cup's second qualifying round, which will be held in Viet Tri City in Phu Tho Province early next month.
Vietnam, who topped Group F of the event's first qualifying round, will compete in Group A with Australia, Iran and Lebanon in the second qualifier.
"Vietnam's opponents are all strong," coach Akira Ijiri said. "Australia are the strongest, but Iran and Lebanon in recent years are also very strong. It's going to be a tough qualifier. However, Vietnam are ready to compete well at the event."
To prepare for the AFC event, Vietnam had an intensive training trip in Japan, where they had three friendly matches with Seisa Academy, JFA Fukushima Academy and Tokyo High School.
According to coach Ijiri, this training was a valuable experience, helping young players make great professional progress in terms of skills, speed and strength.
Vietnam team will be present in Phu Tho on May 28 to continue practising for the tournament, reported VNS.
The Vietnamese national U20 female team at a training session in Japan. Photo: VFF
According to the schedule, the hosts Vietnam will meet Iran, Lebanon and Australia on June 3, 5, and 7, respectively at 7.00pm.
In the second qualifying round, the teams will compete in a round-robin. The top two teams in each group, along with the top three teams from last season, including Japan, South Korea, North Korea and host Uzbekistan, will compete in the final round next year.
The organisers will hold a press conference of Group A on June 2 at Sai Gon Phu Tho Hotel in Viet Tri City.
The Australian team will be in Việt Nam on May 27 for a short training session at the PVF – Youth Football Training Centre in Hung Yen Province before moving to Viet Tri on June 1 to participate in the tournament.
While the members of the referee team, supervisors, and Iranian and Lebanese squads will come to Vietnam on May 31.
Tickets are free for the fans to support the teams.