Vietnam News Today (May 6): Vietnam's Air Freight Industry Accelerates Despite Covid-19
Vietnam News Today (May 6): Covid-19: Vietnam reports 4,305 new cases on May 5; Norwegian energy firm eyes offshore wind power project in Vietnam; Vietnam's air freight industry accelerates despite Covid-19; Can Vietnam end Covid-19 pandemic emergency in 2022?
Vietnam News Today (May 6) notable headlines
Covid-19: Vietnam reports 4,305 new cases on May 5
Norwegian energy firm eyes offshore wind power project in Vietnam
Vietnam's air freight industry accelerates despite Covid-19
Can Vietnam end Covid-19 pandemic emergency in 2022?
SEA Games 31: Hanoi's activities help promote country's image
Festival promotes Hanoi cuisine and craft village tourism
Vietravel Airlines becomes official carrier of SEA Games 31
Vietnam's post-pandemic economic recovery in German media spotlight
Japanese firm considers plastic waste collection project in Vietnamese waters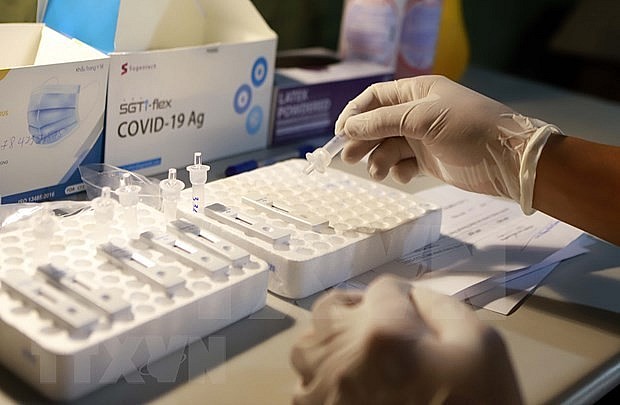 Illustrative photo. Photo: VNA
Covid-19: Vietnam reports 4,305 new cases on May 5
A total 4,305 new cases of Covid-19 were recorded from 4pm May 4 to 4pm May 5, according to the Ministry of Health.
Hanoi continued to report the highest number of infections on the day with 684 cases, followed by Phu Tho with 439 and Vinh Phuc with 273.
The national tally reached 10,666,751.
A total 5,084 Covid-19 patients were given the all clear on May 5, bringing the number of recoveries so far to 9,314,420.
There are 480 patients needing breathing support, while just two death were recorded in the past 24 hours, taking the total fatalities to 43,049, cited VNA.
By May 4, the country had injected 215,159324 doses of Covid-19 vaccines, including 1,617,802 first shots for children from 5 to 11 years old.
Norwegian energy firm eyes offshore wind power project in Vietnam
Norwegian energy company Equinor have outlined their desire to invest and develop offshore wind power in Vietnam, with the international company viewing the nation as a promising market.
This point of view was shared during a recent meeting held between Deputy Minister of Industry and Trade Dang Hoang An, Norwegian Ambassador to Vietnam Grete Lochen, and Equinor representatives to discuss a host of issues related to offshore wind power in the country.
Ambassador Lochen hailed the strong developments in the friendship and multifaceted co-operation between both sides over the years, especially in terms of the marine economy, renewable energy, climate change response, and sustainable development.
With longstanding expertise in marine and offshore operations, Norway can be viewed as being in a unique position to contribute to the growing offshore wind market.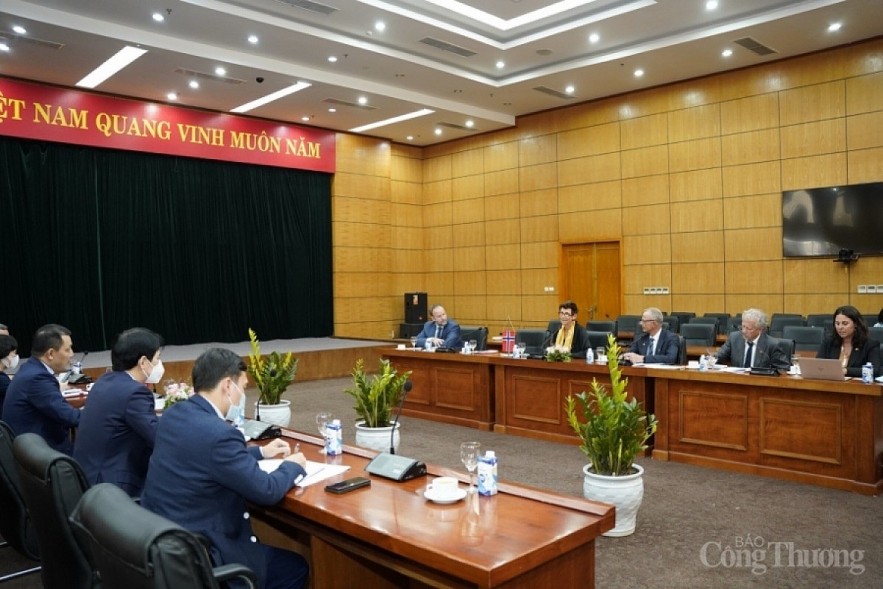 At the working session.
Norwegian companies and industrial clusters are in the process of utilizing their offshore expertise, especially their experience, skills, and knowledge of offshore construction in order to assert their position in the global offshore wind market.
Jens Økland, senior vice president for business development in renewables, said that Equinor had officially opened a representative office in Hanoi. This demonstrates the Norwegian Government's long-term support for the nation in fulfilling its commitments on climate change response at the 26th session of the UN Conference of the Parties (COP26).
The opening of a representative office in Hanoi by Equinor is a good signal aimed at supporting the Vietnamese Government in policy making to realize its commitments to climate change adaptation and green transformation. This also represents an important milestone in the agenda of business co-operation between both sides, the Norwegian Ambassador emphasized.
Deputy Minister An noted his appreciation for the co-operation between Equinor and the Ministry of Industry and Trade in recent times, according to VOV.
With regard to the Vietnamese policy relating to offshore wind power development, according to the latest draft of the country's Power Development Plan, the nation is projected to generate 16,121 MW of onshore and nearshore wind power and approximately 7,000 MW of offshore wind power. The proportion of wind power accounts for roughly 15.8% of the total system capacity, of which offshore wind power stands at 4.8%.
The Deputy Minister added that he hopes Equinor will continue to receive co-operation and share their experience from Norway to help the nation realize its goals.
Økland noted that with experience in researching the Vietnamese market since 2019, the firm is ready to transfer knowledge and contribute to the policy making process, as well as developing the offshore wind power supply chain in the nation. This will be done for the purpose of increasing the capacity of domestic energy companies and creating jobs for domestic workers.
He expressed his hope that the local offshore wind power industry could become a strong sector in the future.
Vietnam's air freight industry accelerates despite Covid-19: Nikkei Daily
Japan's Nikkei Daily has run an article highlighting the strong post-Covid-19 recovery of Vietnam's air cargo industry.
According to the article, the industry is pushing through the pandemic and other headwinds in the global economy, with the number of flights surging and a new homegrown freight carrier set to take to the skies.
It quoted local media as saying that the nation's air cargo traffic in 2022 is expected to grow 17 percent from last year to more than 1.52 million tonnes, accelerating beyond average annual expansion of 15 percent over the last 30 years.
That comes amid surging demand for domestic and overseas freight as Vietnam cements its position in global supply chains for everything from electronics to clothing, with its overall exports jumping nearly 20 percent to about 336 billion USD in 2021. Major cargo operators such as Germany's DHL Express and Japan's ANA Holdings have increasingly been targeting the country.
Illustrative image. Photo: VNA
Nikkei also cited a senior executive at a major foreign logistics company with a facility in Hanoi as saying March was a record in terms of volume handled, reported VNA.
Growing appetite has pushed up the cost of exporting by plane, however, with several industry insiders saying such air freight rates are still two to four times higher than pre-Covid levels, Nikkei wrote in its article
Therefore, one of Vietnam's biggest conglomerates, IMEX Pan Pacific Group, is looking to land some fresh business through its IPP Air Cargo subsidiary, which it expects to begin operating by year-end as Vietnam's first company specialized in air freight.
It plans to launch with a fleet of five aircraft, before doubling that over the next five years. It will initially establish routes between local airports and the country's two largest international airports, one near Hanoi and the other close to Ho Chi Minh City in the south.
The group also says foreign carriers are currently responsible for just under 90 percent of Vietnam's air cargo and that it will consider partnerships with overseas airlines to tap export demand, the article added.
Can Vietnam end Covid-19 pandemic emergency in 2022?
With the World Health Organization (WHO) hopeful that the worst of the Covid-19 pandemic has already passed, experts feel that this year will be a transition period for Vietnam to ensure the dual goal of combating the pandemic and boosting economic development.
The Ministry of Health will therefore continue to gather opinions from members of the National Steering Committee for Covid-19 Prevention and Control and relevant agencies as it seeks to finalize a plan to ensure pandemic response measures for the 2022 to 2023 period. This will be based on the Response Plan to End the Global Covid-19 Emergency in 2022 issued by the WHO on March 31.
According to experts, the continued evolution of the Covid-19 pandemic is unpredictable, therefore the WHO has outlined a range of scenarios to serve in the pandemic response. Associate Professor Dr Tran Dac Phu, former director of the Department of Preventive Medicine under the Health Ministry, said the nation is currently in a transitional period and is preparing various scenarios and taking proactive measures to ensure an appropriate disease response.
The WHO recently announced a plan which aims to end the "state of emergency" to the Covid-19 pandemic. However, it should be noted that this is not the end of the Covid-19 pandemic, Prof. Phu said.
Accordingly, the organization has put forth several scenarios which could occur in the near future, such as having less severe outbreaks or weakened immunity among populations requiring a booster dose for those most at risk. Alternatively, the pandemic could turn out to be seasonal, with case numbers fluctuating throughout the year.
The WHO's most notable scenario is the possible emergence of new variants of the SARS-CoV-2 virus, but causing less severe disease. Others include people having longer-lasting antibodies without the need for a booster vaccine, with no need to make significant changes to existing vaccines.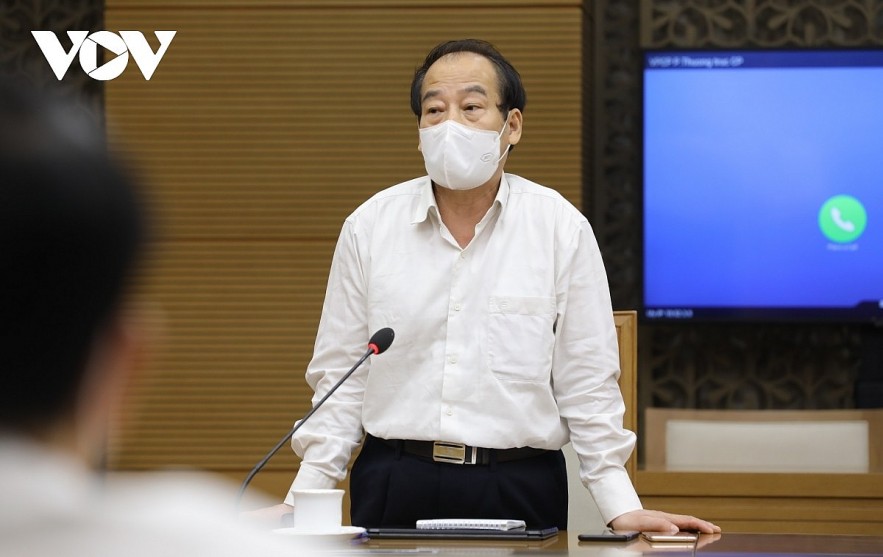 Associate Professor Dr Tran Dac Phu, former director of the Department of Preventive Medicine under the Health Ministry.
However, it also warned that the worst-case scenario is the possibility that virus mutates, with new threats such as higher transmissibility, stronger symptoms, coupled with higher severity for individuals at risk.
In this case, vaccines may prove to be less effective, while the ability to recover from the disease and immunity will weaken rapidly. Accordingly, there may be a need for a new vaccine and expanded vaccination, with priority given to vulnerable groups, cited VOV.
Despite coming up with scenarios to end the pandemic emergency, the organization is calling on countries to strengthen surveillance in order to detect and warn of early signs of changes in the virus.
"In my opinion, the WHO's recommendations still focus on vaccination measures. Through this we can see that WHO is uncertain and difficult to predict in which direction the changes of SARS-CoV-2 of the Covid-19 pandemic will be," Prof. Phu said.
Regarding conditions for pandemic control which could end the state of emergency relating to the Covid-19 pandemic this year, Phu said given the specific pandemic developments in the country, along with the WHO's guidance, the nation must continue updating information regarding pandemic developments. In addition, it should keep up with relevant events elsewhere in the world, especially regarding changes to the virus.
The health sector therefore needs to undergo surveillance methods to fully grasp the disease situation. It can be considered essential to put suitable scenarios in place to respond promptly to developments of the pandemic, while simultaneously ensuring the "dual goal" of both fighting the pandemic and developing the national economy, with people's health being put first, he went on to say.
Following the latest developments relating to the Covid-19 pandemic, the nation has proposed two scenarios for pandemic response. In which, the first considers the virus to be milder, with Covid-19 becoming a common disease. The second is that the pandemic could be more serious, making it necessary to focus on response strategies to effectively combat it.
"During this period, we should go ahead with the flexible adaptation strategy. This is an extremely important strategy in terms of flexible and effective adaptation to each pandemic situation as well as to each scenario to respond to the change of the virus," he stated.
Prof. Phu also underlined the necessity of following anti-pandemic measures such as mask wearing, disinfecting, and injecting vaccines according to the instructions of the Ministry of Health, in which it will be necessary to offer booster shots to people suffering immune deficiency.
"It is possible that the Covid-19 pandemic will become an annual epidemic. But at this time, Vietnam needs a transitional period to prepare appropriate scenarios and response measures. Accordingly, when Covid-19 can be identified as a common disease, we will not suffer too much loss in terms of investment in extreme response measures," Prof. Phu added.
SEA Games 31: Hanoi's activities help promote country's image
A series of activities have been organized in Hanoi towards the 31st Southeast Asian Games (SEA Games 31) in order to promote the image of Vietnam and the capital city as a friendly, hospitable, safe and attractive destination to international friends.
Accordingly, 16 art performance programs will be held from May 13 – 23, focusing on praising the Party, late President Ho Chi Minh, the homeland and the capital city.
The Ho Chi Minh Communist Youth Union in Hanoi has released publications and built communication channels on social networks to popularize the beautiful image of Hanoi through the perspective of young people before, during and after SEA Games 31.
It will also continue to deploy a volunteer team to guide and welcome domestic and international tourists on this occasion; and hold the Southeast Asian youth festival to welcome the regional sports event.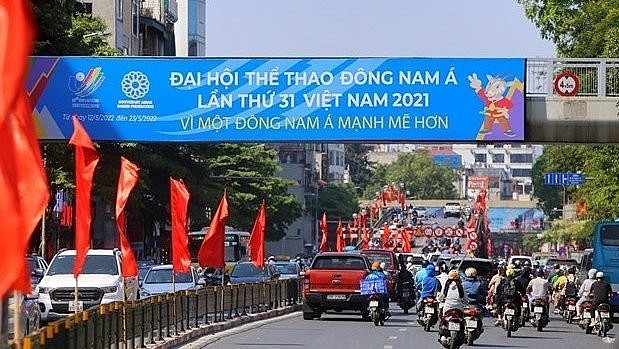 The capital city has also completed decoration and visual promotion on billboards, banners, and LED display along main streets. Illustrative image Photo: VNA
The municipal industry and trade sector, districts and towns have maintained the organization and operation of civilized commercial streets; and mobilized businesses and retail establishments to manage the production and promote the sale of gifts and souvenirs, especially traditional craft products using the symbol of SEA Games 31, and OCOP products.
Meanwhile, the tourism sector has been organizing events before, during and after the event, including inaugurating the Centre of Vietnamese Quintessential Craft Villages in Bat Trang pottery village.
Previously, the city also organized many activities such as a ceremony to count down 31 days left until the opening of SEA Games 31, the 47th edition of the Ha Noi Moi Newspaper Run, the Hanoi tourism festival to welcome 2022, and the Tourism Gift Festival 2022, according to NDO.
The capital city has also completed decoration and visual promotion on billboards, banners, and LED display along main streets around locations that will take place the opening and closing ceremonies of SEA Games 31.
Attention has been paid to promoting the image of Hanoi and Vietnam, culture and tourism destinations of the capital city, and the relationship between Vietnam and other ASEAN member countries.
SEA Games 31, themed "For a Stronger South East Asia", will be held in the capital city of Hanoi and 11 neighboring provinces and cities from May 12 to 23.
Featuring 40 sports with 526 events, it is expected to attract around 10,000 participants. The biennial event was initially slated for late 2021 but delayed due to the Covid-19 pandemic's impact.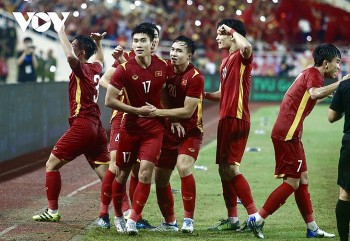 Viet's Home
The Vietnamese football team, both male and female, played their best, devoted themselves, united, and promoted the collective spirit, successfully defending their SEA Games champion title.