Vietnam News Today (May 4): E-commerce Transactions Boom During Covid-19 Pandemic
Vietnam News Today (May 4): Vietnam- an important partner in SEA; Digital transformation in logistics: Key for competition in 42-billion-USD market; E-commerce transactions boom during Covid-19 pandemic; National strategy on environmental protection to 2030 approved.
Vietnam News Today (May 4) notable headlines
Vietnam- an important partner in SEA
Digital transformation in logistics: Key for competition in 42-billion-USD market
E-commerce transactions boom during Covid-19 pandemic
National strategy on environmental protection to 2030 approved
Eastern Mekong Delta enjoys tourism boom
Vietnam's exports to UK up 16.4 percent last year
Vietnamese cultural center opened in Italy's Venice city
U23 Vietnam gearing up for 31st SEA Games campaign
Hiring demand in Vietnam's FMCG forecast to be high in next quarters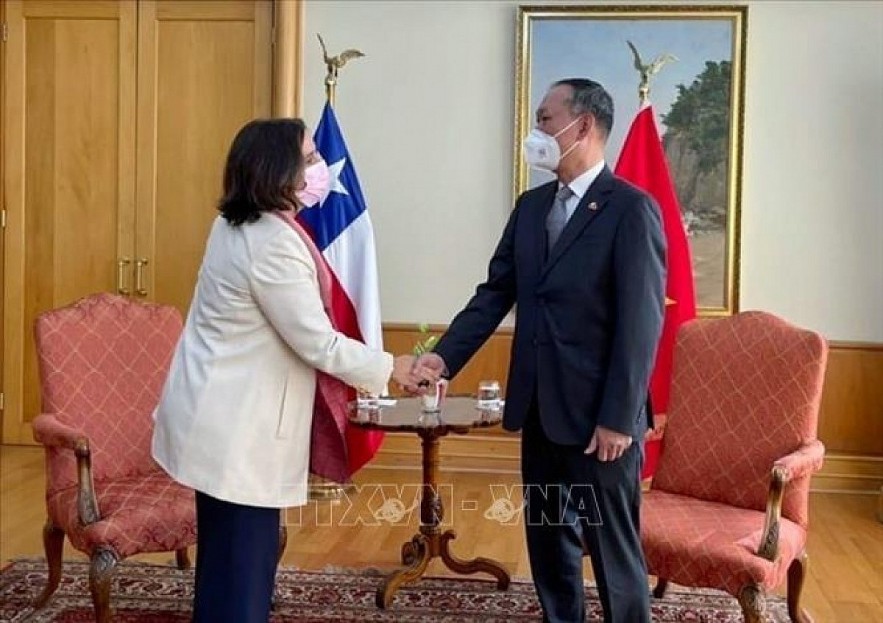 Chilean Foreign Minister Urrejola Noguera (L) welcomes Vietnamese Ambassador to Chile Pham Truong Giang. Photo: VNA
Vietnam- an important partner in SEA: New Chilean FM
Vietnam is one of Chile's important partners in Southeast Asia, newly-appointed Chilean Foreign Minister Urrejola Noguera affirmed during a reception for Vietnamese Ambassador to Chile Pham Truong Giang who paid a courtesy visit on May 2.
During the meeting, FM Noguera and Ambassador Pham Truong Giang reviewed and shared the positive developments in bilateral relations over the past time. Despite being affected by the Covid-19 pandemic, last year's bilateral trade reached a good figure of US$1.59 billion, making Vietnam continue to be Chile's largest trading partner in ASEAN.
The Chilean diplomat said she hopes that Ambassador Pham Truong Giang will continue to make positive contributions to the development of the Vietnam-Chile friendship and cooperation.
Noguera asked the Ambassador to coordinate in accelerating the signing and implementation of existing Memorandum of Understanding between the two countries, especially in agricultural cooperation, and show Vietnam's support for Chile's accession to the ASEAN-Australia-New Zealand Free Trade Agreement (AANZFTA) and its bid to run for the membership of the United Nations Human Rights Council for the 2023-2025 tenure, according to VOV.
For his part, Ambassador Pham Truong Giang pledged to go ahead with his contribution to connecting relevant ministries, businesses and localities of the two countries in order to fully tap the potential of cooperation, and asked Chile to share experience in the Covid-19 pandemic response, climate change adaptation and the transition to clean energy.
Giang expected that the two sides would work together to promote the exchange of delegations at all levels and the existing annual dialogue and cooperation mechanisms such as the political consultation between the two foreign ministries, and the consultation mechanism between the two trade ministries.
Digital transformation in logistics: Key for competition in 42-billion-USD market
Vietnam's logistics market is worth around 40-42 billion USD a year, and digital transformation among businesses is considered key to their success in this competitive market.The Saigon Newport Corporation is a pioneer of digital transformation in the logistics sector.
In 2021, despite the difficulties caused by the Covid-19 pandemic, the Tan Cang Cai Mep International Port set records in terms of the volume handled by mother ships from 14,235 TEU to 15,615 TEU, and the handling capacity of 238.08 containers per hour by the ship One Columba continued to exceed the throughput of 2 million TEUs. It also handled over 55 percent of the market share of export and import container volume through seaports nationwide.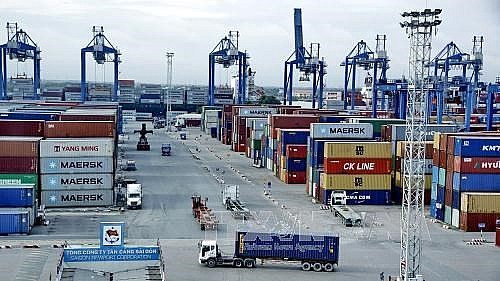 Photo: VNA
Gemadept also overcame a challenging year with double-digit throughput growth in all three regions. Its total throughput last year is estimated at 2.7 million TEUs, equivalent to impressive growth of 53 percent. That success is thanks to the corporation's digitalization of port operation and logistical processes, thus helping optimize time and resources and save costs for customers.
Other logistics enterprises such as DHL, FedEx, Maersk Logistics, APL Logistics, CJ Logistics and KMTC Logistics are also entering the race for digital transformation, which has key for businesses to overcome difficulties, compete with each other and develop further, cited VNA.
However, at present, only around 40 percent of enterprises in this sector are conducting digital transformation.
Addressing a recent policy dialogue on the logistics sector held by the Vietnam Trade Promotion Agency (Vietrade) and the Korea Trade-Investment Promotion Agency (KOTRA) in Hanoi, Vietrade Director Vu Ba Phu said that economic growth, especially imports and exports, is posing challenges to Vietnam's logistics industry.
With the Fourth Industrial Revolution, traditional logistics centers have been switched to new-generation centers using high technologies, he said, adding that an action plan to enhance the competitiveness and development of the Vietnamese logistics sector until 2025 has been implemented to cut costs and improve efficiency in the sector.
Dinh Huu Thanh, CEO of the Bee Logistics Corporation, asked the Government to consider logistics a supporting industry and as such issue more appropriate policies, while continuing to modernize its management in this field.
E-commerce transactions boom during Covid-19 pandemic
Vietnam has emerged as an attractive destination for local and international investors in e-payment, e-commerce and online gaming services even during the Covid-19 pandemic, according to the Ministry of Investment and Planning.
At present, the total number of existing investment funds in the country increased by 60% compared to 2019 and 2020, mainly sourced from Singapore, the United States, and Japan.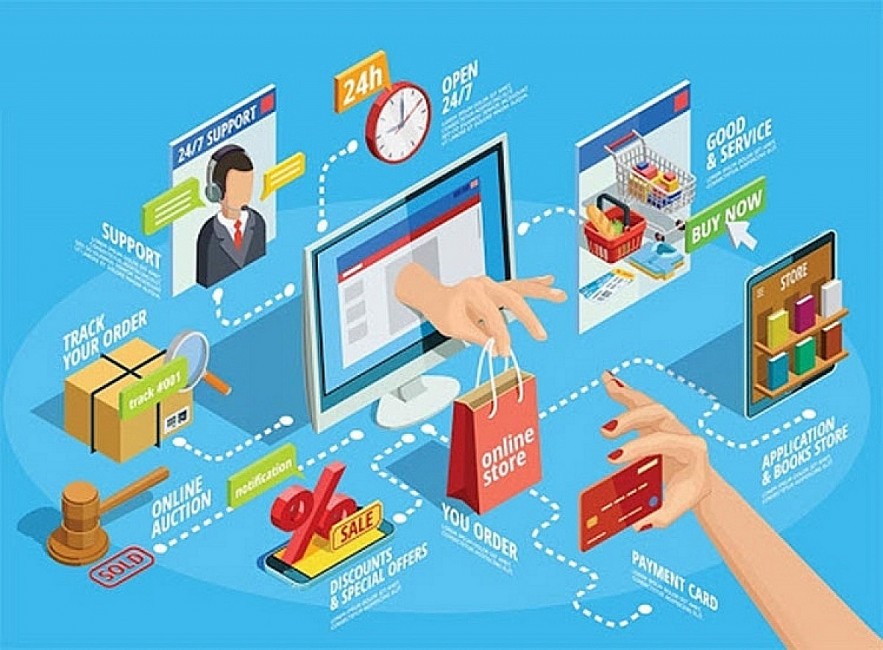 Photo: VOV
Despite the multi-dimensional impact of the Covid-19 pandemic, last year saw a number of fields such as health care, education, and digital transformation record impressive growth of 1,016%, 526%, and 205%, respectively.
Nguyen Ba Diep, co-founder and vice president of MoMo E-Wallet, pointed out that although the pandemic can be viewed as a disaster for many industries, several digital firms like his enjoyed huge opportunities from the challenges, reported VOV.
Most notably, the number of e-payment customers increased dramatically, up to 1,000% per year, Diep said, noting that it would have taken 20 years to achieve that growth rate without the pandemic.
As economic recovery is picking up, Vietnam is expected to remain a magnet for investors and develop into a technology centre in the region thanks to the resilience of entrepreneurs, businesses, and start-ups, along with the Government's effective macro-economic policies and timely support, according to insiders.
National strategy on environmental protection to 2030 approved
Deputy Prime Minister Le Van Thanh has signed a decision approving the National Strategy for Environmental Protection to 2030 with a vision until 2050.
Deputy Prime Minister Le Van Thanh has signed a decision approving the National Strategy for Environmental Protection to 2030 with a vision until 2050, in which the Government sets targets to prevent the increasing trend of environmental pollution, solve urgent environmental problems, and step by step improve and restore the quality of the environment.
Objectives of the scheme also include enhancing the country's capacity to cope with climate change, ensuring environmental security, and building and developing circular, green, low carbon economic models, contributing to achieving the country's sustainable development goals.
To this end, the strategy gives a number of key solutions, including actively preventing and controlling negative impacts on the environment and environmental incidents, encouraging ecological and circular economic development, green growth, promoting sustainable production and consumption, VNA reported.
At the same time, environmental zoning will be conducted, along with the enhancement of the efficiency of strategic environmental evaluation, environmental impact assessment, and environmental management based on environmental permits.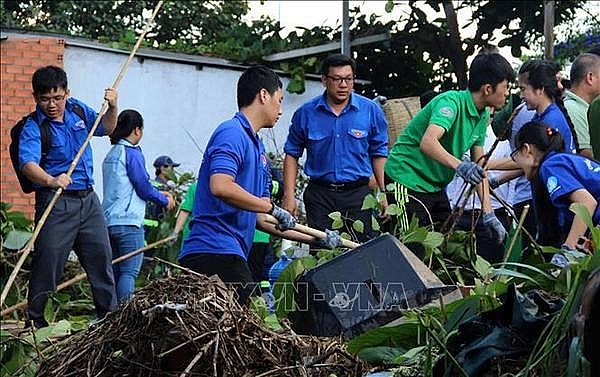 Photo: VNA
Facilities with high risks of causing environmental pollution will be strictly monitored, while transboundary environmental problems will be managed, according to the strategy.
Besides, the strategy focuses on solving key and urgent environmental issues, settling environmental pollution and degradation; maintaining and improving the environment quality and hygiene; conserving the nature and biodiversity, promoting environmental protection in the exploitation and use of resources; proactively protecting the environment to contribute to improving the capacity to adapt to climate change and reduce greenhouse gas emissions.
Eastern Mekong Delta enjoys tourism boom
Since early 2022, provinces within the tourism development cooperation cluster in the Eastern Mekong Delta have been welcoming increasing numbers of visitors as the nation shifts to safely adapts to the Covid-19 pandemic.
The cluster consists of Ben Tre, Vinh Long, Tien Giang, Tra Vinh, Long An and Dong Thap provinces. Due to the pandemic, it witnessed a significant drop in the number of visitors and was forced to temporarily close tourism services.
However, these localities have been gradually reopening, with the Lunar New Year festival in 2022 marking a booming tourism industry after a prolonged "hibernation". Holidaymakers have flocked to the localities as they gradually adapt to the new normal.
In Ben Tre, a message of safe, friendly, and quality eco-tourism has been promoted in order to revive the industry. The province has stepped up cooperation with Ho Chi Minh City and other localities, focusing on building attractive and unique tour packages.
Vinh Long, meanwhile, has actively helped tourism establishments to develop pandemic prevention and response plans and encouraged them to prepare promotion packages for the near future, cited VNA.
According to Director of the Tien Giang Department of Culture, Sports and Tourism Nguyen Duc Dam, the province is concentrating on upgrading facilities, developing tourism products, and applying new technologies from the 4th Industrial Revolution to lure investors. In 2022, Tien Giang aims to welcome 1.1 million tourists, doubling that of last year.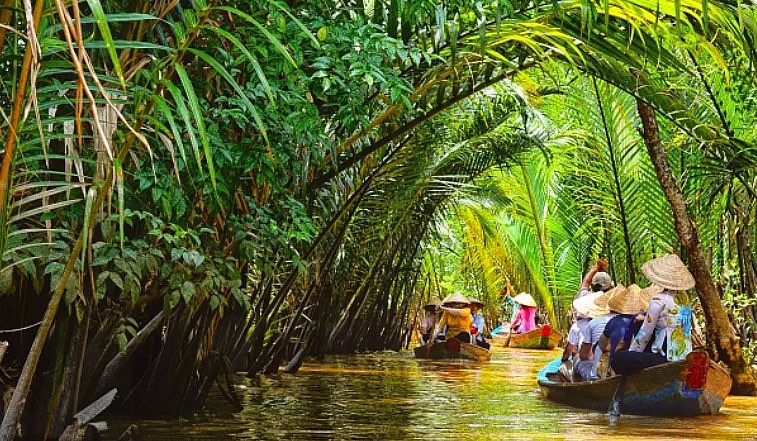 Photo: VNN
Determining that the restoration of tourism in the 'new normal' is both a challenge and an opportunity, delta localities have been implementing a host of solutions to stimulate demand, restore tourism and diversify products to promote their advantages and keep pace with changes in visitors' demands. They are also working to strengthen regional links in the expectation of launching more tours and routes and developing new products as regional highlights for tourists.
According to the Vinh Long Department of Culture, Sports and Tourism, the province is focusing on building and enhancing the value of its homestay, agricultural, cultural-spiritual, and craft village tourism. An Binh island in Long Ho district has two ASEAN-standard homestay facilities and one provincial-level one.
Vinh Long is in the process of turning the art of "boi" singing (classical drama) into a regular and attractive feature to enhance local tourism competitiveness.
Boasting a 32km coastline, the Tien River, and a comprehensive road and waterway transport system, Tien Giang is eyeing the development of eco-tourism in its local orchards, saltwater-freshwater-river ecological zones and the Dong Thap Muoi area.
In Ben Tre, which is considered a green island in the middle of the Mekong River, coconut-river ecotourism has always been an attractive form of local tourism. By 2030, the province targets to host at least 3.2 – 5 million visitors, of which the number of foreigners will account for nearly 50 percent.
According to Director of the Ben Tre Department of Agriculture and Rural Development Doan Van Danh, the province boasts many craft villages which make ornamental flowers, dried fish, wine and coconut candy, among others.