Vietnam News Today (May 3): Foreign Arrivals to Vietnam Soar in April
Vietnam News Today (May 3): Vietnam, Japan partner to develop startups, innovative companies; Foreign arrivals to Vietnam soar in April; Arrivals in Vietnam for SEA Games 31 not required to make health declarations; Filling the 'gap' in vaccination for children.
Vietnam News Today (May 3) notable headlines
Vietnam, Japan partner to develop startups, innovative companies
Foreign arrivals to Vietnam soar in April
Arrivals in Vietnam for SEA Games 31 not required to make health declarations
Filling the 'gap' in vaccination for children
Vietnamese intellectuals in Germany contribute to Vietnam's development
Vietnam overtake China in Asian football club rankings
Vietnam Cultural House inaugurated in Veneto (Italy)
Q1 unemployment rate drops: GSO
SEA Games 31: eight TV channels in Thailand to broadcast live competitions
Vietnam, Japan partner to develop startups, innovative companies
A memorandum of understanding (MoU) on innovation cooperation has been signed, under which Japan will help Vietnam develop startups and innovative companies within the 8th phase of the Vietnam - Japan Joint Initiative.
The MoU was exchanged in Hanoi on May 1 by the Vietnam National Innovation Center (NIC) under the Ministry of Planning and Investment (MPI), the Japanese Chamber of Commerce and Industry in Vietnam (JCCI), and the Japan External Trade Organization (JETRO) in the presence of Prime Minister Pham Minh Chinh and his Japanese counterpart Kishida Fumio who was on an official visit to Vietnam.
Accordingly, JCCI and JETRO will assist with activities held by NIC to help develop startups and innovative companies of both countries, cited VNA.
Those activities will include giving advice on cooperation with Japanese businesses to Vietnamese firms; enhancing ties between the countries' startups and innovative companies and investors; helping increase business connectivity, promote partnerships among firms in both countries, and establish startups and innovative companies; working together to organize events on innovation and startup; and exchanging relevant information.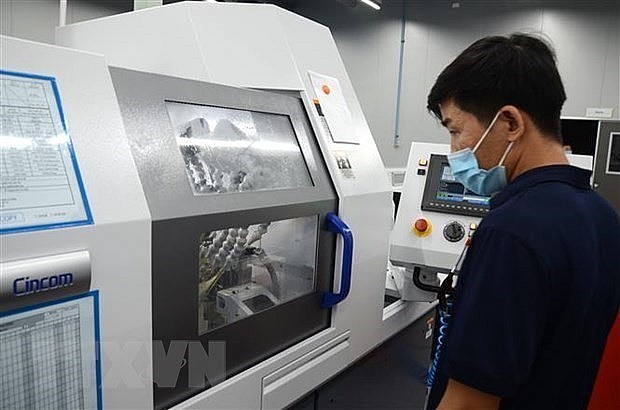 Japan will help Vietnam develop startups and innovative companies within the 8th phase of the Vietnam - Japan Joint Initiative. Photo: VNA
NIC Director Vu Quoc Huy said Vietnam is forming an innovation network with the engagement of experts and intellectuals working in developed countries, including Japan, Australia, Germany, the US, and the Republic of Korea.
He noted in Japan, Vietnam has set up the Vietnam - Japan Open Innovation Network with thousands of members. This is part of the MPI-founded Vietnam Innovation Network, which aims to connect global intellectuals and experts to create and apply new technologies, products, business models, and management methods so as to help Vietnam achieve development targets.
At a recent seminar, JETRO Chairman Sasaki Nobuhiko said his organization will boost dialogue and collaboration with the Vietnamese Ministry of Industry and Trade, Ministry of Information and Communications, and the MPI in terms of technological innovation, digital transformation, and supply chain diversification while helping further improve the business climate and reinforcing ties in technological innovation between the countries' enterprises.
Foreign arrivals to Vietnam soar in April
April international arrivals in Vietnam soared to 2.4 times that of March and 5.2 per cent higher than the same period last year thanks to the country's tourism reopening, according to the General Statistics Office of Vietnam (GSO).
In the first four months of the year, the number of foreigners arriving in Vietnam neared 192,400, an annual rise of 184.7 per cent. Of the total, 88.6 per cent came by air, increasing close to four times from 2021, while arrivals by road and sea were down by 10.5 and 58.7 per cent, respectively.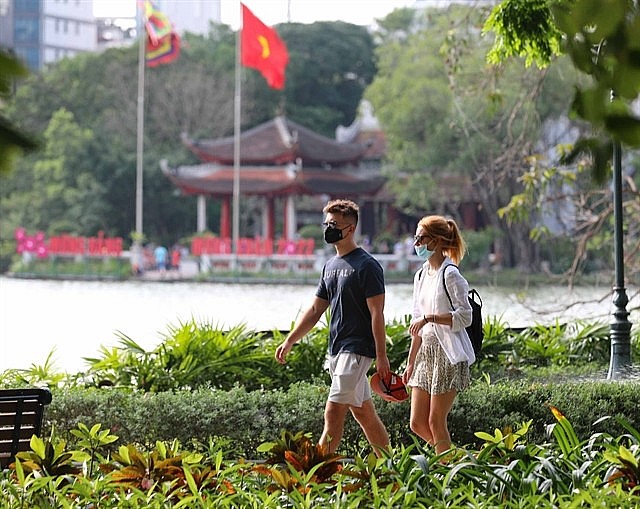 Foreign tourists walking in the Hoan Kiem Lake pedestrian area on April 30, 2022. Photo: VNA
Tourism revenue from lodging-food and transport services grew by 5.2 per cent and 10.5 per cent on-year, respectively.
In May, Vietnam will host the 31st Southeast Asian Games with the participation of all the 11 regional countries that are sending large delegations of athletes, officials and reporters, according to VNS.
Ramping up related communications preparations, the Vietnam National Administration of Tourism considers the tournament the first big event of the region after two years being impacted by Covid-19.
It has urged the entire sector to spare no efforts toward the overall success of the Games and the regional and global promotion of Vietnam's image.
Arrivals in Vietnam for SEA Games 31 not required to make health declarations
The Vietnam Sports Administration has been asked to inform all foreign sports delegations to the upcoming SEA Games 31 about the suspension of the Covid-19 health declaration requirement at Vietnamese border gates, according to an urgent notice.
The notice was sent by the Ministry of Health's General Department of Preventive Medicine, requesting the VSA to report to the SEA Games 31's organizing committee and inform other regional delegations about the new policy.
All arrivals in Vietnam no longer have to submit health declarations, starting from April 27, the Ministry of Health has announced, reported VNA.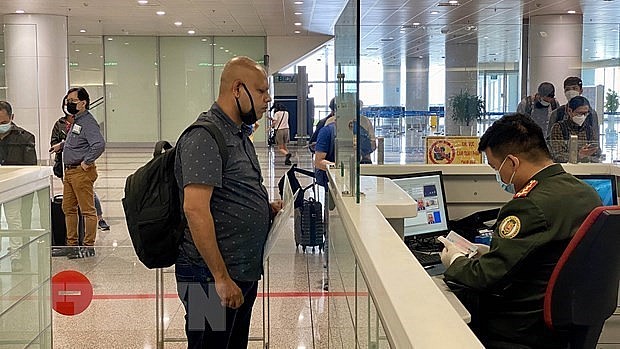 Photo: VNA
Previously, the ministry has issued a guideline for Covid-19 control measures during the region's biggest sport event, saying that any guest who holds a position of the deputy ministerial level or above, as well as heads and deputy heads of sport delegations will neither need to show negative Covid-19 testing results when entering Vietnam nor take tests after arrival. Also, they do not need to go into mandatory quarantine.
Sport officials, referees and athletes are required to have certified negative RT-PCR/RT-LAMP testing results taken within 72 hours or rapid antigen testing within 24 hours before entering Vietnam, but not to quarantine.
The 31st Southeast Asian Games (SEA Games 31), featuring 40 sports, is scheduled to take place in Hanoi and 11 nearby localities from May 12 to 23.
Filling the 'gap' in vaccination for children
More than two years since its outbreak, the Covid-19 pandemic has severely disrupted vaccination campaigns around the globe, putting many children at risk of dangerous diseases that could have been prevented by vaccines. If the "gaps" in vaccination are not filled soon, the world's epidemic prevention achievements over the past 20 years could be reversed.
In the first three months of 2022, the number of measles cases in Africa increased by 400% over the same period in 2021. According to the United Nations Children's Fund (UNICEF) and the World Health Organization (WHO), more than 17,300 measles cases were reported globally in January and February, nearly double the same period last year. There have been 21 large measles outbreaks in the world within a year (as of April 2022). In 2021, 24 African nations confirmed epidemics due to a variant of polio and countries reported new yellow fever outbreaks. The actual number may be higher due to disruptions in epidemic tracking systems globally because of Covid-19.
Health experts said that the alarming numbers above partly paint a gloomy picture of the infectious status of diseases that have been controlled thanks to the vaccines launched dozens of years ago. Dr. Matshidiso Moeti, Regional Director of the WHO Regional Office for Africa (AFRO), emphasized that the rise in outbreaks of vaccine-preventable diseases is a warning sign of the epidemic storms that are about to come.
Low vaccine coverage is believed to be the main cause of the re-emergence of diseases and their rapid spread. According to new statistics released by UNICEF, as of April 1, 57 vaccination campaigns have been approved in 43 countries and territories, but have not been implemented. The disruption affected 203 million people, most of whom are children.
In 2020, about 23 million children around the world missed out on basic doses of vaccine and this was the highest level since 2009. In Latin America and the Caribbean alone, one in four children in the region has not received the full routine vaccination schedule. Nearly 2.5 million children have been incompletely vaccinated against diphtheria, tetanus and whooping cough and 1.5 million of them have not had even one dose. UNICEF warned that the drop in vaccination for children is a 'dangerous step backwards', which can put their health at risk and cause long-term consequences.
The WHO Director-General Tedros Adhanom Ghebreyesus noted that the Covid-19 pandemic has severely disrupted the efforts in vaccination, causing an overload of health systems globally. Children become more vulnerable to deadly diseases, such as polio, measles, and pneumonia. Therefore, this is an important time for countries to act together to reverse the situation to protect the children and the future of the world, according to NDO.
Before the outbreak of the Covid-19 pandemic, the expanded vaccination campaign in several countries faced many challenges. In countries with conflict and poverty such as Somalia, Ethiopia and Afghanistan, the provision of full vaccines to children was a difficult mission. Weak health systems, inadequate vaccine storage equipment and difficulties in accessing people living in unstable security areas are major barriers to the mission of bringing vaccines to people. Difficulties piled up when the Covid-19 pandemic broke out, shaking the health system. Vaccination facilities were forced to narrow their operations and people were concerned about the risk of infection at the medical centers.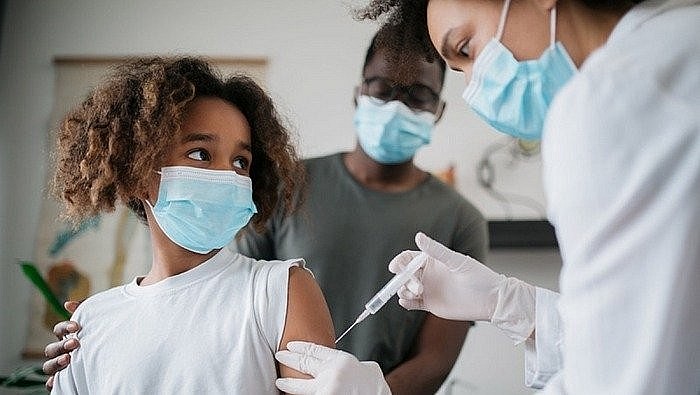 Immunization for children has been always a top concern of health professionals. Photo: Getty Images
However, despite these challenges, UNICEF Regional Director for Latin America and the Caribbean Jean Gough emphasized that during the post-COVID-19 recovery period, the countries should act soon to reverse the decline in coverage of vaccines. UNICEF and the Global Alliance for Vaccines and Immunization (GAVI) have worked with their partners to launch the Immunization Agenda 2030 (IA2030). According to WHO, if it is fully carried out, IA2030 will help prevent about 50 million deaths worldwide.
Quickly bringing essential vaccination campaigns back on track is an urgent task to fill the 'gaps' created by the Covid-19 pandemic and prevent the risk of future outbreaks of dangerous epidemics in the future.
Vietnamese intellectuals in Germany contribute to Vietnam's development
The Consulate General of Vietnam in Frankfurt am Main, Germany, recently held a get-together with representatives of the Vietnam-Germany Innovation Network (VGInetwork) marking the 47th anniversary of Vietnam's Southern Liberation and National Reunification Day (April 30).
The meeting attracted the participation of VGInetwork members who are currently working at technical universities such as TU Dortmund and TU Hamburg, and large corporations such as Siemens, Volkswagen, German railway, as well as overseas businessmen in West Germany.
Addressing the event, Consul General Le Quang Long emphasized the important role of overseas intellectuals in Germany and suggested VGInetwork make practical contributions to Vietnam's priority fields including green growth, renewable energy development, and sustainable development research.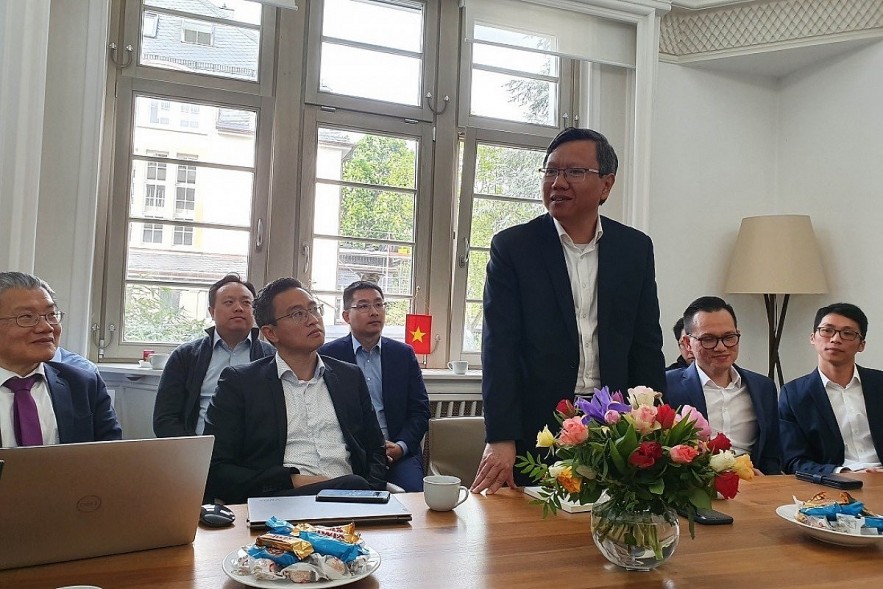 Consul General Le Quang Long emphasizes the important role of overseas intellectuals in the Vietnam - Germany cooperation. Photo: VNA
He expressed his delight at the positive developments of VGInetwork in recent times, noting the agency has expanded the network of experts, actively shared and transferred knowledge and technologies to serve the expatriate community in Germany, and supported representative offices in the area, contributing to promoting scientific and educational cooperation between the two countries.
Professor, Academician Nguyen Xuan Thinh, president of VGInetwork, presented a report on the establishment, achievements and development visions of the agency, as well as the potential for science and technology cooperation between Vietnam and Germany in the fields of sustainable development research, management of resources, land, water and environmental protection, and climate change response, VOV reported.
Prof. Dr. Do Thanh Trung, founder of VGInetwork, presented a report on renewable energy development, Germany's national energy transition strategy and gave some opinions related to green growth in Vietnam.
He put forward an initiative on the establishment of the Vietnam - Germany Energy Hub under VGInetwork to connect Vietnamese and German managers, businesses and institutions toward a sustainable green economy.
Other scientists shared Germany's experience in renewable energy development, environmental protection and climate change response, and affirmed their institutions are ready to boost cooperation with Vietnam in these fields.