Vietnam News Today (Nov. 11): Vietnam Makes Active, Responsible Contributions to IAEA's Activities
Vietnam News Today (Nov. 11): Vietnam makes active, responsible contributions to IAEA's activities; Hanoi eyes broader ties with Japan; Vietnamese tourism market introduced to Belgian firms; Warburg Pincus acts as bridge to attract foreign investors to Vietnam.
Vietnam News Today (Nov. 11) notable headlines
Vietnam makes active, responsible contributions to IAEA's activities
Hanoi eyes broader ties with Japan
Vietnamese tourism market introduced to Belgian firms
Warburg Pincus acts as bridge to attract foreign investors to Vietnam
Vietnam calls for ceasefire, release of hostages in Israel-Hamas conflict
Overseas Vietnamese – a key resource in national development
Vietnam's beauty, achievements showcased at Mexico City exhibition
Vietnam craft villages festival opens
Online Friday 2023 to feature 500 brands, 3,000 businesses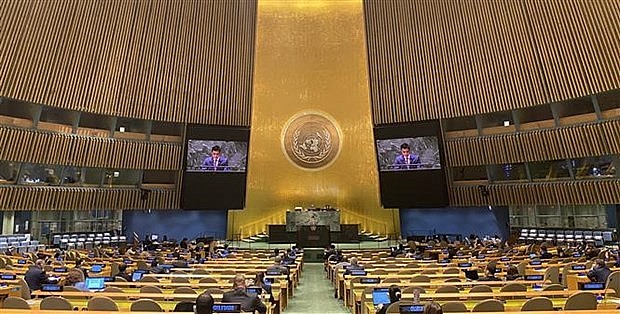 Ambassador Dang Hoang Giang, Permanent Representative of Vietnam to the United Nations speaks at a debate on the 2022 annual report of the IAEA at the UN General Assembly on November 8-9. (Photo: VNA)
Vietnam makes active, responsible contributions to IAEA's activities
Vietnam appreciates the results that the International Atomic Energy Agency (IAEA) has achieved in the field of nuclear inspection and its leading role in supporting countries, including Vietnam, to ensure nuclear security and safety, Ambassador Dang Hoang Giang, Permanent Representative of Vietnam to the United Nations said at a debate on the 2022 annual report of the IAEA at the UN General Assembly on November 8-9.
The Vietnamese representative acknowledged and appreciated the amount of work that the IAEA has completed in the past year, and thanked the IAEA and other members of the IAEA Board of Governors for cooperating with Vietnam while it serves as a member of the board in the 2021 - 2023 term, cited VNA.
Giang said that Vietnam and its partners are developing the Vietnamese Information Management System (VIMS) to enable nuclear facilities to submit reports online, which helps to simplify the inspection and supervision process and report-making process.
The ambassador hailed IAEA's technical cooperation programs with many leading initiatives such as nuclear applications in tackling zoonotic diseases (the Zoonotic Disease Integrated Action - ZODIAC), treating marine plastic waste (NUTEC Plastic), improving access to cancer diagnosis and treatment using radiotherapy (Rays of Hope) and many projects supporting climate change mitigation and adaptation. Through technical assistance projects, the IAEA has helped Vietnam implement nuclear reactor research projects and nuclear energy applications in various fields such as health, agriculture, industry, and research, environmental protection, water resources, and nuclear safety infrastructure development.
Regarding emerging nuclear energy technology, the diplomat said that technologies such as Small modular reactors (SMRs) and Floating nuclear power platforms (FNPPs) pose challenges and potential impacts on the current legal framework as well as security, safety and navigation. The development, deployment and operation of these nuclear energy technologies should be conducted following international law, including the United Nations Convention on the Law of the Sea (UNCLOS).
Vietnam supports a cautious and step-by-step approach within the IAEA framework for research, development, licensing, management and operation of FNPPs through close consultation with involved countries.
On this occasion, the Vietnamese Ambassador reaffirmed Vietnam's support for the IAEA to continue performing its functions and tasks, contributing to promoting the application of nuclear science and technology for peace, stability, cooperation and sustainable development.
Hanoi eyes broader ties with Japan
A delegation of Hanoi led by Vice Secretary of the municipal Party Committee Nguyen Thi Tuyen is on a working visit to Japan from November 7-11.
At a meeting with representatives of the Liberal Democratic Party (LDP) of Japan, both sides reviewed cooperation achievements in recent times, showing their joy at the fruitful development in the Vietnam – Japan extensive strategic partnership, as well as the strong links between the Communist Party of Vietnam (CPV) and the LDP, according to VOV.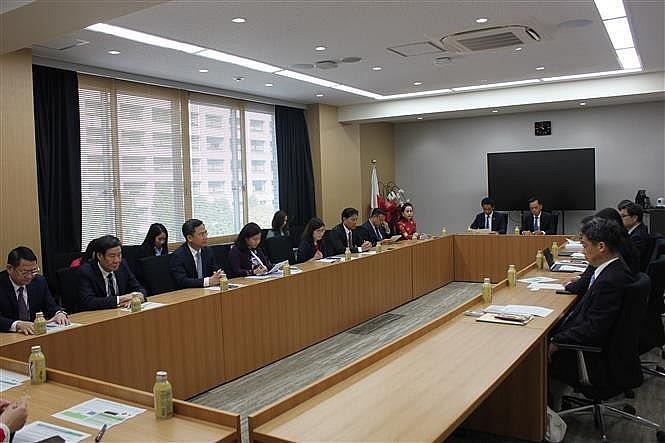 The delegation has a working session with representatives of the Ministry of Agriculture, Forestry and Fisheries (MAFF) (Photo: VNA)
They also discussed and shared experiences in building and developing their Party systems at the grassroots level; and mechanisms to mobilize the participation of young Party members.
Tuyen stressed that the CPV always defines that diplomacy via the party channel creates a solid political foundation for state relations, and guides the stable and sustainable development of bilateral relations between Vietnam and other countries.
She expressed her hope that the LDP leaders will continue to maintain delegation exchanges at all levels between the two Parties to share information and experience on Party building; and promote local cooperation and people-to-people exchange between young people of the two countries.
Vietnamese tourism market introduced to Belgian firms
The tourism market of Vietnam was introduced to Belgian travel firms during a conference in Belgium's Anvers city on November 9.
Addressing the event, Tran Ngoc Quan, Vietnamese Trade Counselor in Belgium, updated participants on Vietnam's new visa policies, including the application of e-visas on citizens from 257 countries and territories, and the extension of e-visa validity from one to three months, creating more favorable conditions for foreign tourists to Vietnam.
Iako Khomeriki, a representative of APG - the sales agent of Vietnam Airlines in Belgium, said that the Vietnamese carrier is a favorite airline of passengers traveling to Vietnam. After the COVID-19 pandemic, in June 2022, the airline resumed its flight routes to Europe with seven flights each week on the Hanoi-Paris route and 3-4 flights on the Ho Chi Minh City-Paris route. The number of flights from Hanoi to Germany has also increased to 6-7 flights per week, he said, holding that this is a good condition for European tourists to explore Vietnam.
Meanwhile, the Managing Director of Asian Trails Vietnam Bui Viet Thuy Tien said that Vietnam is strong in MICE (meetings, incentives, conferences, and exhibitions) tourism thanks to diverse tourist destinations. Moreover, Vietnam is a convenient transit point for flights to Laos and Cambodia, Tien said.
Representatives from Belgium travel firms affirmed that they will continue to introduce Vietnam tourism to their customers in Belgium and Europe, reported VNA.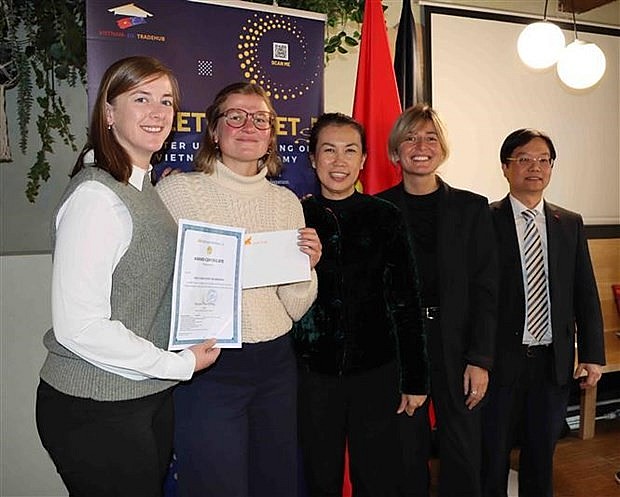 Representatives from Belgian travel firms are presented with air tickets to Vietnam (Photo: VNA)
Speaking to Vietnam News Agency's correspondent in Brussels, Tien said that after COVID-19 pandemic, it is necessary to resume the MICE tourism market, which has attracted great attention from Belgium visitors.
Tom Van Beek from De Buck Agency said after 20 years of presence in Vietnam, the company found that customers are satisfied with Vietnam where they can explore many exciting things. Particularly, travelers love Vietnamese cuisine, he said.
However, he held that the greatest challenge to travel companies of Belgium is the lack of a direct air route connecting Belgium and Vietnam. Having to take one or two transits with a duration of 17-18 hours has made tourists hesitate to choose Vietnam, he explained.
Warburg Pincus acts as bridge to attract foreign investors to Vietnam
Warburg Pincus will continue to serve as a bridge to attract more foreign investment to Vietnam, said Deputy Prime Minister Le Minh Khai at a reception for Charles R. Kaye, CEO of the US' Warburg Pincus LLC, in Hanoi on November 10.
At the function, Deputy PM Khai congratulated Warburg Pincus on 10 years of successful operations in Vietnam, adding that Warburg Pincus is one of the leading investment funds in the United States.
Khai emphasized that the country always views the US as one of its most important partners. After 28 years since the normalization of diplomatic relations, both sides have ramped up co-operative activities in multiple fields and upgraded ties to that of a comprehensive strategic partnership.
Last year saw two-way trade turnover grow strongly, reaching more than US$123 billion and representing a rise of 11% against the same period from 2021.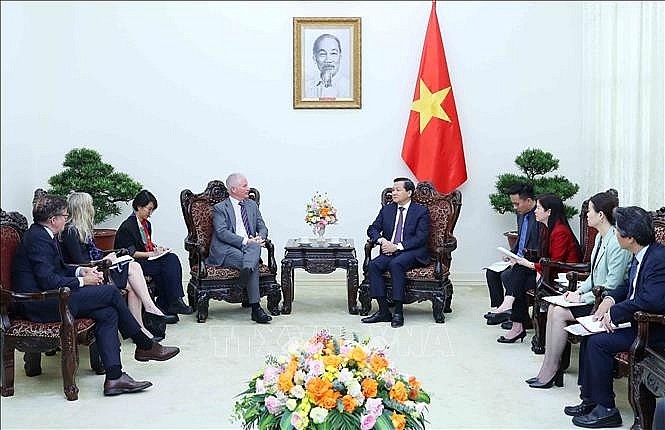 An overview of the reception (Photo: VNA)
As of August 20, the US had more than 1,300 valid foreign-invested projects capitalized at US$11.8 billion, ranking 11th among countries and territories injecting money into the Vietnam market.
Deputy PM Khai pointed out that the country's economic achievements can be linked to Warburg Pincus' significant contributions, noting that after a decade of operation in Vietnam it has affirmed itself as one of the leading investment funds with a total capital of more than US$2 billion, with this aimed at developing many large enterprises in the country.
For his part, Kaye stated he was impressed by Vietnam's economic achievements in macroeconomic stabilization.
He also unveiled the fund's plans to continue expanding investment in the Vietnamese market moving forward, adding that many large US businesses are keen to invest in the country.
Sharing Vietnamese economic development goals moving forward, Deputy PM Khai said the nation is carrying out the socio-economic development strategy for the 2021 to 2030 period with the ultimate goal of becoming a developing country with a modern industry and high average income, as well as a developed and high-income country by 2045, cited VOV.
He underlined the need to fine tune the legal system and to remove obstacle, thereby creating the optimal conditions possible for foreign businesses to operate sustainably in the country.
Khai hailed Warburg Pincus's successful cooperation with many reputable Vietnamese enterprises, adding that the fund will continue to expand partnerships with local firms and invest successfully in new projects.
He expressed his hope that boasting a large network of customers around the world, Warburg Pincus will continue to serve as a bridge to bring US financiers in particular and foreign investors in general to inject capital into the nation.
Vietnam calls for ceasefire, release of hostages in Israel-Hamas conflict
Vietnam on Thursday expressed strong condemnation of violence aimed at civilians, humanitarian personnel, journalists and critical infrastructure in the escalating conflict in the Gaza Strip between Israel and Hamas.
Spokesperson for the Ministry of Foreign Affairs Pham Thu Hang, during the press briefing in Hà Nội, stated that in the spirit of the United Nations General Assembly Resolution ES-10/21, adopted in the tenth emergency special session of the assembly on October 27, 2023, "we call for immediate ceasefire from all parties, compliance with international law as well as humanitarian law, the protection of civilians and infrastructure, the establishment of humanitarian corridors, and the immediate release of all hostages."
The spokesperson also remarked that Vietnam welcomes and supports efforts by the international community to promote restraint by all sides, dialogues, the resolution of disputes through peaceful means, and in accordance with international law, as well as related resolutions by the United Nations to achieve a "fair, satisfactory and long term solution for the peace process in the Middle East."
So far, according to Gaza's health authorities, over 10,000 people (including thousands of children) have been killed in Israel's retaliation operations after Hamas attacked Israel on October 7 and killed 1,400 people, and took hundreds as hostages.
Regarding citizen protection affairs, Hang said amid complicated developments in the region, on October 16, the foreign ministry had advised that Vietnamese citizens in Israel should consider leaving the conflict-affected areas of their own volition.
So far, 13 Vietnamese students have returned safely to Vietnam, on commercial flights or on humanitarian flights by Vietnamese partners that also have citizens in Israel, cited VNS.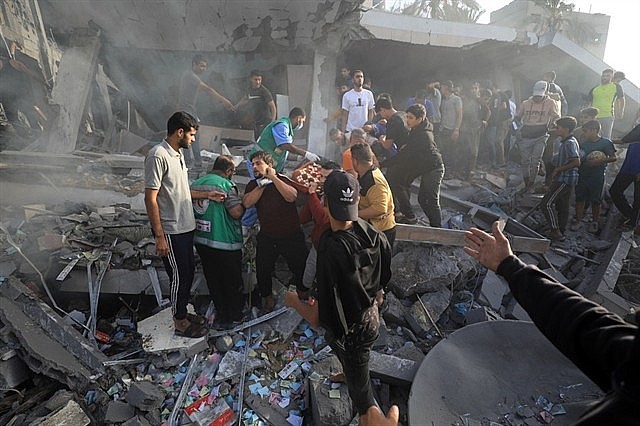 People conduct rescue work among residential buildings destroyed in an Israeli strike in the southern Gaza Strip city of Khan Younis, on Tuesday. Photo: XINHUA
Acting on the directions of the Ministry of Foreign Affairs, the Vietnamese embassy in Israel devised and deployed on-site measures to ensure citizen protection, maintaining contact with the citizens to make recommendations and support them in leaving Israel for another safer place or returning to Vietnam, Hang said.
"For the citizens who still remained in Israel, the Ministry of Foreign Affairs continues to recommend that they leave," she commented.
Any citizen in need of any assistance or more information on the citizen protection measures being undertaken is urged to call the hotline of the Vietnamese embassy in Israel as well as the citizen protection hotline of the Consular Department.
Myanmar scam casinos
Asked for updates on the Vietnamese citizens rescued by Myanmar authorities from scam casinos in the northern part of the country, Hang said so far, 166 Vietnamese citizens have been identified among the foreigners released in this operation and these people have been transported to a safer area near the border with China.
She said there have been certain difficulties in assessing the situation and providing support for these citizens as there have been conflicts in this region and Kayin State.
In recent days, acting on the guidance of the Ministry of Foreign Affairs, the citizen protection department has convened meetings with the Embassy of Vietnam in Myanmar, and other Vietnamese representative agencies in China on the citizen protection works in this area, the spokesperson told the media.
"The Vietnamese embassy in Myanmar is continuing to work closely with local authorities, with Vietnamese representative agencies in China, in order to ready the citizen protection measures to urgently investigate, verify information to complete our necessary procedures in order to assist and repatriate the citizens as soon as possible," she noted.
"At the same time, we've also requested that Myanmar has safety measures in place to ensure the accommodations for the Vietnamese citizens."
On the occasion, the spokesperson advised that unless absolutely necessary, Vietnamese citizens should not or avoid coming to Kayin regions of Myanmar, and if they are already in this region, they should have options ready to evacuate themselves and their assets to a third country or back to Vietnam.
Vietnamese citizens should also continue to follow the information and news from the local authorities or from the Ministry of Foreign Affairs, including the Consular Department and the Vietnamese Embassy in Myanmar.
In case of emergencies, they can contact the hotline of the embassy in Myanmar.