Vietnam News Today (Nov. 19): APEC Members Appreciate Vietnam's Practical, Constructive Contributions
Vietnam News Today (Nov. 19): APEC members appreciate Vietnam's practical, constructive contributions; Positive outlook ahead for exports amid global market rally; Japan's Hokkaido Festival kicks off in Quang Ninh; Rains, floods cause costly damage to many Central localities.
Vietnam News Today (Nov. 19) notable headlines
APEC members appreciate Vietnam's practical, constructive contributions
Positive outlook ahead for exports amid global market rally
Japan's Hokkaido Festival kicks off in Quang Ninh
Rains, floods cause costly damage to many Central localities
Hospital for Vietnamese expatriates in Laos inaugurated in Vientiane
Vietnam appeals to supporting industry giants
Art performance spotlights Vietnamese culture in France
PM joins the celebration of great National Unity Day in Lai Chau
Golden imperial seal handed over to Vietnam from France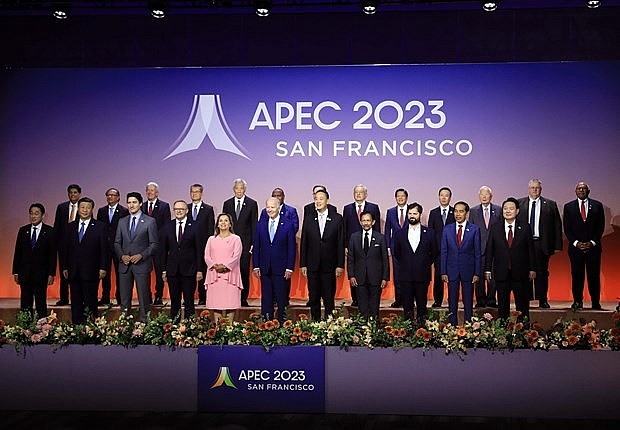 President Vo Van Thuong (second row, fourth from right) and other leaders at the APEC Economic Leaders' Week 2023 in San Francisco (Photo: VNA)
APEC members appreciate Vietnam's practical, constructive contributions: FM
All members of the Asia-Pacific Economic Cooperation (APEC) have highly valued Vietnam's practical and constructive contributions to the forum over the last more than two decades while attending the APEC Economic Leaders' Week 2023, said Minister of Foreign Affairs Bui Thanh Son.
Talking to the press following President Vo Van Thuong's trip to the US to attend the week from November 14 to 17 in San Francisco, Son said the APEC Economic Leaders' Week 2023 held special significance as it marked 25 years since Vietnam became a member of APEC. President Thuong and the high-ranking delegation of Vietnam attended activities of the week and made important contributions to its success.
First, the Vietnamese leader raised ideas and proposals aimed at responding to urgent issues of the world economy, particularly the requirement for a new mindset that is inclusive, harmonious, and humane.
He also gave concrete suggestions about the mission and tasks of APEC in the new period to adapt and continue to gain success. They included maintaining and consolidating the important achievements in trade and investment liberalization and facilitation in Asia-Pacific and the world, cooperating to build a resilient region and resilient economies ready to respond to challenges, and creating a cooperation framework to assist member economies to capitalize on development opportunities and boost growth impetuses.
Those ideas and proposals were highly valued by other leaders and the business community and shown in the meeting's document, thereby opening up new directions for APEC cooperation, the Foreign Minister noted.
Second, member economies voiced their support for Vietnam's proposal to host APEC in 2027. Amid complex developments in the world and the region, this proposal affirmed Vietnam's commitment to multilateralism, the Asia-Pacific region in general, and the APEC forum in particular. It also reflected the country's determination to implement the policy of proactive, active, comprehensive, and intensive integration into the world, and being a friend, a trustworthy partner, and a responsible member of the international community, helping to successfully carry out the resolution of the 13th National Party Congress.
All APEC members appreciated Vietnam's highly practical and constructive contributions to APEC over the last more than two decades and affirmed their trust in its APEC chairmanship in 2027, Son went on.
Third, he added, representatives of Vietnamese ministries and sectors actively took part in and coordinated with host the US and other members during the preparation for and discussions during the week to generate the best possible results for all members.
On this occasion, President Thuong engaged in many meetings with leaders of other APEC economies and guests. At those events, APEC leaders and guests spoke highly of Vietnam's stature and role and agreed to increase mutual visits, step up cooperation in politics - diplomacy, economy - trade, science - technology, education - training, locality-to-locality ties, and people-to-people exchanges, and support each other at regional and international forums, cited VNA.
Regarding bilateral activities with the US, President Thuong met with his US counterpart Joe Biden, Special Presidential Envoy for Climate John Kerry, California Governor Gavin Newsom, and Deputy Mayor of Los Angeles Erin Bromaghim. He received some leading enterprises of the US such as Boeing and Apple, delivered a speech at the Council on Foreign Relations, attended and addressed a roundtable on high technology connecting Vietnamese localities and US enterprises, and visited Stanford University's hospital. He also visited a family of Vietnamese expatriates and met officials of Vietnam's representative diplomatic bodies in the US.
The President's speech about the world situation, Vietnam's foreign policy, and the Vietnam - US relations at the Council on Foreign Relations received high evaluation from the US side, according to Minister Son.
At the activities, both sides agreed to make efforts to continue implementing the agreements reached between the two countries' leaders during the recent State visit to Vietnam by US President Biden at the invitation of Party General Secretary Nguyen Phu Trong and the joint statement on the elevation of bilateral relations to the comprehensive strategic partnership. They agreed to focus on economy, trade and investment, with the US soon granting the market economy status to Vietnam; consider science - technology and innovation as breakthrough cooperation fields; press on with cooperation in education - training, including the training of high-quality human resources; and work together in climate change response.
US enterprises continued to show their high interest in the Vietnamese market and pledged to keep expanding investment and business activities in Vietnam, especially in the fields of high technology, infrastructure, and energy. They also expressed their readiness to help the country with manpower training to create a skillful workforce to serve digital transformation and green transition, the official noted.
He said the trip by President Thuong and the high-ranking delegation of Vietnam to attend the APEC Economic Leaders' Week and bilateral activities in the US was successful and a practical move to carry out the foreign policy devised at the 13th National Party Congress.
Via the State leader's remarks and activities, Vietnam conveyed important messages about its viewpoint on and approach to the challenges facing the world and the region, along with the implementation of its foreign policy.
Meanwhile, the hosting of APEC for the third time, in 2027, will once again demonstrate the country's strategic vision on the Asia-Pacific and also be a vivid illustration of APEC members and the international community's trust in Vietnam's role and stature in the international arena, the Foreign Minister added.
Positive outlook ahead for exports amid global market rally
Vietnamese exports have improved gradually over the past consecutive months, with the monthly average export value exceeding the US$30 billion mark, signaling a general recovery in the export market.
Exports last month regained their strength after slowing down in the previous month thanks to the expansion of business markets coupled with trade promotion efforts.
According to the Ministry of Industry and Trade, the total import-export value in October hit US$61.62 billion, representing an increase of 4.1% month on month and 5.6% year on year. Of the total value, exports brought back US$32.2 billion, up 5.3% compared to September.
Overall, the initial 10 months saw total import - export turnover reach US$557.95 billion, an annual drop of 9.6%. The falling rate started slowing gradually as opposed to the double-digit decline recorded in the first half of the year.
Statistics indicate the export value in the first six months of the year fell by 11.6% year on year to US$165 billion. By the end of October, the export value rose to US$291.46 billion, down just 7% compared to the same period from last year.
Most notably throughout the July-October period, the country raked in at least US$30 billion in export each month, which is much higher than the monthly average of US$27.61 billion documented in the first half of the year, according to VOV.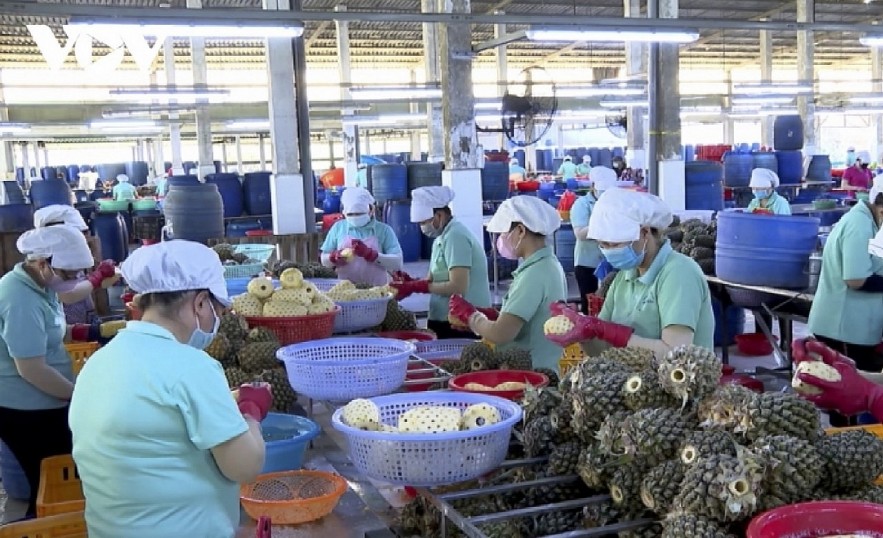 Processing pineapples for export in Vinh Long province, southern Vietnam.
Experts have pinned high hopes on a boost in exports occurring in the last two months of the year due to a significant purchasing power of consumers globally for the Christmas festive season and New Year holiday.
Garments remains one of the main industries bearing the brunt of the global market shrinking, with orders declining by 20% to 30% in the first nine months. However, the situation has shown positive signs over recent months.
Pham Van Viet, chairman of the Board of Directors of Viet Thang Jean Company Limited (VitaJean), told Cong Thuong (Industry and Commerce) newspaper that his company has received an increased number of orders from importers, though the recovery rate has only met approximately 80% of pre-pandemic levels.
"Despite the gradual recovery, this has motivated the company to focus on production and complete orders for the remaining months of the year," said Viet.
Another reason why experts have placed their trust in the warming up of the export market globally is that imports have continued to rise slightly. Statistics indicate that businesses imported US$26.09 billion worth of materials in October, an increase of 7.2% year on year. The rise in the import value of materials for production of export items signaled the recovery of industrial production for domestic use and export in the year-end shopping season.
Furthermore, inventories in markets that represent major Vietnamese goods consumers such as the United States are decreasing considerably. According to the Ministry of Industry and Trade, inventories in the US, which is Vietnam's largest export market, tumbled from 20% in June to 10% in August, and the figure í expected to keep falling to zero by the year's end. This will give local businesses a boost as they export their products over the coming two months.
The Government, in the latest monthly meeting, asked ministries, agencies, and localities to iron out snags to spur forward industrial production. The Ministry of Industry and Trade also vowed to increase support for firms as they seek to take advantage of commitments in free trade agreements between Vietnam and key partners such as the EU (EVFTA), the UK (UKVFTA), the Comprehensive and Progressive Agreement for Trans-Pacific partnership (CPTPP), or the newly signed FTA with Israel, to boost exports.
Businesses are also making every effort to boost production and exports in the remaining months of the year to incur losses recorded in previous months due to market stagnation.
Japan's Hokkaido Festival kicks off in Quang Ninh
The Hokkaido Festival in Ha Long city kicked off in the northern province of Quang Ninh, on November 17 evening.
The three-day event forms part of activities marking the 50th anniversary of Vietnam-Japan diplomatic ties, and is to implement the exchange and cooperation agreement between Quang Ninh and Hokkaido on the organization of the Hokkaido Festival in Ha Long city.
Addressing the opening ceremony, Cao Tuong Huy, acting Chairman of the Quang Ninh People's Committee, highlighted the festival's significance, saying that it reflects the solidarity and friendship between the two localities. It is to enhance understanding and trust of the people of Quang Ninh and Hokkaido and offers opportunities for cooperation, contributing to promoting and deepening the Vietnam-Japan intensive strategic partnership.
Suzuki Naomichi, Hokkaido Governor, stressed that the Japanese prefecture has set up exchange and cooperation ties with Vietnamese partners in various areas, such as agriculture, fisheries, the environment, and information technology. He hoped for more Vietnamese people to pay their heed to Hokkaido via the event, and to travel to Hokkaido for tourism, study and work, VNA reported.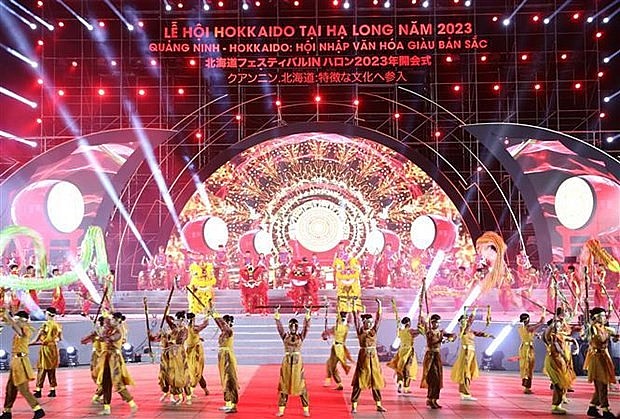 A dancing performance at the opening ceremony of the Hokkaido Festival in Ha Long city on November 17 (Photo: VNA)
He expressed his wish that the relations between the two countries in general and the two localities in particular will gain big achievements.
Themed "Quang Ninh- Hokkaido: Rich Cultural Integration", the festival has attracted thousands of local people and visitors. It covers diverse activities such as a Quang Ninh - Japan investment promotion conference, an exhibition of Vietnamese and Japanese cuisine, street art performances, a workshop on cultural - tourism ties and human resources development, and a launch of the Japanese culture and language center at Ha Long University.
Rains, floods cause costly damage to many Central localities
As floodwater in the Central region began to recede on November 17, people and local authorities have urged to overcome the consequences.
The recent days of flood have caused costly damage to people and property in many Central localities.
Functional forces together with the police of Thua Thien- Hue Province have taken advantage of dry weather and floodwater on Huong River below alert level 2 to help residents clean up mud and garbage, perform environment hygiene and spray chemicals to prevent disease outbreaks after floods.
There is a huge amount of garbage along with floodwater, covering the foot of the bridge and along the riverbanks of the Huong River in the central area of Hue City. The People's Committees of wards and communes in Hue City have mobilized forces and specialized means to clear accumulated garbage and debris to restore the flow.
Deputy Chairman of the People's Committee of Quang Ngai Province Tran Phuoc Hien visited Son Ha District where 30 households with 107 people have been relocated from the landslide points of Van Ca Vai and Lang Bo mountains in Di Lang Town in recent years. Additionally, the locality reported erosion at Nuoc Lac Bridge in Son Ky Commune.
Initially, the province will give priority to reinforcing bridges and roads with landslides to reopen traffic and soon stabilize people's lives, cited SGGP.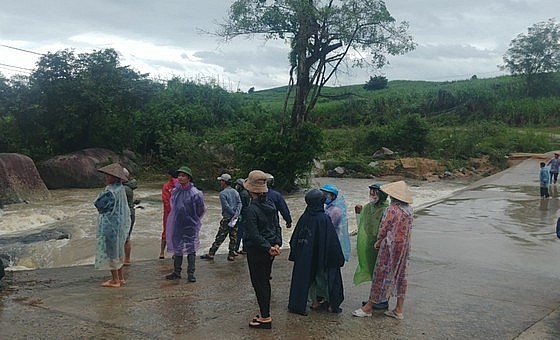 Many Central localities report deaths and missing, injured persons after floods.
Similarly, the Central province of Phu Yen reported landslides and land subsidence with a huge volume of soil and rock falling on National Highways 25, 29 and 19C.
In Binh Dinh Province, many low-lying downstream river areas have been submerged and isolated as floodwater levels exceeded alert level 1 and level 2.
Additionally, heavy rains caused flooding and landslides in Vinh Son Pass, Vinh Thanh District, resulting in traffic congestion.
The Central provinces of Thua Thien-Hue, Quang Tri, Binh Dinh, Quang Nam and Phu Yen reported that five people have died and two persons are still missing after recent days of heavy rain and flood.
On the same day, the Vietnam Red Cross Central Committee decided to give initial emergency relief to Thua Thien-Hue Province with VND100 million (US$4,122) in cash and 200 gifts with essential foods to support poor, near-poor families and households in difficult circumstances who have lost their homes and incomes, have had deaths and missing or injured persons after floods.
Hospital for Vietnamese expatriates in Laos inaugurated in Vientiane
Lavie International Hospital for Vietnamese expatriates in Laos was inaugurated in Vientiane capital on November 18.
The hospital has been licensed by the Lao Ministry of Health to provide medical services for Vietnamese nationals residing, working and studying in Laos, as well as for Lao residents.
It has 50 hospital beds and has been designed to develop in-depth specialties in cardiology and endocrinology, VOV reported.
Delegates cut the ribbon inaugurating the medical facility in Vientiane on November 18. (Photo: VNA)
La Vie International Hospital has signed a cooperation with the Association for Liaison with Overseas Vietnamese (ALOV) and Hanoi Medical University Hospital to provide medical services for the Vietnamese community in Laos, and Lao people in need of medical examination and treatment.
Addressing the ceremony, Phukhong Bannavong, deputy governor of Vientiane capital, noted the inauguration of La Vie International Hospital is of great significance to the health sector of Laos in particular and its economic development in general.
The opening of the hospital shows the close bond between Laos and Vietnam that has been strengthened over the past decades, said the official.
He expressed hope that the hospital would provide quality services for not only Vietnamese people but also Lao people.
According to Assoc. Prof. Dr Nguyen Lan Hieu, director of Hanoi Medical University Hospital, Lavie International Hospital La Vie International Hospital is a leading cardiovascular facility with a modern angiography system that supports in-depth diagnostics of cardiovascular diseases as well as many other vascular diseases to save the lives of patients suffering from myocardial infarction and stroke.
He pledged to provide maximum professional support to La Vie International Hospital in performing its operations.