Vietnamese, Mongolian Presidents Watch Perform of Mobile Calvary Police Force
Mongolian President Ukhnaagiin Khurelsukh visited the mobile cavalry police force of the Mobile Police Force High Command under the Ministry of Public Security.
Vietnamese President Vo Van Thuong and Mongolian counterpart Ukhnaagiin Khurelsukh visited the Mobile Police High Command on Thursday, as part of the latter's ongoing State visit to Vietnam, VNS reported.
The two leaders witnessed the technical–tactical performances of the special police, mobile police, and mobile cavalry police.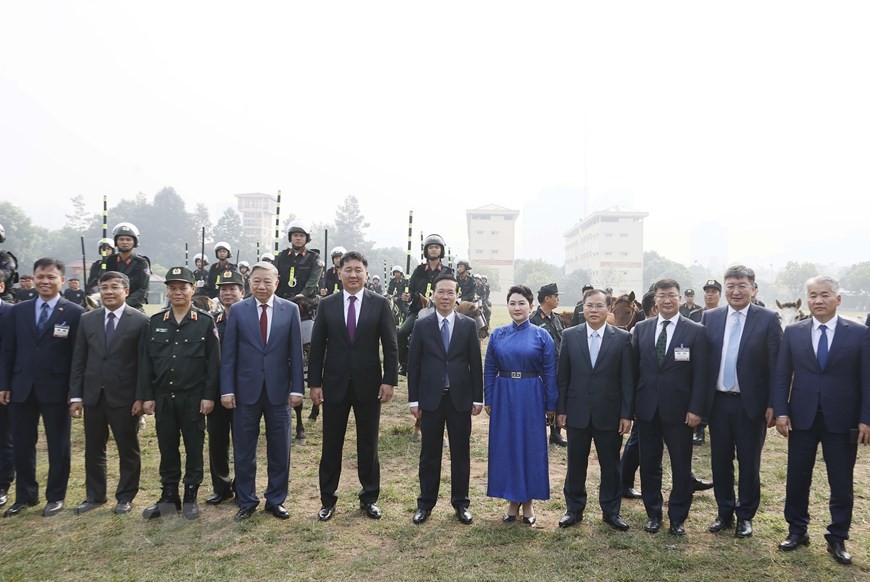 Vietnamese President Vo Van Thuong and Mongolian counterpart Ukhnaagiin Khurelsukh with mobile cavalry police officers. Photo: VNA
The horses were donated to the Ministry of Public Security of Vietnam by the Mongolian Government and people, contributing to the maintenance of national security and social order.
Mongolian horses are usually reddish brown or dark brown, have a well-proportioned body, a broad chest, a slim belly, big, strong legs, thick fur, and a wide neck, and are easy to raise.
According to many experts, Mongolian horses are smaller than European horses but stand out for their strength and endurance. They can run continuously for more than 10 hours at a speed of about 30-45 km/h and can especially take a corner at high speed. Mongolian horses are trained in harsh weather conditions, being able to live outdoors all year round at 30°C in summer and -40°C in winter.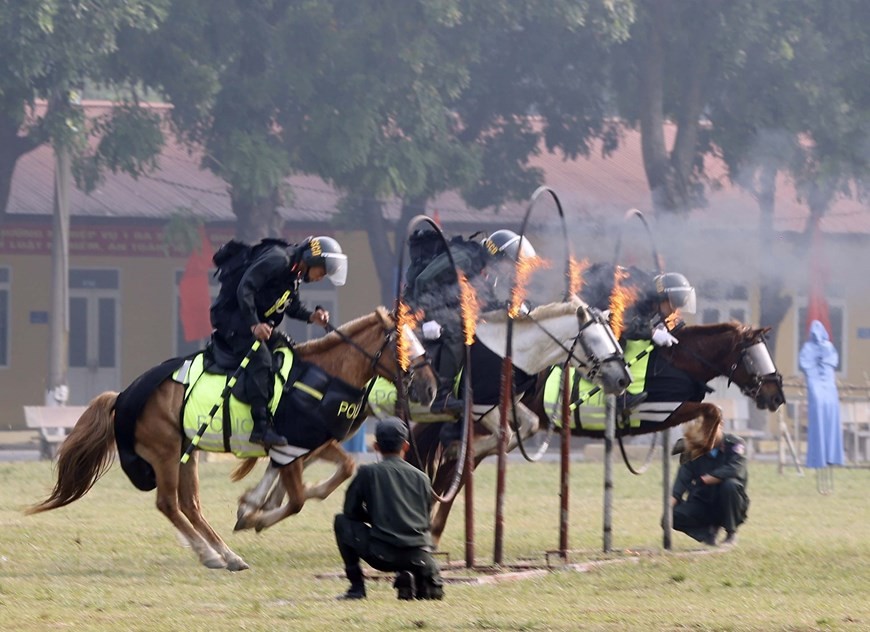 Mobile cavalry police officers and accompanying horses perform jumps through flaming hoops. Photo: VNA/VNS
Featuring complex techniques such as shooting on the back of galloping horses and riding through complicated terrains, mobile cavalry police's technical performances impressed the two leaders and many others.
The force, established under the Mobile Police Force High Command in 2020, is responsible for training and utilizing horses to fight crimes, as well as organizing training for police officers to manage, train, and use horses.
With support from the Ministry of Public Security and Mongolian experts, it has gained many achievements in training and combat.
President Thuong and President Khurelsukh expressed pleasure in seeing how the wild horses have been trained into disciplined 'fighters' that are used to shooting and explosion noises as well as familiar with fighting techniques.
During the visit, President Khurelsuk held talks with President Vo Van Thuong and met with Party General Secretary Nguyen Phu Trong, Prime Minister Pham Minh Chinh, and National Assembly Chairman Vuong Dinh Hue.
He also paid tribute to President Ho Chi Minh at his mausoleum, attended the Vietnam-Mongolia Business Forum, and toured several economic and cultural establishments in Hoa Binh province.