Vietnam News Today (Nov. 25): Vietnam Hosts 57th ASEAN-COCI Conference
Vietnam News Today (Nov. 25): Vietnam hosts 57th ASEAN-COCI conference; Vietnam logs 489 new Covid-19 cases on November 24; Philippines considers Vietnam a reliable partner: VP Sara Duterte; Vietnamese, Ugandan Presidents hold talks.
Vietnam News Today (Nov. 25) notable headlines
Vietnam hosts 57th ASEAN-COCI conference
Vietnam logs 489 new Covid-19 cases on November 24
Philippines considers Vietnam a reliable partner: VP Sara Duterte
Vietnamese, Ugandan Presidents hold talks
Documentary on Vietnam's seas and islands to be aired nationwide
Samsung continues efforts for sustainable investment in Vietnam
Vietnam plays important role in World Peace Council: WPC President
Vietnam attends 11th East Asia Local and Regional Government Congress
Vietnam's exports to EU grow 23.5% in ten months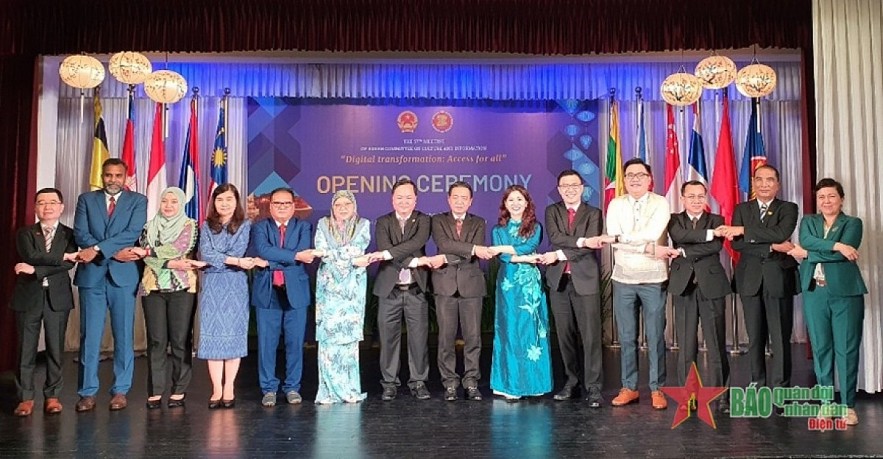 Delegates to the 57th ASEAN-COCI conference pose for a group photo. Photo: qdnd.vn
Vietnam hosts 57th ASEAN-COCI conference
The 57th conference of the ASEAN Committee on Culture and Information (COCI) opened in Quang Nam province, central Vietnam, on November 24.
Themed "Digital Transformation: Accessible Opportunities for Everyone" the conference brought together delegations in charge of culture and information of ASEAN member states, ASEAN Secretariat, International Federation of Arts Councils and Cultural Agencies (IFACCA).
The conference is to set out orientations and propose measures to promote digital transformation in regional cultural and information cooperation, said Deputy Minister of Culture, Sports and Tourism Hoang Dao Cuong at the opening ceremony.
The annual gathering reviewed and approved cooperation projects on culture and information to be implemented in 2023 and beyond. Among those projects are the ones related to the organization of seminars, training, capacity promotion training, co-production and dissemination of publications in the field of culture - information, conservation and promotion of cultural heritage, digitization, as well as supporting businesses in accelerating digital transformation in the cultural and information field, and combating fake news, cited VOV.
Within the framework of the conference, there were art shows and performances of bronze musical instruments of ASEAN countries, an ASEAN forum on green cultural enterprises and post-pandemic recovery of cultural and artistic activities in Southeast Asia, and an ASEAN seminar on traditional cuisine and product promotion in the market.
Vietnam logs 489 new Covid-19 cases on November 24
The national Covid-19 caseload rose to 11,513,173 with 489 new cases recorded on November 24, according to the Ministry of Health.
Illustrative image. Source: VNA
With 337 patients given the all clear during the day, the number of recoveries rose to 10,607,682.
Meanwhile, there are 82 patients needing breathing support, according to VNA.
One death from Covid-19 was recorded in the past 24 hours. The total fatalities rose to 43,170.
With 100,072 doses administered on November 23, the total number of doses of Covid-19 vaccines injected rose to 263,627,563.
Philippines considers Vietnam a reliable partner: VP Sara Duterte
Philippine Vice President Sara Duterte on November 24 thanked Vietnam for supplying rice to the Philippines to help ensure national food security, noting Vietnam is a reliable partner for the Philippines.
Receiving Vuong Dinh Hue, chairman of the National Assembly of Vietnam in Manila, Duderte congratulated Vietnam on many impressive achievements it has recorded in post-COVID-19 recovery and socio-economic development, becoming an economic hub in the region.
The VP, who is also head of the Lakas-Christian Muslim Democrats (Lakas CMD), said that her party wishes to strengthen relations with the Communist Party of Vietnam, and that she supports continued cooperation between the two countries' localities.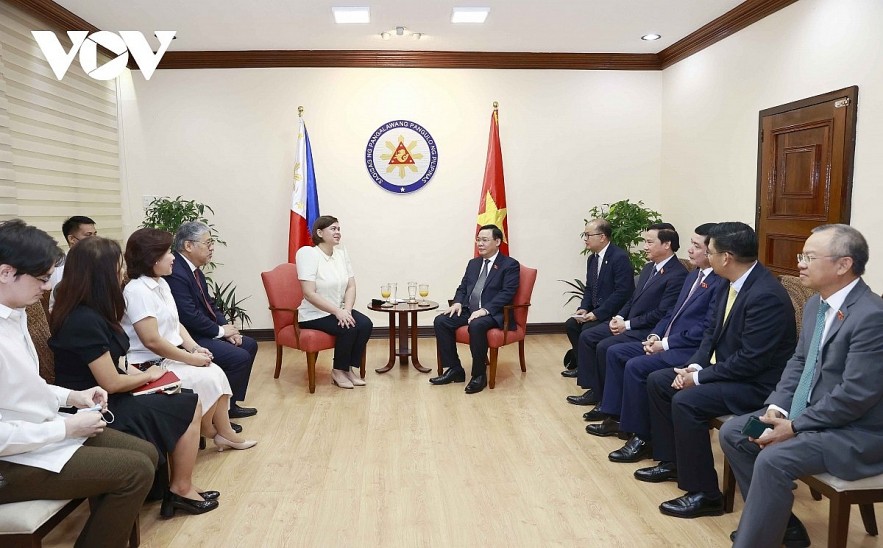 Vice President Sara Duterte receives National Assembly chairman Vuong Dinh Hue of Vietnam in Manila on November 24.
Both host and guest expressed their delight at the positive development of trade relations between the two countries over the past time, saying the initial 10 months of 2022 saw bilateral trade reach US$6.6 billion, nearly equal to the total turnover in 2021. They held that the two sides still have a lot of room for cooperation in fields such as investment, culture, education, and agriculture.
Hue for his part affirmed that the National Assembly of Vietnam always supports investment and business facilitation of Filipino businesses in Vietnam. He requested that the Vice President continue to support and create maximum conditions for economic- trade - investment relations between the two countries.
The two sides agreed to increase bilateral cooperation in education-training and human resources development in the fields of the Philippines' strength, including English teaching, electronic assembly, accounting, and auditing, reported VOV.
On this occasion, National Assembly chairman Vuong Dinh Hue conveyed the Vietnamese leaders' invitation to Vice President Sara Duterte to visit Vietnam soon.
Vietnamese, Ugandan Presidents hold talks
President Nguyen Xuan Phuc held talks with his Ugandan counterpart Yoweri Kaguta Museveni in Hanoi on November 24.
Welcoming the Ugandan President, Phuc affirmed that the first visit to Vietnam by a head of state of Uganda since the establishment of bilateral diplomatic ties in 1973 is an important milestone, contributing to enhancing the friendship and cooperation of the two country.
He congratulated and showed his belief that Uganda will successfully host the Summit of the Non-Aligned Movement (NAM) in 2023 as well as fulfilling its role as the NAM Chair for the 2023-2026 term.
For his part, Yoweri Kaguta Museveni congratulated Vietnam on successfully assuming the role of a non-permanent member of the United Nations Security Council in the 2020-2021 tenure, and its election to the UN Human Rights Council for the 2023-2025 term. He said he believes that Vietnam will maintain its effective contributions to the UN's efforts to ensure peace, security and development.
The two leaders welcomed positive development of bilateral relations, with political-diplomatic ties maintained, and economic cooperation achieving encouraging results. Two-way trade reached 14.3 million USD last year, up 39.8% year-on-year.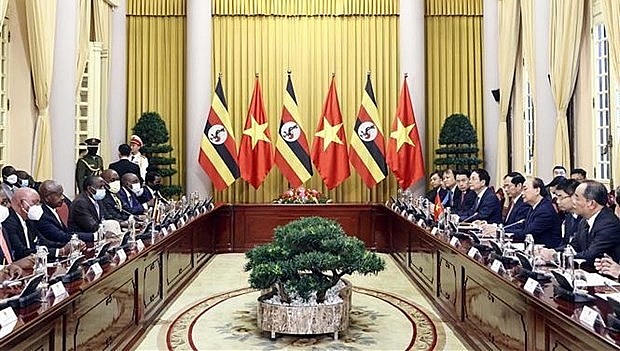 Overview of the talks between President Nguyen Xuan Phuc and Ugandan President Yoweri Kaguta Museveni. Photo: VNA
Affirming that there remains ample room for bilateral cooperation, they agreed on specific orientations to further boost the ties.
They highlighted the importance of stepping up delegation exchanges and contacts in all channels, and maintaining coordination and mutual support at multilateral forums, particularly the UN and the NAM, cited VNA.
Both asserted their determination to foster economic cooperation and increase two-way trade to be commensurate with the fine political relationship and the market scale of nearly 150 million people of the two nations.
President Phuc suggested Uganda create favourable conditions for the export and import of commodities that are strengths of each side, including cotton and wood of Uganda; and food, garment and textiles, construction materials, means of transport and components, and telecoms equipment of Vietnam.
The two leaders also emphasised the importance of agricultural cooperation, considering it one of the pillars of bilateral relations, with priority given to ensuring food security; and agreed to expand collaboration to education-training, information and communications, defence-security, health and tourism.
They also exchanged opinions on several regional and international issues of mutual concern, and shared the view of addressing these issues by peaceful means on the basis of upholding international law.
After their talks, the Presidents witnessed the signing of an agreement on visa exemption for diplomatic and official passport holders; and four memoranda of understanding on cooperation in diplomacy, education, information and communications, and agriculture technology.
Documentary on Vietnam's seas and islands to be aired nationwide
'Viet Nam – To Quoc Nhin Tu Bien' (Vietnam – A country of seas of islands), a documentary produced by the Nhan Dan Documentary and Cinema Studio under Nhan Dan (People) Newspaper will be aired on television stations nationwide from December 1.
The documentary includes 40 episodes, with a length of 25-30 mins each. It is arranged in three parts, namely 'Affirming and protecting Vietnam's sovereignty over sea and islands', 'Developing marine economy', and 'Cultural life in the sea and islands regions'.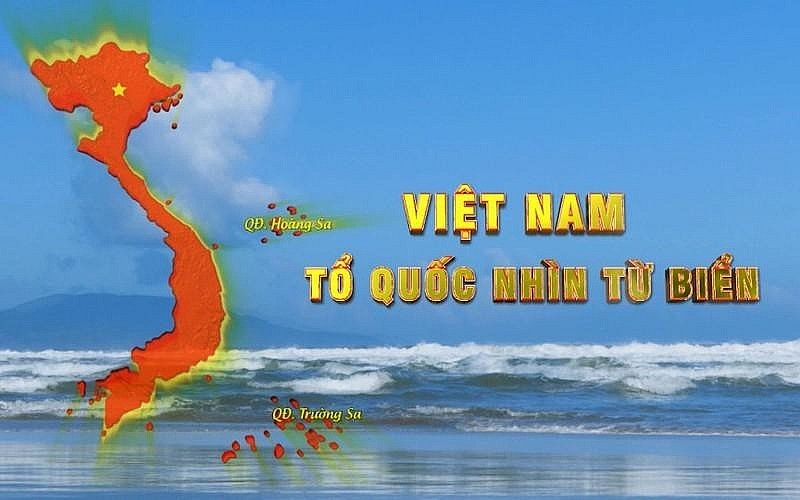 Documentary on Vietnam's seas and islands to be aired nationwide.
The documentary provides viewers with a comprehensive, systematic, and multidimensional view of Vietnam's seas and islands over different periods. It also stresses the role and importance of seas and islands in the lives of Vietnamese people from the past to the present.
Notably, historical and lawful evidence asserting Vietnam's sovereignty over the Hoang Sa (Paracel) and Truong Sa (Spratly) archipelagos, are vividly featured in the film, NDO reported.
The screening of the film aims to celebrate the 40th anniversary of the adoption of the United Nations Convention on the Law of the Sea (UNCLOS) and the 10th anniversary of the 2012 Law of the Sea of Vietnam.