Mental Healthcare in Schools of Vietnam: Better Late Than Never
"Mental Healthcare in Schools: From Policy to Practice," held on Nov. 24 in Hanoi has shown remarkable research results on the main factors affecting young children's mental health.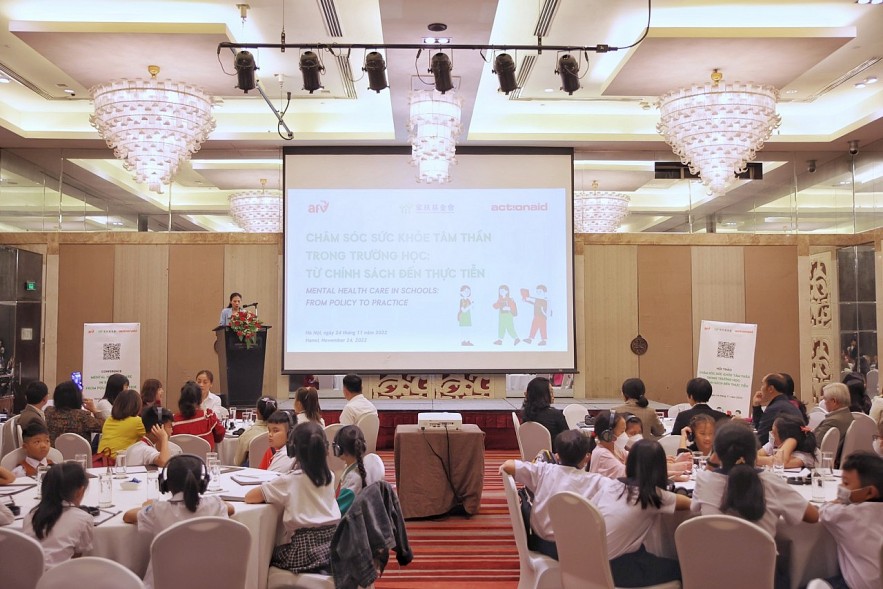 Overview of the Conference on Mental Healthcare in School.
Approx. 50% of the surveyed children believed strict parental management and academic pressure are the two primary culprits of poor mental health. In contrast, up to 80% of parents and more than 90% of teachers implied that mental issues in children are mainly attributed to early access to modern technology and internet addiction. Astonishingly, almost 25% of teachers explained that children were mentally disrupted by supernatural and mystic forces such as devils, ghosts, curses…
These are three of the research highlights at the Conference "Mental Healthcare in Schools: From Policy to Practice" today, ringing a strong bell on more robust and collective efforts in mental health awareness and actions among families, schools, and the government amid the post-COVID world. The conference offered an open space for relevant parties to take a direct lens on mental health problems and difficulties in conversations among students, caregivers, and schools. Participants also made varied recommendations at all levels – from children's close circle to policymakers. They proposed a pilot action plan to help children, particularly in primary schools, approach the undervalued topic in safety and zero judgments.
Hoang Phuong Thao, Country Director of ActionAid International in Vietnam, one of the three sponsors and research organizations of the study, shared: "With the Government's Decree 80 on building a safe, healthy, friendly educational environment, preventing and ending school-based violence, the Ministry of Education and Training (MOET) has issued Circular 31/2017/TT-BGDDT guiding the implementation of psychological counseling for students at high schools and Circular 33/2018/TT-BGDDT on social work guidance in schools. Most recently, Decision No. 1442/QD-BGDDT dated 1/6/2022 on promulgating the mental health education program for children and students in education from 2022 to 2025 emphasized the need to develop, pilot, and replicate mental health improvement models in schools. However, up to now, about 70% of schools across the country do not have standard school psychology counseling rooms, making the timely and appropriate support absolutely absent."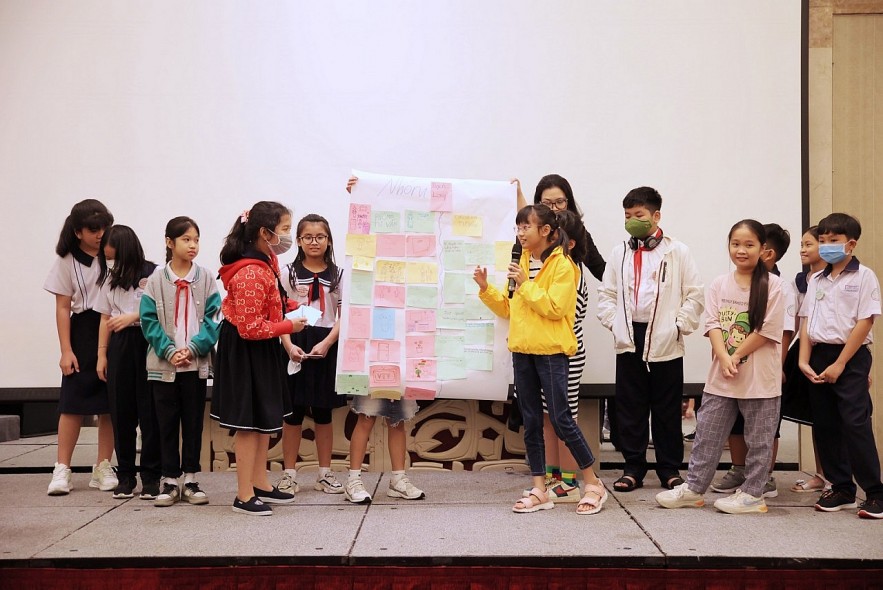 Primary school students at the conference.
The conference is part of the cooperation program "Safe and Quality School for Children" among the Taiwan Fund for Children and Families (TFCF), ActionAid Vietnam (AAV), and Aid for social protection program Foundation Vietnam (AFV). From 2019-2025, the program aims to support primary students in Soc Son (Hanoi) and Binh Tan districts (HCMC) in school safety and inclusivity, mental healthcare, waterborne disease prevention, quality improvement in education facilities, and other topics to promote comprehensive development at young ages – especially in poor and near poor areas.
The World Health Organization (WHO) in 2015 revealed that mental health problems affect more than a quarter of the world's population, with disorders such as depression affecting 350 million people globally. In Vietnam, a 2021 study by the United Nations Children's Fund (UNICEF) and the Ministry of Labour, Invalids, and Social Affairs (MOLISA) estimated that approx. 15-30% of Vietnamese children could suffer from mental health disruptions including anxiety, depression, loneliness, and attention deficit hyperactivity disorder.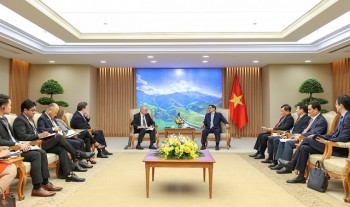 National
Vietnam News Today (Dec. 6): Vietnam records 427 new Covid-19 cases on December 5; PM hosts USABC, US corporation leaders in Hanoi; Proper investment needed to develop night-time economy; Vietnam welcomes New Zealand investors for win-win partnership.