Vietnam News Today (Nov. 9): Vietnam Maintains Impressive Growth Despite Global Gloomy Outlook
Vietnam News Today (Nov. 9): 442 new Covid-19 cases recorded on November 8; Vietnam maintains impressive growth despite global gloomy outlook; HCM City serves 2.65 million foreign visitors in 10 months; Vietnam brings 305 Sri Lankans in distress at sea to safety.
Vietnam News Today (Nov. 9) notable headlines
442 new Covid-19 cases recorded on November 8
Vietnam maintains impressive growth despite global gloomy outlook
HCM City serves 2.65 million foreign visitors in 10 months
Vietnam brings 305 Sri Lankans in distress at sea to safety
Vietnam reaffirms close bond with Cambodia
Vietnamese, Japanese localities look to boost investment cooperation
Vietnamese companies honored for exemplary gender equality practices
International Film Festival 2022 opens in Hanoi
Vietnam, Cambodia vow to complete border demarcation, border marker planting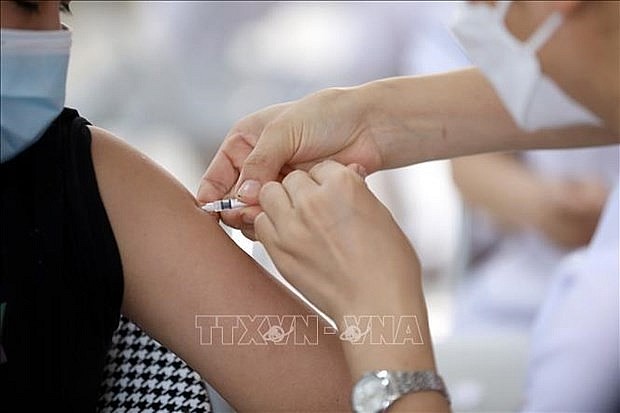 Illustrative image. Photo: VNA
442 new Covid-19 cases recorded on November 8
The national Covid-19 caseload rose to 11,506,656 with 442 new cases recorded on November 8, according to the Ministry of Health.
With 227 patients given the all clear during the day, the number of recoveries rose to 10,605,008.
Meanwhile, there are 77 patients needing breathing support, cited VNA.
No death from Covid-19 was recorded in the past 24 hours. The total fatalities stood at 43,166.
As of the end of November 7, the total number of doses of Covid-19 vaccines injected was 262,384,407 with 74,472 doses administered on November 7.
Vietnam maintains impressive growth despite global gloomy outlook
A number of international financial institutions have recently described Vietnam as an economic bright spot amid a gloomy outlook for the global economy.
According to the International Monetary Fund (IMF), Vietnamese gross domestic product (GDP) is forecast to grow by 7% this year, and this growth can be considered a miracle in the context that one third of the world economies is predicted to experience contraction.
Currently, Vietnamese GDP growth also leads the ASEAN five group that makes up Indonesia, Malaysia, Philippines, Thailand, and Vietnam, according to VOV.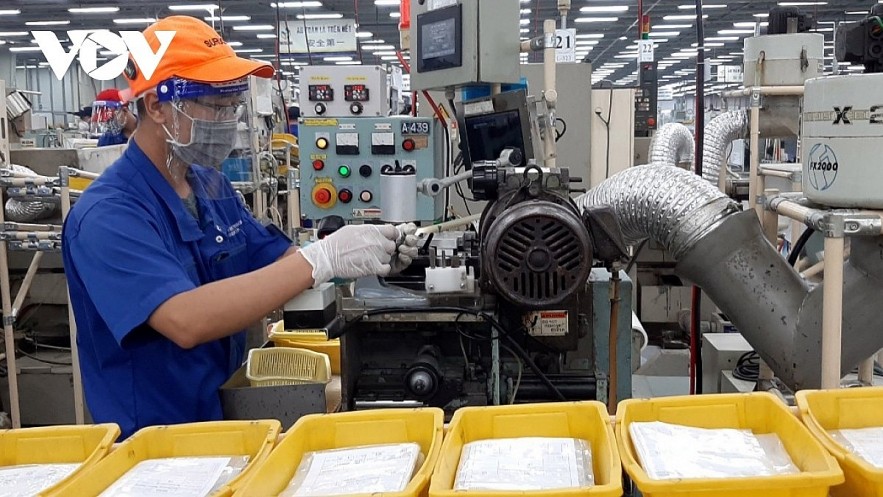 Photo: VOV
Davide Furceri, economist for the IMF, emphasised that the country continues to be a bright spot in the region moving into the post-pandemic recovery period thanks to its flexible monetary policy, timely fiscal support, and rising demand in the international market in the first half of the year.
Era Dabla-Norris, mission chief of Vietnam and assistant director of the IMF's Asia and Pacific Department, described the growth trend of the Vietnamese economy as positive amid facing escalating crises of energy, food, and inflation in the world.
Meanwhile, the Wall Street Journal of the United States has published an article, noting that Vietnam is out of step with the rest of Asia in terms of growth, dollar reserves, and monetary policy.
The newswire's experts stressed that Vietnam has maintained a series of impressive growth indicators amid global concerns including an economic recession, inflation, and rising prices, along with other major uncertainties.
Fitch Ratings, one of the three major international credit rating agencies, highlighted the country as a place boasting strong medium-term growth prospects, low government debt, and an favourable external debt profile.
The financial institution expressed its optimistic view that Vietnamese GDP growth would rise by 7.4% this year, largely thanks to the development of industry, construction, and services. It also noted that foreign direct investment (FDI) continues to be the driving force for strong Vietnamese growth In the medium and long term.
Meanwhile, credit rating agency Moody's anticipated that the Vietnamese economy would expand 8.5% this year. In September, Moody's also upgraded the country's long-term issuer and senior unsecured ratings to Ba2 from Ba3, changing the outlook to stable from positive.
Vietnam makes up the only country in the Asia-Pacific region and is only one of four places in the world to have ratings upgraded by Moody's since the beginning of the year. This shows that the local economy boasts many strengths and has a great resilience to external macroeconomic shocks which is indicative of improved policy effectiveness.
HCM City serves 2.65 million foreign visitors in 10 months
Ho Chi Minh City welcomed 546,000 international visitors in October this year, lifting the total number of foreign arrivals to the city in the last 10 months to 2.65 million, according to the municipal Department of Tourism.
HCM City's tourism sector has developed new products, and prepared events to promote local tourism potential, towards attracting more tourists in the remaining months of the year, reported VNA.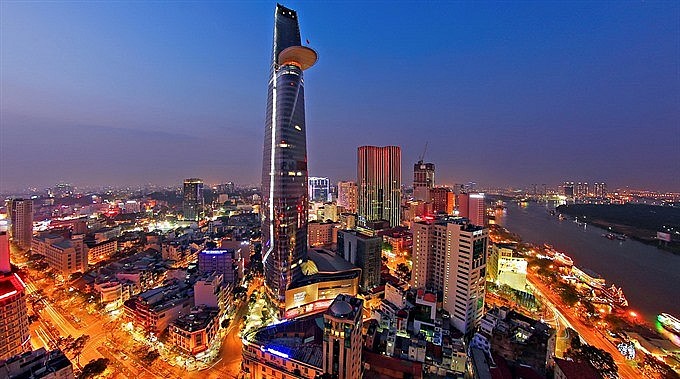 A view of HCM City by night. International experts said the city has the potential to become a leading MICE tourism center in ASEAN. Photo: vietravel.com
Local travel agencies have paid attention to improving the quality of products to bring unique and unforgettable experience to visitors. This is expected to help increase their revenue in the path of recovery and growth.
They have also joined events and fairs to introduce tourism attractions in HCM City to international visitors, including the Asia International Travel Trade Show (ITB Asia) 2022 in Singapore, the Vietnam Tourism and Culture Festival in the Republic of Korea (RoK), and the International and French Travel Market (IFTM) Top Resa in France.
According to Deputy General Director of Vietravel Huynh Phan Phuong Thao, the firm is developing many programmes and products to serve international tourists, especially those from the key markets of Middle East, India and the RoK, in the remaining months of 2022 and the first quarter of 2023.
The tourism sector needs to focus on promoting specific marketing campaigns, thus promoting Vietnam and HCM City in particular as an attractive destination for international visitors, she said.
Vietnam brings 305 Sri Lankans in distress at sea to safety
The Vietnam Marine Search and Rescue Coordination Centre (Vietnam MRCC) dispatched a vessel on November 8 to carry 305 Sri Lankan citizens in distress at sea to the shore safely.
Earlier on November 7, the Vietnam MRCC received a message from their Sri Lankan counterpart about a Myanmar-flagged fishing boat with over 300 Sri Lankan citizens aboard.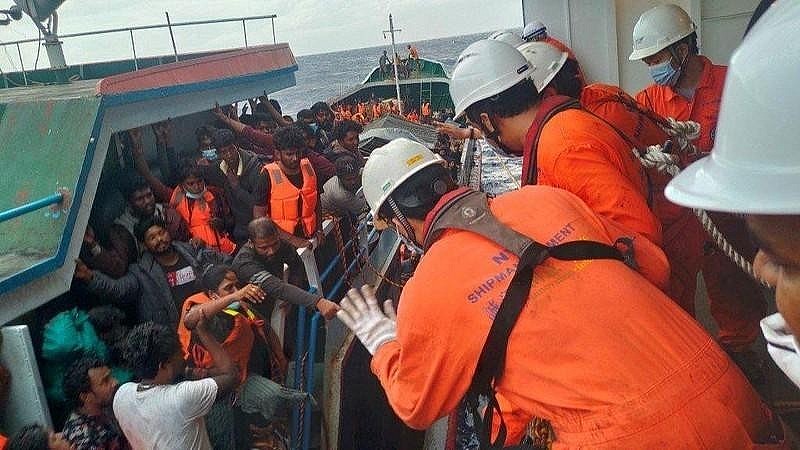 Sri Lankan citizens aboard the distressed Lady R3 are transferred to the Japan-registered ship Helios Leader.
The vessel, known as Lady R3, was located about 258 nautical miles to the southeast of Vung Tau Cape when it ran into a problem, causing water to flow into the engine room.
The problem occurred on November 5 but was unable to be fixed, prompting the captain to call for assistance, cited NDO.
Upon receiving the information, the Vietnam MRCC in Vung Tau worked with the Ho Chi Minh City Coastal Information Radio Station to provide Lady R3 with instructions to fix the problem and sent an urgent message asking ships operating in the area to support the distressed boat.
At 15:40 on November 7, the Japan-registered ship Helios Leader approached Lady R3, picked up those in distress and gave them first aid.
As of 18:55, all 305 people on Lady R3 were successfully moved to Helios Leader safely and all were in stable condition.
Vietnam reaffirms close bond with Cambodia
Vietnam desires to strengthen the good neighbourliness, traditional friendship, and comprehensive, sustainable and durable cooperation with Cambodia, said Prime Minister Pham Minh Chinh during his meetings with senior Cambodian leaders in Phnom Penh on November 8.
During a courtesy visit King Norodom Sihamoni, Chinh who is visiting Cambodia congratulated the great achievements that Cambodia has recorded over the years as well as its recent success in Covid-19 control, and expressed his belief that under the reign of the King, Cambodia will continue to prosper, with an increasing international position and role.
He conveyed the greetings of General Secretary Nguyen Phu Trong, State President Nguyen Xuan Phuc and other senior Vietnamese leaders to King Norodom Sihamoni and Queen Mother Norodom Monineath Sihanouk.
King Sihamoni welcomed Chinh's visit which he said would help boost the Cambodia-Vietnam relations in the coming time. He thanked the Vietnamese people for their valuable assistance to the Cambodian people in overthrowing the former genocidal regime as well as in the present-day construction and development. He also congratulated Vietnam's important achievements in all aspects, especially in Covid-19 control and post-pandemic socio-economic recovery.
The King highly appreciated the efforts of the two governments in promoting the comprehensive cooperation between Cambodia and Vietnam, bringing practical benefits to the two peoples.
Chinh expressed hope that the King would continue to support bilateral cooperation, and at the same time create favourable conditions for Vietnamese expatriates to live and do business stably in Cambodia, making positive contributions to Cambodia's socio-economic development and to the friendly relations between the two countries.
He respectfully reiterated President Nguyen Xuan Phuc's invitation to King Norodom Sihamoni to visit Vietnam at an appropriate time in 2023. The invitation was accepted with pleasure.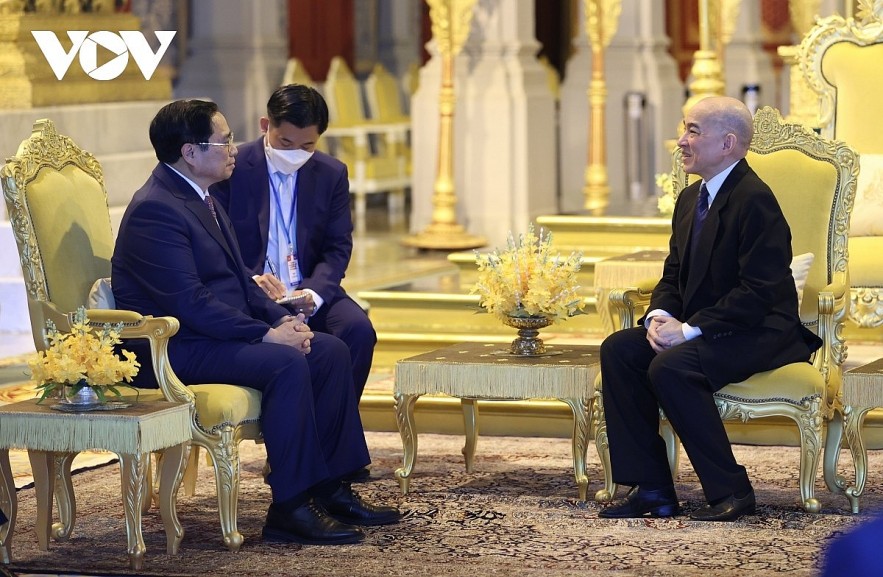 Cambodian King Norodom Sihamoni (R) receives Vietnamese Prime Minister Pham Minh Chinh during his courtesy visit on November 8. Photo: VOV
While meeting with Cambodian National Assembly president Heng Samrin, Chinh congratulated Cambodia on successfully organizing local elections in June 2022, creating the prerequisite for Cambodia to host the national elections in 2023. He expressed belief the Cambodia National Assembly would successfully chair the coming 43rd meeting of the ASEAN Inter-Parliamentary Assembly in Phnom Penh.
Chinh expected that the Cambodia National Assembly and President Heng Samrin personally would continue to support economic cooperation between the two countries and enhance the two legislatures' oversight role in ensuring the effective implementation of agreements signed between the two Governments, VOV reported.
For his part, Heng Samrin welcomed the results of the previous talks between Prime Ministers Hun Sen and Pham Minh Chinh and the signing of 11 cooperation documents following the talks. He highly appreciated the effective and substantial cooperation between the two Governments of Vietnam - Cambodia in the fields of politics, diplomacy, economy, trade, investment, education and training, culture, health, and especially in land border demarcation and border marker planting.
He conveyed sincere greetings to senior Vietnamese leaders, and said the Cambodia National Assembly is actively preparing to welcome Vietnam National Assembly Chairman Vuong Dinh Hue to the 43rd AIPA General Assembly.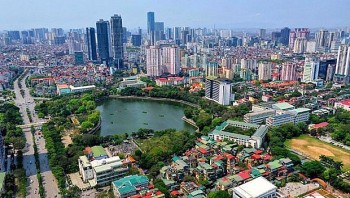 National
Vietnam News Today (Jan. 29): Quang Ninh: Cross-border trading with China resumed after Tet; Hanoi in the world's top three culinary destinations: Tripadvisor; Intertwined opportunities, challenges for Vietnam's economy in 2023; Supermarkets, traditonal markets gradually resume normal operations amid abundant supply.