Vietnam News Today (November 10): Vietnam's NanoDragon Satellite Successfully Launched Into Orbit
Vietnam News Today (November 10): Vietnam's Covid-19 daily count rises to more than 8,000 cases; HCMC mulls reopening schools in December; Vietnam's NanoDragon satellite successfully launched into orbit; Vietnam ready for Japan clash.
Vietnam News Today (November 10) notable headlines
Vietnam's Covid-19 daily count rises to more than 8,000 cases
HCMC mulls reopening schools in December
Vietnam's NanoDragon satellite successfully launched into orbit
Vietnam ready for Japan clash: key defender
Domestic tourists to Phu Quoc on the rise
Vietnam, Australia to bolster cooperation in security
Vietnam, Singapore convene 14th political consultation
Quang Ninh vows to create optimal conditions for Taiwanese investors
Int'l conference discusses infodemic in Covid-19 context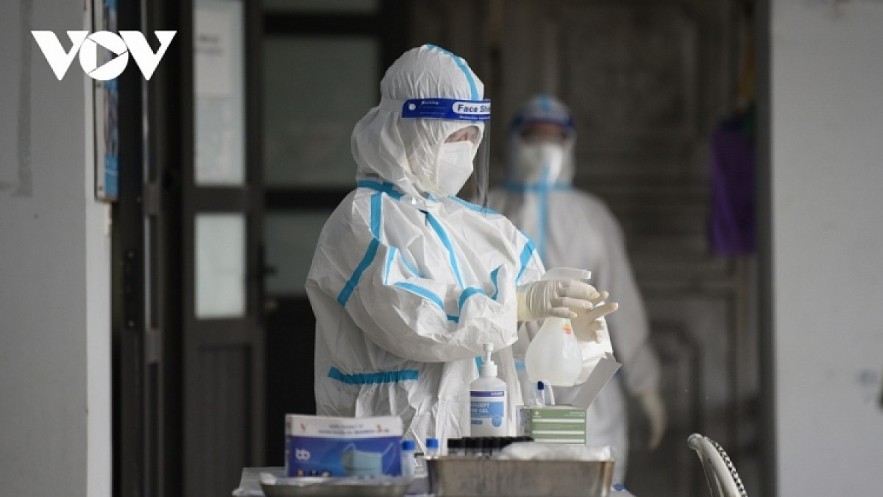 Photo: VOV
Vietnam's Covid-19 daily count rises to more than 8,000 cases
Vietnam has recorded 8,133 new coronavirus infections in 55 cities and provinces across the country, an increase of 175 cases compared to the previous day.
Official figures released by the Ministry of Health (MoH) at 6 p.m. on November 9 also showed an additional 88 people have died and 1,325 more patients have recovered from the pandemic.
Of the newly-detected infections, 3,952 cases were documented in the community through random testing or test screening.
Ho Chi Minh City remains the largest coronavirus hotspot in Vietnam, as it registered 1,276 more cases. The city is working hard to prevent the resurgence of the virus in a number of districts such as Can Gio, Nha Be and District No.10.
Other southern localities recording high numbers of infections over 24 hours were Dong Nai (923), Binh Duong (619), Soc Trang (572), An Giang (557), and Dong Thap (379).
The capital of Hanoi surprisingly recorded 268 new cases, topping northern localities in infection numbers. It was followed by Ha Giang (127), Bac Ninh (46), Bac Giang (31), Phu Tho (26), and Nam Dinh (20).
As of 06pm on November 9 Vietnam has confirmed 984,805 Covid-19 cases since the start of the first outbreak in January 2020, ranking 38th out of 223 countries and territories worldwide, cited VOV.
Of the total, 842,800 patients have been discharged from hospital after making a full recovery from the disease.
Vietnam has also recorded 22,686 deaths, making up 2.4% of the total number of infections.
About 92.2 million vaccine doses have been administered nationwide, with 30.3 million people getting their second shot.
HCMC mulls reopening schools in December
Districts with low and medium pandemic risks may see students return to class from Dec. 10, according to a plan submitted to city's legislators.
Before allowing students return to school, teachers and staff would receive safety training and a parent meeting held.
Schools must meet Covid-19 safety standards, and prepare themselves to switch to online learning in case the pandemic turns complicated, according to a plan by the HCMC Department of Education and Training.
Districts with high levels of coronavirus risk would combine in-person and online classes and students of 1st, 2nd, 6th, 9th and 12th grade prioritized for in-person sessions.
In areas with very high coronavirus risks, the department said online classes and televised lessons must continue.
An area's Covid risk level is determined by its vaccination rate and the number of local infections per population.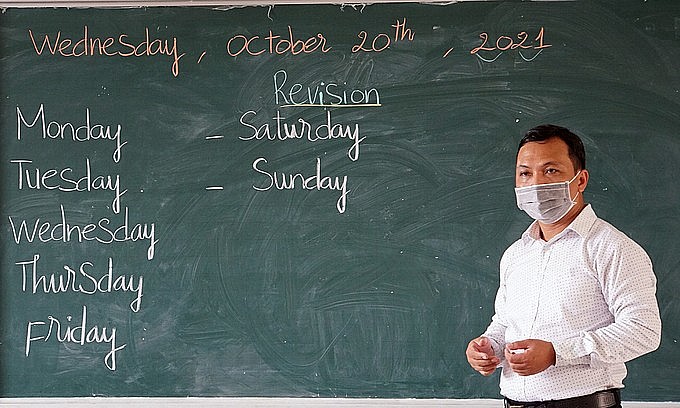 A teacher during his English class at Thanh An Secondary-High School, Can Gio District, HCMC, October 20, 2021. Photo: Vnexpress
For now, of all 22 localities in Ho Chi Minh City, 19 districts and Thu Duc City are designated to have low and medium risks while Nha Be and Can Gio are tagged as high risk.
Le Hoai Nam, deputy director of the education department, said the city administration would make the final call on having students return to class and that the department is only charged with drawing up a plan so schools could be prepared should conditions allow, according to VnExpress.
HCMC has around 1.7 million students in over 2,400 schools. Except for Thanh An Primary and Secondary-High schools on Thanh An Island of Can Gio District, others are currently operating online.
Authorities announced Monday that a sixth-grader of the Thanh An school had been confirmed infected with Covid-19 via testing on Nov. 1, when the school had reopened for the third week.
Since then, all his classmates have had to stay home and switch to online learning.
Vietnam's NanoDragon satellite successfully launched into orbit
The Japan Aerospace Exploration Agency (JAXA) successfully launched a payload of satellites, including Vietnam's NanoDragon, into outer space on November 9 morning.
The satellites were deployed from Epsilon solid-fuel rocket that blasted off in midair from the Uchinoura Space Centre in Kagoshima prefecture at 7.55 a.m. (local time).
According to Dr. Pham Anh Tuan, director of the Vietnam National Space Center (VNSC), NanoDragon is scheduled to be released from the rocket and traverse over Vietnam's sky at 9.30 a.m.
The successful launch marked "an important step forward for Vietnam's space industry," said Vu Hong Nam, Vietnamese Ambassador to Japan.
Photo: VOV
3U Cubesat NanoDragon weighing 3.8kg was developed by the Vietnam National Space Center under the Vietnam Academy of Science and Technology. The development of the NanoDragon satellite is part of VNSC's "made in Vietnam" small satellite development roadmap, VOV reported.
The satellite is expected to operate in a sun synchronous orbit at an altitude of about 560 km. This satellite is designed to integrate an automatic identification system (AIS) used for tracking and monitoring vessels at sea.
It will also make use of an optical imaging device in order to verify the quality of the satellite posture controller while operating in orbit.
NanoDragon is designed to operate in orbit for a minimum of 6 months, but according to VNSC experts it can operate for up to two years.
Vietnam ready for Japan clash: key defender
Center-back Tran Dinh Trong is confident he and his teammates can get a good result against Japan in their World Cup qualifying encounter this week.
"The whole team are excited for the game with Japan. Although they are a strong team, we are prepared, mentally and tactically to play a fair and square game. Japan are not in a good position and they face more pressure from fans and media, so this can be an advantage for Vietnam," Trong said of Vietnam's upcoming home game. cited VnExpress.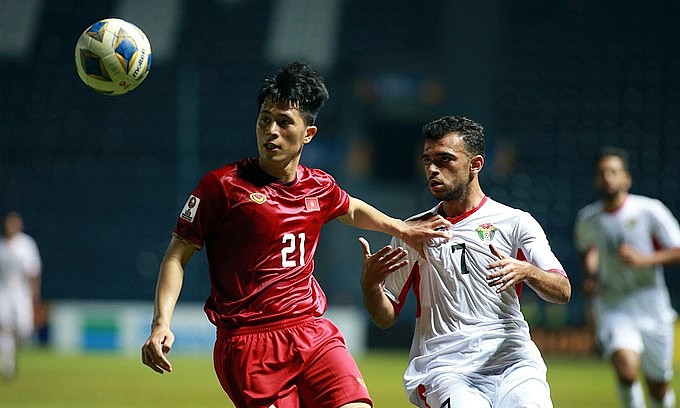 Tran Dinh Trong (red jersey) is recovered from injuries and ready for Vietnam's World Cup qualification game with Japan. Photo: VnExpress
Vietnam are at the bottom of group B after losing to Saudi Arabia, Australia, China and Oman. Japan are considered the strongest team of the group but are struggling at the moment, after losses against Oman and Saudi Arabia.
"Japan have many famous players that are competing in Europe, like Takumi Minamino. Any of them can be a threat to Vietnam's defense. Therefore, we have been training and preparing at the highest level for this game," Trong added.
Trong is considered one of the top defenders in Vietnam, playing an important role in AFC U23 Championship and AFF Cup 2018, in which Vietnam won the title. However, since late 2018, he has been struggling with injuries and missed many tournaments.
"I have fully recovered. I'm just wearing a knee pad to feel safer. At the moment, I'm ready to play Japan," he said.
Vietnam will play Japan in My Dinh National Stadium in Hanoi on Thursday. The match will start at 7 p.m. (Hanoi time).
Domestic tourists to Phu Quoc on the rise
The number of domestic tourists to Phu Quoc island city of the Mekong Delta province of Kien Giang has been rising, Vice Chairman of the municipal People's Committee Pham Van Nghiep has said.
About 400 visitors a day travelled to the island by waterway in the past week, according to VNA.
The increase is attributed to the province's eased Covid-19 control measures, Nghiep explained.
Specifically, visitors need to be fully vaccinated for at least 14 days or recover from Covid-19 within six months, and are not required to test for Covid-19.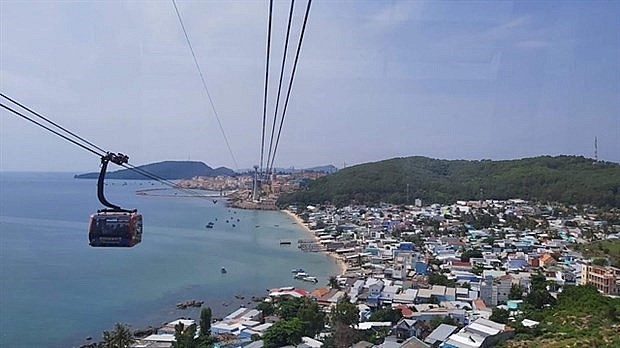 A corner of Phu Quoc island city. Photo: VNA
From the outset of this month, the island welcomes up to eight flights per day from the major cities of Hanoi, HCM City and Da Nang, with a total of about 2,000 passengers. Similarly, they are only asked to make medical declaration and show vaccination/recovery certificates prior to boarding the plane.
To ensure safety, all vehicles are operated at half capacity and passengers must follow the Ministry of Health's 5K message.
In regards to a roadmap on receiving international tourists, the Ministry of Culture, Sports and Tourism and relevant agencies are to work with Kien Giang and Phu Quoc authorities on a six-month pilot program to apply the 'vaccine passport', and inspect eligible accommodation and recreation establishments.
To date, all residents of Phu Quoc have been fully inoculated. The city is working to have students between 12 and 17 years old received at least one jab by November 20.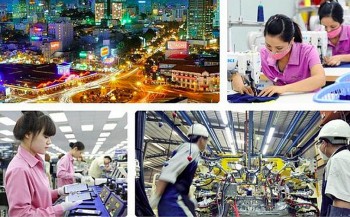 National
Vietnam News Today (Jan. 17): Vietnam records 15,643 new Covid cases; Northern region to turn severely cold from January 17; 'New normal' adaptation leads to positive forecast for Vietnamese economy in 2022; Vietnam-China clash tickets open for sale in two days.