Vietnam News Today (November 11): Hanoi Plans to Vaccinate Nearly 792,000 Children Against Covid-19
Vietnam News Today (November 11): Vietnam confirms 7,918 new Covid-19 cases; Hanoi plans to vaccinate nearly 792,000 children against Covid-19; Positive outlook ahead for international tourism as recovery roadmap approved; Vietnam coach confident of earning point against Japan.
Vietnam News Today (November 11) notable headlines:
Vietnam confirms 7,918 new Covid-19 cases
Hanoi plans to vaccinate nearly 792,000 children against Covid-19
Positive outlook ahead for international tourism as recovery roadmap approved
Vietnam coach confident of earning point against Japan
Law-making activities for CPTPP implementation under scrutiny
Vietnam, Myanmar look toward stronger partnership
Vietnamese Internet economy likely to reach US$220 billion by 2030
Vietnam hails RoK co-operation commitments to ASEAN
Shrimp exports to RoK enjoy positive growth this year
A medical staff vaccinates a student in District 1, Ho Chi Minh City, October 27, 2021. Photo: VnExpress
Vietnam confirms 7,918 new Covid-19 cases
Vietnam reported 7,918 new domestic cases of Covid-19 in 59 cities and provinces on Wednesday, down 211 against Tuesday.
Ho Chi Minh City continued to register the highest daily infections, 1,414, followed by its two neighboring provinces of Dong Nai and Binh Duong with 838 cases and 627 cases, respectively.
A further 79 Covid casualties were reported, including 43 in HCMC and 9 in Binh Duong, raising the national Covid-19 death toll to 22,765, accounting for 2.4 percent of the total cases, cited VnExpress.
With the additional patients confirmed Tuesday, Vietnam's tally of the fourth wave that hit the nation in late April has climbed to 987,758. Of them, 844,054 have recovered.
Of more than 125,000 patients under treatment, 3,620 are severe cases.
So far, 31.1 million of the country's 96-million population have been fully vaccinated with two doses.
Hanoi plans to vaccinate nearly 792,000 children against Covid-19
Nearly 792,000 children aging from 12-17 years old in Hanoi are expected to be vaccinated against Covid-19 in the fourth quarter of 2021 and first quarter of 2022.
Under a plan jointly designed by the city Departments of Health, Education and Training, and Labour, Invalids and Social Affairs, the children will get the shots right after the city receives the vaccines, VNA reported.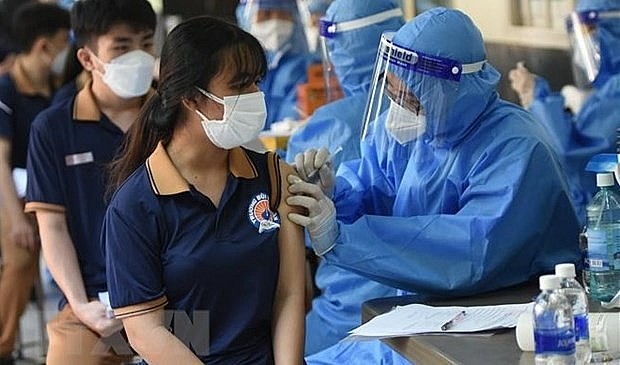 Hanoi plans to vaccinate nearly 792,000 children against Covid-19. Photo: VNA
The scheme will be implemented in different phases with priority given to older ones. Currently, the city has 519,547 children aging from 12 to under 16 years old and 272,374 between the age of 16 to under 18 years old.
Adjustments in the vaccination time and priorities will be made depending on the developments of the pandemic in the city.
Along with vaccination stations in hospitals and health care stations, mobile vaccination facilities will be set up at schools and localities.
The objective of the scheme is to get 95 percent of eligible children aging from 12-17 years old vaccinated against Covid-19, thus minimizing infection number and death toll due to the pandemic.
Positive outlook ahead for international tourism as recovery roadmap approved
The Government's recent approval of a recovery roadmap to welcome back foreign visitors is considered a positive sign for the local tourism industry to get back on track from the prolonged Covid-19 pandemic.
Under the approved scheme, Kien Giang, Khanh Hoa, Quang Nam Da Nang and Quang Ninh which are home to international recognized tourist destinations are expected to receive foreign visitors on certain conditions, starting from November.
Though Ba Ria – Vung Tau is not among the five localities that are implementing the pilot scheme, Trinh Hang, director of the provincial Department of Tourism, said the locality will follow the move with keen interest to garner experience.
Ba Ria – Vung Tau will work closely with other localities, especially Ho Chi Minh City, in a bid to welcome back international visitors as soon as it is granted permission from the Government, he said.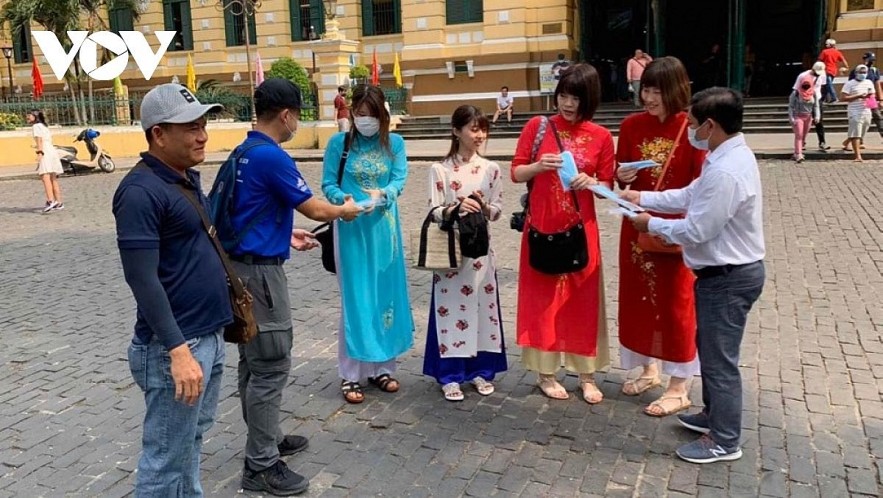 Photo: VOV
Meanwhile, Binh Thuan, another locality in southern Vietnam, is also keen to receive back foreign travelers who bring back a large source of hard currency to local budget, according to VOV.
Many local travel operators, especially lodging facilities, have longed to welcome back foreign visitors, revealed Le Ngoc Ha, general director of Hoang Ngoc Resort in Phan Thiet City, adding the locality is working hard to get the nod from the Prime Minister.
Ho Chi Minh City, the largest coronavirus hotspot in Vietnam, is also formulating a draft project aimed at welcoming back international tourists with vaccine passports in late 2021 and early 2022.
The city is planning international tourism promotions in December, a month earlier than scheduled. At present, several tourism businesses and foreign partners have been working together as part of efforts to design package tours for visitors.
Huynh Phan Phuong Hoang, deputy general director of tour operator Vietravel, suggested along with a pilot plan to reopen the country to international visitors, there should also be additional schemes for Vietnamese people to travel to countries that are to recognize Vietnamese "vaccine passports".
Vietnam is receiving passengers on charter flights, which incurs higher costs for passengers. The move will make the price of tours for foreign guests higher compared to other destinations in the region, she explained.
Tourism businesses also suggested that there should be a wider communication campaign aimed at helping foreign visitors gain greater insights into the country's reopening to international tourism, a move which has been deployed effectively in regional countries such as Thailand and Singapore.
Vietnam coach confident of earning point against Japan
Coach Park Hang-seo believes Vietnam can get a good result in the game with Japan when the two teams meet for the World Cup qualification Thursday.
"Japan have won two and lost two matches. They are the top seed and ranked 29th in the world. I can say this is the hardest opponent to face in group B. But we get to play at home. Therefore, we will try our best to earn one point in this game," Park said in the pre-match conference Wednesday.
Vietnam are at the bottom of group B after losing the first four matches against Saudi Arabia, Australia, China and Oman. The team only scored four and conceded 10 goals, cited VnExpress.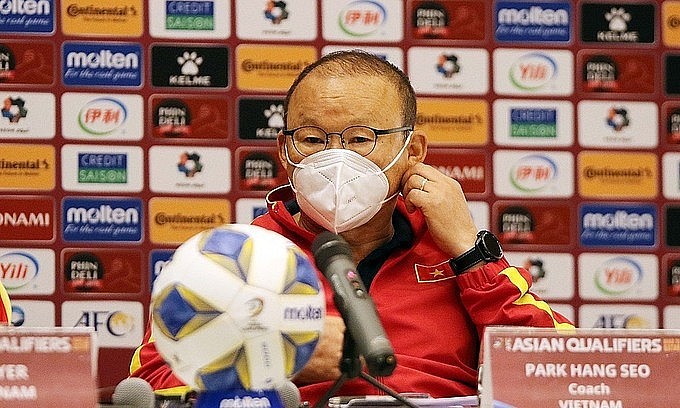 Coach Park Hang-seo speaks at the conference before the World Cup qualifier between Vietnam and Japan, Hanoi, November 10, 2021. Photo: VnExpres
Japan are also in a difficult situation after losing to Oman and Saudi Arabia.
Park said that Vientam won 1-0 against Japan in 2018, but that was the U23 team. "From the Asian Cup 2019 clash, when Vietnam lost 0-1, their squad have changed a lot. I cannot make an accurate assessment because many of their players are competing in J. League, but their defense has quality players from the top leagues in Europe," he added.
After Vietnam's previous home game against Australia, the My Dinh National Stadium pitch was criticized for its quality. This time, it has been revamped to ensure better playing conditions.
"I think the pitch is good, but we shouldn't talk about it too much. An Australian player complained about it in the previous game. But he is playing in Europe, so he shouldn't compare the pitch there to Vietnam's," Park added.
When asked to predict the score, Park said: "I have no idea."
Law-making activities for CPTPP implementation under scrutiny
The Vietnam Chamber of Commerce and Industry (VCCI) in co-ordination with the Central Institute for Economic Management held a webinar on November 10 regarding the implementation of the Comprehensive and Progressive Agreement for Trans-Pacific Partnership (CPTPP) from a legal perspective.
The seminar was held within the framework of the Australian-funded program, Aus4Reform, which aims to assist the Vietnamese Government in achieving its goal of improving the local business environment and modernizing the national economy.
The CPTPP has a direct impact on many of the country's domestic legal institutions. Therefore, amending and developing domestic legal regulations to ensure compatibility with commitments represents a key task in the agreement implementation process.
Charles Thursby-Pelham, first secretary of the Australian Embassy in Vietnam, stated that the comprehensive review of law-making activities to realize the CPTPP is useful for State agencies, the VCCI, various associations, and each business when assessing the overall benefits of the agreement. The results will also be conducive to the wider implementation of the CPTPP, along with free trade agreements (FTAs) in general moving forward.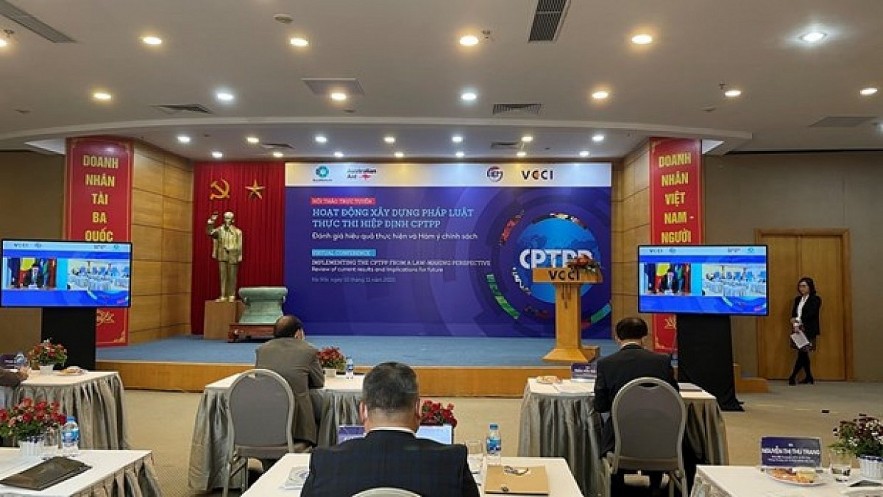 At the seminar. Photo: VCCI
On behalf of the research team, Nguyen Thi Thu Trang, director of the Centre for WTO and Integration under the VCCI, said a total of 11 legal documents have been issued aimed at carrying out the commitments of the CPTPP immediately. This is in addition to four documents which are being drafted for the implementation of the CPTPP commitments in line with the roadmap in the 2019 to 2021 period.
According to Trang, most of the provisions set out in legal documents are compatible with the commitments of the CPTPP that have been "internalized". Indeed, some regulations are at a higher level than required or are in line with an earlier roadmap, she said.
Trang also made recommendations aimed at improving the overall efficiency of law-making in the implementation of the CPTPP, as well as newly signed FTAs, such as the review of regulations' compatibility with FTA commitments and the development of legal plans which must be done in a more inclusive manner, VOV reported.
The compilation of legal documents should thereby be done as swiftly possible, with the compiling agency paying special attention to consulting the affected subjects, she said. In addition, she added that the process of implementing commitments must be regularly monitored and inadequacies should be promptly dealt with.
The seminar and research report regarding law-making efforts to implement the CPTPP are part of the VCCI's series of activities which aim to support local businesses in relation to the CPTPP and other FTAs. In the near future, the VCCI will continue to carry out events aimed at providing information on the commitments and the implementation of FTAs. This will be done in order to support firms as well as relevant state agencies to bring maximum benefits for the Vietnamese economy during the process of carrying out these agreements.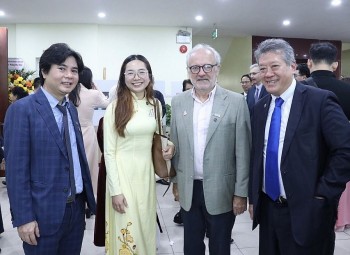 Friendship
Agreeing that the young generation is an important force to promote the friendship between Vietnam and France, many members of the Vietnam-France Friendship and Cooperation Association hope that the Association will hold practical activities to attract the young in its coming term.