Vietnam News Today (November 21): Phu Quoc Welcomes First Int'l Tourists Under Vaccine Passport Program
Vietnam News Today (November 21): Vietnam confirms 9,518 new local Covid cases; Vietnam to be fastest-growing e-commerce market in Southeast Asia by 2026; Phu Quoc welcomes first int'l tourists under vaccine passport program; Vietnam set ambitious goal ahead of AFF Cup 2020.
Vietnam News Today (November 21) notable headlines
Vietnam confirms 9,518 new local Covid cases
Vietnam to be fastest-growing e-commerce market in Southeast Asia by 2026
Phu Quoc welcomes first int'l tourists under vaccine passport program
Vietnam set ambitious goal ahead of AFF Cup 2020
Hanoi aims to develop smart agriculture
PM requests full vaccine coverage in 2021
Da Nang starts Covid-19 vaccinations for teenagers
First foreign visitors under vaccine passport scheme enjoy Hoi An tour
Vietnamese intellectuals in Japan share ideas for post-pandemic development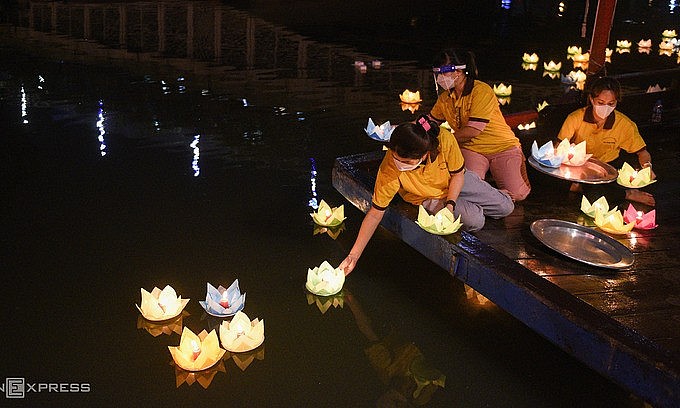 People release lanterns on Nhieu Loc-Thi Nghe Canal in HCMC to commemorate people who have lost their lives to the Covid-19 pandemic, November 19, 2021. Photo: VnExpress
Vietnam confirms 9,518 new local Covid cases
Health authorities reported 9,518 domestic cases of Covid-19 in 60 cities and provinces Saturday, down 99 from Friday.
The three localities with the highest number of daily cases were HCMC with 1,046, followed by Binh Duong with 669 and Dong Nai with 621.
The Ministry of Health also recorded 107 deaths on Saturday, including 42 in HCMC, pushing the Covid-19 death toll in the country to 23,685, or 2.2 percent of infections.
16,773 Covid patients were declared free of coronavirus the same day, bringing the total of recovered cases so far to 900,337, cited VnExpress.
As of Saturday, 40 million of Vietnam's 96 million population have been fully vaccinated against Covid-19.
Since the fourth wave of the pandemic hit in late April, Vietnam has recorded 1,078,616 local cases.
Vietnam to be fastest-growing e-commerce market in Southeast Asia by 2026: Report
Vietnam is expected to be the fastest-growing e-commerce market in Southeast Asia by 2026, with e-commerce Gross Merchandise Value (GMV) reaching US$56 billion by 2026, 4.5 times the estimated value of 2021, according to a report by Facebook and Bain & Company.
In the annual SYNC Southeast Asia report which looks at the digital economy in the region, the two big market observers said located in a vibrant part of the world, Vietnam is at the forefront of driving change and seizing opportunities to thrive based on digital transformation in a post-pandemic future.
The study surveyed about 16,700 digital consumers and more than 20 C-level employees in six Southeast Asian countries, including 3,579 survey participants from Vietnam.
Photo: VOV
The report described Southeast Asia as a leader of digital transformation in Asia-Pacific and Vietnam as one of the best performers.
In Vietnam, seven out of 10 consumers have digital access and the country will have 53 million digital consumers by the end of 2021, the report said.
The number of goods categories purchased by Vietnamese online shoppers this year went up 50% compared to 2020, while that of online stores in Vietnam also rose by 40% year-on-year, resulting a 1.5-fold increase in total online retail sales nationwide, reported VNA.
Some 49% of Vietnamese consumers switched to a new online marketplace within the last 3 months, based on considerations of price incentives (45%), product quality (34%), and availability of goods (33%).
For the first time, the payment using cash is at risk of being dethroned with a significant decrease from 60% in 2020 to only 42% in 2021. Safety, privacy and service fees are the three main concerns of Vietnamese consumers when considering these types of payment.
This year, Vietnamese people spent most of the time on using social networks, texting, watching videos, shopping online, and emailing. They used 72% of their time for regular activities at home instead of going out.
Phu Quoc welcomes first int'l tourists under vaccine passport program
A total 204 South Koreans landed on Kien Giang's Phu Quoc at noon Saturday, becoming the first international tourists to visit the island after nearly two years due to Covid-19.
The tourists flew from Seoul to Phu Quoc International Airport and were welcomed by authorities.
"I am happy to see everything, from the scenery to the way we were received, is so great," said a tourist on his first trip to Phu Quoc.
Tourists undergo health screening right at the airport, before traveling to Phu Quoc United Center, where they would spend the next four days.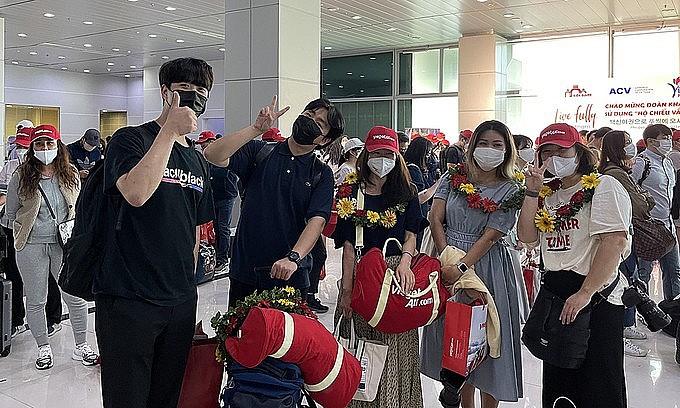 A group of South Korean tourists land at the Phu Quoc International Airport, November 20, 2021. Photo: VnExpress
Resorts, entertainment and sport venues, parks and zoos, among other services, would all be available.
During their trip, tourists would be tested twice, once when they enter the island and again when they leave.
Nguyen Trung Khanh, head of the Vietnam National Administration of Tourism, said the visit is among the first of the trial vaccine passport program, both for Phu Quoc and Vietnam. It is a step towards resuming tourism in Vietnam, he added.
Nguyen Luu Trung, deputy chairman of Kien Giang People's Committee, said the event marks a new chapter for Phu Quoc's tourism, according to VnExpress.
"We believe with cooperation between businesses, until the end of the year, Phu Quoc could receive and serve up to 400,000 tourists," he said.
Kien Giang is one of five localities to get the green light from the government to welcome back fully immunized tourists from November onwards along with Quang Nam, Khanh Hoa, Quang Ninh, and Da Nang.
Quang Nam received more than 150 tourists this week.
Vietnam set ambitious goal ahead of AFF Cup 2020
The Vietnamese national team will enter the AFF Cup 2020 as defending champions with a strong determination to defend their title.
Head coach Park Hang-seo stated on November 19 that he will send his strongest squad to the tournament with the aim of securing consecutive titles. The list includes 33 Vietnamese players, mainly comprising those who competed in the third round of World Cup qualifiers.
After suffering six consecutive losses in the World Cup qualifying campaign, the Vietnamese team are said to affirm their position in the Southeast Asian region.
Vietnam are AFF Cup defending champions. Photo: VOV
"We are the AFF Cup defending champions, so our image and reputation need to be maintained," said Tran Quoc Tuan, vice president of the Vietnam Football Federation (VFF).
According to the vice president, VFF has changed the schedules and format of both the V.League 1 and V.League 2, creating conditions for selected players to leave their clubs for the national team, cited VOV.
Vietnam stay atop Southeast Asian in the latest FIFA rankings, but Thailand are always their archrivals in the region. In addition, they face fierce competition from other regional rivals such as Indonesia and Malaysia.
Vietnam and Thailand have been drawn as top seeds so they will not play in the same group.
Vietnam will play in Group B alongside Malaysia, Indonesia, Cambodia, and Laos.
Group A consists of Thailand, Myanmar, the Philippines, Singapore, and the winner of the play-off match between Timor-Leste and Brunei.
AFF Cup, the largest Southeast Asian football tournament, was supposed to take place last year, but was delayed till later this year due to the Covid-19 pandemic.
Singapore has been selected to play host to the tournament which is scheduled to last from December 5, 2021, to January 1, 2022.
Hanoi aims to develop smart agriculture
The capital city has implemented many high-tech agricultural production models in order to move towards smart agriculture. However, the city will have to pay more attention to promoting the application of science and technology as well as training high-quality labour resources.
Developing smart agriculture is a trend for agricultural production around the world and in Vietnam, including Hanoi, said Deputy Director of the municipal Department of Agriculture and Rural Development Ta Van Tuong.
The city currently counts 164 hi-tech agricultural production models, including 105 involved in crop production, 39 in livestock, 15 in fisheries and one model combining cultivation and husbandry.
The value of hi-tech agricultural products currently accounts for about 35 percent of the total value of agricultural production in the city.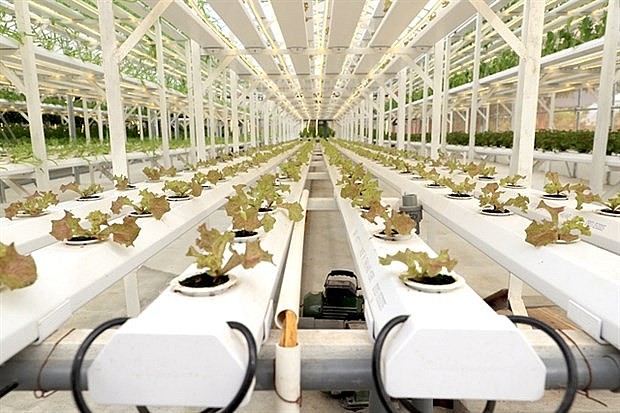 Clean vegetable production in the Ngoc Linh Hoa Lac high-tech agro-ecological zone, at Tien Xuan commune, Thach That district, Hanoi. Photo: Hanoi Department of Agriculture and Rural Development
Modern technology and equipment in the management of agricultural production to help reduce labour, increase quality and output of agricultural products is considered the most important factor, the official said, affirming that high-tech agricultural models are increasingly blooming and bringing efficiency to the city's agriculture.
The city's agriculture sector has promoted the application of scientific advances to agricultural production, including technology of greenhouses with an automated watering system (in the field of planting), cooling system to help stabilize temperature and humidity, automatic feeding lines, artificial insemination (breeding), using biological products and automatic oxygen generator (aqua-culture), VNA reported.
Tran Duy Quy, Chairman of the Vietnam Association of Rural Development Sciences, said that developing smart agriculture and applying advanced science and technology to production was very important.
With a densely populated city like Hanoi, the application of science and technology in production will help transform traditional agriculture to smart agriculture, thereby increasing incomes for farmers, he said, adding that it helps solve problems of land shortage, improve the living environment, and reduce pollution.
Dao The Anh, Deputy Director of the Vietnam Academy of Agricultural Sciences, said that the city needed to promote training human resources, especially high-quality human resources.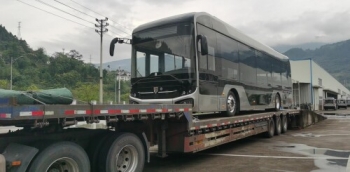 Economy
Ev Dynamics (Holdings) Limited is a pioneer and a prominent player in China's new energy commercial vehicles market, as well as a whole-vehicle manufacturer of specialty passenger vehicles and new energy passenger vehicles.