Vietnam News Today (November 4): Foreign Tourists Can Visit Vietnam From This Month
Vietnam News Today (November 4): Vietnam confirms 6,175 new local Covid-19 cases; Vietnam, Australia announce enhanced economic engagement strategy; Six Vietnamese universities among Asia's top 500; Foreign tourists can visit Vietnam from this month.
Vietnam News Today (November 4) notable headlines
Vietnam confirms 6,175 new local Covid-19 cases
Vietnam, Australia announce enhanced economic engagement strategy
Six Vietnamese universities among Asia's top 500
Foreign tourists can visit Vietnam from this month
Vietnam to have 28 airports by 2030
Removing bottlenecks to attract FDI inflows from Europe
Exhibition promotes Vietnamese Cultural Heritage Space
Local film to compete in world's largest documentary film festival
Workshop seeks ways to sustainably promote sea-based economy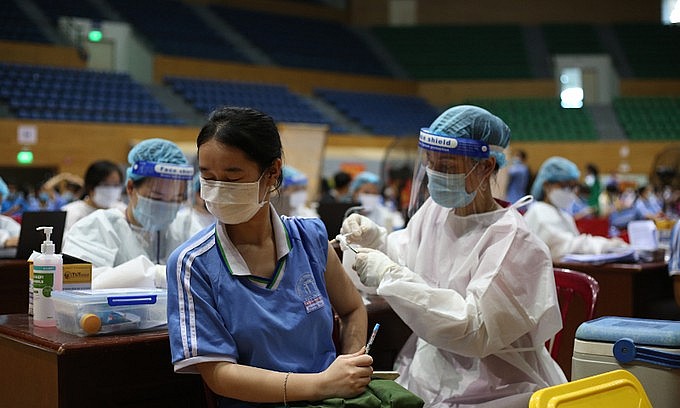 A student is vaccinated in Da Nang City, Nov. 2, 2021. Photo: VnExpress
Vietnam confirms 6,175 new local Covid-19 cases
Vietnam's Covid-19 tally in the fourth wave starting late April rose to 933,670 after the Health Ministry confirmed 6,175 new cases Wednesday.
The three places with the highest numbers of new infections were Ho Chi Minh City with 985 cases, its neighbors Dong Nai (905) and Binh Duong (773).
In the past seven days the average number of new cases nationwide is 5,413, cited VnExpress.
On Wednesday, the ministry announced another 78 Covid-19 deaths, including 40 in HCMC and 13 in Binh Duong. The total Covid death toll so far rose to 22,283, accounting for around 2.4 percent of all infections.
Another 8,869 patients recovered, raising the number of recoveries since the start of the pandemic to 833,675.
Of more than 82,594 patients under treatment, 3,052 are severe cases.
Around 25.6 million people in the country have been vaccinated with two doses.
Vietnam, Australia announce enhanced economic engagement strategy
Vietnam and Australia will accelerate trade and investment levels from 2021-2025, through a new economic strategy bringing their burgeoning commercial ties into sharp focus.
According to a media release issued on November 3, Australian Prime Minister Scott Morrison announced that he and his Vietnamese counterpart Pham Minh Chinh had a discussion on the sidelines of the 26th United Nations Climate Change Conference of the Parties (COP26) in Glasgow, Scotland, the UK.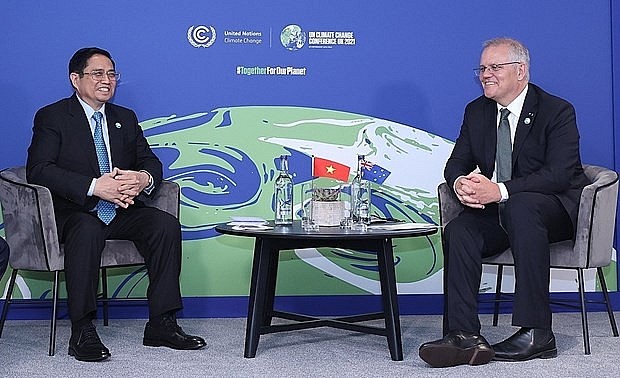 PM Pham Minh Chinh (L) meets with his Australian counterpart Scott Morrison on the sidelines of COP26. Photo: VNA
They announced the Australia-Vietnam Enhanced Economic Engagement Strategy, which supports Australia and Vietnam's shared goal to double investment and become top ten trade partners.
The strategy will help both countries take advantage of emerging market opportunities, including in agriculture, energy, services and the digital economy, as the two economies recover from the impacts of the Covid-19 pandemic.
The development of the strategy represents close collaboration and considerable work by both countries, including economic analysis, cross government consultation and recommendations put forward by business stakeholders.
It highlights key sectors in which Vietnam and Australia are uniquely matched to deepen trade - education, skills and training; resources and energy; agriculture, forestry and fisheries; manufacturing; tourism; science, technology and innovation; digital economy; and other services, according to VNA.
An Implementation Plan for the Strategy has been agreed by both governments, providing a roadmap for practical initiatives to deepen trade and investment links in key sectors, over an initial period of 2021-2025.
Six Vietnamese universities among Asia's top 500
Six universities in Vietnam were listed among the top 500 in Asia for 2022 by global higher education think-tank Quacquarelli Symonds (QS).
Vietnam has 11 representatives featured in QS Asia University Rankings 2022 released Tuesday. Though all had appeared in last year's rankings, five climbed higher, three dropped, and three remained in place.
Of the 11, Ton Duc Thang University in Ho Chi Minh City ranks the highest, at 142nd, up from 163rd place last year and the 207th position in 2020, VnExpress reported.
Vietnam National University Hanoi is placed 147th, up 13 ranks, followed by Vietnam National University HCMC in 179th, down 21.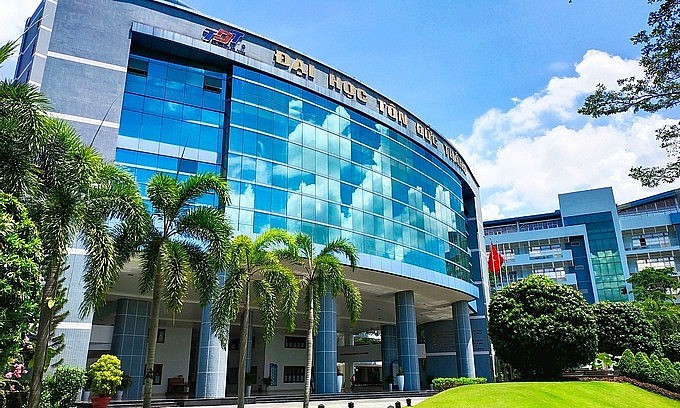 Ton Duc Thang University in Ho Chi Minh City. Photo: Ton Duc Thang University
Duy Tan University in Da Nang City sees a clear improvement, climbing from the 351-400 group to the 210th rank while Hanoi University of Science and Technology rises from the 301-350 to the 281-290 group.
Hue University in central Hue Town ranks in the 401-450 group.
Can Tho University in Mekong Delta's Can Tho City and the University of Da Nang in Da Nang both land in the group of 501-550.
The remaining Vietnamese universities in the 2022 ranking are Hanoi University of Education and University of Economics HCMC in the 551-600 group, and the Industrial University of HCMC in the 601-650 segment.
Featuring 687 institutions, the 2022 ranking of the top Asian universities is the biggest yet, QS stated.
This year, the National University of Singapore maintained its top position for the third year in a row.
It is followed by Peking University in China and Nanyang Technological University, Singapore.
Foreign tourists can visit Vietnam from this month
International tourists with vaccine passports or those who have made a full recovery from Covid-19 can visit five destinations in Vietnam starting from this month, without a quarantine mandate.
The Government Office announced November 2 that Deputy Prime Minister Pham Binh Minh has approved a pilot plan to welcome international visitors as proposed earlier by the Ministry of Culture, Sports and Tourism.
Five pilot destinations to receive foreign tourists include Phu Quoc city in Kien Giang province, Khanh Hoa, Quang Nam, Quang Ninh provinces and the central city of Da Nang.
The plan will be divided into three phases, starting from this November.
In the first phase that starts this month, designated places and tourism facilities in Phu Quoc, Khanh Hoa, Quang Nam, Da Nang, Quang Ninh can receive foreign tourists within package tourism programs arriving via either charter flights or international commercial flights.
In the second phase that takes effect from January 2022, the scale of the pilot plan will be expanded by connecting destinations through regular charter and international commercial flights, cited VNA.
The tourists could participate in travel programs that combine multiple destinations after completing their tours at the first destination within seven days. Five destinations – Kien Giang, Nha Trang, Da Nang, Quang Nam and Quang Ninh – will be piloted first and some other localities will be added to the programs later as long as the pandemic conditions permit and the local authorities submit proposals to welcome international tourists.
Vietnam's tourism market will fully open to international tourists in the last phase, the starting time of which will be based on the contemporary pandemic situation on the evaluation of the two previous phases.
Foreign tourists are seen walking in Hoi An ancient city in the central province of Quang Nam before international arrivals were halted. Photo: baochinhphu.vn
The plan will apply to foreign tourists and overseas Vietnamese arriving from Vietnam's key and potential tourism markets. They must prove certificates of taking full doses of the Covid-19 vaccination or Covid-19 recovery that are recognized by the authorities in Vietnam, except children under 12 years old accompanied by parents or guardians. For Covid-19 recovery patients, the time from being discharged from the hospital to the time of departure must not exceed six months.
Other conditions include having negative results for SARS-CoV-2 test by RT-PCR/RT-LAMP method within 72 hours before departure and certified by the authority of the country conducting the test (from time of sampling) and having medical or travel insurance that covers Covid-19 treatment with a minimum liability of US$50,000.
Tourists within the pilot tours must have their temperature regularly checked and use the IGOVN application during their stay. Masking is required, and there will be no quarantine mandate.
On the first day of entry, tourists will be taken to the accommodation facility and have Covid tests. They could continue their stay if the tests prove negative; otherwise, they will be taken to a medical facility and the cost will be covered by insurance or travel agency.
Within the first seven days, tourists must adhere to the schedule, ensuring pandemic prevention regulations and taking self-tests every two to three days. In case of having any symptoms of fever, cough, shortness of breath or sore throat, they must notify medical staff for screening tests.
After seven days, those who continue to stay in Vietnam must test themselves for Covid-19 and could travel to other localities within the program if the results are negative. Those who want to see their relatives in Vietnam need to register with their tour operators.
Vietnam to have 28 airports by 2030
Vietnam is set to have a total of 28 domestic and international airports nationwide by 2030 that will have a design capacity of serving 278 million passengers annually.
Half of the total will be international terminals, according to a recently approved master plan on the national airport network towards 2030 and a vision ahead to 2050.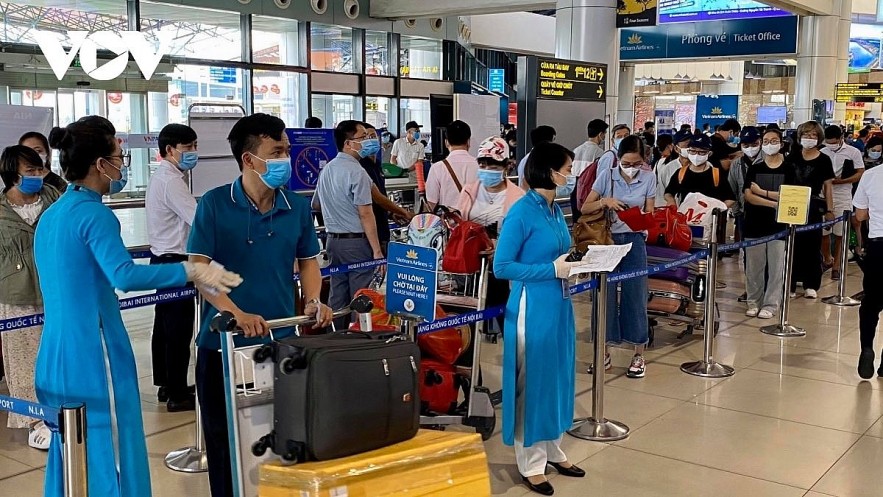 Passengers queue up for check-in at Noi Bai International Airport. Photo: VOV
Experts of the appraisal council agreed to go ahead with a plan to build Hai Phong International Airport to replace the current Cat Bi Airport by 2030 which has been approved by the Prime Minister.
They also suggested that feasibility studies for new airports on Ly Son island in the central coastal province of Quang Ngai and Phu Quy island in the south central province of Binh Thuan be conducted and submitted to the Prime Minister for consideration, reported VOV.
The plan regarding seeking locations for a second airport in Hanoi will also be studied after 2030.
The appraisal council also agreed with a plan to expand Hanoi-based Noi Bai International Airport to make it capable of serving 100 million passengers per year by 2050.
The council noted that, besides Cao Bang Airport, Vietnam should have more airports in some localities that have great demand for tourists, such as the northern mountainous province of Ha Giang, in order to meet the country's socio-economic development strategy.
World
World Jewish Congress (WJC) has joined the Indian government to mourn the lives of 166 innocent victims who were killed in deadly Mumbai terrorist attacks on 26 November 2008. According to the World Jewish Congress, the terrorist attack shook the human conscience and drew widespread global condemnation and the Jewish community, equally became a target during the attacks.