Vietnam News Today (Oct. 1): Vietnam, Cuba Seek to Develop Stronger Trade Links
Vietnam News Today (Oct. 1): Vietnam, Cuba seek to develop stronger trade links; Boeing accelerates cooperation with Vietnamese suppliers; Vietnam named among leading budget destinations; Floods and landslides isolate thousands of residents in central, Central Highlands regions.
Vietnam News Today (Oct. 1) notable headlines
Vietnam, Cuba seek to develop stronger trade links
Boeing accelerates cooperation with Vietnamese suppliers
Vietnam named among leading budget destinations
Floods and landslides isolate thousands of residents in central, Central Highlands regions
B2B event helps Vietnamese, Korean firms boost partnership
Vietnam values development of partnership with China
Vietnam stresses ASEAN's commitment to enhance development cooperation
Vietnam logs additional 1,470 Covid-19 cases on September 30
Vietnam, US legislatures push ties in science, tech, environment
Participants at the forum. Photo: VNA
Vietnam, Cuba seek to develop stronger trade links
The Vietnam-Cuba Business Promotion Forum was held on September 30 in Hanoi, with the event featuring the participation of Cuban Prime Minister Manuel Marrero Cruz and Deputy Prime Minister Le Minh Khai.
The occasion was held within the framework of the Cuban PM's official friendship visit to the nation from September 28 to October 2.
Upon addressing the event, Deputy PM Khai emphasized that in recent years, although the two countries have faced plenty of difficulties and challenges, through the special traditional friendship which has been established and cultivated by many generations, the joints ties have maintained its development momentum in multiple fields. This ranges from politics and diplomacy to economics, science and technology, and culture and education.
In particular, economic and scientific and technical co-operation through the intergovernmental committee mechanism has been regularly maintained, thereby recording a range of important achievements and making practical contributions to propelling forward comprehensive ties between the two nations.
In relation to trade co-operation, according to the Deputy PM, recent years has seen two-way trade turnover reach between US$250 million to US$350 million annually.
Understanding that rice is a vital commodity for the Cuban people, the country always maintains a stable rice supply specifically for the Caribbean nation.
Vietnamese enterprises export a variety of goods to the Cuban market, such as electrical appliances, electronics, clothing, shoes, cosmetics, construction and industrial materials, household appliances, stationery, and food. In addition, the Southeast Asian nation has actively considered the import of drugs, vaccines, and biological products, whilst it has also received Cuban medical experts, cited VOV.
The Vietnam - Cuba trade agreement signed in 2018 officially became effective from April, 2020, and is widely seen as an important legal basis for both nations' businesses to take advantage of tariff preferences whilst striving to elevate two-way trade to US$500 million over the next five years.
Regarding the field of investment, Deputy PM Khai highly appreciates firms for actively seizing upon opportunities and quickly responding to the policy aimed at calling for and attracting investment from Cuba.
Amid both sides facing numerous difficulties due to the impact of the Covid-19 pandemic, Viglacera Corporation and Thai Binh Company represents pioneers in carrying out investment projects in Cuba and have already achieved important results.
Currently, the nation has five investment projects underway in Cuba, including four investment projects in the Mariel Special Development Zone and one construction material production project in Santa Cruz.
Deputy PM Khai therefore affirmed that the Vietnam - Cuba Business Promotion Forum is an important event for Cuban friends, allowing them to introduce investment co-operation opportunities to the Vietnamese business community, along with policies for foreign investment attraction to Cuba, including Mariel Special Development Zone.
The Vietnamese Deputy PM believes that, with the large participation of ministries, agencies, and enterprises in the state and private sectors, the two sides will actively exchange and create fresh opportunities for future investment co-operation. This will therefore greatly contribute to the stronger promotion of economic, trade, and investment ties between both sides.
In response, Cuban PM Cruz noted that Vietnam has achieved many socio-economic achievements under the leadership of the Communist Party, whilst maintaining stable development even during the Covid-19 pandemic, as well as amid complicated economic and political developments globally.
In terms of the situation in Cuba, PM Cruz said that although Cuba continues to face numerous difficulties from embargoes, epidemics, as well as natural disasters, storms, and floods, socio-economic conditions have still seen development steps, with the participation of many economic sectors.
The fields that are currently focused on by Cuba are agriculture, industry, tourism, biotechnology, pharmaceuticals, health care, and information technology. Along with this, Cuba has competently brought the Covid-19 pandemic under control.
Recently, the Caribbean country amended and supplemented a number of preferential policies aimed at attracting greater investment, such as allowing localities to sell goods without intermediaries, as well as opening trade to both wholesale and retail forms.
They have also identified 30 general principles and 17 specialised characteristics for the field of investment attraction and legal policies which are periodically updated and adjusted.
At the event, PM Cruz pledged to give priority to and the most favourable conditions for joint trade relations, along with helping Vietnamese businesses keen to invest in Cuba. He said he believes that the Vietnam-Cuba Business Promotion Forum will mark a new era in bilateral trade ties.
Boeing accelerates cooperation with Vietnamese suppliers
Boeing, the world's leading aerospace company based in the US, are accelerating cooperation with Vietnamese suppliers and universities to provide a foundation for long-term industrial growth, according to Boeing Vietnam Country Director Michael Nguyen.
Boeing accelerates cooperation with Vietnamese suppliers. Photo: VNA
Boeing is working with seven suppliers in Vietnam, he said at the Boeing Aerospace Industry Forum recently held in Hanoi.
Hosted by Boeing, the forum was part of Boeing's collaboration with Vietnam and its commitment to enhance the country's aerospace capabilities.
To build a Boeing 747, the American aerospace manufacturer needs six million parts, which are sought from suppliers worldwide, he said.
He held that Vietnam will be a very potential market, provided that it owns high-quality human resources, good investment environment as well as the Government's support policies, according to VNA.
Boeing wants to follow the ways of Samsung and Intel to expand its network of suppliers in Vietnam, Nguyen said, adding that the corporation will also work with Vietnamese firms to apply the best manufacturing practices and manage suppliers.
The Travel: Vietnam named among leading budget destinations
The nation has been listed among the world's top five budget destinations, as compiled by Canadian travel magazine The Travel.
The Travel's article notes that if visitors are up for a true adventure, then Vietnam is the destination for them.
"Due to its long stretch of land across the South China Sea, Vietnam offers up fun bustling cities, pristine green landscapes, and even surfer-vibe beach towns," says the magazine.
It suggests that tourists enjoy a stroll down the lantern-lined streets of UNESCO World Heritage Site Hoi An, with guests able to purchase custom-made outfits for just under US$30.
Foreign tourists visit Hoan Kiem lake in Hanoi. Photo: VOV
The Travel also recommends that visitors go and explore Ha Long Bay, one of the world's natural wonders. Indeed, for just a little bit of money, travelers can sleep overnight on a boat on the bay itself for US$125, including round-trip transportation both to and from Hanoi, with all meals included.
"If you spend time directly in Hanoi, you'll be rewarded with meals such as fresh Banh mi, bun cha, and pho for breakfast (a lesson that should be taken by the rest of the world), all for less than US$2 a pop," The Travel revealed.
It added that visitors should not miss out on the chance to sample the famous Vietnamese egg coffee or treat themselves to a spa or a salon in Hanoi which offers gel manicures for only US$4.
For those who are keen to join the chaotic lifestyle of local people, then The Travel suggests that they rent a motorbike for US$4 per day or take a 12-hour sleeper bus down the coast from Hanoi to Da Nang for between US$15 and US$17 a ticket.
Rounding off the top five are Malaysia, India, the Philippines, and Bulgaria.
Floods and landslides isolate thousands of residents in central, Central Highlands regions
Thousands of people in the central and Central Highlands regions have been isolated by floods and landslides after typhoon Noru.
The regions face a high risk of floods even as the typhoon dissipates.
According to the National Hydrometeorological Forecasting Center, torrential rain is forecast to continue in the central and Central Highlands regions. As a result, flash floods and landslide warnings have been issued.
Prolonged torrential rain has inundated more than 2,000 houses in Quynh Luu District, Nghe An Province, with some parts up to 70cm underwater. Residents had to evacuate.
A flooded house in Quynh Luu District, Nghe An Province. Photo: VNS
A dyke section in Quynh Tam Commune broke on Wednesday night. Hundreds of residents and military officers were on-site to protect the dyke under the rain.
More than 300 schools in Nghe An have been closed due to heavy floods and isolation.
Reservoirs in the central region have released water over the past few days, leading to floods.
Authorities in central Nghe An Province fixed the landslide on a section of the North-South railway line at Hoang Mai Station, which a lot of trains departing from Hanoi run.
The landslide was reported on Wednesday night and delayed some trains, VNS reported.
The water level of rivers in Ha Tinh, Quang Binh and Quang Nam provinces are expected to rise.
Floods are forecast in rivers of provinces from Thanh Hoa to Quang Tri.
The central Ha Tinh Province has closed 83 schools, affecting nearly 35,000 students, due to the floods.
Some roads connecting villages in Son Tien, Son Bang, and Kim Hoa communes have been flooded, isolating 123 households.
Since Wednesday night, landslides have isolated 8,000 people in three villages of Tu Mo Rong District, Central Highlands province of Kon Tum.
About 1,000 cu.m of rock and soil has blocked the road leading to Tu Tho Hamlet. Local authorities are mobilizing forces to clear the road.
In other areas where weather conditions are more stable, residents are helping each other repair houses.
On Thursday morning, passenger boats and high-speed ferries from the mainland to Phu Quoc, Tho Chau and Nam Du islands resumed operations.
B2B event helps Vietnamese, Korean firms boost partnership
A business delegation from Gwangju - the sixth-largest metropolis of the Republic of Korea (RoK), joined a business-to-business (B2B) trade event with Vietnamese enterprises held by the Korea Trade and Investment Promotion Agency (KOTRA Hanoi) from September 26 – 30.
According to KOTRA Hanoi, RoK producers introduced their products of strength, including cosmetics, food, and medical supplies, during the event.
Head of KOTRA Hanoi's office Tran Thi Hai Yen said as of mid-September, KOTRA had carried out 58 online events connecting 850 RoK businesses with nearly 900 Vietnamese importers, cited VNA.
The agency will continue to organize more events of this kind in 2022, aiming to connect 1,300 Korean and over 1,200 Vietnamese partners, helping lift the two-way trade between Vietnam and the RoK to US$100 billion in the year.
Lee Dahye from Unique Medicare Co., Ltd said such event offers a good chance for Korean firms, especially those that have never exported to foreign countries, to explore information about foreign partners.
Head of KOTRA Hanoi's office Tran Thi Hai Yen. Photo: baotintuc
Online trade promotion events have been thoroughly applied by KOTRA Hanoi to strengthen trade connection between the RoK and Vietnam.
The agency's K-STUDIO digital center is producing videos to introduce Korean businesses and products, thus helping Vietnamese consumers and importers access detailed and accurate information.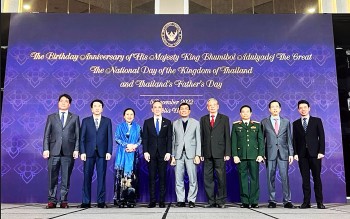 Friendship
The Royal Thai Embassy organises the reception on the occasion of celebration of the Birthday Anniversary of His Majesty King Bhumibol Adulyadej the Great, the National Day of the Kingdom of Thailand and Thailand's Father's Day on 2nd December 2022 in Hanoi.