Vietnam News Today (Oct. 21): Vietnamese Economy Records Strong Growth of 13.7% in Q3
Vietnam News Today (Oct. 21): Vietnam and Cuba ramp up co-operation in youth work; 541 new Covid-19 cases recorded on October 20; Vietnamese economy records strong growth of 13.7% in Q3; Numerous opportunities for Vietnam, Australia to boost ties: Ambassador.
Vietnam News Today (Oct. 21) notable headlines
Vietnam and Cuba ramp up co-operation in youth work
541 new Covid-19 cases recorded on October 20
Vietnamese economy records strong growth of 13.7% in Q3
Numerous opportunities for Vietnam, Australia to boost ties: Ambassador
ICT revenue hits nearly US$110 bln in nine months
Second monkeypox case reported in HCM City
UN Secretary General's Vietnam visit expected to intensify cooperation
Vietnam eyes stronger cooperation in halal food industry with Malaysia
OV scientist in France helps promote sustainable rice cultivation in Mekong Delta
Vietnam and Cuba ramp up co-operation in youth work
Nguyen Ngoc Luong, secretary of the Ho Chi Minh Communist Youth Union (HCYU) Central Committee and president of the Vietnam Youth Federation, has met Rogelio Polanco Fuentes, secretary of the Communist Party of Cuba's Central Committee and head of its Ideological Department, in Havana.
Highlighting the importance of information, ideology, and cultural fronts, Fuentes suggested the two countries' youth unions seek to strengthen collaboration in this field.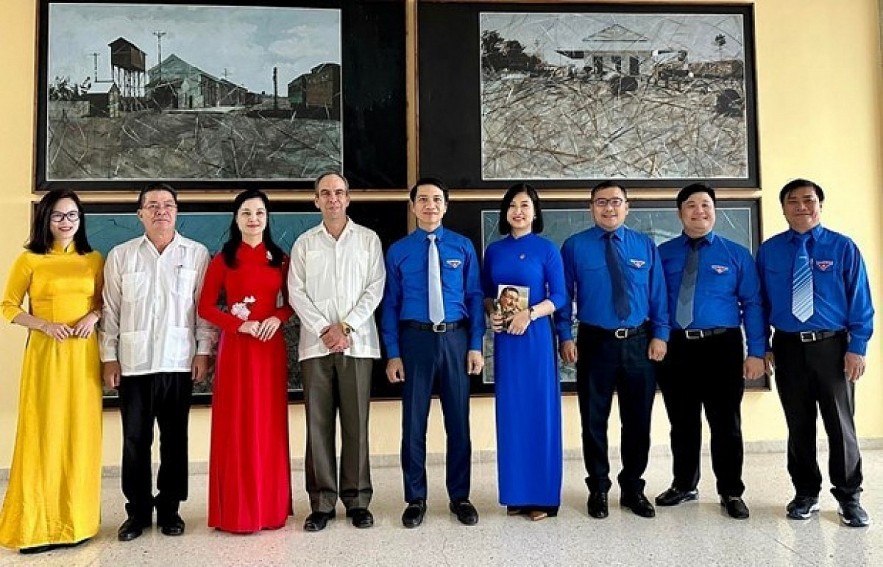 NVietnam's HCYU Central Committee delegation poses for a photo with Rogelio Polanco Fuentes, Secretary of the Communist Party of Cuba's Central Committee and head of its Ideological Department (fourth from left). Photo: thanhnien.vn
With 2023 marking 50 years since Cuban leader Fidel Castro first visited Vietnam, he expressed his hope that the two peoples, particularly future generations, will carry out a range of practical activities in celebration of this anniversary.
In response, Luong said that the Vietnamese Party and State continue to pay special attention to young people, placing them at the heart of the revolutionary cause.
This attention given by Party and State leaders is an important motivation for the two countries' youth unions as they seek to promote and inherit the special traditional relationship that many generations have strived to nurture, he added.
During talks with Aylin Álvarez Garcia, first secretary of the National Committee of the Union of Young Communists of Cuba, Luong proposed that the two sides review the results of the implementation of their co-operation agreement in the 2018 to 2022 period. Indeed, they should soon sign a new one to further expand co-operation in the fields of high technology, tourism, biotechnology, and health, cited VOV.
He also expressed hope that the two youth unions will continue supporting each other at future international forums.
Agreeing with the Vietnamese official's proposals, Garcia stressed the importance of enhancing youth work between the two sides.
As part of the occasion, the Vietnamese delegation presented a total of 10 laptops, five tablets, five smartphones, and 200 USB drives for the Cuban side, as well as donating EUR5,000, equal to US$4,880, to support people recently impacted by Hurricane Ian.
541 new Covid-19 cases recorded on October 20
The national Covid-19 caseload rose to 11,495,772 with 541 new cases recorded on October 20, according to the Ministry of Health. ​
With 299 patients given the all clear during the day, the number of recoveries rose to 10,600,224.
Meanwhile, there are 47 patients needing breathing support, according to VNA.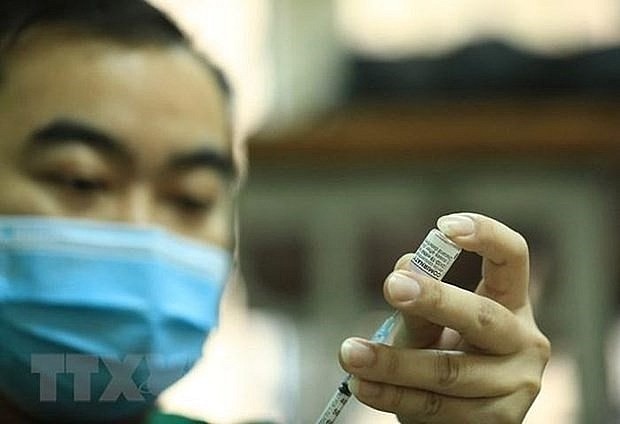 Illustrative image. Photo: VNA
No death from Covid-19 was recorded in the past 24 hours. The total fatalities stood at 43,159.
As of the end of October 19, the total number of doses of Covid-19 vaccines injected was 260,919,526 with 117,234 doses administered on October 19.
Vietnamese economy records strong growth of 13.7% in Q3
Vietnam's economy registered strong annual growth of 13.7% in Q3, mostly reflecting a low base effect, according to the October edition of the World Bank (WB)'s monthly Vietnam Macro Monitoring.
The report fully outlines that industrial production and retail sales posted another month of high growth rates at 13.0% and 36.1% on-year, figures which can be attributed both to strong economic activities and to the low-base effects. Growth in both exports and imports moderated in September due to weakening demand from major export markets.
FDI commitments fell in September as they were impacted by the heighted uncertainty surrounding global economic prospects, while FDI disbursement continued to improve. Despite softening energy prices, CPI inflation accelerated from 2.9% in August to 3.9% in September, largely due to higher education costs and rents. Core CPI inflation also accelerated, climbing from 3.1% in August to 3.8% in September.
The terms of trade deterioration eased in Q3 compared to Q2. Credit growth accelerated from 16.2% in August to 17.2% in September as the State Bank of Vietnam (SBV) moved to raise credit growth limits on some commercial banks. With strong demand for credit, average overnight interbank interest rates rose from 3.5% in August, reaching 5.48% in mid-October, the highest since 2013. In addition, VND continued to depreciate against a strengthening US$ in September by 1.0% on-month and 3.8% on-year.
Photo: VOV
To stabilize the domestic currency, on 23 September the SBV raised two key policy interest rates and the cap on key short-term rates placed on deposits denominated in local currency by 100 basis points, the first rate hike since April, 2020. The budget balance posted a US$0.5 billion deficit in September for the first time this year, but still registered a US$10.5 billion surplus over the first nine months of the year. Given the budget surplus, year-to-date government bond issuance reached only 28.7 % of the annual plan, compared to 67.9% in 2021. While the economic recovery has remained strong, heightened uncertainties surrounding slowing global economy, rising domestic inflation, and tightening global financial conditions warrant increased vigilance and policy agility.
WB experts assessed that given the economy has yet to fully recover and growth in main export markets is expected to slow, continued active fiscal policy to support the economy should be closely aligned with economic outcomes and thus co-ordinated with monetary policy, reported VOV.
Simultaneously, as CPI and Core CPI are reaching 4%, the policy rate set by the authorities, monetary bodies should be poised to consider the further tightening of monetary policy to ensure inflation remains anchored. Given the end of forbearance and tightening financial conditions, the financial sector faces heightened risks moving forward, prompting the SBV to issue guidance to help stem materialisation of such risks at the sector level, thereby potentially affecting the real economy.
Think tanks emphasized that the recent turmoil around the Saigon Commercial Bank (SCB) case highlights the urgent need to increase transparency through the timely publication of detailed information, particularly about the banking sector performance. This is along with an enhanced corporate governance, a strengthened risk-based supervision, including supervision of business groups and related party lending and early intervention, and an enhanced bank resolution framework.
Numerous opportunities for Vietnam, Australia to boost ties: Ambassador
Australian newly-appointed Ambassador to Vietnam Andrew John Lech Goledznowski has given general assessments of the potential to further promote multifaceted relations between Vietnam and Australia, saying that there are many opportunities for the two countries to expand their relations in the future.
As an Ambassador, he really wants to build and grow the relationship between the two countries, he said in a recent interview granted to Vietnam News Agency.
According to the ambassador, Vietnam is a dynamic and vibrant country with full of optimism, enthusiasm, energy, and goodwill towards Australia.
"People to people links between the two countries have grown so strongly over the last 50 years," he said, adding there're important political and, strategic links between the two countries.
Ambassador Goledznowski highlighted the Vietnam-Australia strategic partnership's strong development in recent years, saying that there is a large number of different agreements and arrangements, and they have expanded rapidly.
Despite the Covid-19 pandemic, the two countries have continued to see momentum grow in their relationship, he said, citing Aus4Innovation program as an example.
Through the program, the Australian government spent AUD14.5 million to strengthen Vietnam's innovation systems, and to help prepare for the 4.0 industry revolution in both countries, he said.
The Australian government consider ASEAN a centre of its policy in the Indo Pacific, he said, adding that Vietnam is at the centre of ASEAN - a very important player for his country, cited VNA.
Australia looks to further strengthen peacekeeping partnership with Vietnam, he said.
Since Vietnam has been involved in peacekeeping operations in the last decade, Australia has worked with Vietnam. The country has helped Vietnam with four airlifts of Vietnamese peacekeeping forces to South Sudan, trained Vietnamese peacekeepers and provided equipment, according to the ambassador.
According the diplomat, for Australia, ASEAN is at the center of its policy in the Indo Pacific. And Vietnam is at the center of ASEAN, so it is also an important player for Australia.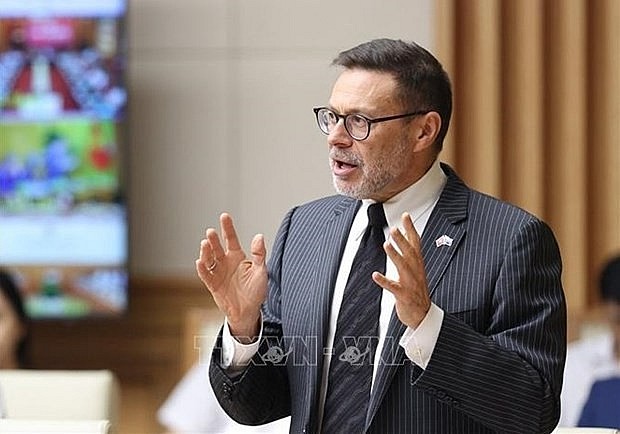 Australian newly-appointed Ambassador to Vietnam Andrew John Lech Goledznowski. Photo: VNA
There are three areas of cooperation that are being effectively implemented and will reach new heights in the future, including economic cooperation; exchange of knowledge, education and innovation programs; and strategic and security cooperation.
Bilateral trade has also grown fast, he said, noting that the two countries are aiming to become each other's 10th largest trading partner.
Regarding investment, Australia wants to double its investment over the next few years, he said, adding that this is possible because Vietnam is opening up.
He also congratulated Vietnam on its success in controlling and preventing the Covid-19 pandemic.
Australia are looking forward to further strengthening health cooperation with Vietnam in order to jointly dealing with future health challenges.
"Vietnam has the plan to become a fully developed economy by 2045. That includes having a fully developed health system. So I think there's a lot we can do together. And it's one area of continuing interest for us," he said.
ICT revenue hits nearly US$110 bln in nine months
The revenue of Vietnam's information and communications technology (ICT) industry was estimated at US$109.5 billion over the first nine months of 2022, a year-on-year increase of 13 percent.
Statistics of the Ministry of Information and Communications showed thatthe revenue of the ICT industry in the third quarter of this year saw an increase of US$37 billion compared to the figure recorded in the first half of the year.
In the January-September period, the revenue of the electronics hardware industry reached US$97 billion, accounting for 90 percent.
During the reviewed period, the nation earned US$90.7 billion from exporting electronics hardware products, up 13 percent against the same period last year.
The export value of computers and spare parts achieved US$43.1 billion, up 17.9 percent while the export of phones and accessories obtained US$43.3 billion, up 5.6 percent, cited VGP.
In addition, the revenue of the information technology industry in the first half of this year attained US$72.5 billion, up 17.8 percent.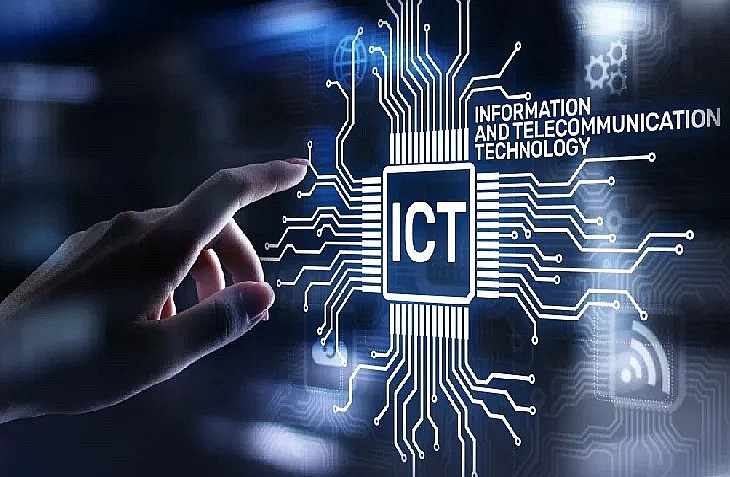 Photo: cekdev
The proportion of Make in Vietnam among the ICT industry structure was estimated at 26.72 percent, worth around US$19.4 billion.
The number of digital enterprises in Vietnam increased from 45,600 in 2019 to 68,800 by the end of September this year.
The nation expects to have 70,000 digital enterprises by the end of this year.
Earlier in April this year, Deputy Prime Minister Vu Duc Dam signed a decision approving the national strategy for digital economy, digital society development through 2025, with orientations to 2030.
The strategy aims to help Vietnam overcome the status of a low middle-income country by 2025 and become a upper middle-income country by 2030 and a high-income country by 2045.
Vietnam's digital economy is projected to be worth US$43 billion by 2025, according to a Report jointly released in 2019 by Temasek, Google and Bain & Company.
Viet Nam has set goal to increase the GDP share of the digital economy to 20% by 2025, according to the Resolution No. 52-NQ/TW of the Politburo on guidelines for participation in the 4th Industrial Revolution.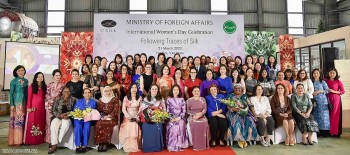 Friendship
Female ambassadors, representatives from diplomatic corps and international organizations, along with spouses of diplomats in Vietnam gathered together to find about more about silk weaving and silk products in Vietnam.