Vietnam News Today (Oct. 24): Exports Bring in More Than US$14 Billion in First Half of October
Vietnam News Today (Oct. 24): Covid-19: National caseload rises to 11,496,987; Exports bring in more than US$14 billion in first half of October; Italian, Vietnamese localities look to expand economic cooperation; Vietnamese tech firms have room to grow.
Vietnam News Today (Oct. 24) notable headlines
Covid-19: National caseload rises to 11,496,987
Exports bring in more than US$14 billion in first half of October
Italian, Vietnamese localities look to expand economic cooperation
Vietnamese tech firms have room to grow
Vietnam wins IEEEXtreme Programming Competition 2022
Number of passengers through Vietnamese airports decrease in October
Party leader congratulates Chinese Party General Secretary on re-election
Vietnamese cuisine, culture introduced at South Africa Diplomatic Fun Fair 2022
Ample room for Vietnamese coffee exports to Spain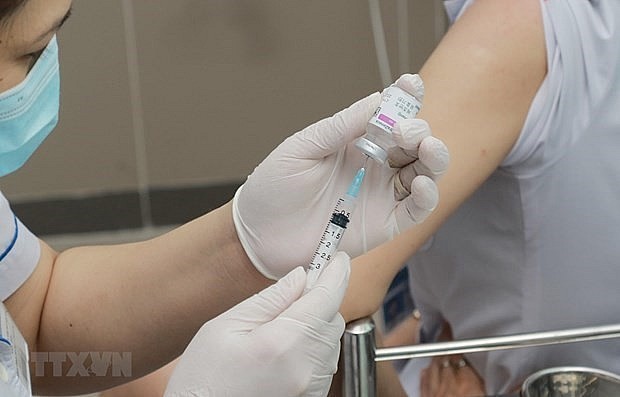 A person gets vaccinated against Covid-19. Photo: VNA
Covid-19: National caseload rises to 11,496,987
The national Covid-19 caseload rose to 11,496,987 on October 23, according to the Ministry of Health.
With 108 patients given the all clear during the day, the number of recoveries rose to 10,600,965.
Meanwhile, there are 31 patients needing breathing support, cited VNA.
No death from Covid-19 was recorded in the past 24 hours. The total fatalities stood at 43,159.
As of the end of October 22, the total number of doses of Covid-19 vaccines injected was 261,270,034 with 101,162 doses administered on October 23.
Exports bring in more than US$14 billion in first half of October
Vietnam raked in more than US$14 billion from exports in the first half of October, with electronics, garments and footwear bringing in the largest turnover.
The General Department of Vietnam Customs reported that the import-export turnover of Vietnam in the period from October 1 to 15, 2022 stood at US$27.7 billion, up 6.5% year on year.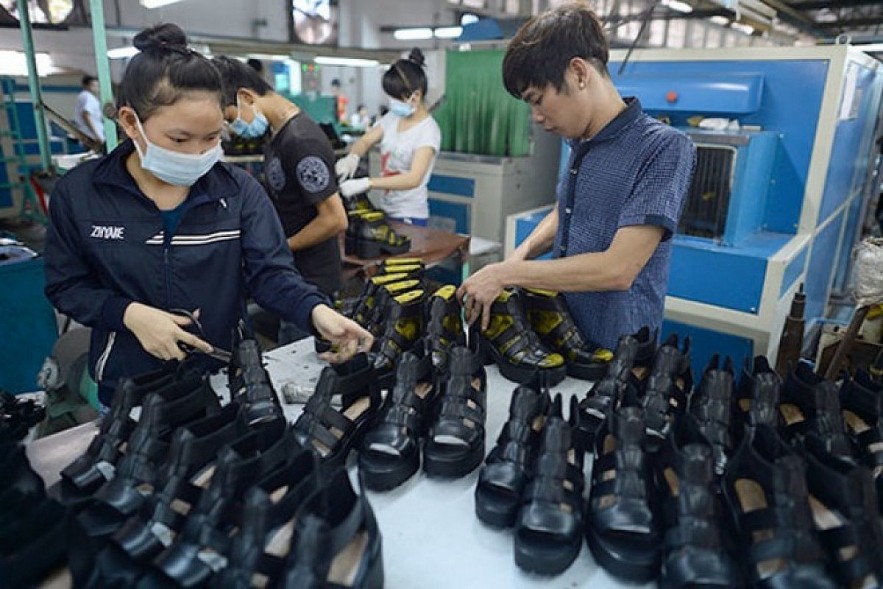 The footwear industry has secured the highest export growth in the first half of October 2022, increasing by 136% over the same period in 2021.
Of the total turnover, exports brought in US$14.1 billion, up 7.6%, and imports fetched US$13.6 billion, up 5.4%.
As a result, Vietnam yielded a trade surplus of US$0.5 billion in the reviewed period, raising its trade surplus since the beginning of the year to US$7.3 billion, according to VOV.
Among major hard currency earners in the first half of October, phones and components made up 18% of the total export turnover; computers, electronic products and components 13.4%; and machinery, equipment, tools and spare parts 13%.
Notably, footwear exports secured the highest growth rate, increasing by 136% over the same period in 2021.
Italian, Vietnamese localities look to expand economic cooperation
The northern province of Thai Binh is committed to become an attractive and reliable destination for investors, Nguyen Khac Than, chairman of the provincial People Committee, has said.
He pledged at a seminar on economic cooperation between Thai Binh and Italy's Tuscany region on October 21.
The event was organised by the provincial People's Committee in collaboration with the Vietnamese Embassy in Italy and the confederation of industry of Tuscanny region.
Thai Binh stands ready to support investors and will remove obstacles, especially in terms of administrative procedures for them, Than said.
He also briefed participants about the strengths and opportunities for investment cooperation in Thai Binh in the fields of agriculture, industry, commerce, services, tourism, health care as well as investment preferential policies.
Vu Kim Cu, director of the province's Department of Planning and Investment, said it is home to one economic zone, eight industrial zone and 49 industrial clusters.
Harvesting rice crop in Thai Binh province. Photo: VNA
Boasting a convenient traffic system and abundant and high-quality human resource, the province prioritizes investment for projects in hi-tech agriculture, manufacturing industry, tourism, aquaculture and processing and renewable energy, he said, adding that these are also strengths of Italian businesses, therefore raising opportunities for cooperation development for both sides.
At the event, Maurizio Bigazzi president of Confindustria Toscana highly appreciated the visit of the Thai Binh delegation, saying that a business delegation will be dispatched to the Vietnamese locality to promote investment.
Within the framework of the visit, the delegation had a working session with the Vietnamese embassy in Italy during which Than called for continued assistance, reported VNA.
Duong Hai Hung, the Vietnamese Ambassador to Italy affirmed that the embassy will provide support and push up collaboration between Thai Binh and other localities of Italy as well as deepen the traditional friendship and cooperation between the two countries.
Than and Hung also witnessed the signing of a training cooperation agreement between Thai Binh Medical College and the Association of Italian Universities on the occasion.
Vietnamese tech firms have room to grow
Vietnamese tech firms are expected to grow rapidly in both the mid-and long-term thanks to rising IT demand around the world and rapid digital transformation at home.
Statista, a German company specialising in market and consumer data, said IT services spending is expected to amount to US$1.28 trillion and VND1.39 trillion in 2022 and 2023, up 7.9% and 8.8%, respectively.
The Vietnamese Ministry of Information and Communications targeted 100,000 digital firms in Vietnam by 2025, a rise of 56.25% from 2021.
Software exports by domestic enterprises has increased with new contracts. Tech conglomerate FPT, for example, earned VND11.73 trillion (US$478.83 million) from exports as of August, up 28.7% year-on-year.
Meanwhile, digital transformation has been accelerated by both businesses and the public sector.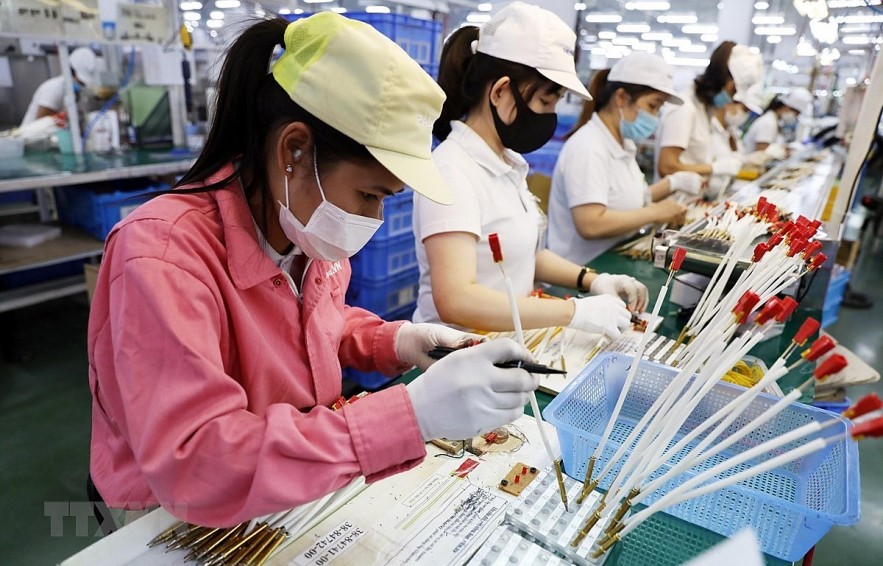 Illustrative image. Source: VNA
The Bank for Investment and Development of Vietnam (BIDV) and Vietnam Public Joint Stock Commercial Bank (PVcomBank) have rolled out projects on digital transformation with services offered by tech group CMC.
Provinces including Nam Dinh, Thua Thien-Hue, Dak Nong and Hau Giang have also engaged in strategic cooperation in digital transformation with FPT and CMC.
The telecom segment is expected to grow stably thanks to a rise in the number of broadband subscribers (8-10%), and a boom of 4G and 5G services, cited WVR.
Stock companies said that IT firms will continue double-digit growth, and major groups like the military-run Industry and Telecommunication Group (Viettel), the Vietnam Posts and Telecommunications Group (VNPT), FPT and CMC still have ample room to grow.
Notably, Vietnam has advantages in its IT workforce market.
According to HSBC, 51 percent of programmers in Vietnam are 29-30 years old. The hourly wage for IT outsourcing software development in Vietnam is about US$18, equivalent to 64% in other Asian nations and 10% in the US.
Therefore, customers from big markets like the US, Japan, the EU and Asia-Pacific have selected Vietnam as an ideal destination for cooperation in IT development.
ForeScout Technologies of the US, which delivers automated cybersecurity across the digital terrain, has recognized CMC Saigon Technology & Solution (CMC TSSG) as its Gold Partner and the only Service Delivery Partner in Vietnam.
Meanwhile, FPT and CMC also offer services in Japan, the US, the EU and Asia-Pacific.
Fitch Solutions forecast that Vietnam's IT market will reach VND208 trillion this year, and VND370 trillion by 2026.
Vietnam wins IEEEXtreme Programming Competition 2022
A Vietnamese team comprising four students of University of Natural Sciences under Vietnam National University, Ho Chi Minh City, beat thousands of teams from other countries to win the IEEEXtreme Programming Competition 2022.
The competition which was held virtually by the Institute of Electrical and Electronics Engineers (IEEE) from 7am on October 22 to 7am on October 23 (local time) brought together nearly 4,300 teams from across the globe to compete in various professions, from electrical and electronics, and telecommunications to computer sciences and others.
Team HCMUSBurnedTomatoes comprising four students of University of Natural Sciences successfully clinched top position, according to the University.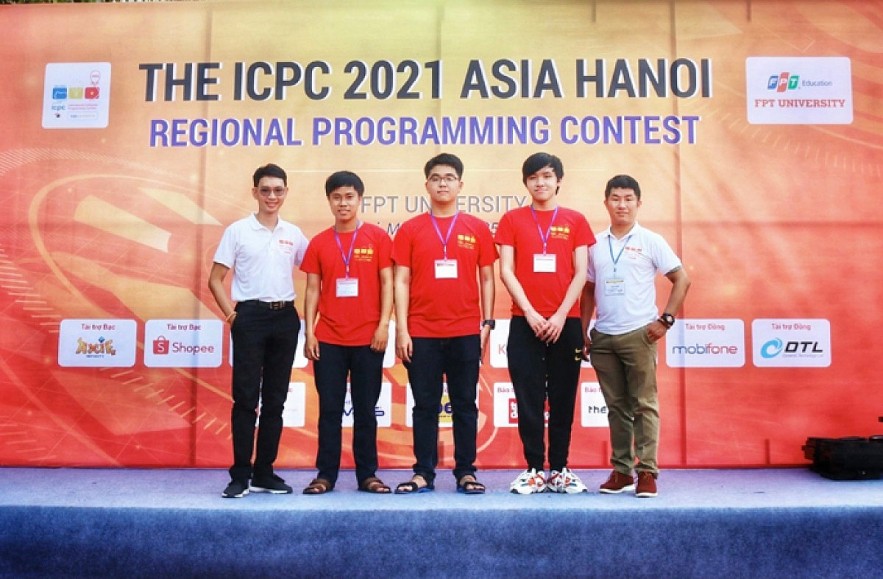 HCMUSBurnedTomatoes comprising Ho Ngoc Vinh Phat (second from left), Le Bao Hiep, Nguyen Vu Dang Duy, and two lecturers won the 2021 Asia ICPC in March 2022. Photo: HCMUS
Two other teams of the university – HCMUSHenoWorld and HCMUSDrinkers – finished sevenths and 37th overall, VOV reported.
Previously the IEEEXtreme Programming Competition 2022 winners won the 2021 Asia International Collegiate Programming Contest (ICPC). They will represent Vietnam to compete in the ICPC World Finals to be held in Egypt in 2023.
IEEEXtreme is IEEE's premier programming competition, bringing thousands of students from around the world together into a 24-hour event. It is open to all undergraduate and graduate college students with an active IEEE student membership.
The competition is hosted virtually and simultaneously around the world. Competitors are required to be proctored by a local IEEE professional member and are often supported by a local IEEE Student Branch.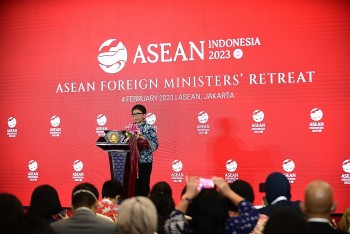 National
Indonesia hosted the first major meeting for its 2023 ASEAN Chairmanship - the 32nd ASEAN Coordinating Council (ACC) meeting and the ASEAN Foreign Ministers' (AMM) Retreat.