Vietnam News Today (October 12): Hanoi Affirms Status as Nation's Economic Locomotive
Vietnam News Today (October 12): Vietnam records 3,617 new local Covid cases; Vietnam, Singapore step up co-operation in cybercrime combat; Vietnam to reattempt inter-provincial road transport from Wednesday; Hanoi affirms status as nation's economic locomotive.
Vietnam News Today (October 12) notable headlines
Vietnam records 3,617 new local Covid cases
Vietnam, Singapore step up co-operation in cybercrime combat
Vietnam to reattempt inter-provincial road transport from Wednesday
Hanoi affirms status as nation's economic locomotive
Vietnam remains important production centre for global brands
Vietnam attends IPU's Pre-COP26 parliamentary meeting
HCM City's shopping malls become busier as restrictions eased
Vietnam enjoys surge in export revenue in Indonesian market
Foreign experts highlight Vietnam's production, export strengths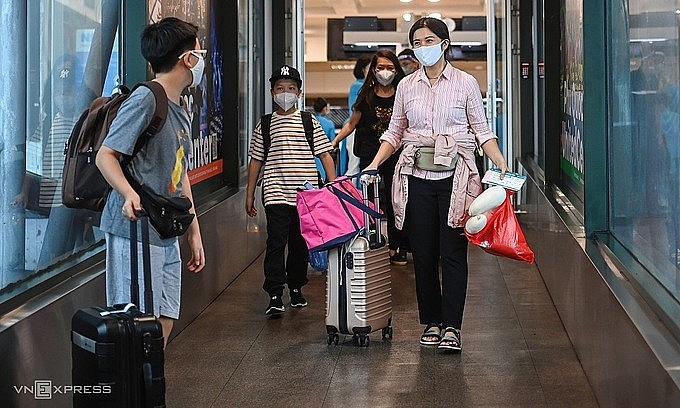 Passengers board a plane leaving Hanoi for HCMC, Oct. 10, 2021. Photo: VnExpress
Vietnam records 3,617 new local Covid cases
Health authorities confirmed 3,617 new local Covid-19 cases Monday, up 104 cases from previous day, pushing the ongoing wave's tally to 838,654.
The three localities with the highest number of new cases were Ho Chi Minh City with 1,527 cases, Dong Nai with 499 cases and Binh Duong with 446 cases.
Of the day's tally, 1,726 cases were detected in the community.
The Health Ministry also confirmed 2,549 recoveries the same day, bringing the total tally of recovered cases so far to 784,748, cited VnExpress.
The Covid-19 death toll in Vietnam rose to 20,679 with the confirmation of 115 deaths Monday.
The average number of new cases in the country for the past seven days has been 4,183 a day while the national death rate has been 117 a day on average.
Nationwide, over 38.7 million people have been given at least one Covid-19 vaccine dose.
Vietnam, Singapore step up co-operation in cybercrime combat
The nation has joined with Singapore to strengthen co-ordination in ensuring network security, combating cybercrime, especially joint exercises, in order to protect the network system, along with responding to and dealing with network security incidents.
Vietnamese Minister of Public Security General To Lam held an online meeting on October 11 with Josephine Teo, Minister for Communications and Information and Minister-in-charge of Smart Nation and Cybersecurity of Singapore.
During the course of the meeting, Minister Lam affirmed that the joint strategic partnership has been continuously consolidated and developed across a variety of fields from politics and economics to security and defense. In addition, the co-operative relationship between the Ministry of Public Security of Vietnam and Singapore's law enforcement agencies continues to be maintained and developed.
The Ministry of Public Security of Vietnam and the Ministry of Home Affairs of Singapore have actively co-operated to fight against transnational crime, especially within the framework of the ASEAN Ministerial Meeting on Transnational Crime (AMMTC). This is along with the ASEAN Ministerial Conference on Cybersecurity (AMCC), the ASEAN Chiefs of Police Conference (ASEANAPOL), and other political and security co-operation mechanisms in the region.
According to Minister Lam, the Ministry of Public Security of Vietnam and Singaporean competent agencies have strived to expand co-operation and information exchanges in order to discuss co-operation needs in the fields of cyber security and cybercrime, along with hi-tech crime prevention and control.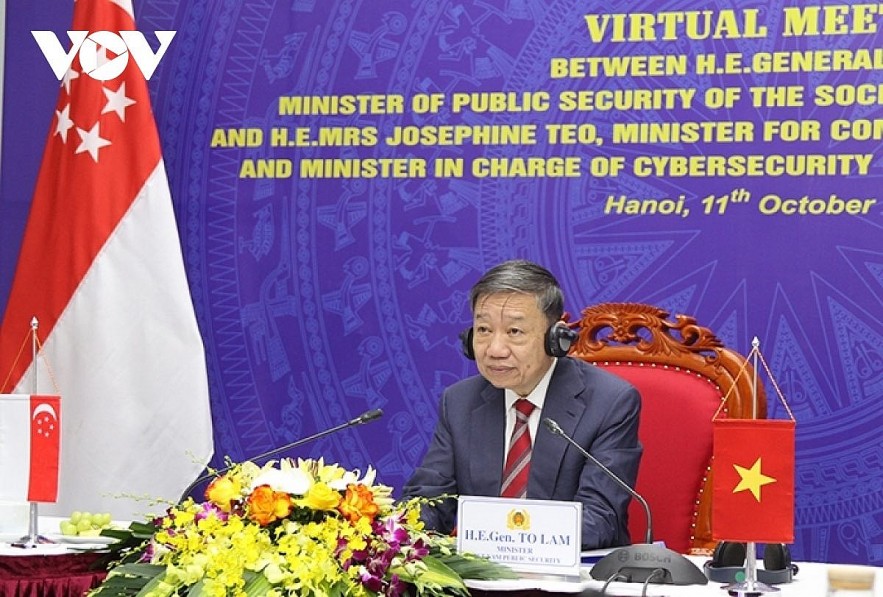 Vietnamese Minister of Public Security General To Lam. Photo: VOV
Regarding future co-operation, Minister Lam suggested that the two sides continue to maintain and expand international co-operation activities relating to cyber security in order to meet the practical needs of both sides in a flexible manner in line with the Covid-19 pandemic situation.
He therefore requested that both sides continue to promote awareness and actions of ASEAN member states regarding cyber security, whilst moving towards building common legal frameworks to facilitate greater co-ordination. This can be done alongside increasing international co-operation in cybersecurity and encouraging closer co-ordination in building the ASEAN Cybersecurity Center, cited VOV.
Minister Lam also underlined the need to establish a medium and long-term and intensive training co-operation mechanism in ASEAN with the support of dialogue partner countries such China, Japan, and the Republic of Korea in this field.
For her part, Teo emphasized that the good co-operation relationship between Singaporean law enforcement agencies and the Vietnamese Ministry of Public Security over recent times has been constantly maintained and developed in a multitude of fields. This includes such as intensifying law enforcement in crime combat whilst ensuring security and safety in cyberspace, thereby contributing to strengthening political trust and deepening the strategic partnership between the two countries.
With the spirit of solidarity, and proactive adaptation of ASEAN, including Singapore and Vietnam, Teo believes that the two countries will gradually overcome difficulties, as well as creating a foundation for continued strong development in the future. This serves as a foundation for them to build an ASEAN with an increasingly central position and a more prominent role in the region and in the world as a whole.
Teo affirmed that Singapore will promote, exchange, and approach major countries with technological advantages and advantages in social management by technology such as the US, Japan, and the Republic of Korea. This will be done to help ASEAN cybersecurity authorities access and apply technologies to ensure cyber security and safety in order to move towards a "resilient cyberspace in ASEAN".
Vietnam to reattempt inter-provincial road transport from Wednesday
Passenger buses will be allowed to run across provinces starting Wednesday, albeit as a trial with limited capacity for coronavirus prevention.
Minister of Transport Nguyen Van The on Sunday approved a trial for inter-provincial travel on passenger buses from Oct. 12 to 20. Passengers from low-risk areas traveling to similar zones will see transportation resume with no restrictions, he said.
However, people from high-risk areas must either be fully vaccinated against Covid-19 or have recovered from the disease within the last six months, and test negative for the coronavirus at least 72 hours prior, he added.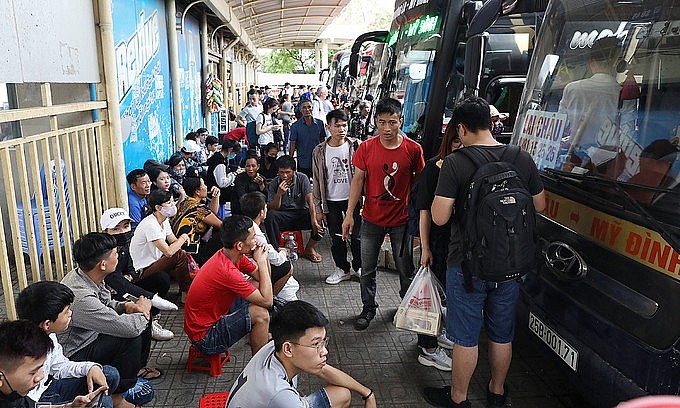 People wait at a bus station in Hanoi, 2019. Photo: VnExpress
People traveling to areas with higher risks must test negative for the coronavirus within the last 72 hours, while those with symptoms like coughing, muscle aches and fever will not be allowed to board buses, he said.
Drivers and attendants must be vaccinated and tested with similar requirements. When testing certificates are about to expire, they must be tested before they can resume their journey. If any display symptoms, they must report to authorities promptly, according to VnExpress.
The number of inter-provincial journeys per day must not exceed 30 percent of the daily total, with passengers required to be sufficiently distanced.
As Vietnam prepares a transition toward from zero-Covid strategy to living with Covid, the transport ministry has issued a road transportation guideline starting October. But several localities still shy away from allowing buses to resume traveling out of coronavirus fears.
Hanoi affirms status as nation's economic locomotive
Sixty-seven years ago, the capital city of Hanoi was liberated from the French colonial rule on October 10. So this month has a special meaning to the Hanoians and is always a time for the city to look back at what it has done in the past and embrace the future.
Liberation has marked a new chapter for the city's development era as a locomotive of the national economy.
During the anti-US war, Hanoi became the economic pillar of the north, providing food supplies and reinforcements to the southern battle fields. After the country gained independence in 1975, the city continued to be a hub for economic reconstruction and development as well as social and cultural affairs. It has seen robust economic growth since then, with significant improvement of people's living standards.
From 2015 – 2020, the economy of Hanoi expanded 7.23 percent in average annually, contributing 16.46 percent of the national Gross Domestic Products (GDP) and 19.05 percent of the State budget revenue, though the city accounts for just 1 percent of the country's total area and 8.1 percent of the population.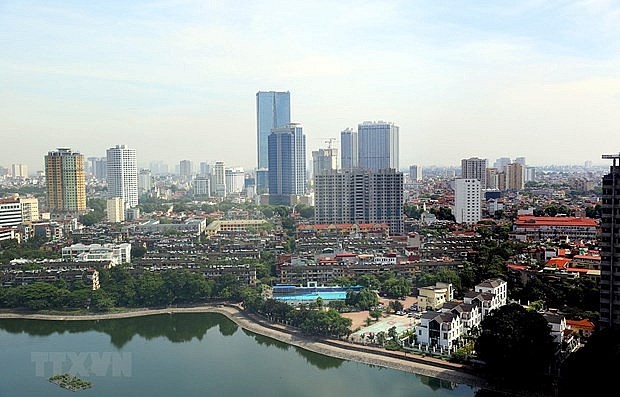 Hanoi is striving to fulfill its economic goals for the fourth quarter of the year and the entire 2021, which would lay as a basis for growth in 2022 and the following years. Photo: VNA
Like many other parts of the country, Hanoi has suffered greatly over the last two years because of the Covid-19 pandemic. The fourth coronavirus wave, which started in late April, has been wreaking havoc on the city's economy, with a number of sectors, particularly transport, trade, services, and hospitality struggling. Hanoi's Gross Regional Domestic Products (GRDP) in the third quarter of 2021 declined 7.02 percent against a year earlier. The nine-month GRDP slightly edged up 1.28 percent against the same period last year.
Thanks to the city's relentless efforts to tackle difficulties and maintain supply chains, Hanoi has managed to record encouraging economic performance. The State budget revenue exceeded 176.7 trillion VND (nearly 7.7 billion USD) in the first three quarter of this year, up 5.4 percent year on year. Its exports reached over 1.29 billion USD in September, up 1.5 percent month on month and 2.8 percent year on year, VNA reported.
The agriculture, forestry, and fisheries sector expanded 3 percent year on year from January – September and the services sector rose by 0.85 percent year on year. The Consumer Price Index (CPI) was kept under good control, picking up 1.54 percent during the period.
The city is striving to fulfill its economic goals for the fourth quarter of the year and the entire 2021, which would lay as a basis for growth in 2022 and the following years.
Despite various difficulties induced by the pandemic, Hanoi is turning eye towards the future. It has adopted plans for local socio-economic development and mid-term public investment over the next five years, in which the city developed two scenarios for economic growth given the uncertainties caused by the Covid-19.
Accordingly, its GRDP growth is expected to range between 6.5 – 7.5 percent annually from 2021 – 2025. The city also aims to rapidly evolve into an industrialized and modernized city and the main driver of the Northern Key Economic Region.
Vietnam remains important production centre for global brands
Despite the fourth wave of the Covid-19 pandemic having a great impact on the textile, garment, and footwear supply chain, representatives of several major brands still believe that the nation remains an important production centre for them.
This is the view held by representatives from the Vietnam Textile and Apparel Association (VITAS), the Vietnam Leather, Footwear and Handbag Association (LEFASO), and the Public Private Partnership (PPP) group.
With obvious advantages such as a pool of young and qualified workers, its strategic location, convenient transportation to both the United States and the EU, businesses still continue to do business in the Vietnamese market, despite being affected by the fourth pandemic wave.
However, due to social distancing measures being taken in many localities nationwide during the pandemic, many companies have been forced to diversify their supply chains, said the general director of Li&Fung ASEAN, which runs more than 300 factories in the country.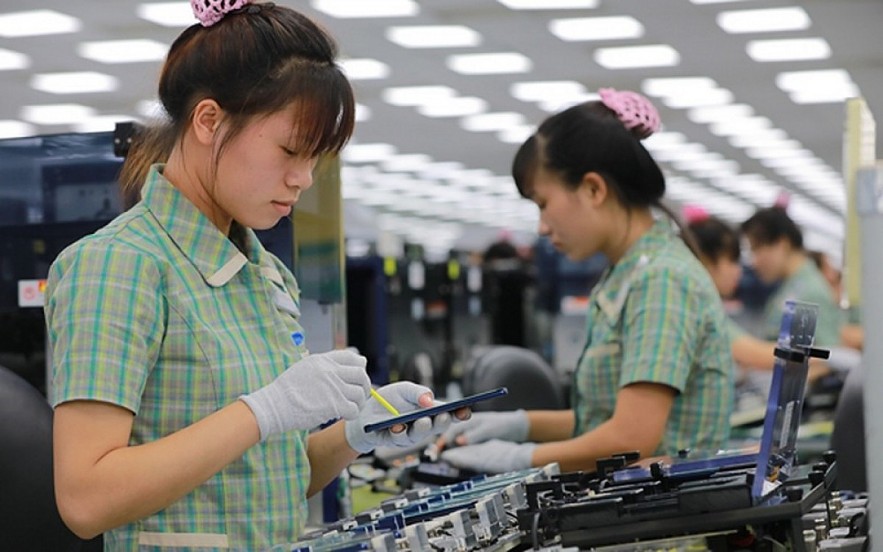 Photo: VOV
A representative from a US firm with more than 100 suppliers in the nation shared, "Vietnam remains our number one supplier and that has not changed. But the recent social distancing shows the risk of being too dependent on one country, whether we move orders or not depends on whether Vietnam can reopen quickly or not."
Despite representatives from several big brands insisting on attaching importance to the Vietnamese market, if production is not restored again in the near future, there is a high risk that some foreign firms will move urgent orders within the next five months to ensure their supply chains. This will may only be a temporary shift however, not a long-term one, in order to meet the large shopping demand at the end of the year in both Europe and the US, cited VOV.
According to Phan Thi Thanh Xuan, vice chairwoman and general secretary of the Vietnam Leather and Footwear Association (Lefaso), the conditions for opening production moving into the new situation remain complicated, especially when moving workers from one locality to another as businesses are also exhausted financially.
Therefore, facing strict regulations regarding opening up, some businesses accept the need to resume production activities and then pay fines later, because if they continue to close they face the possibility of going bankrupt.
While a number of foreign companies have moved part of their production or orders to other countries, many still see the nation as a good location for investment in the long term.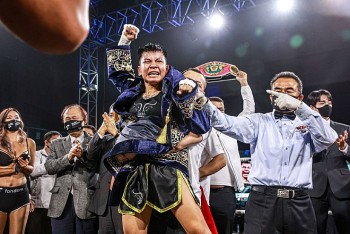 Overseas Vietnamese
Excellently defeating Japanese former champion Etsuko Tada, Nguyen Thi Thu Nhi became the first WBO world flyweight professional boxing champion in the history of Vietnamese boxing.