Vietnam News Today (October 13): Vietnam Among World's Top 30 October Destinations
Vietnam News Today (October 13): Vietnam's daily Covid-19 tally lowest in three months; ITU Digital World 2021 kicks off in Vietnam on Oct. 12; Vietnam among world's top 30 October destinations; Quang Ninh plans big post-pandemic tourism promotions.
Vietnam News Today (October 13) notable headlines
Vietnam's daily Covid-19 tally lowest in three months
ITU Digital World 2021 kicks off in Vietnam on Oct. 12
Vietnam among world's top 30 October destinations
Quang Ninh plans big post-pandemic tourism promotions
Vietnam sees FDI shift to hi-tech industries: Experts
Prime Minister to attend 4th Russian Energy Week
Vietnam resolved to join efforts for peace, development in Asia: Deputy FM
Localities urged to speed up vaccinations against Covid-19
Vietnam receives ultra-low temperature freezers from US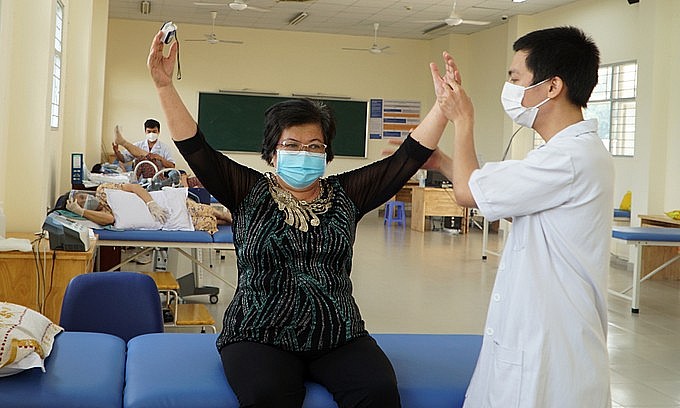 A medical worker helps a patient recovering from Covid-19 do physical exercises to improve her lung function at a hospital in HCMC, October 2021. Photo: VnExpress
Vietnam's daily Covid-19 tally lowest in three months
The Ministry of Health recorded 2,939 local Covid-19 cases in 43 cities and provinces Tuesday, down 678 against Monday and the lowest in 90 days.
Three localities with the highest numbers of cases were Ho Chi Minh City with 1,018 cases, Dong Nai with 501 cases and Binh Duong with 447 cases.
The ministry also announced 93 Covid-19 deaths Tuesday, including 64 in HCMC and 13 in Binh Duong, bringing the nation's death toll since the pandemic started to 20,763, or 2.4 percent of the total infections, including 20,728 recorded in the fourth wave alone, cited VnExpress.
The wave that hit Vietnam in late April has so far been responsible for 841,592 cases, and 783,278 of them have recovered.
Over 55.2 million people have received at least one Covid-19 vaccine shot and more than 16 million people have been fully vaccinated.
ITU Digital World 2021 kicks off in Vietnam on Oct. 12
The Ministry of Information and Communications of Vietnam and the International Telecommunication Union (ITU) will jointly organize the ITU Digital World 2021 from October 12 to November 12 via numerous digital platforms.
The event is expected to offer an opportunity for Vietnamese businesses to promote their brands, expand into new markets, and approach customers from 193 member countries that make up the ITU.
It will also provide an ideal venue for foreign firms operating in the field of telecommunications and information technology to introduce their latest cutting-edge technology products, services, and solutions.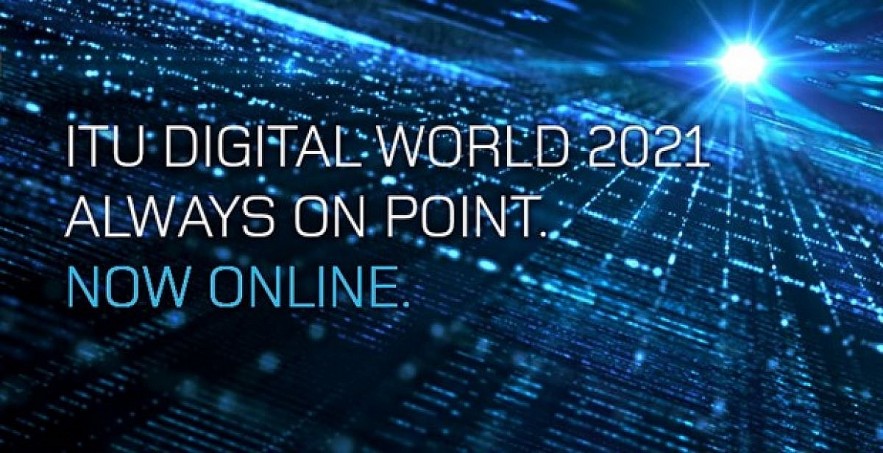 Photo: VOV
Participants will primarily focus on discussing development trends, management policies, and technological solutions aimed at promoting the digital economy.
A series of seminars and conferences are being held from September to November, while the ministerial conference itself will take place from October 12 to October 14 and will run with the theme "Building a Digital World Together".
The symposiums held in September largely focused on necessary infrastructure for digital transformation, while the online ministerial conference in October will touch upon issues related to cost reduction for network access, the Government's role in digital transformation, along with digitizing public services, reported VOV.
Upcoming seminars in November will discuss a range of factors for digital transformation, including digital skills, educational technology, cyber security, privacy, green Information and Communication Technologies (ICT), Artificial Intelligence, energy efficiency, and sustainable development.
Within the framework of the event, plenty of small and medium-sized enterprises will also have the opportunity to participate in the ITU SME Virtual Awards which will focus on five areas, including Connectivity, Smart Cities, E-Health, Digital Finance, and Technology Training.
The ITU will host an awards ceremony for SMEs globally in December.
Vietnam among world's top 30 October destinations
British travel magazine Condé Nast Traveler has listed Vietnam among top 30 global holiday destinations that are 'at their finest' for October visit.
"October is the beginning of dry season in Vietnam's north and south, where monumental natural spectacles and buzzing city scenes both abound," the magazine says.
It suggests that visitors trek up to Sa Pa, the misty tourist town famed for terraced rice fields in northern Vietnam, or sit on low plastic stools to enjoy a cup of condensed-milk coffee in Hanoi.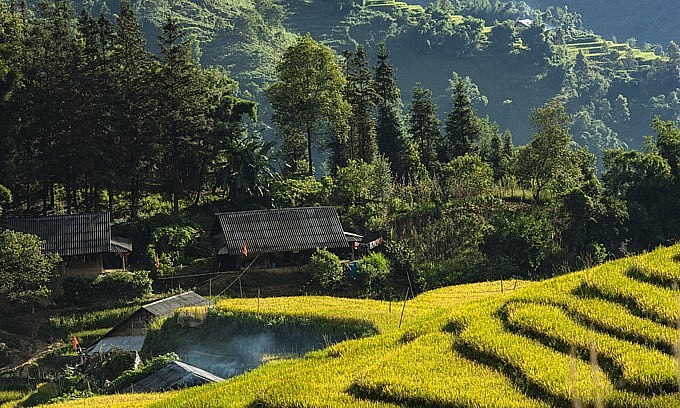 Stilt houses lie amid yellow rice terraces during the harvest season in Sa Pa in Vietnam's northern highlands, August 2021. Photo: VnExpress
"In Sa Pa, the most popular activities are trekking the terraced slopes and staying with hill tribes, and the best way to do both is with Sapa O'Chau, a nonprofit homestay and trekking service, which puts funds back into the community such as improving village schools, providing English classes to H'mong guides and street vendors," the magazine says.
It also recommends a boat trip in the Mekong Delta, which is famous for mangroves, cajuput forests, floating markets and orchards, according to VnExpress.
"Don't miss The Café Apartment in HCMC, a nine-storey block stuffed with fairy-lit mini-boutiques and craft coffee stores."
The old apartment block on Nguyen Hue Boulevard in downtown HCMC is home to a series of coffee shops, restaurants, and co-working spaces. It has for long been a popular rendezvous for young people and foreigners in the city.
Other destinations selected by the U.K. magazine for October also include India's Darjeeling, France's Provence, Italy's Rome, Japanese Alps, Bhutan and Taipei.
Vietnam is now closed to foreign tourists and the country plans to welcome back fully vaccinated foreign tourists to Vietnam's largest island Phu Quoc Island in the southern Kien Giang Province from November.
Quang Ninh plans big post-pandemic tourism promotions
The northern province of Quang Ninh, home to the world heritage site Ha Long Bay, plans to hold 50 events and programs during the remainder of the year aimed at promoting local tourism, the provincial administration has revealed.
Quang Ninh has not recorded a single coronavirus case in the community over the past weeks, paving the way for the locality to resume its tourism services for domestic visitors at present and even foreign holiday makers in the near future.
The province has developed a plan to recover tourism and attract more visitors in the fourth quarter of the year, with a primary focus on designing a safe tourism model and minimizing pandemic risks for visitors and local residents.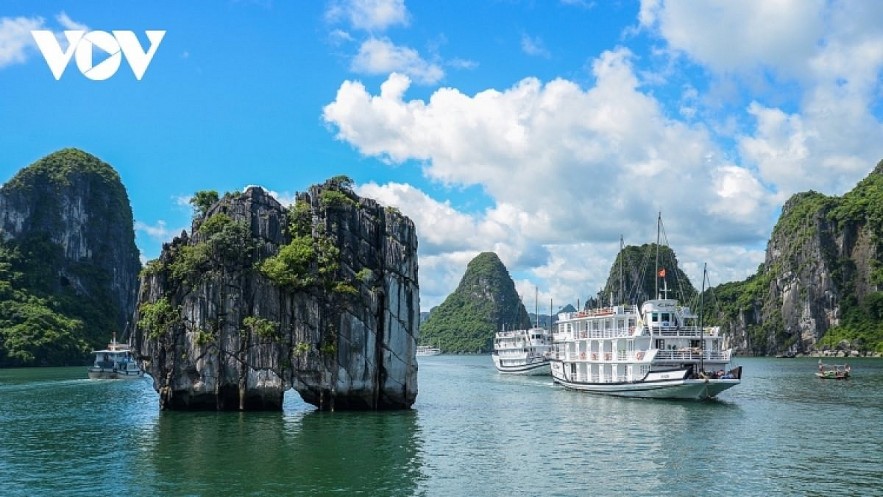 The world heritage site of Ha Long Bay in the northern province of Quang Ninh. Photo: VOV
Under the model, each tourism establishment in the locality must provide their best quality products and offer safe services to guests at a reasonable price, by taking advantage of tourism stimulus policies in the province.
Localities will implement a number of measures aimed at stimulating domestic tourism in line with local strengths as well as guidelines on Covid-19 prevention and control.
Quang Ninh is speeding up its vaccination campaign, and once all local residents are fully vaccinated in November, the province will implement a pilot scheme to welcome domestic tourists from provinces and cities nationwide that have the pandemic under control, VOV reported.
It will also reopen the door for foreign visitors with a vaccine passport as soon as conditions permit.
Vietnam sees FDI shift to hi-tech industries: Experts
Foreign direct investment (FDI) flows into Vietnam are shifting to hi-tech sectors, Assoc. Prof. Dr. Ha Van Hoi from the UEB-VNU has said.
The FDI from large corporations who own advanced technologies is setting the scene for transfer of technology, know-how and expertise to Vietnamese enterprises to improve their competitive edge and build capacity for local economic sectors, he told an international conference on "Global FDI and Responses of FDI Enterprises in Vietnam in the New Context" held last week.
Echoing Hoi's view, Assoc. Prof. Dr. Nguyen Thi Minh Nhan from the University of Commerce said studies show that there is a shift in FDI from the textile and garment industry to hi-tech industries, for example, computer and electronics manufacturing.
Hoi made several recommendations to help Vietnam lure more new-generation FDI, saying it is necessary to produce outstanding and competitive incentives to attract high-tech, eco-friendly projects, particularly those building R&D and innovative centers in Vietnam; and to strengthen linkages between foreign and domestic investors and facilitate technology transfer, cited VNA.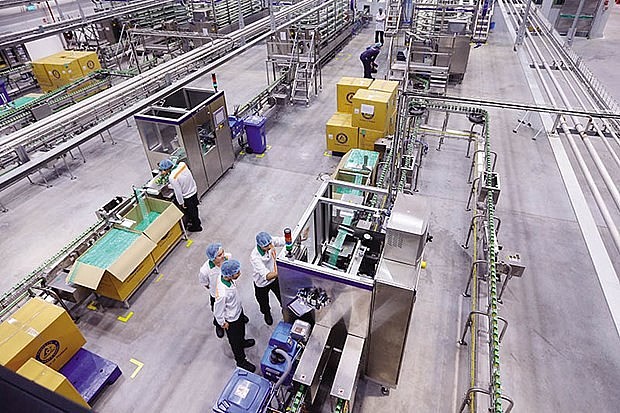 Photo: VNA
The country should also accelerate investment promotion to catch the eye of financially capable and experienced multinationals; keep a close watch on the movement of FDI and technologies into Vietnam to select proper investment projects; and enhance human resources quality, he added.
According to Assoc. Prof, Dr Nguyen Truc Le, Rector of the Vietnam National University (VNU)'s University of Economics and Business (UEB), Vietnam was named among the world's Top 20 FDI recipients for the first time last year.
The "new normal" may pose various challenges to Vietnam but it also provides the country with many chances, he said, adding that these opportunities have been driven by the government's highly-regarded effort to keep the COVID-19 at bay and boost economic growth at the same time for months. Vietnam is also taking advantage of new-generation free trade agreements to draw more FDI, he continued.
The launch of new incentives to selectively attract FDI and improve business climate also play a role in enhancing the quality of the FDI, he cited.
Expectation from the EU-Vietnam Free Trade Agreement (EVFTA) and EU-Vietnam Investment Protection Agreement (EVIPA) is driving the FDI from the EU into Vietnam, said Prof. Dr. Andreas Stoffers, Country Director of Friedrich Naumann Foundation for Freedom in Vietnam.
Vietnam is the most attractive destination among ASEAN member states, Stoffers said. Having one of the most liberal economic systems in the region, Vietnam offers appealing conditions for foreign investors to actively do business in the country, he noted, adding that it was not without reason that Vietnam was chosen by the EU to sign a trade pact with.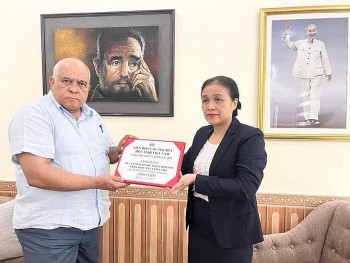 Focus
According to Cuba's News Agency Prensa Latina, on August 16, President of Vietnam Union of Friendship Organizations Nguyen Phuong Nga said that Vietnamese people will always stand by and support Cuba no matter what difficulties our friend is facing.