Vietnam News Today (October 17): National Program for Development of Domestic Vaccines Adopted
Vietnam News Today (October 17): Vietnam records 3,211 new local Covid cases; Vietnam's border guards take tougher actions against IUU fishing; National program for development of domestic vaccines adopted; HCMC to reopen inter-provincial tourism from next month.
Vietnam News Today (October 17) notable headlines
Vietnam records 3,211 new local Covid cases
Vietnam's border guards take tougher actions against IUU fishing
National program for development of domestic vaccines adopted
HCMC to reopen inter-provincial tourism from next month
Project on climate change adaptation to benefit central Vietnam
Ample room remains to develop bilateral ties with Germany
Hanoi authorities to meet FDI firms, ease their concerns
Comic book illustrated by Vietnamese young female artist published in Japan
Social network campaign launched to change plastic use habit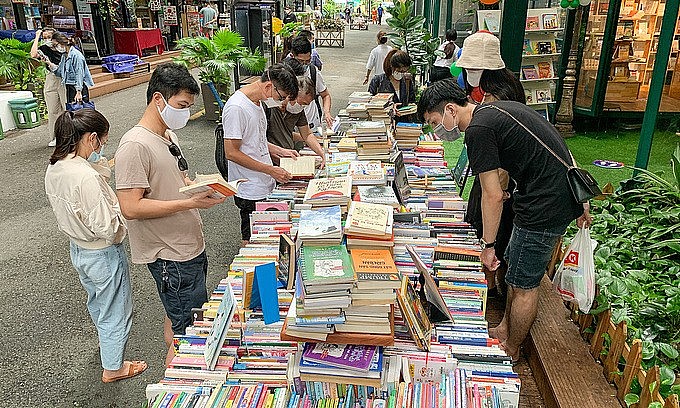 People visit Nguyen Van Binh Book Street in downtown HCMC, Oct. 3, 2021. Photo: VnExpress
Vietnam records 3,211 new local Covid cases
Health authorities confirmed 3,211 new Covid-19 local cases in 48 localities Saturday, bringing the fourth wave's tally to 856,198.
HCMC led the daily tally with 790 cases, followed by Dong Nai with 397 and Binh Duong with 385.
88 deaths were recorded, with 58 cases in Ho Chi Minh City, 11 in Binh Duong, three in Tien Giang, Long An and Tay Ninh each, two in An Giang and Can Gio, and one each in Binh Thuan, Dak Nong, Dong Nai, Gia Lai, Kien Giang and Soc Trang.
The total coronavirus death toll so far is 21,131, accounting for around 2.4 percent of all infections, cited VnExpress.
Also on Saturday, 1,581 Covid-19 patients were announced recovered, bringing the number of recovered cases to 790,504.
Over 60.5 million have been vaccinated, with more than 17.6 million receiving two doses.
Vietnam's border guards take tougher actions against IUU fishing
Vietnam's Border Guard force has undertaken strong measures to combat Illegal, Unreported and Unregulated (IUU) fishing and prevent Vietnamese fishing boats from encroaching foreign waters over the last four years.
The move is part of the country's concerted effort to soon remove the European Commission (EC)'s "yellow card" warning against its seafood products.
Among the measures, top priority has been given to educating fishermen and raising their awareness of IUU fishing and related regulations so as to heighten their sense of responsibility and stop them from illegally entering waters of other countries, Colonel Pham Xuan Dieu, Deputy Chief of Staff of the force, told the Vietnam News Agency, according to VNA.
Photo: VNA
The force has increased patrols and taken a tough hand on IUU fishing violations. Thanks to such efforts, 574 violators have been brought to light, with a total of VND21.6 billion (US$948,531) paid in administrative fines, Dieu said.
The force reported 33 violation cases, involving 51 vessels, in the first nine months of this year, down 7 cases and 12 vessels compared to the same period last year, he added.
The officer pointed out several reasons behind IUU fishing, such as declining marine resources in Vietnam's waters and lack of legal knowledge among fishermen. There is also an increase in the number of those who arrange unlawful trips by Vietnamese fishing boats into foreign waters, he noted.
He urged for the introduction of stricter penalties against IUU fishing and the brokers; and for authorities to make a list of "high-risk" vessels to keep a close watch on them.
National program for development of domestic vaccines adopted
Deputy Prime Minister Vu Duc Dam has granted approval to a national science-technology scheme aimed at promoting studies and production of human vaccines by 2030.
The program will greatly contribute to enable the country to master technologies for vaccine production whilst building a capacity for domestic organizations and companies specialized in vaccine R&D and production in order to improve the nation's readiness to potential epidemics in the future.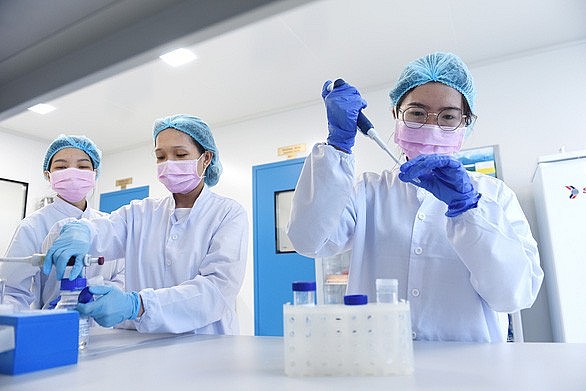 Photo: Tuoi Tre
Through the plan, the production of all domestic vaccines will come up to international standards and will sufficiently supply the National Expanded Program on Immunization. The country is also looking forward to exporting its home-grown vaccines in the future, cited VOV.
By 2025, the nation is set to own production technologies of at least 10 vaccines, whilst also being capable of producing at least three. As a result the figures will reach 15 and five, respectively, by 2030.
This will contribute to meeting the goal of the program to improve legal framework and amend legal documents to boost the acceleration of development, trial, and approval of domestic vaccines. It will also promote the use of both the latest and conventional technologies used for producing vaccines against Covid-19, cancers, and others.
The Ministry of Science and Technology has therefore been assigned to co-ordinate efforts with the Ministry of Health and relevant ministries and agencies to implement the scheme. The Ministry of Health, meanwhile, is responsible for creating all possible conditions for developers to conduct studies, clinical trials, verifications, and approval of vaccines.
HCMC to reopen inter-provincial tourism from next month
Ho Chi Minh City, a major tourist hub, plans to resume tourism with other localities where Covid has been under control from Nov. 1 until the year-end.
The initiative is part of a three-phased tourism recovery program approved by city authorities to adapt to the new-normal period as the southern metropolis seeks to recover its already-hurt tourism industry.
During the first phase from now until the end of this month, the city would only reopen intra-provincial tourism, allowing residents to travel within the city.
Accommodation facilities and tourist attractions in green zones are allowed to welcome back tourists but at half their maximum capacity.
Travel companies are only permitted to organize tour packages to 'green zones', deemed to pose low Covid-19 spreading risks as regulated by the Health Ministry.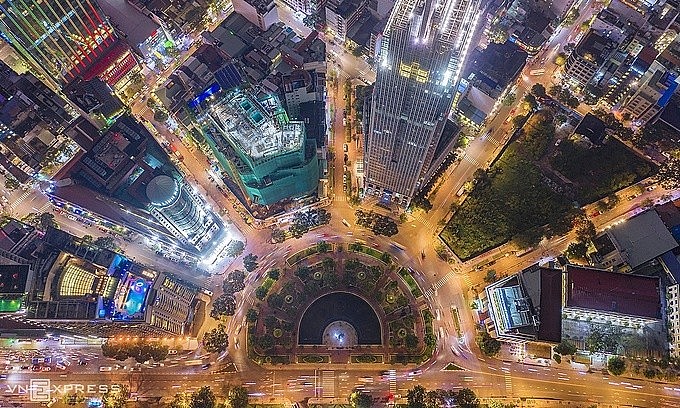 An aerial view of downtown HCMC at night. Photo: VnExpress
People living and working in the city can book tour package or self-organize tours to popular attractions in areas with the pandemic situation brought under control.
During this phase, city tourism authorities would focus on developing tours to historical sites and eco-tourist destinations like Duoc Tunnels Historical Site, Hi-Tech Agricultural Park, Rin Rin Park, Trung An fruit village, Vam Sat tourist area, Sac Forest Tourism Area, 3D Museum and Hai Thuong Lan Ong Street (Chinatown), which specializes in traditional medicines.
Starting from early November, the city would reopen inter-provincial tourism with cities or provinces that have basically controlled the outbreak, VnExpress reported.
During this phase, the city would offer combo tour package and reintroduce the double-decker bus tour and take tourists to more destinations with open spaces such as the Saigon Zoo and Botanical Garden, Dam Sen and Suoi Tien theme parks.
The city would also provide services transporting foreign tourists to Phu Quoc and other destinations allowed to serve international visitors at the time.
In the second phase, accommodation facilities and tourist attractions in green zones will be allowed to welcome back tourists but at 70 percent of their maximum capacity.
Travel companies can organize tour programs to 'green localities' depending on the pandemic situation and welcome tourists from outside the city.
Project on climate change adaptation to benefit central Vietnam
A climate change adaptation project has been launched to strengthen the resilience of smallholder agriculture to climate change-induced water insecurity in the Central Highlands and the south-central coast.
Financed with 30 million USD by the Green Climate Fund (GCF), it was launched by the United Nation Development Programme (UNDP) and the Ministry of Agriculture and Rural Development (MARD) on October 15, covering the five provinces of Dak Lak, Dak Nong, Khanh Hoa, Ninh Thuan, and Binh Thuan.
More than 500,000 people, of which more than 50 percent are women, will benefit directly and indirectly from this project, which will be implemented from 2021 to 2026.
The project is designed to empower vulnerable smallholders in the target provinces - particularly women and ethnic minority farmers - to manage increasing climate risks to agricultural production by securing water availability, adopting climate-resilient agricultural practices, and strengthening access to actionable agro-climate information, credits and markets.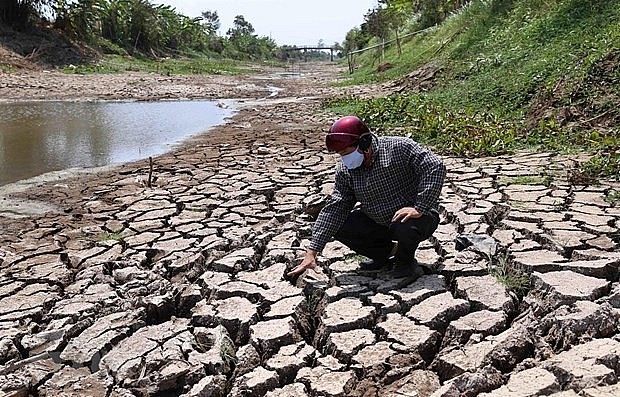 A canal dries up as a result of drought. Photo: VNA
To address water insecurity, the project will support the smallholder farmers, whose income do not permit investment in climate resilience-enhancing inputs, technologies or infrastructure to cope effectively with impacts of droughts, to directly address the need for investments in last-mile connections to the larger irrigation infrastructure invested by the government with the finance from the Asian Development Bank. Similarly, farmers in rain-fed areas will benefit from the upgrading and construction of 1,159 climate resilient ponds, cited VNA.
Farmers will be provided with training on how to manage climate risk to their agro-ecosystems by applying climate-resilient soil and crop planning and management practices to reinforce the investments in water security. They will also receive technical guidance and financial support on climate smart- and resilient agriculture practices to improve production and increase yields.
Farmers will be engaged in the co-development of localized agro-climate information in the form of advisories, through which they will be able to synthesize traditional knowledge with contemporary scientific information to manage risk at local level.
The project will enable farmers to address production problems and bottlenecks, access credit, negotiate contractual arrangements, and smooth access to existing markets through promotion of value chain partnerships.