Vietnam News Today (October 28): HCM City Allows to Resume On-site Dining
Vietnam News Today (October 28): Vietnam confirms 4,404 domestic Covid cases; Vietnam attends first ASEAN-Australia Summit; HCM City allows to resume on-site dining; Vietnam among top 10 largest suppliers of goods to EU market.
Vietnam News Today (October 28) notable headlines
Vietnam confirms 4,404 domestic Covid cases
Vietnam attends first ASEAN-Australia Summit
HCM City allows to resume on-site dining
Vietnam among top 10 largest suppliers of goods to EU market
Young Vietnamese film makers gain prizes from UNESCO project
PM to co-chair Vietnam-WEF national strategic dialogue
Ho Chi Minh City kick-starts Covid-19 vaccination for students
Over 5 million pandemic-hit workers receive support from unemployment insurance fund
VN-Index hits new peak on October 27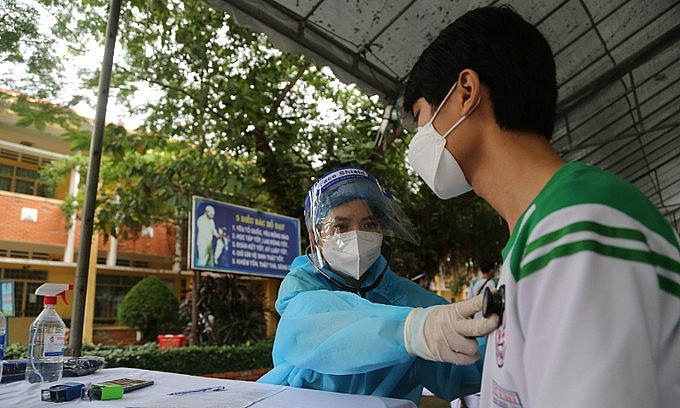 A medical staff examines a student's health before giving Covid-19 vaccine in Ho Chi Minh City, Oct. 27, 2021. Photo: VnExpress
Vietnam confirms 4,404 domestic Covid cases
The Ministry of Health announced 4,404 new local Covid-19 cases Tuesday in 47 cities and provinces, up 812 against Monday.
Ho Chi Minh City and its neighboring provinces of Binh Duong and Dong Nai account for most cases, at 1,140; 521; and 499 respectively.
The ministry also confirmed 54 Covid-19 deaths Wednesday, including 32 in HCMC and 8 in Binh Duong, raising the nation's death toll since the start of the pandemic to 21,856, a mortality rate of 2.5 percent, cited VnExpress.
So far in the fourth wave that emerged six months ago, 895,793 cases have been confirmed and 809,497 have recovered.
Until now, 22.2 million of the nation's 96 million have been fully vaccinated with two doses.
Vietnam attends first ASEAN-Australia Summit
Prime Minister Pham Minh Chinh led a Vietnamese delegation to the annual first ASEAN-Australia Summit that was held virtually on October 27.
In his speech, PM Chinh spoke highly of Australia's assistance to the region and ASEAN member states in the fight against Covid-19 pandemic.
He thanked Australia for offering vaccines and medical supplies to ASEAN nations, including Vietnam. He also suggested Australia enhance support to help ASEAN improve its capacity of preventive medicine and response to medical emergencies and communicable diseases in the future, towards sustainable economic development.
The Vietnamese leader hailed Australia's active and responsible contribution to issues related to peace and stability in the region, including the Bien Sea issue.
On such basis, he wished Australia would continue backing ASEAN's efforts to maintain peace, stability, security, maritime and aviation safety and freedom in the East Sea, as well as uphold the abidance by international law and the 1982 United Nations Convention on the Law of the Sea (UNCLOS) via diplomatic process, promote self-restraint and the settlement of disputes by peaceful means, according to VNA.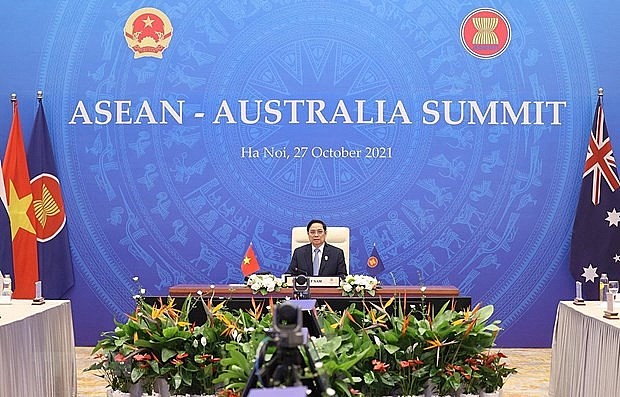 PM Pham Minh Chinh at the event. Photo: VNA
Australian PM Scott Morrison affirmed his appreciation of ties with ASEAN, support of ASEAN's central role in regional architecture and ASEAN Outlook on the Indo-Pacific.
He committed to effective participation in ASEAN-led dialogue and cooperation mechanisms on the basis of respecting international law and promoting regional order, thus making positive contributions to peace, security, stability and development in the region.
Morrison vowed to support ASEAN's stance on the East Sea issue, uphold the role of promoting dialogue and strengthening trust building, the full and effective implementation of the Declaration on the Conduct of Parties in the Bien Dong Sea (DOC), towards reaching an effective and efficient Code of Conduct in the Bien Dong Sea (COC) in line with international law and the 1982 UNCLOS.
Australia welcomes and supports ASEAN's role in promoting dialogue and reconciliation, as well as helping Myanmar seek measures to stabilize the situation, he said.
Participants spoke highly of the positive developments of ASEAN-Australia partnership. They hailed Australia as a significant economic partner of ASEAN with a two-way trade of over AUD100 billion last year.
Concluding the event, they agreed to upgrade ASEAN-Australia ties to a comprehensive strategic partnership level.
HCM City allows to resume on-site dining
HCMC will allow restaurants and coffee shops to resume on-site dining Thursday after five months of restrictions. Alcohol can be served in two districts.
All facilities must close before 9 p.m. and only serve 50 percent of their normal customer capacity, according to a decision issued Wednesday by deputy chairwoman Phan Thi Thang.
Alcoholic beverages cannot be served, except at wedding halls and tourist facilities.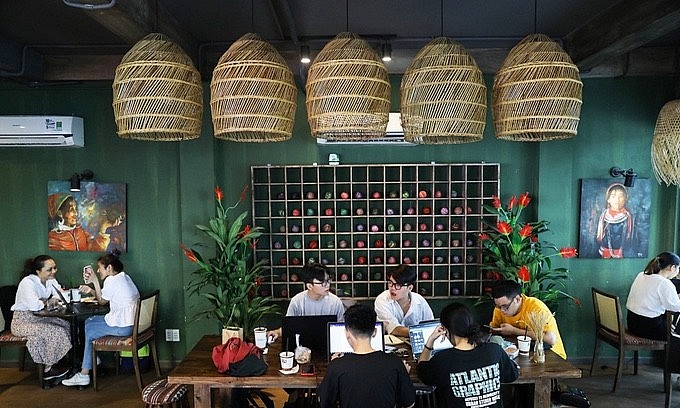 Customers are seen at a coffee shop in Binh Thanh District, Ho Chi Minh City, November 2020. Photo: VnExpress
District 7 and Thu Duc City can serve alcohol in regular restaurants under a pilot scheme until Nov. 15. Authorities of the two districts will decide the areas for implementing the scheme.
HCMC on Oct. 24 announced the Covid-19 risks level in 22 districts. Under a four-level ranking scheme, with Level 1 being the safest, there are nine districts under Level 1, 12 under Level 2, and one under Level 3, reported VnExpress.
Thousands of food and beverage facilities in the city have been hit hard by the prolonged closures and restriction periods. The revenue of food and beverage establishments in first eight months fell 20 percent year-on-year to VND32.07 trillion (US$1.41 billion) because of social distancing.
HCMC has recorded over 428,000 Covid-19 cases since the end of April, when the nation was hit by the fourth wave.
Over 78 percent of the city's population have been fully vaccinated.
Vietnam among top 10 largest suppliers of goods to EU market
Vietnam is among the top 10 largest suppliers of goods to the EU market, with last year's two-way trade reaching EUR43.2 billion.
This information was unveiled during the Vietnam - EU Trade Forum 2021, an event which was co-hosted by the Ministry of Industry and Trade and the European Chamber of Commerce in Vietnam (EuroCham) on October 27 in Hanoi.
One year since the implementation of the EU-Vietnam Free Trade Agreement (EVFTA), two-way trade turnover between the country and the EU reached US$54.87 billion, an increase of 12.1% compared to the same period last year, of which exports and imports surged by 11.3% and 14.04%, respectively.
Despite the adverse impacts of the Covid-19 pandemic in several southern provinces, two-way trade turnover between the nation and the bloc in September recorded positive growth, with turnover standing at US$ 41.3 billion, up 13.4% against the same period last year.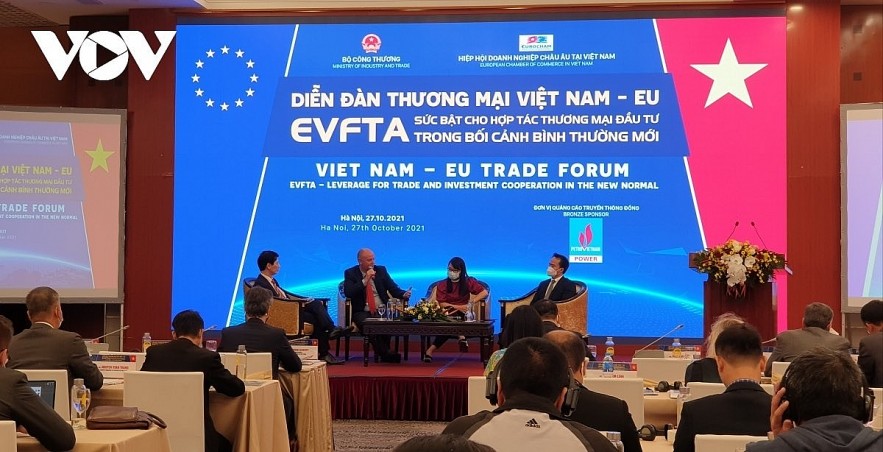 Photo: VOV
Upon addressing the forum, Deputy Minister of Industry and Trade Dang Hoang An affirmed that several local businesses are taken full advantage of incentives from the EVFTA through the use of certificates of origin (C/O), noting that the competitiveness and market share of Vietnamese goods has also improved markedly within the EU market, VOV reported.
With a strong commitment to ensuring transparency, openness, and convenience in the current business climate, the country has received high-quality investment from the EU with a number of projects involving in the hi-tech field, a move which has created common values ​​and benefits for the both sides' business communities.
Deputy Minister An therefore emphasized that the pandemic has also caused changes in consumption trends, leading to the development of digital transformation and e-commerce. In line with this, the Governments of several countries globally have devised solutions to promote the digital economy, especially e-commerce.
These moves have served to open up bright prospect for cross-border trade channel in the near future, An noted.
Young Vietnamese film makers gain prizes from UNESCO project
Projects by Nguyen Trung Nghia, Dang Thao Nguyen and Nguyen Le Hoang Phuc have won prizes from the non-profit film production course ON THE REEL Film Lab.
At the course's closing ceremony held on October 27, the "Mulberry Fields" (Mot lan dang do) by Director and Screenwriter Nghia was awarded 2,000 USD, one package of camera, and lighting equipment. Meanwhile, the "Memory Replica" (Ban sao ky uc) by Director and Screenwriter Nguyen obtained 2,000 USD and one audio post-production package.
Producer/Director/Scriptwriter Phuc's project, namely "Little Tomb on The Prairie" (Nam mo ly tuong) brought him a package of camera and lighting equipment.
They made such achievements by surpassing six selected projects from 100 submissions to the course.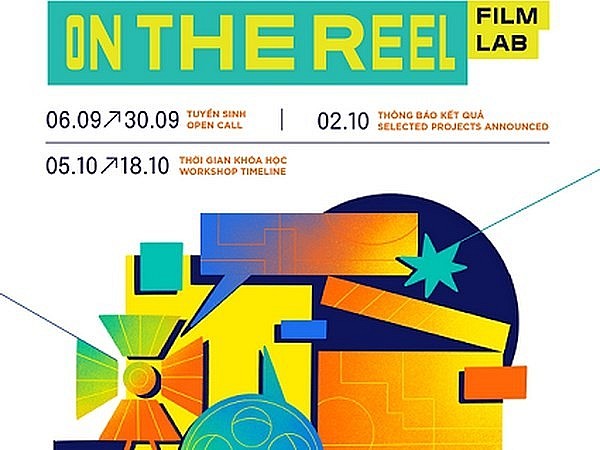 Photo: UNESCO Vietnam
The film lab is jointly organized by UNESCOand the Centre for Assistance and Development of Movie Talents (TPD) - Vietnam Cinema Association, with the companionship of the Japan Foundation Center for Cultural Exchange in Vietnam, the General Delegation Wallonia - Brussels (Belgium) in Vietnam, HK Film, WallSound, Hanoi Grapevine and Colab Vietnam.
It is part of project E-MOTIONS: Mobilizing film professionals for regional cooperation, which is being conducted by UNESCO and partners, with the support from the Trust Fund of Japan. The project aims to enhance the capacity of filmmakers and empower them in their future careers, as well as to organize activities that connect domestic filmmakers with their peers in the region, cited VNA.
ON THE REEL Film Lab was held in October. In the first part of the course, from October 5 to 8, director Pham Ngoc Lan taught the aesthetics of short films and low-budget filmmaking. After this session, each project had a separate working session with lecturer Lan or guest speaker Truong Minh Quy. From October 21 to 24, director/producer Pimpaka Towira shared information about the international film industry and skills in film production. This was also when the trainees presented their projects to the trainers and their peers.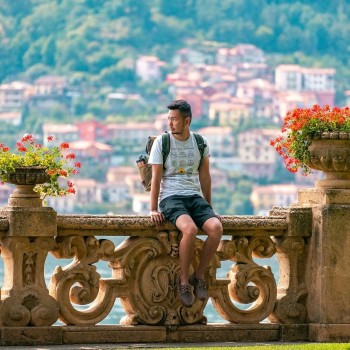 Travel
If you have the opportunity to visit Hoi An at the end of the year, these are some of the best recommendations for fun activities you can do from Peter R – a Thai travel blogger.