Vietnam News Today (October 4): Vietnam GDP Growth Forecast at 3-3.5 Percent This Year
Vietnam News Today (October 4): Vietnam records 5,367 new local Covid cases; Vietnam must devise safe roadmap for reopening; Vietnam GDP growth forecast at 3-3.5 percent this year; Program launched for children orphaned due to Covid-19.
Vietnam News Today (October 4) notable headlines
Vietnam records 5,367 new local Covid cases
Vietnam must devise safe roadmap for reopening
Vietnam GDP growth forecast at 3-3.5 percent this year
Program launched for children orphaned due to Covid-19
Vietnam ranks 73rd for digital quality of life, e-security improves
Vietnam wants to receive UNWTO's support for tourism recovery
Vietnamese sisters win Grand Prix at int'l children's drawing contest
Over 1.48 million workers in Hanoi to get allowances from unemployment insurance fund
Self-sustaining school aids ethnic minority students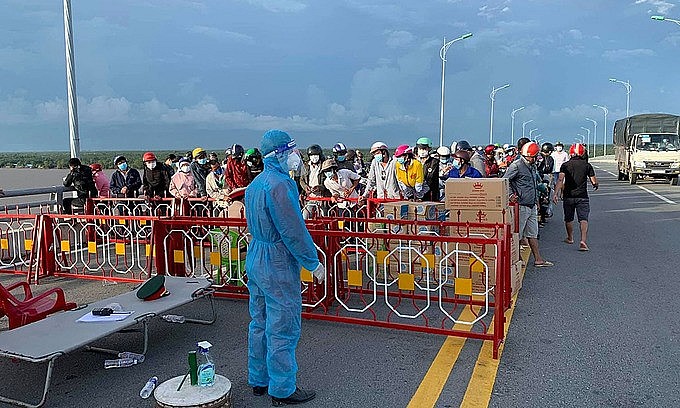 People from HCMC returning to the Mekong Delta's Tra Vinh Province on Oct. 2, 2021. Photo: VnExpress
Vietnam records 5,367 new local Covid cases
Health authorities confirmed 5,367 new local Covid-19 cases Sunday, down 110 cases from previous day, pushing the ongoing wave's tally to 803,994.
The three localities with the highest number of new cases were Ho Chi Minh City with 2,461 cases, Binh Duong with 1,283 cases and Dong Nai with 821 cases.
Of the day's tally, 2,674 cases were detected in the community.
The Health Ministry also confirmed 28,859 recoveries the same day, bringing the total tally of recovered cases so far to 693,797, cited VnExpress.
The Covid-19 death toll in Vietnam rose to 19,715 with the confirmation of 114 deaths Sunday.
The average number of new cases in the country for the past seven days has been 7,401 a day while the national death rate has been 105 a day on average.
Nationwide, over 44.63 million people have been given at least one Covid-19 vaccine dose.
Vietnam must devise safe roadmap for reopening
The nation needs to produce a sure and safe roadmap as it moves to reopen activities, according to Andrew Jeffries, country director of the Asian Development Bank in Vietnam.
He made the remarks during a consultation conference hosted recently by the Ministry of Planning and Investment (MPI) regarding its draft program on economic recovery and development for the 2022 to 2023 period.
In the medium term, Jeffries recommended that local banks move to strengthen their provisioning and be careful due to the possibility of bad debts arising in the near future due to the impact of the Covid-19 pandemic.
Major Vietnamese trading partners are quickly recovering, while domestic vaccination coverage is increasing, thereby contributing to promoting growth, he said.
The ADB official proposed that the country actively tap into free trade agreements to boost exports and join the global supply chain more deeply. Simultaneously, the nation should re-open in a safe manner and ensure healthy relations continue to occur between banks and enterprises, in addition to being cautious with bad debts.
Regarding objective factors, logistics costs both domestically and internationally are increasing sharply, the ADB representative noted, while suggesting the country actively invest in building infrastructure facilities and developing multimodal transport facilities.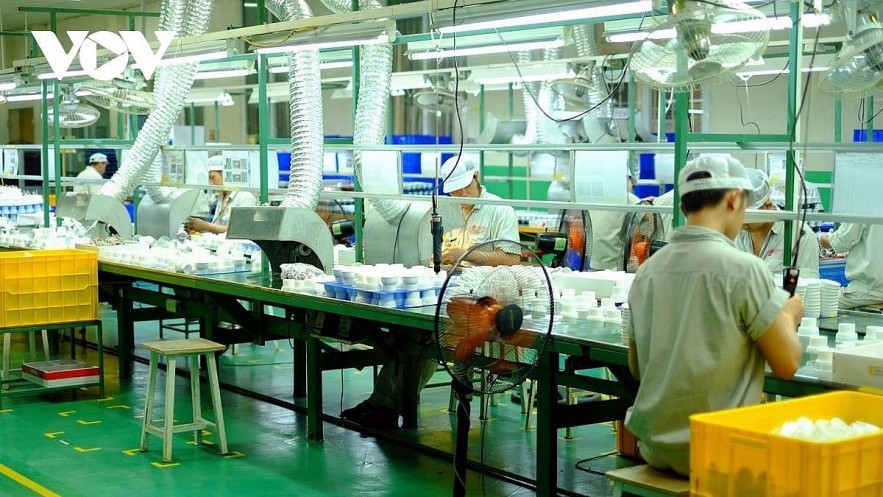 Local businesses need to receive more support to restore production and business activities amid the ongoing Covid-19 pandemic. Photo: VOV
Concurring with this viewpoint, Francois Painchaud, chief representative of the International Monetary Fund (IMF) in Vietnam, said that Vietnamese support package remains small and primarily focuses on tax deferral reduction policies, without providing direct support for spending.
According to him, the nation needs to relax conditions for direct cash support in order to reduce difficulties faced by affected people, while also creating optimal conditions to boost economic development moving forward.
The IMF representative therefore recommended that, instead of focusing on tax exemptions and deferrals, it is necessary to concentrate on reducing the burden placed on businesses by transferring tax losses from previous years to the following years.
Regarding budget related issues, Dr. Nguyen Dinh Cung, former director of the Central Institute for Economic Management (CIEM), said that the nation still has ample room for economic recovery over the coming years.
This can be put down to a low inflation rate, stable foreign currency reserves, and stable financial system, especially low budget deficit ratio.
Dr. Cung proposed that at this stage, in order to recover the national economy, the Government should consider boosting spending further. At the same time it can be considered necessary to quickly recover and strengthen the dynamics of the economy by using resources in a reasonable manner and with the right subjects, reported VOV.
He added his hopes that the Government will bring the pandemic under control as soon as possible to reopen the economy. In addition, many tax exemptions should be considered, as opposed to simply deferring taxes.
Vietnam GDP growth forecast at 3-3.5 percent this year
The Ministry of Planning and Investment estimates the country's GDP growth in 2021 at 3-3.5 percent, down 0.5 percentage points from the forecast in September.
"The new forecast is made on the basis of socio-economic performance results in the first nine months and prospects for the last three months of this year," Deputy Minister of Planning and Investment Tran Quoc Phuong said Saturday.
He said GDP growth for the whole year may reach 3 percent or 3.5 percent if the fourth quarter's economic growth surpasses 7.06 percent or 8.84 percent, respectively.
While a fourth quarter GDP growth of 7 percent of more has been achieved in the past, Phuong said this year's figure would depend a lot on the effectiveness of pandemic control, VnExpress reported.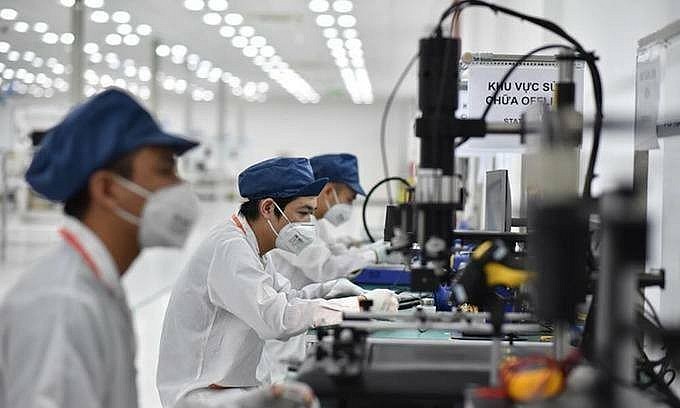 Employees work at a smartphone factory in Hai Phong City, northern Vietnam. Photo: VnExpress
He said to achieve the growth targets, businesses must safely bring back their workforce when resuming operations and sustain production in the "new normal" situation. Smooth circulation of goods as input and output is also necessary to support growth, he added.
"In the next phase of production recovery, if businesses and manufacturing can recover 80 percent of their capacity, it would be a great success," Phuong said.
Vietnam's GDP shrank by 6.17 percent in the third quarter. In the first nine months, the GDP grew by 1.42 percent as against 2.12 percent in the same period last year.
The GDP growth last year was 2.91 percent, the lowest in a decade, but Vietnam was one of the few countries in the world to achieve positive growth.
At a Saturday cabinet meeting, Prime Minister Pham Minh Chinh emphasized that this year's economic growth will largely depend on fourth quarter production and business recovery as well as safe adaptation and pandemic control.
He requested the Ministry of Planning and Investment to quickly complete a strategy and plan to restore and develop the economy in the "new normal."
At the end of September, the Asian Development Bank (ADB) lowered its macroeconomic growth forecast for Vietnam to 3.8 percent, while the World Bank retained it at 4.8 percent, expecting the economy to rebound in the last quarter.
International organizations remain optimistic about Vietnam's economic growth prospects.
ADB believes that Vietnam's economy will recover if the pandemic is well controlled by the end of this year and 70 percent of the country's population are vaccinated by the second quarter in 2022. Then, it predicts the GDP growth in 2022 to reach 6.5 percent.
Program launched for children orphaned due to Covid-19
The Ho Chi Minh Communist Youth Union (HCYU) Central Committee, in coordination with relevant agencies, launched a program on October 3 to call for assistance to children whose parents have died of Covid-19.
Attending the event were Nguyen Anh Tuan, First Secretary of the Ho Chi Minh Communist Youth Union Central Committee and representatives of a number of ministries and agencies.
The Covid-19 pandemic in Vietnam has killed more than 19,000 people. According to statistics from the Department of Children's Affairs under the Ministry of Labour, Invalids and Social Affairs and reports of the Departments of Labour, Invalids and Social Affairs of 30 provinces and cities, as of October 1, up to 2,091 children and juveniles under 17 who have lost their parents, mothers, fathers or caregivers due to the pandemic.
Nguyen Anh Tuan, First Secretary of the Ho Chi Minh Communist Youth Union Central Committee and representatives of organizations at the event. Photo: VNA
The program aims to mobilize organizations, businesses and individuals to join hands to take care of and support the orphaned children due to the Covid-19 pandemic until the age of 18 in a sustainable way so that they can overcome difficulties and stabilize their lives soon, ensuring conditions for them to develop comprehensively and become useful people in society, according to VNA.
The program will concentrate on provinces and cities that have been heavily affected by the Covid-19 pandemic and focusing on providing financial, education, health and spiritual support.
The Youth Union collaborated with FPT, a technology giant in Vietnam, to establish schools for 6-18 year-old children whose parents died of Covid-19. The program also calls on experts and volunteers who have experience in the field of child psychology to provide support and timely intervention for children, especially at the beginning when they are going through trauma.
People who want to donate to the program can access the website www.noivongtaythuong.vnor sending financial aid through account number: 1000 001 001 191919 at the Vietnam Bank for Social Policy's Branch in Hanoi.
Vietnam ranks 73rd for digital quality of life, e-security improves
Vietnam's e-security index improved by 54 percent since last year but its internet became less affordable, the 2021 Digital Quality of Life Index (DQL) conducted by cybersecurity company Surfshark showed.
The third annual report has placed Vietnam 73rd among 110 countries, down 19 places compared to the previous year.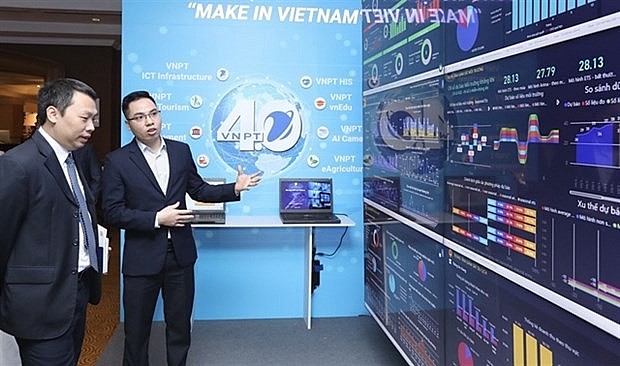 Visitors at Vietnam Internet Day 2020. Vietnam's e-security index improved by 54 percent in 2021. Photo: VNA
Covering 90 percent of the global population, the study evaluates countries based on five fundamental digital wellbeing pillars. Vietnam shows its best results in internet affordability (ranking 51st), but lags behind with internet quality (86th), e-government (75th), e-security (71st), and e-infrastructure (67th), cited VNA.
Vietnamese people have to work one minute 45 seconds to afford the cheapest mobile internet and two minutes 53 seconds to access the cheapest broadband internet. Despite a 62 percent year-on-year decrease, the country still has quite affordable internet access compared to the global average (10 minutes for 1GB of mobile internet).
E-security is also a bright spot in Vietnam's performance picture as the country's index improved by 54 percent since last year thanks to the improvement of data protection laws. However, the country still remains on the lower end of the list, coming in 71st place worldwide, due to a decline in cybersecurity.
In the all-around picture, six out of 10 countries with the highest scores are located in Europe, with Denmark topping the list for the second year in a row and is closely followed by the Republic of Korea.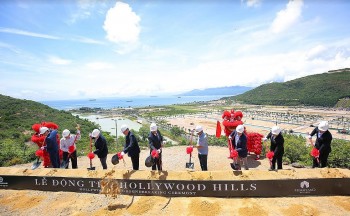 Economy
On October 2, at Hai Giang peninsula (Quy Nhon city, Binh Dinh), Hung Thinh Corporation held the groundbreaking ceremony of Hollywood Hills by YOO Inspired by Starck – a subdivision at MerryLand Quy Nhon. The event marks the first time that the world's No.1 ranked design and branded residence company YOO Inspired by Starck is officially present in Vietnam, with a collection of villas designed by creative director, Philippe Starck.