Vietnam News Today (Sep. 13): Vietnamese And Australian Travel Firms Ink Cooperation Deals
Vietnam News Today (Sep. 13): Vietnamese and Australian travel firms ink cooperation deals; Vietnam, Japan cooperate toward green growth; High expectations for trade on Vietnam - US partnership upgrade; E-visa policy facilitates foreigners traveling to Vietnam.
Vietnam News Today (Sep. 13) notable headlines
Vietnamese and Australian travel firms ink cooperation deals
Vietnam, Japan cooperate toward green growth
High expectations for trade on Vietnam - US partnership upgrade
E-visa policy facilitates foreigners traveling to Vietnam
Vietnam win 2-0 over Palestine in FIFA Days match
JETRO strengthens collaboration to bolster green growth in Vietnam
Mekong Delta provinces making progress in curbing IUU fishing
Vice State President visits Mozambique
Vietnam, a staunch supporter of Japan's Zero Emissions Community initiative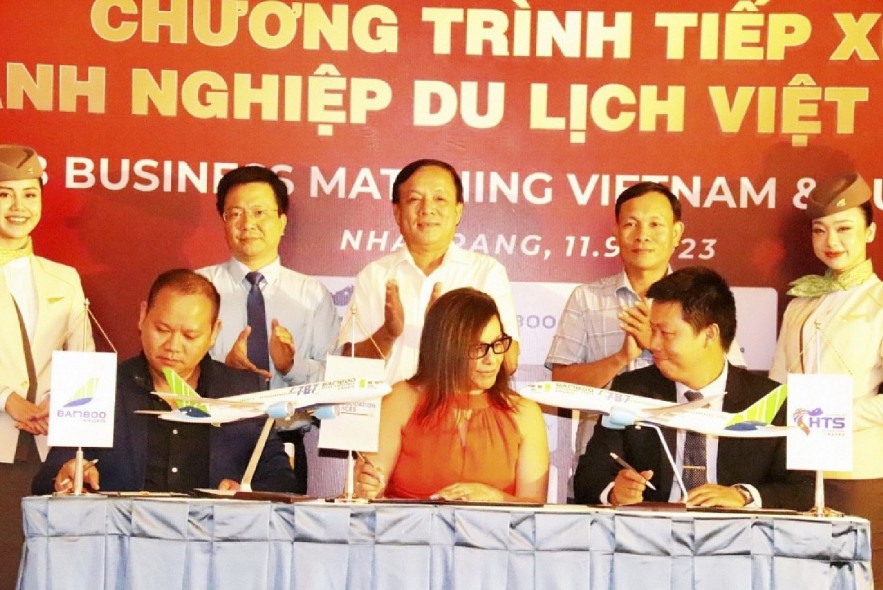 Vietnamese and Australian travel firms ink cooperation deals at a business matching held in Nha Trang City on September 11. (Photo: Petrotimes.vn)
Vietnamese and Australian travel firms ink cooperation deals
Budget airline Bamboo Airways and local tourism businesses signed cooperation agreements with Australian travel firms on September 11 at a business matching held in Nha Trang City.
Accordingly, Australian travel firms will introduce their unique tourism products in a bid to attract Australian tourists to Vietnam and vice versa.
Representatives from 15 Australian travel firms paid a visit to the southcentral province of Khanh Hoa from September 9 to 12 to explore popular tourist sites and experience the numerous tourism products and services that Nha Trang City has to offer, cited VOV.
The Australian famtrip delegation, including travel firms from Sydney and Melbourne, surveyed tourism services at resorts such as Alma, Ana Mandara Cam Ranh along the Bai Dai beach, and adventure tours at Kong Forest, believed to be the largest forest adventure tourist park in the country.
Currently, Bamboo Airways is operating five round-trip flights each week between Vietnam and Australia on routes such as Melbourne – Hanoi, Melbourne - Ho Chi Minh City, and Sydney - Ho Chi Minh City, using the modern wide-body aircraft Boeing 787-9 Dreamliner.
At the business matching held on September 11, Dinh Van Thieu, vice chairman of the Khanh Hoa Provincial People's Committee, revealed that Bamboo Airways would soon open direct flights from Australia to Nha Trang City, a move which will help to bring more international famtrip delegations to the locality.
Vietnam, Japan cooperate toward green growth
Vietnam News, the English language daily newspaper under the Vietnam News Agency, and the Ministry of Agriculture and Rural Development (MARD) jointly organise a seminar themed "Vietnam-Japan cooperation toward green growth" in Hanoi on September 12 on the occasion of the 50th anniversary of the establishment of diplomatic relations between the two countries.
Attending the seminar are delegations from various Vietnamese ministries and sectors such as the Ministry of Planning and Investment (MPI), the Ministry of Foreign Affairs, the Ministry of Industry and Trade (MoIT); representatives from the Vietnamese Embassy in Japan, the Japanese Embassy in Vietnam, the Japan International Cooperation Agency (JICA), the Japan External Trade Organisation (JETRO); leaders of several provinces and cities in Vietnam, along with experts and businesses from both countries.
The event is a chance for the participants to share perspectives on green growth, opportunities and challenges in realizing Vietnam's Green Growth Strategy for the 2021-2030 period and the vision for 2050, the significance of Japan's support for green growth in the Southeast Asian country, as well as suggest and recommend solutions to help implement the strategy. The seminar also serves as a platform for experience sharing and idea exchanges.
Speaking at the seminar, Pham Quang Hieu, Ambassador of Vietnam in Japan, said the Vietnam-Japan bilateral relationship is at its height in the history of the two nations, deserving of an extended strategic partnership built on sincerity, trust, and mutual support, according to VNA.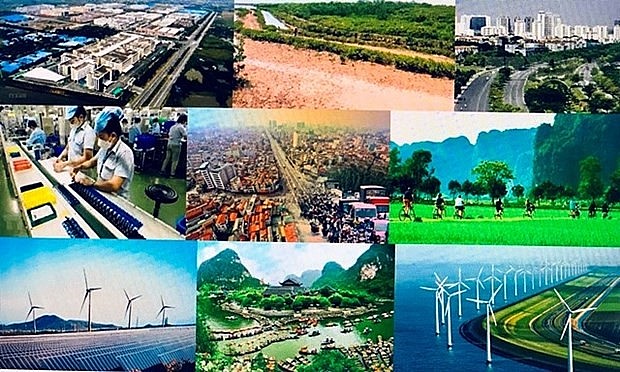 Vietnam considers green growth an effective solution for sustainable development. Illustrative image. (Photo: dangcongsan.vn)
"In the medium and long term toward the goals of 2030-2050, both countries have significant potential for further cooperation in green technology, energy transition, and bilateral research collaboration in applying Japanese technology that aligns with Vietnam's needs and transition roadmap," he said.
Director-general of the Vietnam News Agency Vu Viet Trang said through the seminar, she believes that Japanese organisations and enterprises will gain a better understanding of Vietnam's green growth policy priorities and strategies, both at the national and local levels, opening up new opportunities for cooperation in areas where both sides have potential and strengths.
As of August 2023, Japan has 5,168 active projects with a total registered investment capital of over US$71 billion. Japan currently ranks third among 143 countries and territories investing in Vietnam.
The Japan External Trade Organization (JETRO) in Vietnam emphasizes that focusing on green growth is crucial for addressing pressing issues in Vietnam, including water quality, air pollution, waste management, recycling, energy efficiency, and carbon emissions. JETRO advises the Vietnamese Government to implement stricter environmental regulations, expand manufacturers' environmental responsibilities, and accelerate the transition to renewable energy sources.
Meanwhile, the Japan International Cooperation Agency (JICA) reaffirms its close collaboration with the Ministry of Natural Resources and Environment to enhance Vietnam's capacity for carbon emission reduction, focusing on water resource management; and partnership with agriculture companies in improving living conditions and deploying modern technologies to mitigate the impacts of climate change and natural disasters.
High expectations for trade on Vietnam - US partnership upgrade
The upgrade of the bilateral relationship to a comprehensive strategic partnership between Vietnam and the United States is expected to create unprecedented opportunities to promote new cooperative fields, according to insiders.
Statistics released by the Vietnamese Trade Office in the US show that amid several factors affecting total demand in the US market, Vietnam still maintains its position as the US' eighth largest trading partner, while the US is Vietnam's largest export market, with a trade surplus of approximately US$40 billion.
Opportunities to expand trade exchanges
According to industry insiders, both Vietnamese and US economies are complimentary, not competitive, making it easier for US consumers to have various options for Vietnamese products available in their market with improved designs, quality, and competitive prices, contributing to striking the overall trade balance.
Tran Nhu Tung, vice chairman of the Vietnam Textile and Apparel Association (VITAS), says garment and textile enterprises expressed high hope that the upgrade of bilateral ties would facilitate greater trade exchanges and open up a wealth of opportunities for major Vietnamese export products to enter the US market.
"Local firms have secured more export orders to the US in the fourth quarter compared to the previous quarter, hoping that the US will devise a tax rate mechanism for Vietnamese textile and garment products in a more competitive manner," says Tung.
Dang Phuc Nguyen, general secretary of the Vietnam Fruit and Vegetable Association, points out that although the US is one of the key export markets for Vietnamese fruits and vegetables, local exporters face hurdles, for instance, far distance, which has made it difficult for them to keep the freshness of the products long.
In addition, Vietnamese fruits and vegetables such as dragon fruit, mango, and rambutan must compete with those from South American countries that have lower logistics costs.
Nguyen therefore advises local businesses to focus on products that have a long preservation period of more than 40 days and a storage process when exporting the product to this market.
From a business perspective, Nguyen Dinh Tung, general director of Vina T&T Group, a large fruit and vegetable exporter, anticipates that the country's export sales to the US this year will increase by 40% compared to last year as the US has just reopened its market for fresh coconut products and grapefruit from Vietnam, reported VOV.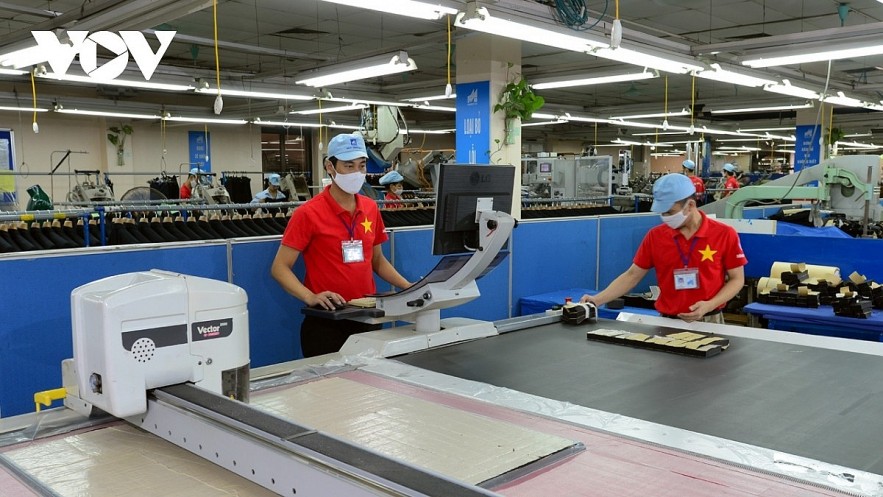 The upgrade of bilateral ties is anticipated to create opportunities for Vietnamese garment and textile exports to make further inroads into the US market.
To boost fruit and vegetable exports to this market, relevant agencies are required to negotiate with the US side to get the green light for additional fruits such as passion fruit and soursop to enter the US market in the coming time while working to strengthen trade promotion activities and get further involved into the supply chain, Tung suggests.
Le Hang, communications director of the Vietnam Association of Seafood Exporters and Producers (VASEP), expresses her belief that joint trade, especially Vietnamese seafood exports to the US, will witness major breakthroughs after US President Joe Biden's recent visit to Vietnam.
According to Hang, the US has made up the leading consumer of Vietnamese seafood for several years. Last year saw Vietnamese aquatic exports to the US reach a record of US$2.15 billion, an increase of 80% compared to a decade ago with the main items being shrimp, pangasius, and tuna.
There remains plenty of room for local seafood to increase its market share in the US market, not only for traditional products but also processed products, elaborates Hang.
Businesses must quickly adapt to market changes
Do Xuan Lap, chairman of the Vietnam Timber and Forest Products Association, analyses that the comprehensive strategic partnership will further serve to resolve trade barriers and promote greater trade development between the two countries.
Moreover, being part of the US supply chain will help the domestic wood industry to develop dramatically moving forward, Lap stresses.
Minister of Industry and Trade Nguyen Hong Dien has said President Biden's historic visit coupled with the upgrading of bilateral ties to a comprehensive strategic partnership will create important breakthroughs and help Vietnam enjoy a greater presence in the global value chains.
He has therefore advised domestic enterprises to quickly adapt to market changes, clearly define product strategies, partners, and distribution channels, and gain more insights into export barriers and trade defense cases to further promote exports to the market.
In addition, local firms are recommended to ensure that input materials have clear origins and do not affect the environment or use forced labor.
E-visa policy facilitates foreigners traveling to Vietnam
The list of international border gates allowing foreigners to enter and exit with electronic visas includes 13 air, 16 land, and 13 sea border gates.
The new e-visa application, which came into force on August 15 at more than a dozen land border gates across Vietnam, has facilitated the arrival of more foreigners.
More foreign citizens, particularly Chinese, have used e-visas to enter Vietnam via the Huu Nghi International Border Gate, according to authorities at the border gate in the northern province of Lang Son.
Huu Nghi is among the 16 land border gates across Vietnam that have allowed foreigners to enter and exit the country with e-visas since August 15, 2023, following the Government's resolution on the application of e-visa issuance for citizens of countries and territories, under which e-visas are issued to citizens of all countries and territories.
The list of international border gates allowing foreigners to enter and exit with e-visas includes 13 air, 16 land, and 13 sea border gates.
Since August 15, border guards of the Huu Nghi International Border Gate have carried out e-visa procedures for over 440 foreign citizens, mostly Chinese.
Personnel and equipment have been added to ensure the procedures are processed quickly and smoothly, cited VNS.
Visitors enter Vietnam using e-visas at Huu Nghi International Border Gate. Photo: VNS
Captain Trinh Van Bac, deputy head of the Border Guard Station of the Huu Nghi International Border Gate, said officers and soldiers at the unit are strictly implementing instructions relating to the use of e-visa.
They have also received training to properly deal with e-visa applications.
According to this Border Guard Station, since the beginning of 2023, the unit has processed about 310,000 migration applications including nearly 164,000 for exit and over 146,000 for entering Vietnam. The applications from Chinese citizens account for the majority with about 248,000.
At Lao Bảo International Border Gate in central Quang Tri Province, from August 15 to September 5, authorities carried out entry and exit procedures for 2,161 visitors of different nationalities, including 846 people under the e-visa policy.
Major Nguyen Hong Trung, head of Lao Bao International Border Gate Control Station, said all nationals entering Vietnam can apply for visas through electronic devices.
Procedures at the border gate have been reduced by 30 percent compared to the previous normal process, he said.
The process of doing e-visa procedures at La Lay International Border Gate, Quang Tri Province is also easier and more convenient than before.
Colonel Phan Thanh Hoang, head of La Lay International Border Gate Border Guard Station, said the border gate has issued electronic visas for citizens from countries like Russia, Belgium, and Slovakia. However, the border gate has mainly carried out procedures for shipping transport through customs clearance and people doing business in Laos and vice versa.
There have not been many tourists, so the number of e-visa applications is still low. Most travelers use traditional methods to apply for entry and exit, he said.
Foreign arrival hike
Do Van Hao, deputy chief of police at Tan Son Nhat International Airport in HCM City, said the e-visa policy is expected to help Vietnam attract more international visitors in the autumn-winter tourist season of 2023.
According to Hào, the resolution issued by the Government on August 14 on granting e-visas to citizens of all countries and territories represents a breakthrough and reaffirms the Vietnamese Government's commitment to continue the policy of openness to foreigners, creating favorable conditions in terms of visa, and entry and exit procedures for them, especially those visiting Vietnam for the purposes of working, investment, and tourism.
The number of foreign visitors, especially those from Europe and the Americas, is projected to increase sharply after the Autumn-Winter tourist season starts (from late September to early October), Hào said.
Tan Son Nhat International Airport put automatic entry systems (Autogate) into operation in early August, helping reduce the time for security checks to about 30-40 seconds per passenger, the official noted.
However, the director of the municipal Department of Tourism Nguyen Thi Anh Hoa said a survey conducted by the agency at travel agencies found that there hasn't been a significant change in tourist numbers to Vietnam following the implementation of the new e-visa policy.
Statistics reported by local hotels show that the number of room reservations for September reached around 70 per cent of total capacity.
Strong growth is expected in both international and domestic visitors during September and towards the end of the year, Hoa said.
Sharing Hoa's opinion, General Director of Viet Tourism Communication JSC Pham Phuong Anh predicted that the new e-visa policy may increase the number of international tourism arrivals to Vietnam served by the company by 2-25 per cent per year.
Visa policy hailed by other countries
Israeli people and businesses have welcomed and highly valued Vietnam's new visa policy, affirming that the country is taking steps to reform its procedures in order to make it easier for foreigners to vacation and do business in the Southeast Asian nation.
Talking to the Vietnam News Agency correspondent in Tel Aviv, respondents said that instead of having to physically stamp visas onto passports, applying for e-visas will be more convenient, faster, and cost-effective.
Eran Laufman, a resident of Yavne city, said six months ago he traveled to Vietnam and was impressed by famous destinations like Hạ Long Bay and Sa Pa. He had heard of these destinations during his previous trip to Southeast Asia but couldn't apply for a visa to Vietnam at that time because he hadn't planned it in advance.
Buta Doron, founder, and CEO of Doron - Vietnam Travel, said e-visas will undoubtedly provide more convenient experiences for Israeli tourists as the application process can be performed entirely online.
The visa reforms hold even more significance in the context that the Vietnam - Israel Free Trade Agreement (VIFTA) has just been inked, and direct flights between the two countries are set to be launched soon.
Doron said these positive developments will contribute to promoting bilateral relations, particularly in tourism and trade. He expressed a hope that direct flights would make round-trip airfare between Israel and Vietnam more attractive, thus stimulating the travel demand of Israeli citizens to Vietnam.
Viet Fam, CEO of Vietfood Group, which specializes in importing farm produce and processed foods from Vietnam, said some of his friends have successfully registered e-visas and headed to Vietnam immediately after the new regulations came into effect.
With the e-visa validity period reaching up to three months, visitors have the opportunity to explore all the beautiful destinations of Vietnam, he said, adding that this fantastic policy provides convenience for holiday-makers and opens up opportunities for travel and airline enterprises.
Vietnam win 2-0 over Palestine in FIFA Days match
Vietnam on September 11 defeated Palestine 2-0 in a friendly match at the Thien Truong Stadium in northern Nam Dinh province, as part of the FIFA Days events.
In the 61st minute, from Hoang Duc's pass, striker Cong Phuong scored the first goal for Vietnam.
In the 78th minute, the Vietnamese team doubled the gap. From a counterattack on the right wing, midfielder Van Toan overcame Palestinian defenders before making a pass for Tuan Hai to easily put the ball into the vacant goal, VNA reported.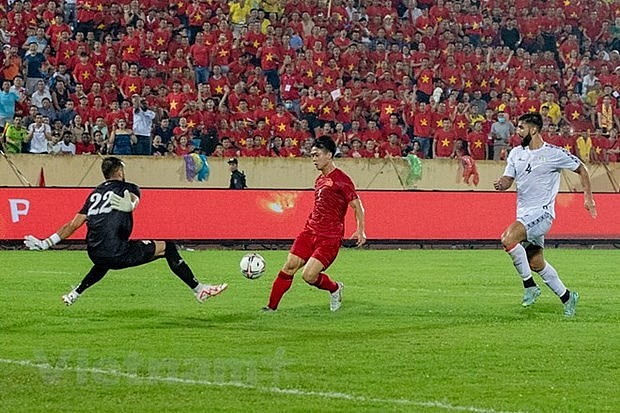 In the 61st minute, from Hoang Duc's pass, striker Cong Phuong (C) scores the first goal for Vietnam. (Photo: VNA)
This is Coach Philippe Troussier's third consecutive victory at the helm of the Vietnamese men's national football team.
In the previous FIFA Days in June, Vietnam won 1-0 over Syria in a friendly match that also took place at the Thien Truong Stadium.
The team's matches are activities to prepare for the second 2026 World Cup qualification in mid-October and the 2023 Asian Cup final.
At the World Cup qualifier, Vietnam is in Group F with Iraq, the Philippines and the winner of the play-off match between Indonesia and Brunei.
At the Asian Cup, Vietnam will play Japan, Indonesia and Iraq in Group D early next year.