Vietnam News Today (Sep. 16): PM's Trip to China For 20th CAEXPO, CABIS Carries Significant Meaning
Vietnam News Today (Sep. 16): US, Vietnam continue joint efforts to deal with war aftermath; PM's trip to China for 20th CAEXPO, CABIS carries significant meaning; MICE tourism helps revive tourism industry in post-pandemic period; Vietnamese, Japanese culture promoted in Dak Lak.
Vietnam News Today (Sep. 16) notable headlines
US, Vietnam continue joint efforts to deal with war aftermath
PM's trip to China for 20th CAEXPO, CABIS carries significant meaning
MICE tourism helps revive tourism industry in post-pandemic period
Vietnamese, Japanese culture promoted in Dak Lak
British newspaper hails Vietnam as dynamic content market in SEA
Ninth Global Conference of Young Parliamentarians opens in Hanoi
Vietnam, Japan promote partnership in UN peacekeeping operations
Exhibition of books on President Ho Chi Minh, Party and State leaders underway in HCM City
Measures sought to fully tap potential of cruise tourism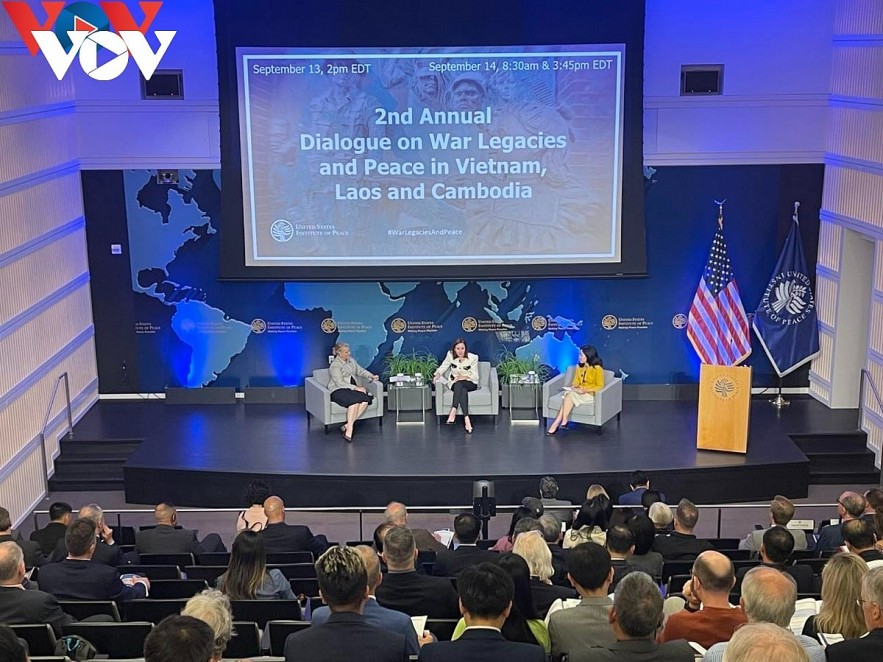 Photo: VOV
US, Vietnam continue joint efforts to deal with war aftermath
The US Institute of Peace in Washington, D.C. organized the Second Annual Dialogue on War Legacies and Peace in Vietnam, Laos and Cambodia on September 13 and September 14 as efforts to bring together government officials, congressional staff, advocacy groups, NGOs, and young leaders.
The dialogue took place immediately after United States President Joe Biden's visit to Vietnam which marked a new step in diplomatic ties between the two countries.
The event primarily focused on efforts to resolve the consequences of war and the impact on the process of promoting ties between both sides, cited VOV.
The dialogue is divided into different discussion sessions focusing on a number of issues, including searching for post-war remains, dealing with Agent Orange, supporting and clearing mines, carrying out generation connection projects in the youth community, applying digital technology in dealing with the consequences of war, along with cultural and creative approaches towards post-war healing.
This is viewed as an opportunity in which delegates can come together to exchange views and propose initiatives aimed at shaping future activities towards joint peace-building peace.
Tim Rieser, assistant to former Senator Patrick Laehy, one of the figures who made important contributions to boosting co-operation to overcome the consequences of war in Vietnam, stated that collaboration in resolving the consequences of war is a typical example for other countries to follow. No country that was previously a former enemy has ever developed such links.
For many years, the country has spent a lot of time and effort helping the US search for American soldiers missing during the war.
That therefore opened the door to American war recovery programs, starting with the Leahy War Victims Fund, a scheme that Senator Laehy initiated in the 1980s and has since expanded to resolve landmines left over from the war, which continues to be a major problem in some areas of the nation.
Each year sees the US provide millions of US$ to solve the problem of land mines left over from the war and Agent Orange and dioxin.
According to Rieser, these programs have brought the two countries closer together, creating a foundation for reconciliation and co-operation, which has in turn led to President Biden and General Secretary Nguyen Phu Trong announcing the upgrade of relations to a comprehensive strategic partnership in Hanoi. Schemes which address the consequences of war are at the heart of post-war ties between the two countries, he added.
The dialogue also gives a chance for delegates to share stories and personal experiences, thereby providing suggestions which can help enhance the overall effectiveness of the programs to resolve the consequences of war between the two countries.
Ron Milam is a Vietnam veteran and currently works as the executive director of the Institute for Peace & Conflict (IPAC) at Texas Tech University.
At his workplace he is currently launching a broad array of activities to help families of Vietnamese martyrs find their loved ones' graves.
Milam said the institute has the world's largest archive of non-governmental records on the Vietnam War with about 30 million pages, including reports after each military operation from both the Vietnamese and American sides.
It is also looking for diaries and memorabilia and trying to return them to families in Vietnam through social networks and will do this as often as possible.
Overcoming the consequences of war has always been an important part of the relationship since the normalization of diplomatic ties back in 1995.
Both sides has pledged responsible co-operation in resolving humanitarian obligations and war legacies, viewing this the driving force in propelling mutual relations forward.
PM's trip to China for 20th CAEXPO, CABIS carries significant meaning: Diplomat
Prime Minister Pham Minh Chinh's two-day trip to China to attend the opening of the China-ASEAN Expo (CAEXPO) and the China-ASEAN Business and Investment Summit (CABIS) 2023 in Nanning city, Guangxi province, carries practical meaning, according to Vietnamese Consul General in Nanning Do Nam Trung.
In an interview granted to the Vietnam News Agency, the diplomat also underlined that this year's events mark the 20-year journey of the CAEXPO and CABIS, an effective cooperation model between ASEAN and China that has brought practical benefits to businesses and peoples of ASEAN and China. This is also the first expo to be held in the in-person format after COVID-19 pandemic.
The Vietnamese PM's participation at the events demonstrates Vietnam's attaching of special importance to the mechanism in general and its 20th edition in particular, contributing to strengthening the substantial partnership between ASEAN and China, said Trung.
He highlighted the sound development of the Vietnam-China relations, noting that this year, the two countries are celebrating the 15th anniversary of their comprehensive strategic cooperative partnership, the highest level of relations between Vietnam and a partner, according to VNA.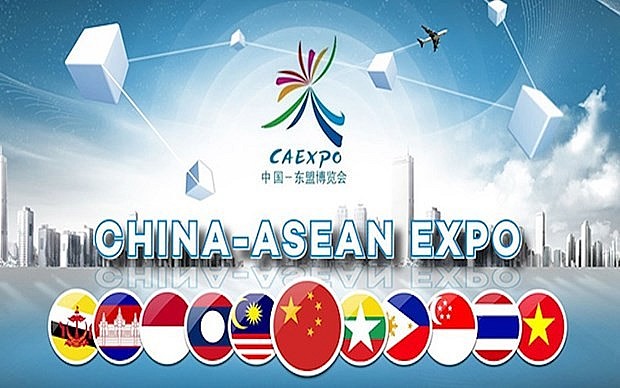 The 20th China-ASEAN Expo (CAEXPO) and China-ASEAN Business and Investment Summit (CABIS) are expected to provide Vietnamese firms with many investment and business opportunities. (Photo: investglobal.vn)
Following the official visit to China by Party General Secretary Nguyen Phu Trong in late October and early November 2022 and another to attend the 14th Annual Meeting of the New Champions of the World Economic Forum (WEF) by the Vietnamese PM in June, PM Chinh's participation in the CAEXPO reflects the common perceptions of high-ranking leaders of the two Parties and States on the strengthening of high-level exchanges and meetings for stronger political trust, and more effective and practical cooperation, thus continuing to promotr and deepen the comprehensive strategic cooperative partnership between the two countries, stated the diplomat.
He said that the 20th CAEXPO is to take place in the context that ASEAN and China have continued to elevate their partnership, marking the 20-year bilateral strategic partnership. The Vietnamese PM's participation at CAEXPO shows the proactiveness and activeness of Vietnam in maintaining and strengthening regional cooperation, especially amid the negatively changing world situation.
Meanwhile, the trip also demonstrates the attaching of great attention to locality-to-locality cooperation between the two countries in general and between Vietnamese localities and Guangxi in particular, Trung said. As a gateway for China to ASEAN, especially to Vietnam, Guangxi plays an important role in the partnership between the two countries.
On the economic and trade situation between Vietnam and China in the recent past, the diplomat said that last year, two-way trade rose 5.47% to US$175.56 billion, with Vietnam's exports valued at US$57.7 billion, up 3.18%.
Vietnam has been the largest trade partner of China among the ASEAN member countries, and the fourth among the countries in the world.
In the first seven months of this year, two-way trade hit US$89.1 billion, down 12.6% year on year, including Vietnam's exports of US$30.8 billion, a drop of 2.4%. Vietnam's export revenue to China accounted for 15.8% of the country's total, while its import expenditure from China made up 32.7% of the country's total.
At the same time, in the first half of 2023, China invested nearly US$1.3 billion in 233 projects in Vietnam, becoming the third largest investors in the country after Singapore and Japan. As of June 20, 2023, China had invested in 3,791 valid projects worth over US$25 billion in Vietnam, ranking sixth among the countries and territories investing in Vietnam.
As for tourism, China has been the biggest market of Vietnam for many years, with 5.8 million Chinese visiting Vietnam in 2019, accounting for one-third of the total foreign arrivals to Vietnam. After the COVID-19 pandemic, on March 15, 2023, China officially allowed the operation of group tours to some countries, including Vietnam, and the resumption of a number of commercial flights between Hanoi and Beijing as well as the adjustments of visa, immigration and medical quarantine policies. In August, Vietnam welcomed more than 212,000 Chinese visitors, up 117% over that in July, pushing the total number of the Chinese tourists since the beginning of this year to 950,000.
For Guangxi, in 2022, trade between Vietnam and the Chinese locality reached CNY199 billion (about US$30.6 billion). Data from the Nanning Customs showed that in the first seven months of this year, import-export revenue between the two sides was CNY138.3 billion, a surge of 78.7% year on year, with Guangxi's exports of CNY100.68 billion, a rise of 68.3%.
Commenting on prospects and opportunities for Vietnamese firms through the CAEXPO 2023, Trung said that this year's event will cover 122,000sq.m with 2,800 indoor booths and 10,000sq.m outdoor exhibition areas. Along with exhibiting activities, this year, more than 100 trade and investment activities will be held.
CAEXPO 2023 is expected to provide Vietnamese firms with many investment and business opportunities, promoting economic-trade relations between Vietnam and China as well as China and ASEAN member countries and partners outside the region. Trung noted that over the past 20 years, each edition of the expo has provided chances for Vietnamese firms to reach about 50,000 partners from China and ASEAN. In recent years, total trade and investment deals reached by Vietnamese firms at the event has amounted to about US$50 million.
This year, the Vietnamese booth will cover 3,500 sq.m, he said, holding that CAEXPO has been a favourite "playground" for Vietnamese firms, evidenced by their active and full participation in all activities of the event for many consecutive years with the highest number of enterprises and booths among the ASEAN member countries.
MICE tourism helps revive tourism industry in post-pandemic period
There remains plenty of room ahead for Vietnam to become the leading MICE destination throughout the region as MICE tourism is expected to help revive tourism industry in post-pandemic period, said Dr. Nguyen Anh Tuan, Director of the Institute for Tourism Development Research.
Tuan made the assessment during a talk themed "MICE tourism - trends and opportunities" organized by the Vietnam MICE Tourism Club in Hanoi on September 14.
However, there is currently no separate policy for MICE tourism in Vietnam like in other countries and there is a general lack of market research on MICE (meetings, incentives, conferences, and events) tourism, he said, adding that the type of tourism is anticipated to bring numerous benefits to industry as a whole if proper attention has been paid.
Dr. Tuan went on to point out that a number of challenges faced by MICE tourism such as a lack of synchronous policies and strategies for this field.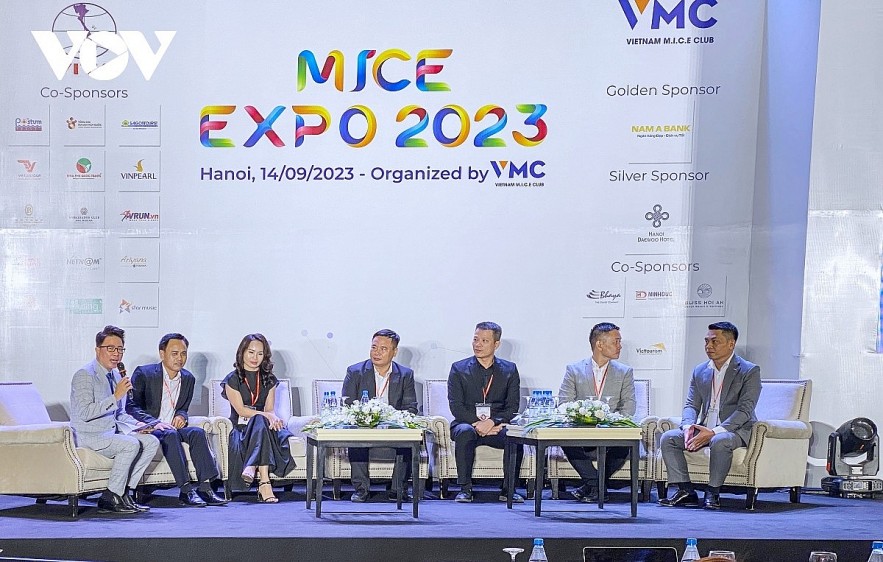 Delegates share their viewpoints during the talk on MICE tourism.
Despite investment having been poured into improving MICE infrastructure in some destinations, it cannot fully meet the increasing demand. In fact, Hanoi still lacks world-class event centers, reported VOV.
Moreover, the tourism workforce for MICE tourism is currently facing numerous difficulties in the post-COVID period as a result of the shortage of skilled workers.
Amid challenges, experts have expressed their belief that MICE tourism in the nation will continue to enjoy robust growth and ultimately become the driving force for the country's tourism recovery in the post-COVID period.
Do Van Thuc, deputy director of Dat Viet Tour, revealed that MICE infrastructure in the nation can be fully capable of competing with destinations such as Bali or Bangkok, while tourism services in the country are equivalent to that of the regional peers. Most notably, several MICE destinations in the country are bigger, more beautiful, and modern, Thuc noted.
Nguyen Duc Anh, chairman of Vietnam MICE Tourism Club, underscored the importance of the development of technology, which is expected to provide fresh impetus for MICE tourism and facilitate the organisation of team building, music, or sports events moving forward.
The talk has been held as part of the MICE Expo 2023, which has attracted the participation of a number of local businesses and service providers across the country, with the ultimate aim to strengthen connectivity and co-operation to seek ways to promote MICE tourism in Vietnam moving forward.
Vietnamese, Japanese culture promoted in Dak Lak
A Vietnam – Japan cultural exchange program was held in Buon Ma Thuot city, the Central Highlands province of Dak Lak, on September 14 to celebrate the 50th anniversary of the Vietnam – Japan diplomatic ties (1973-2023).
Tran Vinh Canh, Chairman of the Vietnam-Japan Friendship Association's branch in Dak Lak province, emphasised that the programme aims to strengthen solidarity, friendship and cooperation between the two peoples.
The event featured songs, dances, and performances of traditional musical instruments of Japanese people and ethnic groups in the Central Highlands region. praising the land, culture, and people of Vietnam and Japan.
Booths were also installed to introduce typical Japanese dishes and products qualified for the standards of the One Commune-One Product (OCOP) program in the city.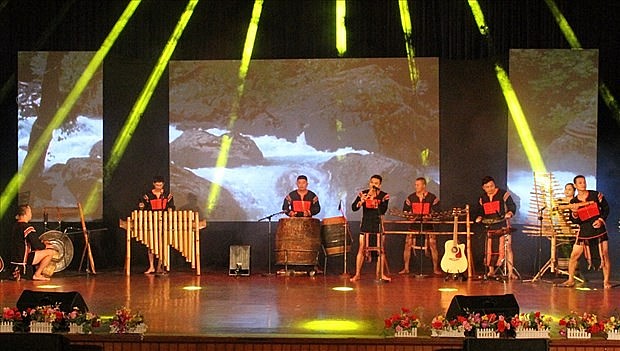 The Vietnam – Japan cultural exchange programme opens in Buon Ma Thuot city, the Central Highlands province of Dak Lak, on September 14. (Photo: VNA)
Japan is the most important strategic partner and the largest official development assistance (ODA) provider of Vietnam, contributing to the development of large-scale infrastructure projects, creating motivation to promote sustainable socio-economic development while supporting advanced technology transfer to and human resources training in Vietnam.
Japan is also Vietnam's major partner in the fields of labor, investment, tourism, and trade with more than 5,000 valid investment projects in the Southeast Asian country, cited VNA.
Vietnam has 104 investment projects in Japan with a total registered investment capital of US$19.2 million.
Dak Lak currently has two FDI projects invested by Japanese investors. The Japan International Cooperation Agency has sponsored 21 ODA programs in the province with a total investment capital of more than US$24.2 million.
In the coming time, the province will continue to coordinate with Japanese localities to organise promotion activities, connect investment, and bolster cooperation in tourism development.
British newspaper hails Vietnam as dynamic content market in SEA
The first six months of the year witnessed a sharp increase in the local box office, clocking up 23 million admissions, comparable to the all-time high of 48 million recorded back in 2019 before COVID-19.
Screen International, a British film magazine covering the international film business, recently published an article noting that Vietnam is on track to become a dynamic content market in Southeast Asia (SEA), particularly as it boasts a booming production sector, a boost in box office numbers, and international awards.
The Vietnamese film industry is therefore celebrating its recent successes, including international accolades and local box-office record-breakers, the article wrote.
Ha Le Diem's coming-of-age documentary Children Of The Mist made history as the first Vietnamese documentary feature to be shortlisted for an Oscar earlier this year. Pham Thien An won the coveted Camera d'Or at Cannes Film Festival with Inside The Yellow Cocoon Shell, exactly 30 years after Vietnam-born French director Tran Anh Hung scooped the same prize with The Scent Of Green Papaya.
The first six months of the year witnessed a sharp increase in the local box office, clocking up 23 million admissions, comparable to the all-time high of 48 million recorded back in 2019 before COVID-19. The estimated total revenue for the first seven months stood at US$92.6 million, up 58.2% on-year.
A scene in Vietnamese film 'The Last Wife.'
It was only two decades ago that Vietnamese authorities allowed the private sector to start making films. With a population of around 100 million, the Vietnamese box office has been growing by about 10% annually since the mid-2010s when the number of cinema screens surged due to investment by the Republic of Korea's companies CJ ENM and Lotte Entertainment, along with local chain Galaxy Cinema, which is backed partly by Golden Screen Cinemas' Malaysian parent company PPB.
"Vietnam is now treading the same path that made Korea the power­house it became," suggests Lee Jin Sung, director general of Lotte Entertainment Vietnam based in Ho Chi Minh City. "What the Koreans learned has become an invaluable asset for Vietnam. Lotte and CJ were thus able to develop a mature value chain by introducing Korean investment, production and distribution systems to Vietnam.
"Vietnam will become the strongest content market in Southeast Asia within five years," he predicts.
Screen Daily also assessed that the nation has built strong links with the United States. Many top directors such as Kiet, Victor Vu, Timothy Linh Bui, Charlie Nguyen (The Rebel), and Ham Tran (Maika) were either born or raised there, thereby bringing a different aesthetic to local cinema. The US, which has the largest overseas diaspora globally, is therefore a key international market for Vietnamese films.
Dad, I'm Sorry became the first Vietnamese-produced title to surpass US$1 million at the US box office. "There would be perhaps one or two films [released in North America] every few years but we're now seeing four to six films every year," says Thien A Pham, founder of California-based distributor 3388 Films.
Nevertheless, the nation still lacks a true breakout hit that can attract a wide international audience, not just the diaspora. Greater international exposure can therefore be achieved if more Vietnamese films secure stronger government support and sales representation.
The country will certainly benefit from having more local executives with international distribution experience. While CJ and Lotte represent their own Vietnamese titles through their global sales teams, BHD and Skyline Media are among the few Vietnam-based sales outfits, British newspaper concluded.