Vietnam News Today (Sep. 18): Vietnam Pledges to Create Best Business Environment for Foreign Investors
Vietnam News Today (Sep. 18): Vietnam records 2,479 cases reported on September 17; Vietnam pledges to create the best business environment for foreign investors; Vietnam, French Community of Belgium look to enhance cooperation; Vietnam B2C retail e-commerce revenue to exceed US$16 billion this year.
Vietnam News Today (Sep. 18) notable headlines
Vietnam records 2,479 cases reported on September 17
Vietnam pledges to create the best business environment for foreign investors
Vietnam, French Community of Belgium look to enhance cooperation
Vietnam B2C retail e-commerce revenue to exceed US$16 billion this year
World Cycling Day 2022 marked in Hue city
Foreign firms recommend solutions to promote Vietnam's development
More efforts needed to remove EC fisheries warning
National steering committee on green growth established
Ho Chi Minh City among world's seven trending destinations this autumn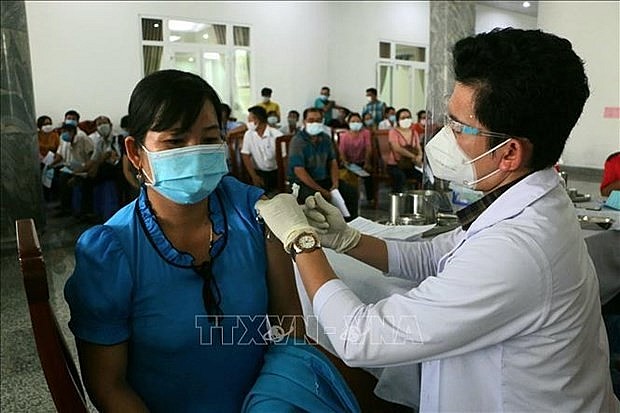 Illustrative image. Photo: VNA
Vietnam records 2,479 cases reported on September 17
Vietnam reported 2,479 new Covid-19 infections on September 16, according to the Ministry of Health.
The new infections lifted the country's total caseload since the pandemic broke out to 11,456,558.
On the same day, 69,654 patients were declared to be free from the disease, raising the total number of recoveries to 10,578,390. Meanwhile, there are 153 patients needing breathing support, cited VNA.
Meanwhile, the death toll increased to 43,138, as one fatality was logged on September 17.
More than 259.3 million doses of Covid-19 vaccines have been administered so far.
Vietnam pledges to create the best business environment for foreign investors
Prime Minister Pham Minh Chinh has affirmed Vietnam's commitment to creating the best business environment in line with the OECD Guidelines for Multinational Enterprises (OECD Guidelines) in the spirit of win-win, "harmonious benefits, shared risks" with investors.
On September 17, Prime Minister Pham Minh Chinh chaired a conference with foreign invested enterprises under the theme "Overcoming challenges, seizing opportunities, cooperating for development" which was virtually in Hanoi, connecting 63 centrally-run provinces and cities across the nation.
In his speech, The Government chief said besides difficulties and challenges, Vietnam has many opportunities to further spur its development, stressing that Vietnam continues to build and perfect a socialist-oriented market economy, a rule-of-law socialist State, and a socialist democracy.
Prime Minister Pham Minh Chinh chairs the conference. Photo: VOV
In the context of the world's unpredictable, complicated situation, Vietnam prioritises stabilising macro-economy, controlling inflation, and ensuring major balances of the national economy; managing monetary and fiscal policies in a harmonious, reasonable, effective and mutually supportive manner; and effectively implementing the socio-economic recovery and development program in order to create a favorable, safe and transparent business and investment environment, he said.
The nation will create a safe and transparent environment and favourable conditions for foreign investors to make long-term investments in the country in the spirit of equality; mutual development and benefit; responsibility for society, employees, and the environment, PM Chinh affirmed.
Vietnam is committed to creating the best business environment in line with the OECD Guidelines for Multinational Enterprises (OECD Guidelines), focusing on maintaining socio-political and macroeconomic stability; removing bottlenecks of the economy in terms of legal institution, infrastructure and human resources; developing supply chains and reducing transaction costs; building stable and highly predictable policies among others, he went on to say.
For foreign investment, Vietnam prioritizes attracting projects in the fields of high technology, innovation, research and development; facilitating Vietnamese enterprises' participation in the value chain; promoting digital, green and circular economies towards sustainable development, he noted.
He expected foreign-invested enterprises to continue to strengthen linkages and create favorable conditions for their Vietnamese peers to join in production and supply chains, contributing to making Vietnam a center in regional and global value chains as soon as possible.
The cabinet leader requested ministries, sectors and localities to effectively implement the guidelines of the Party, policies and laws of the State, and directions of the Government and the Prime Minister on national governance in a modern, effective and competitive manner; and perfecting institutions and policies on foreign investment cooperation.
Ministries and sectors were requested to work out plans and solutions to thoroughly solve difficulties facing foreign-invested enterprises; and focus on improving business investment environment and simplifying administrative procedures to make it easier for foreign firms to operate in Vietnam.
The PM said that priority should be given to further promoting support industries in order to create a breakthrough in forming new production capacity associated with science and technology application, innovation and digital transformation; and developing large-scale logistics centers.
He also used the occasion to thank FDI enterprises for their support and contributions to Vietnam's Covid-19 prevention and control efforts, and the country's socio-economic development and production and business recovery.
The PM believes that, with great efforts and close cooperation, investment and business cooperation activities will continue to grow stronger, towards the sustainable development of the parties.
Vietnam, French Community of Belgium look to enhance cooperation
Vietnamese Ambassador to Belgium Nguyen Van Thao appreciated the cooperation between Vietnam and the French Community of Belgium (Federation Wallonie-Bruxelles) as well as effective collaboration within the framework of the Francophonie community at a meeting with Prime Minister of the community Pierre-Yves Jeholet on September 16.
The diplomat thanked the Federation Wallonie-Bruxelles for its efforts to promote sustainable and human resources development in Vietnam through bilateral cooperation projects. He also affirmed that Vietnam will continue to closely coordinate to effectively implement the Cooperation Program for the 2022 - 2024 period that was signed in Hanoi in November 2021.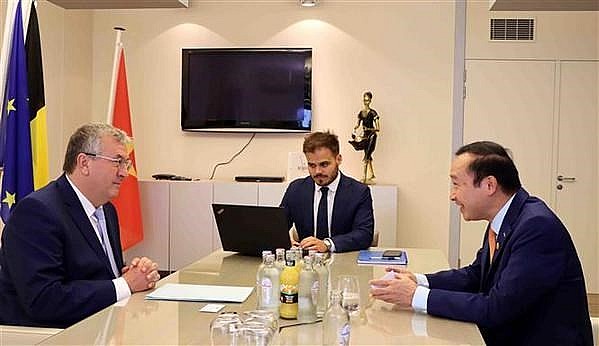 At the event. Photo: VNA
According to the ambassador, the strengthening of Vietnam-Belgium relations will effectively contribute to economic recovery efforts, ensure supply chains as well as a connection between the Association of Southeast Asia (ASEAN) and Europe.
He noted with pleasure that the EU-Vietnam Free Trade Agreement (EVFTA) has brought about positive results, with two-way trade between the two sides reaching EUR3.6 billion (US$3.6 million) in 2021, an increase of 15% compared to the pre-pandemic period.
Vietnam is currently the 15th largest trading partner of Belgium in the world, the 6th in Asia and the 2nd in ASEAN, cited VNA.
On this occasion, the Ambassador suggested the Federation Wallonie-Bruxelles hasten Belgium to soon complete the ratification of the EU-Vietnam Investment Protection Agreement (EVIPA).
He also asked the federation to coordinate in pushing up the exchange of delegations at all levels, cultural and people-to-people exchanges on the occasion of the 50th anniversary of diplomatic ties between Vietnam and Belgium.
For his part, Minister-Premier Jeholet said that he always attaches importance to and wishes to expand activities to strengthen bilateral cooperation with Vietnam, as well as work with the country to preserve the values of the Francophone Community.
He also pledged to urge relevant Belgian agencies to complete the ratification of the EVIPA.
Vietnam B2C retail e-commerce revenue to exceed US$16 billion this year
Vietnam's B2C retail e-commerce revenue this year is estimated at US$16.4 billion, marking the first year to reach this landmark, reported the Vietnam E-Commerce White Book 2022.
A representative of the Vietnam E-commerce and Digital Economy Agency (Ministry of Industry and Trade) said that Vietnam E-commerce White Paper was built to provide a comprehensive view of the situation of the country's e-commerce application under the impact of the pandemic in the global e-commerce picture this year, along with new legal regulations taking effect.
Similar to previously published publications, this White Paper is built from the results of a survey of nearly 5,000 consumers and about 10,000 businesses, along with aggregate data from a number of reputable organizations around the world.
The Covid-19 pandemic has seriously affected trade and service activities of Vietnam and the world last year, said the Vietnam E-commerce and Digital Economy Agency.
The negative growth of some service industries accounted for a large proportion, reducing the overall growth rate of the service sector and the whole economy.
In that context, Vietnam's e-commerce still maintained a stable growth rate at 16 per cent, retail revenue reached US$13.7 billion last year.
The proportion of e-commerce retail revenue in the total retail sales of goods and services reached 7 per cent, up 27 per cent over the same period in 2020.
Entering 2022, the Government's Decree No 85/2021/ND-CP dated September 25 last year amending and supplementing a number of articles of Decree No 52/2013/NĐ-CP dated May 16, 2013 on e-commerce officially came into effect.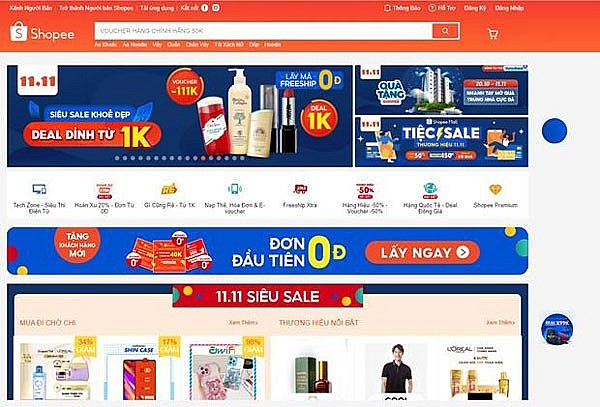 Many attractive promotions on e-commerce site Shopee. Photo: VNP
The legal framework for e-commerce activities has been improved to meet development requirements, especially in the context of Vietnam's e-commerce growing rapidly and strongly in recent years, accounting for an increasing proportion in the domestic trade system, contributing to building trust for consumers, as well as ensure the management role of the State.
Vietnam's e-commerce value will reach US$39 billion by 2025, ranking second in terms of e-commerce growth in Southeast Asia, VNS reported.
Total revenue of Vietnam's internet economy is forecast to reach US$57 billion by 2025, second only to Indonesia. Vietnam also has the second highest percentage of consumers shopping online in the region, after Singapore.
In addition, according to data published in the Vietnam E-commerce White Paper 2022, it is forecast that Vietnam's e-commerce economy would see a number of annual records this year.
Specifically, it is estimated that for the first time, the number of online shopping consumers in Vietnam will reach 57 million people and may reach 60 million.
The value of online shopping for the first time reached US$260 - 285 per person. The proportion of B2C e-commerce revenue will exceed 7 per cent, reaching from 7.2 per cent - 7.8 per cent market share in the total retail sales of consumer goods and services in Vietnam.
On a global scale, the Vietnam E-commerce White Paper 2022 forecasts that retail e-commerce revenue will reach US$5.545 billion this year, up about 12.7 per cent.
It is forecast that this number would reach US$7.385 billion by 2025.
World Cycling Day 2022 marked in Hue city
The central province of Thua Thien Hue hosted the award ceremony of the 'Hue-City of Bicycles' competition on September 17 in response to World Cycling Day.
The event was jointly held by the Vietnam Youth Union of Hue in collaboration with the German Agency for International Cooperation (GIZ) and Vietsoftpro Joint Stock Company.
Following over a month since the launch of the "Hue - Bicycle City" contest, the event has successfully captured the attention of Hue's residents who love cycling, with the organizers selecting 11 of the best works out of a total of 25 entries for the award.
The first prize in public voting was given to Chau Thi Ngoc Linh with a video clip introducing various interesting destinations for cyclists in the ancient capital, cited VOV.
The first prize awarded through the judging panel went to authors Nguyen Sinh Vu and Duong Nhat Nam who came up with the idea of ​​​​"Planning bicycle routes and arranging separate bicycle lanes on traffic routes in Hue city".
The same day saw the Youth Cycling event held in response to World Cycling Day on September 17. More than 40 young people have since utilized the Public Sharing Bike system - Hue Smart Bike which has been deployed since June in order to boost cycling along the green roads of Hue.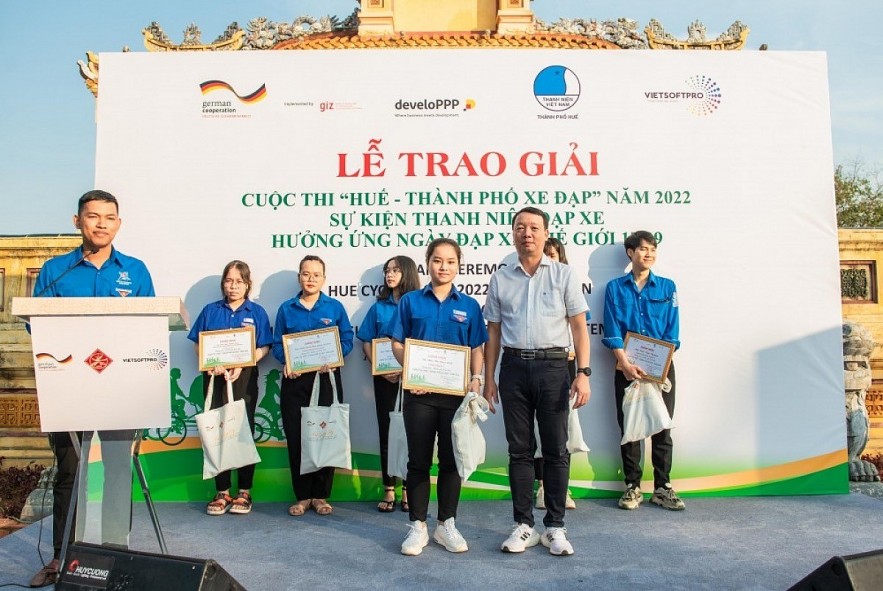 An award ceremony of the 'Hue-City of Bicycles' competition is held in response to World Cycling Day. Photo: congthuong.vn
The young generation will greatly contribute to spreading the bike-riding culture, promoting tourism development, and also helping to preserve and promote the various heritage values ​​of Hue, according to organizers.
With the ultimate goal of developing green transport for the central city, the Public Sharing Bike model in Hue will create favourable conditions in which both locals and tourists can participate in cycling and make use of bicycles as a means of public transport every day.
The use of bicycles combined with public transport is anticipated to create a more complete urban public transport network while simultaneously encouraging people to make use of public transport in order to reduce urban congestion, especially at peak hours.
The move will also help to significantly reduce greenhouse gas emissions and improve urban air quality, which is the trend of modern urban development moving towards green and sustainable urban development.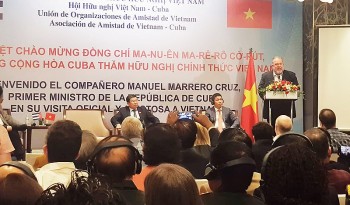 Friendship
Cuban Prime Minister Manuel Marrero Cruz met representatives from the Vietnam-Cuba Friendship Association in Hanoi on September 30, as part of his visit to Vietnam from September 28 to October 2.