Vietnam News Today (September 18): Vietnam Mulls 'Green Corridor' to Resume Domestic Flights
Vietnam News Today (September 18): Vietnam records 11,506 new Covid-19 cases; Vietnam-Cuba trade has ample room for growth; Vietnam mulls 'green corridor' to resume domestic flights; Extending lockdown, HCMC adjusts social, business activities.
Vietnam News Today (September 18) notable headlines
Vietnam records 11,506 new Covid-19 cases
Vietnam-Cuba trade has ample room for growth
Vietnam mulls 'green corridor' to resume domestic flights
Extending lockdown, HCMC adjusts social, business activities
Vietnam pilots Internet speed measuring stations abroad
Vietnamese marketing campaign about nurses wins international award
Seminar promotes Vietnam – France trade cooperation
Steel company supplies oxygen to treat Covid-19 patients
Transport ministry urges Covid-19 vaccination support at key traffic projects in southern region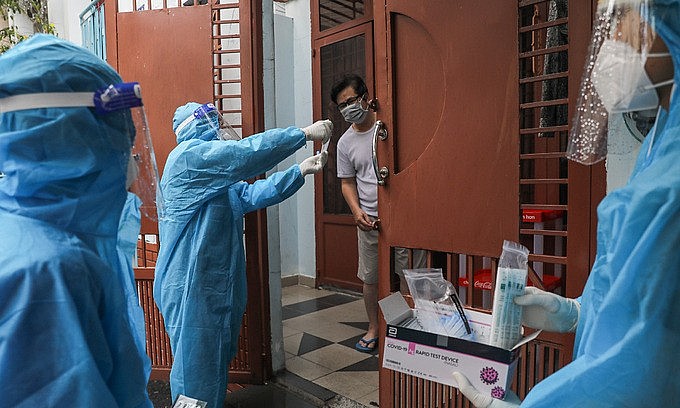 Medical staff instruct a man on Covid-19 testing in HCMC's Binh Thanh District, August 23, 2021. Photo: VnExpress
Vietnam records 11,506 new Covid-19 cases
Health authorities confirmed 11,506 community transmissions of the novel coronavirus Friday, pushing up the domestic tally in the current wave to 663,233.
HCMC continued to lead the number of new cases with 5,972, followed by Binh Duong with 4,013.
On average, Vietnam has been recording11,090 cases a day for the last seven days, cited VnExpress.
The death toll since the pandemic started has increased to 16,637 after 212 deaths were announced Friday. The average death rate per day for the past seven days is 250.
Total recoveries rose to 433,465 after 9,914 were announced Friday.
More than 26.8 million people have received at least one Covid-19 vaccine shot and over 6.1 million have been fully vaccinated.
Vietnam-Cuba trade has ample room for growth
Vietnam and Cuba see ample room for trade growth as two-way trade is valued at just about US$200 million annually.
Although bilateral trade saw a downward trend in the recent two years, Cuba remains among 10 countries with the highest trade turnover with Vietnam in America.
Of note, to support Vietnam in the fight against Covid-19, Cuba presented the Southeast Asian nation thousands of doses of Interferon Alfa 2B for treatment of Covid-19 patients and will cooperate with Vietnam in technology transfer of the medicine.
President Nguyen Xuan Phuc's Cuba visit on September 18-20 is expected to serve as a bridge to tighten the two countries' relations, thereby facilitating the sustainable development of bilateral trade.
The Vietnam-Cuba Trade Agreement was inked in Hanoi in November 2018 during an official visit to Vietnam by then President of the Council of State and the Council of Ministers of Cuba Miguel Diaz Canel.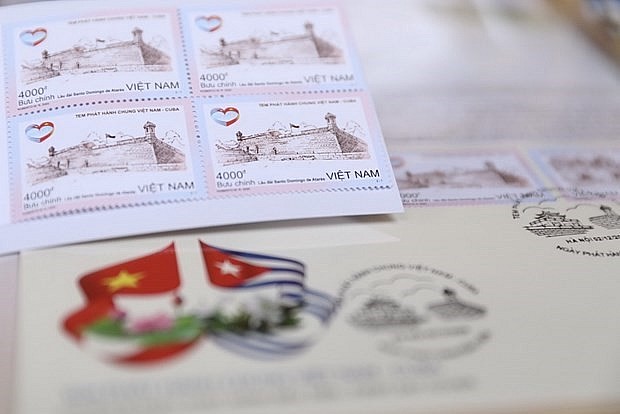 A postal stamp commemorates the Vietnam-Cuba relations. Photo: VNA
However, the rate of capitalizing on the trade agreement remains modest due to various reasons, including the prolonged pandemic and difficulties facing Cuban firms, reported VNA.
Bilateral trade hit US$53.7 million in the first six months of this year, with Vietnam exporting goods worth 51.4 million USD to Cuba, statistics from the Ministry of Industry and Trade (MoIT)'s European-American Market Department showed.
Vietnam mainly ships rice, coffee, chemical products, garment-textile, footwear and computers and accessories; and imports vaccines and pharmaceutical products from the Latin American country.
The MoIT, over the years, has sent delegations to participate in the Havana International Fair (FIHAV), Cuba's most important biennial trade fair. The ministry also supports Cuba's pavilions at trade fairs hosted by Vietnam.
Cuba sent a strong delegation of 30 corporations and firms across the fields of electrical mechanics, renewable energy, industry and biological products, among others, to attend the Vietnam Expo held in 2018.
At present, four projects of Vietnam are operating in the Latin American nation, including those at the Mariel Special Development Zone.
The two countries have nurtured a special traditional relationship which serves as a foundation for cooperation across all sectors, especially economy, trade and investment, experts affirmed.
The Vietnam-Cuba Intergovernmental Committee cooperation mechanism and other legal frameworks have created a momentum for development of bilateral cooperation in all fields.
Vietnam mulls 'green corridor' to resume domestic flights
The Airports Corporation of Vietnam is planning a safe Covid environment to recommence domestic aviation.
A representative from the corporation (ACV), which operates 21 airports in the country, said Thursday the "green corridor" would comprise "green people," or staff and passengers that have been fully vaccinated and tested negative, "green infrastructure," meaning airports, aircrafts, and buses disinfected before and after operation, and "green procedures," in which staff and passengers must follow all Covid-19 prevention protocols including wearing masks, disinfection, and keeping a distance from each other.
According to the ACV, the green corridor would work as a framework for health and safety measures to reduce Covid-19 risks in the aviation industry.
The framework is developed based on the Ministry of Health and the International Civil Aviation Organization (ICAO) guidelines, according to VnExpress.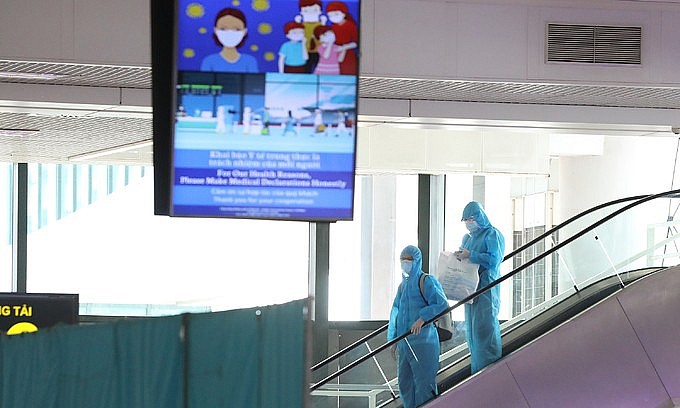 Two passengers wearing protective suits arrive at Hanoi's Noi Bai airport from HCMC, July 2021. Photo: VnExpress
Airlines will develop specific criteria for "green passengers", "green aircraft", and "green procedures", while the ACV regulates criteria for green infrastructure and green operation process.
It is expected that within next week, all related units would agree on the detailed content for the "green corridor" to start implementation.
The ACV representative said the "green corridor" is the basis for restoration of domestic operations and gradually opening international flights.
The ACV last week proposed to the Transport Ministry the resumption of domestic flights at a frequency equal to 50-70 percent of the time before the fourth wave appeared in late April.
Passengers traveling on domestic flights are divided into three phases.
The first phase would be on trial for two weeks to serve passengers who are state workers on missions, Covid-19 frontline forces, passengers that can provide official documents allowing them to leave their localities of departure and reach localities of arrival, passengers that have been fully vaccinated, completed their isolation period, or those carrying documents confirming they have recovered from Covid-19 within 12 months.
The second phase will be applied for two weeks, with more passengers allowed to fly, including those that have stayed in areas under Directive 16 for at least 14 days. The directive is the most stringent social distancing rule that bans all from leaving home, except for "essential purposes."
For phase three, all restrictions would be lifted.
Currently, the aviation industry still operates cargo flights in combination with passengers who are officials, state workers, and frontline forces.
Extending lockdown, HCMC adjusts social, business activities
HCM City has decided to extend social distancing until September 30 to thoroughly implement all pandemic prevention and control measures.
The granting of travel permits to certain people allowed to travel will continue. The travel permits will be granted by the city police and are valid until September 30.
The city pledges to provide food and essential goods to people under plans announced weeks before, VNN reported.
In areas which have basically controlled the outbreak, including districts 7, Cu Chi and Can Gio; and export processing zones and industrial zones in districts, and hi-tech zones, some activities will be allowed as follows:
People can go to markets once a week under plans approved by the People's Committee.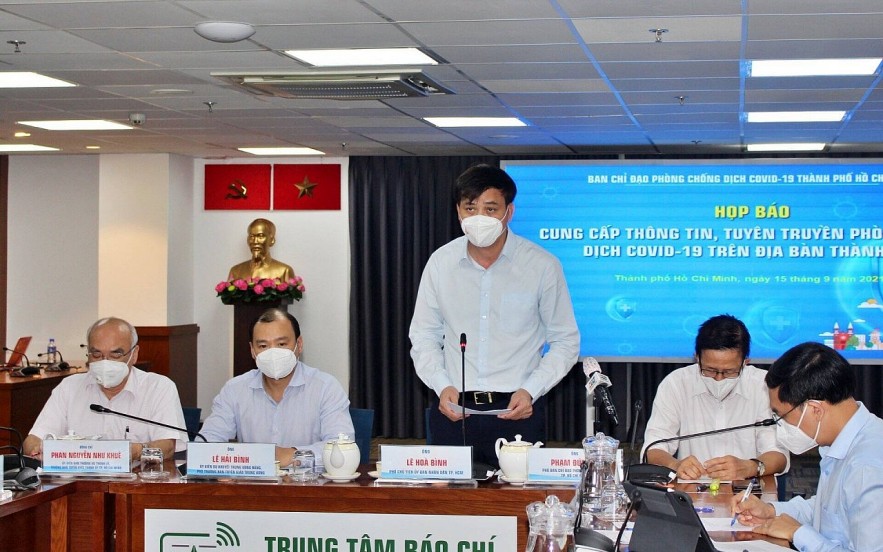 The press conference. Photo: VOV
Some production and business fields will be allowed to operate in accordance with plans set by the People's Committee and local authorities. They must observe the criteria on safety issued by the People's Committee.
The HCM City People's Committee said that shippers (belonging to freight and forwarding companies using technology) are now allowed to travel among districts and in Thu Duc City from 6 a.m. to 9 p.m. every day.
The shippers must follow regulations on pandemic prevention and control. They have to take a Covid test once every two days. The city will pay for the testing until September 30.
HCM City will allow enterprises and business households in some fields to operate from 6 a.m. to 9 p.m. every day, including postal service, telecom, office informatics equipment, and teaching and learning aids.
Food services must not be provided on site. Food shops can only provide take-away products. Eateries have to operate under the 'three on-site' mode and only receive orders online.
Delivery services for enterprises and business households are allowed to operate within only one district or within Thu Duc City. They must strictly apply measures to prevent and control the pandemic, and test their staff once every two days.
The workers on site must have at least one vaccination shot and must take a Covid test once every five days. The testing fees will be paid by the enterprises and business households.
Vietnam pilots Internet speed measuring stations abroad
The Vietnam Internet Network Information Centre (VNNIC), in collaboration with NetNam JSC, has piloted two i-Speed Internet speed measuring stations in Singapore and Hong Kong (China) since September 5.
The move aims to support Internet users and service suppliers evaluate the quality of international Internet connections, especially in the current period when demand for Internet services for online working and studying are surging due to the Covid-19 pandemic, cited VNA.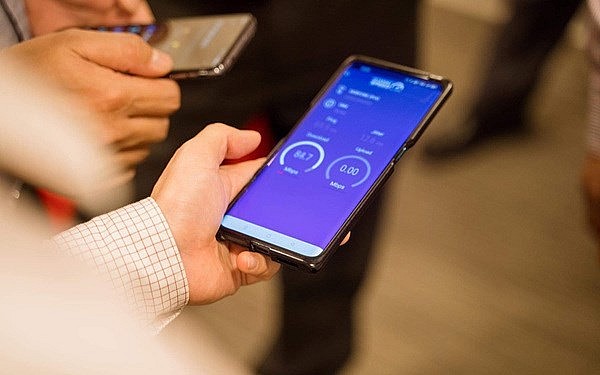 Photo: ictvietnam.vn
On September 17, the centre released a report on measuring results at the two stations in the first week of operations, which showed that the average download speed was 38.76 Mbps, while the upload speed was 30.38 Mbps on the fixed broadband and 34.34 Mbps and 14.41 Mbps, respectively, on the wide broadband, lower than the average results measured in stations inside the country.
On the foundation of the results, the centre will launch officials measuring stations in regional and international Internet hubs.
The Internet speed measuring system via I-Speed app of the VNNIC was launched in January 2020, helping users check the speed of their Internet connections and quickly evaluate network service quality.
Recently, the Viettel Military Industry and Telecoms Group (Viettel) has announced that it and Ericsson and Qualcomm Technologies have successfully set up a 5G data transmission network with speed of over 4.7Gb per second, 40 times higher than the 4G network and two times higher than the existing 5G system. With the result, Viettel has become one of the telecommunications service suppliers with the highest 5G speed in Asia.