Vietnam News Today (September 4): Strict Lockdown Continues in 10 Hanoi Districts
Vietnam News Today (September 4): Vietnam records second highest single-day Covid-19 tally; Strict lockdown continues in 10 Hanoi districts; Covid-19 testing compulsory for all residents in lockdown areas; Experts propose solutions to supply chain disruptions caused by Covid-19.
Vietnam News Today (September 4) notable headlines
Vietnam records second highest single-day Covid-19 tally
Strict lockdown continues in 10 Hanoi districts
Covid-19 testing compulsory for all residents in lockdown areas
Experts propose solutions to supply chain disruptions caused by Covid-19
Quang Ninh aims to become country's economic driving force
Vietnam's investment shifting could boost economic resilience
Vietnam enjoys rising position in international arena: Ambassador
Vietnam ready to act as a bridge between Russia and ASEAN: Minister
PM inspects pandemic control at grassroots level in southern hotspots via online system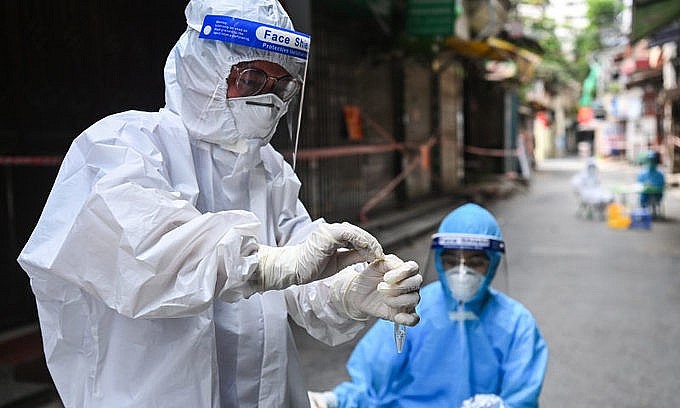 Medical staff take samples of residents in Thanh Xuan District, Hanoi. Photo: VnExpress
Vietnam records second highest single-day Covid-19 tally
Vietnam confirmed 14,922 new local Covid-19 cases Friday, the second highest single-day tally since the beginning of the pandemic.
Ho Chi Minh City recorded a new single-day record of 8,499 cases, up 2,536 from Thursday. It was followed by neighboring industrial hubs Binh Duong (3,676) and Dong Nai (986).
The highest single-day figure was 17,409 on Aug. 27.
338 deaths were recorded Friday with 250 of them in HCMC. 11,344 patients were discharged in the country.
Vietnam has recorded 501,649 Covid-19 cases since the beginning of the pandemic, cited VnExpress.
The country has vaccinated 20.83 million people, in which 2.96 million have received two doses.
Hanoi will continue to impose social distancing in 10 districts for another 15 days starting September 6.
Strict lockdown continues in 10 Hanoi districts
Hanoi will continue to impose strict lockdown in 10 districts and partly impose it in five others which are considered high-risk for 15 days starting September 6.
Residents in Zone 1, or red zone, must "stay where they are" due to high risks of Covid-19 contagion because of high population density, the city orders Friday.
Directive 16, considered the most stringent with people required to stay at home unless for food and emergencies, will continue to be applied there.
Zone 1 includes 10 districts: Tay Ho, Ba Dinh, Cau Giay, Hoan Kiem, Dong Da, Hai Ba Trung, Thanh Xuan, Ha Dong, Thanh Tri, Hoang Mai.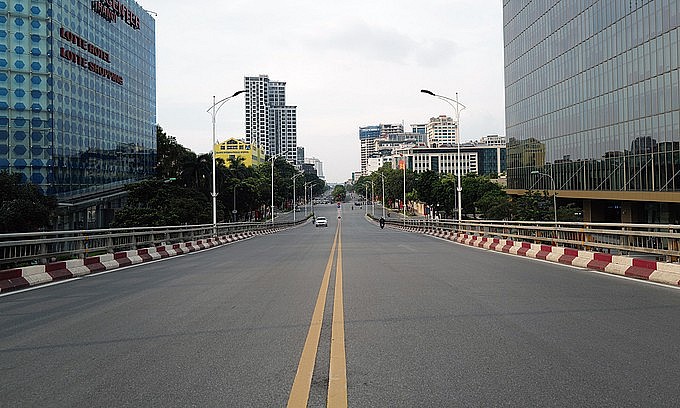 An intersection between Kim Ma Street and Nguyen Chi Thanh Street in Hanoi is almost empty on September 2, 2021. Photo: VnExpress
The zone will also include a part of five districts: Nam Tu Liem, Bac Tu Liem, Hoai Duc, Thanh Oai and Thuong Tin.
All 30 roads connecting Zone 1 with Zones 2 and 3 will be closed. There will be 23 checkpoints to prevent traveling between the zones.
Zone 2, which comprises five districts: Long Bien, Gia Lam, Dong Anh, Soc Son and Me Linh, will operate under Directive 15.
This directive requires suspension of social events, bans gatherings of 20 people or more in one place and of 10 people or more outside workplaces, schools and hospitals. A minimum distance of two meters between people in public places should be ensured, according to VnExpress.
The same directive applies to Zone 3, which comprises mostly of outskirt districts. But there will be stricter requirements for manufacturing facilities which will be mobilized to support Zone 1.
The goal of dividing the city into three zones is to limit commuting from high-risk areas to other areas.
The city now has six major clusters in the districts of Hoang Mai, Ba Dinh, Dong Da, Thanh Xuan and Dan Phuong.
The capital has recorded 3,670 Covid-19 cases in the fourth wave, with 58 added Friday.
The Ministry of Health has demanded localities to test all residents in social distancing areas from now until Sep. 15.
Health authorities will test people at their homes at least three times during the period, either by rapid tests or PCR.
Covid-19 testing compulsory for all residents in lockdown areas
The Ministry of Health on September 2 requested localities that are implementing social distancing measures to test all of their residents for Covid-19 at least three times from now till September 15.
The request was made as a large number of infections have been recorded daily in the community over the past weeks.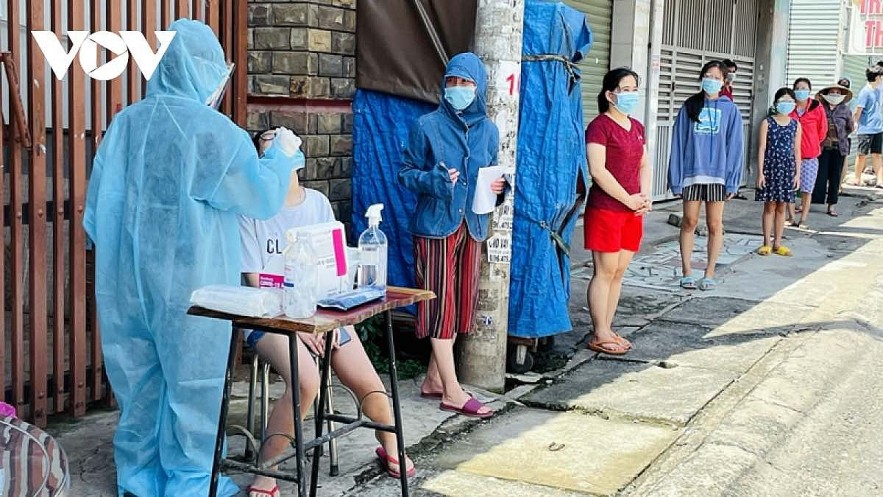 Extensive testing is the best way to early detect and saparate F0 cases from the community. Photo: VOV
The ministry said extensive testing will help early locate, detect, isolate and treat positive cases, while slowing the spread of the virus in the community, reported VOV.
According to the ministry, testing will be conducted in high- and very high-risk areas. Healthcare workers will come to every door to take samples every two or three days, and the results will be returned during the day.
Testing will also be conducted in other areas, with samples to be taken every five to seven days.
Vietnam recorded 13,197 new coronavirus infections in 39 cities and provinces nationwide on September 2, with 7,255 cases detected in the community.
Experts propose solutions to supply chain disruptions caused by Covid-19
A group of experts of the Hanoi-based National Economics University have put forward several immediate solutions to remove bottlenecks and connect disrupted supply chains that have impacted localities hit by Covid-19.
The group note in their report released on September 1 that current production and transportation models have caused numerous difficulties for local firms in terms of costs, health risks, and accommodation.
"Many highly-qualified workers in big cities such as Hanoi, Ho Chi Minh City, Hai Phong, and Da Nang where social distancing measures are in place, cannot come to work, disrupting the labour force. Different control measures and different understanding of the concept of 'essential goods' in localities have hindered the transportation and circulation of goods," says the report.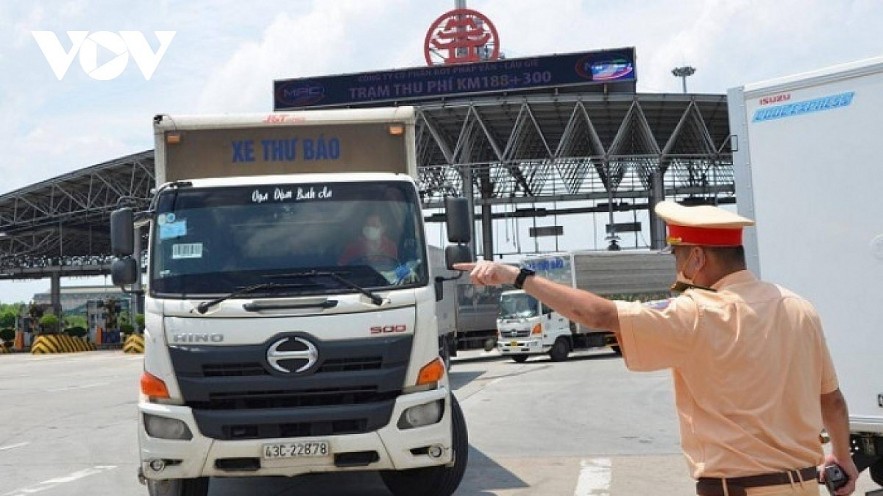 Hanoi capital has established five transshipment points for goods into the inner city. Photo: VOV
Experts state that the Covid-19 outbreak has caused supply chain disruptions in several key industrial sectors, including industrial manufacturing, garments, and seafood processing. They attribute these problems to the implementation of social distancing measures that have come into place in various localities, which in turn has led to a lack of materials and labour force for production, VOV reported.
Most notably, many agricultural products are now ripe and need to be harvested, although they cannot be consumed due to disruptions occurring in transportation, according to the report.
To remove these bottlenecks, experts suggest that the Government direct relevant ministries, agencies, and localities to ensure the smooth transportation of goods and production materials.
Local businesses should therefore be allowed to use employees who are fully vaccinated or who test negative within 72 hours, especially those operating in industrial parks and enterprises that have supply chains separate from residential areas.
Experts also suggest that the Government cross out the phrase 'essential goods' and instead replace it with the phrase of 'goods and services that are not allowed for circulation'.
Vehicles should also be allowed to move freely on roads on the condition that drivers are fully vaccinated or test negative within 72 hours. In addition, drivers should not park, stop, and disembark locally. Vehicles will not be required to stop for inspection at checkpoints, but instead undergo automatic identification methods which will be installed at these sites.
Quang Ninh aims to become country's economic driving force
The northern coastal province of Quang Ninh has seen a rapid speed of development in its urban areas in recent years.
The early approval of the province's urban development programme to 2030 is a prerequisite to focus all investment resources and soon build Quang Ninh into a centrally-run city by 2030.
Quang Ninh has a fairly developed urban system, but there is a difference in terms of the development speed and scale of each area. Fast-growing and large-scale urban centres develop along main traffic routes, concentrated in coastal areas, associating with the development of tourist, service, industrial, and port areas.
To become a centrally run city by 2030, Quang Ninh province set strategic goals many years ago, cited VNA.
Nguyen Tuong Van, Chairman of the provincial People's Committee, said the province's target is to develop an urban area system towards a sustainable direction and to build and develop a green economy based on science, technology, and human resources.
One of Quang Ninh's breakthrough strategies in the process of accelerating urban planning is investing in infrastructure systems. Up to now, many important infrastructure works have been completed, contributing to the synchronous connection of transport infrastructure in the province and the region. It also helps promote the socio-economic development of the whole region.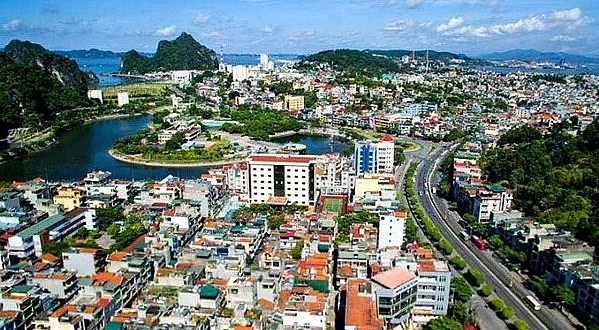 Ha Long city in the northern province of Quang Ninh. Photo: VNA
During its development process, Quang Ninh always determines that planning must be the first and foremost step. The province has spent a lot of resources and at the same time called for strategic investors to participate in the implementation of key projects, creating a stronger driving force for socio-economic development.
Regarding the planning work, it was determined that the planning must be relevant to the socio-economic development strategy of the country, the region, and that of sectors and fields.
It was necessary to make a breakthrough based on potential and advantages of the province, ensuring modernity, synchronisation and meeting the international standards.
Since its first planning, the province has invited leading consulting firms such as McKinsey Group, BCG (the United States), Nikken Sekkei and Nippon Koie (Japan) to get involved in. These plannings have closely followed the development space of the province, assuring the connectivity to promote the strengths of each locality in the province and the Red River Delta, and the northern key economic region.
To realise the goal of developing Quang Ninh into a civilised and modern city, the province has identified three strategic breakthroughs in the urban development programme to 2030. They were developing high quality human resources in association with increasing population scale and quality; speeding up the development of synchronised and modern strategic infrastructure, and promoting local cultural identities while shortening the income gap.