Vietnam News Today (August 30): Vietnam Wins Silver at Army Games 2021 Sea Cup
Vietnam News Today (August 30): Vietnam confirms 12,796 new Covid-19 cases, over 8,800 recoveries; Program provides 10,000 medication bags to Covid-19 patients under home treatment in HCMC;
Vietnam News Today (August 30) notable headlines
Vietnam confirms 12,796 new Covid-19 cases, over 8,800 recoveries
Program provides 10,000 medication bags to Covid-19 patients under home treatment in HCMC
Vietnam wins silver at Army Games 2021 Sea Cup
Vietnam's overseas investment soars 74 percent in eight months
Goalkeeper Lam rejoins Vietnamese teammates for World Cup training
PM approves power bill cut for companies affected by Covid-19
Hue city to become capital of Ao Dai
Health declaration service integrated into safe tourism app
Vietnam ranks second in AK rifle team shooting event in Algeria
Photo: VOV
Vietnam confirms 12,796 new Covid-19 cases, over 8,800 recoveries
A total of 12,976 fresh Covid-19 cases, including 12,663 local and 44 imported infections were confirmed on August 29 by the Ministry of Health.
The southern province of Binh Duong and Ho Chi Minh City led the way in term of infection numbers with 5,414, and 4,957, respectively.
The four localities recording hundreds of local cases included Long An (533), Dong Nai (377), Tay Ninh (234), and Tien Giang (155).
Hanoi capital also saw a growing number of infections with 133 recorded on August 29, up 72 from one day earlier, cited VOV.
The nation has gone several days in a row recording more than 12,000 domestic cases in a single day, thereby bringing the overall number of cases in the fourth Covid-19 wave to over 431,000. Among them more than 217,000 have been recovered from the virus.
As many as 344 deaths were confirmed on August 29, most of them in HCM City. The Covid-19 fatality count is now at 10,749, or 2.1% of the total infections and 0.4% higher than the Covid-19 mortality rate in the world.
The nation has so far registered a total of 435,265 positive cases since the pandemic hit the nation early last year, while the number of recoveries rose to 219,802 after 8,813 patients were released from hospital after making a full recovery from the disease.
More than 19.4 million people have been vaccinated against the coronavirus, with over 2.4 million people being fully vaccinated with both doses.
Program provides 10,000 medication bags to Covid-19 patients under home treatment in HCMC
A program presenting 10,000 medication bags for Covid-19 patients under home treatment in Ho Chi Minh City, the biggest pandemic hot spot at present, was launched by the city's Union of Business Associations (HUBA) on August 28.
HUBA said there are more than 73,000 Covid-19 patients under home quarantine and treatment in HCM City, many of whom have encountered difficulties in accessing medication. Given this, the programme provides medication for them so as to help reduce the number of cases that get worse and need to be hospitalized, thus easing the overload at hospitals.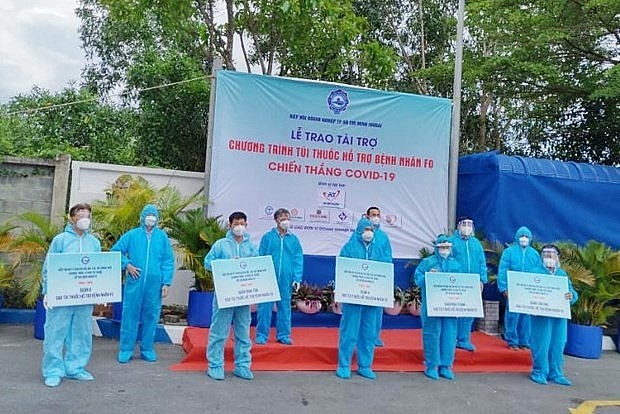 The launch of the medication bag presentation programme on August 28. Photo: VNA
Each of the 10,000 medication bags contains six types of drugs along with detailed instruction on how to use the drugs, reported VNA.
They will be transferred to member associations of HUBA from August 28 to September 2 to deliver to disadvantaged patients via the grassroots healthcare network.
"Red-zone" areas that houses a large number of Covid-19 patients and workers will be prioritized by the program, HUBA President Chu Tien Dung said, expressing his hope that the program will receive more support from philanthropists and enterprises nationwide.
As of late August 28, Vietnam recorded 422,469 cases of Covid-19 in the fourth wave of infections began in late April, including over 200,000 in HCM City.
Vietnam wins silver at Army Games 2021 Sea Cup
The Vietnamese combat ship team was ranked second in the Sea Cup contest of the 2021 Army Games behind Russia, the People's Army newspaper reports.
On Saturday, the Vietnamese Navy team participated in the use of rescue equipment stage, the final one of the Sea Cup.
Vietnamese naval personnel celebrate after completing the use of rescue equipment competition at the 2021 Army Games in Vladivostok, Russia, August 27, 2021. Photo: People's Army newspaper
Entering the final stage, Vietnam and Russia were jointly ranked first. The contest ended with Vietnam winning the Sea Cup silver medal, behind Russia and ahead of China.
Vietnam had earlier shared first rank with Russia at the ship damage control stage, and ranked second in naval skills behind Russia, also ahead of China, cited VnExpress.
This year was the first time that Vietnam was sending its vessels to participate in the Sea Cup. It was one of seven contestants, the others being Russia, China, Azerbaijan, Iran, Myanmar and Kazakhstan.
The 2021 Army Games, hosted by Russia, is being held from August 22 to September 4. A total of 260 teams from 45 countries and territories are participating in the event, competing in 34 competitions.
Vietnam's overseas investment soars 74 percent in eight months
Vietnam's overseas investment surged 74.1 percent year on year to US$575 million in the first eight months of 2021, according to the Ministry of Planning and Investment.
The amount included US$150.1 million poured into 40 new projects, equivalent to 68.7 percent of the figure in the same period last year, while US$424.9 million was added to 13 existing ones, rising 3.8-fold.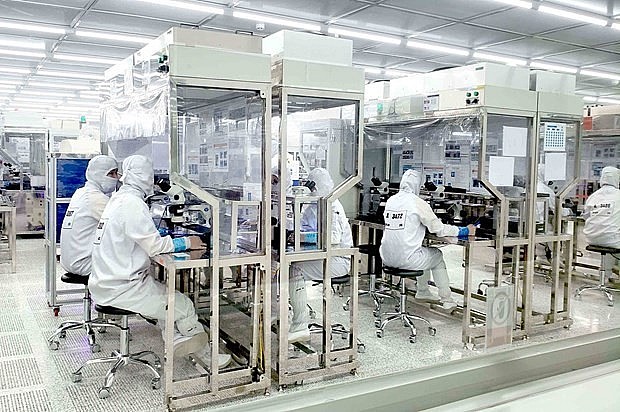 Vietnamese investors channelled 575 million USD into overseas projects between January and August. Photo: VNA
With US$270.8 million, science - technology tops the 13 sectors Vietnamese investors poured money into, accounting for 47.1 percent of the total overseas investment, cited VNA.
It is followed by wholesale and retail with US$150.9 million, equivalent to 26.2 percent; agriculture, forestry, and fisheries; and administrative activities and support services.
Vietnamese investments were channeled into 20 countries and territories during the eight months.
The US was the top destination with US$302.8 million, making up 52.7 percent of the total. Cambodia, Laos, and Canada followed, respectively attracting US$89.4 million, US$47.8 million and US$32.1 million.
As of August 20, Vietnam had 1,428 valid investment projects overseas, the majority of which, 36.3 percent, operated in the mining industry and 15.3 percent in the agro-forestry-fishery sector.
Laos was the largest recipient of Vietnamese investment with 23.8 percent, Cambodia 13.1 percent, and Russia 12.9 percent, the ministry's Foreign Investment Agency said.
Goalkeeper Lam rejoins Vietnamese teammates for World Cup training
Goalkeeper Dang Van Lam joined Vietnam national team on Saturday as they prepared for their first match at the World Cup final qualification round in Saudi Arabia.
Lam, a star keeper who has been with Vietnam through major successes in recent years, has been absent ever since the 0-0 match with Thailand at Hanoi's My Dinh Stadium in November 2019 in the second round of the World Cup qualifiers. He has gone to Japan to play for Cerezo Osaka since, and then the Covid-19 pandemic hit.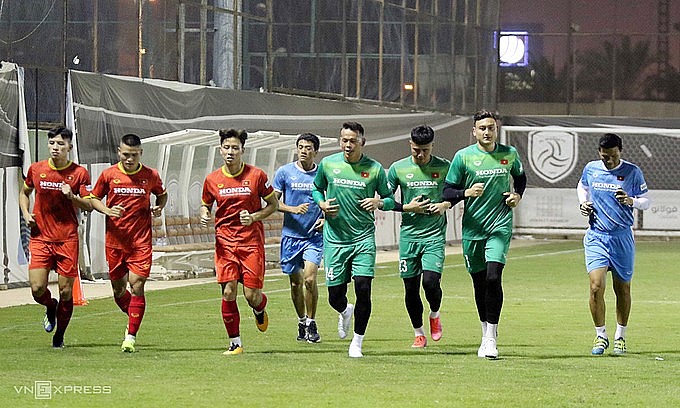 Dang Van Lam (second from right) practices with Vietnam national football team in Saudi Arabia. Photo: Vietnam Football Federation
Filling in his void at the time was veteran goalkeeper Bui Tan Truong.
To rejoin his teammates for the upcoming qualifiers, Lam flew to Doha, Qatar before riding a jet for the Vietnamese football team to Saudi Arabia. Besides Lam, coach Park Hang-seo also brought Truong and Nguyen Van Toan for the goalkeeper position, reported VnExpress.
After having their samples collected for Covid-19 testing at the Riyadh airport, Lam and his teammates were quarantined until their results returned. Upon testing negative, they began to practice immediately Saturday evening.
This is the first time Vietnam have managed to enter the final round of qualifiers for the World Cup.
They lack several key midfielders and defenders due to injuries.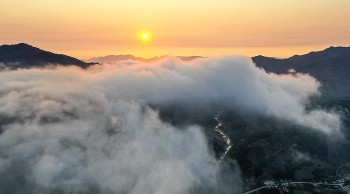 Multimedia
The gorgeous dawn behind a sea of fluffy white clouds creates a wonderful and beautiful picture of Truong Son Dong peak, Quang Ngai.