Vietnam News Today (September 3): Hanoi to Extend Strict Social Distancing in Covid-19 High Risk Areas
Vietnam News Today (September 3): Hanoi to extend strict social distancing in Covid-19 high risk areas; Automatic extension granted for foreigners stranded due to Covid-19;
Vietnam News Today (September 3) notable headlines
Hanoi to extend strict social distancing in Covid-19 high risk areas
Automatic extension granted for foreigners stranded due to Covid-19
Vietnam Airlines pilots IATA Travel Pass on flight to Europe
Two Vietnamese universities enter top 500 THE rankings 2022
Vietnam coach plans wise game against Saudi Arabia
Online book exhibition highlights Vietnam's glorious history
Germany to continue promoting relations with Vietnam: President
Vietnam attends CPTPP ministerial-level talks
Passenger traffic at airports plunges in August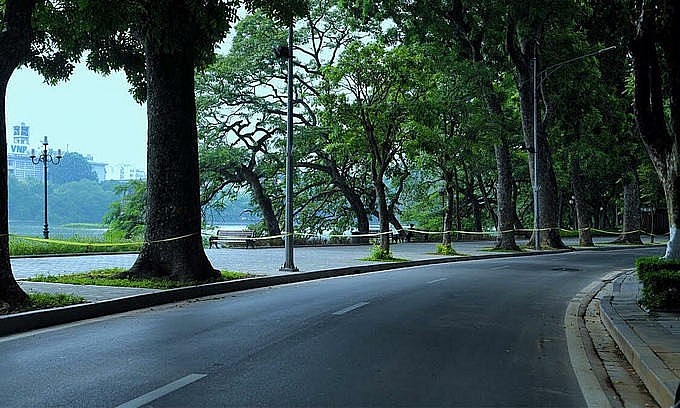 The area near the Sword Lake of Hanoi's Hoan Kiem District on the morning of September 2, 2021. Photo: VnExpress
Hanoi to extend strict social distancing in Covid-19 high risk areas
Hanoi will maintain strict Covid-19 restrictions in high risk areas while easing them in lower risk areas after Sept. 6
Hanoi's Party Committee said the city will apply the strictest social distancing rules in areas with very high risks of Covid-19 exposure, or red zones, requiring everyone to "shelter in place."
Restrictions will remain in place also for lower risk areas and safe zones, but less strict than Directive 16 and more strict than Directive 15, the committee said.
Directive 15 requires suspension of social events, bans gatherings of 20 people or more in one place and of 10 people or more outside workplaces, schools and hospitals. A minimum distance of two meters between people in public places should be ensured, cited VnExpress.
Directive 16 requires people to stay home and only go out for basic necessities like buying food or medicines or to work at places that are still allowed to open.
Hanoi has recorded more than 3,600 community Covid-19 cases since the fourth coronavirus wave hit Vietnam in late April.
The capital has undergone several social distancing orders since late July but outbreaks have been more unpredictable than earlier, with new clusters still being detected, showing gaps in the city's coronavirus control measures, Dinh Tien Dung, secretary of the municipal Party Committee, said last Sunday.
The city has six clusters that are still developing in a complicated fashion: Alley No.24 on Kim Dong Street, Giap Bat Ward in Hoang Mai District, Ngoc Ha market in Ba Dinh District, Van Mieu and Van Chuong wards in Dong Da District, Thanh Xuan Trung ward in Thanh Xuan District and Tan Lap Commune in Dan Phuong District.
Automatic extension granted for foreigners stranded due to Covid-19
The Department of Immigration has issued a notice regarding the an automatic extension for foreigners stranded in the country due to Covid-19.
In line with this policy, foreigners who entered the nation on visa waivers, e-visas or tourist visas after March 1, 2020, are entitled to an automatic extension until September 30. Indeed, they will be able to depart the country without having to apply for an extension.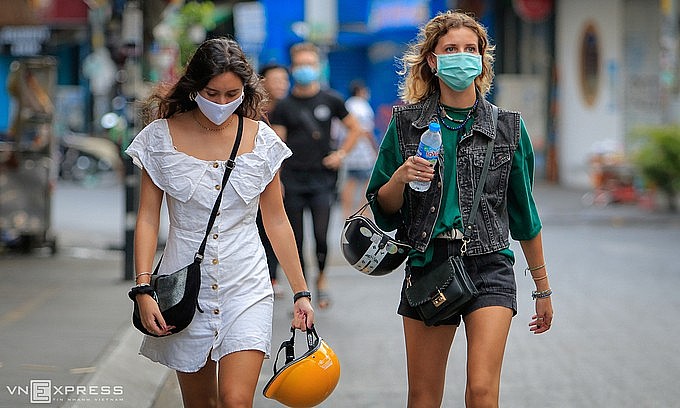 Foreign tourists walk on Bui Vien backpacker street in downtown HCMC, March 2020. Photo: VnExpress
For those who entered the nation before March 1, 2020, the same automatic extension until August 31 can be considered, subject to provision of proof that the person is actually stranded in the country due to Covid-19, according to VOV.
This must be accompanied by a diplomatic note with Vietnamese translation from relevant diplomatic missions, or a written document from relevant Vietnamese authorities confirming that the person must undergo mandatory quarantine or treatment for Covid-19, or proof of other force majeure.
Foreign citizens are required to present the diplomatic note or a written document regarding their departure from the country.
During their "automatic stay extension" period, foreigners are required to complete temporary residence and health status declarations.
Vietnam Airlines pilots IATA Travel Pass on flight to Europe
National flag carrier Vietnam Airlines successfully piloted the IATA Travel Pass on a flight from Hanoi to London on September 2 with the participation of 18 passengers.
This part of the cooperation agreement signed by the carrier and the International Air Transport Association (IATA) in May.
A checkin booth of Vietnam Airlines at an airport. Photo: VNA
The travel pass integrates leading digital solutions such as no-touch air travel, biometric data and e-health certificates with Covid-19 test result and vaccination.
With a quick and simple procedure, it is hoped to facilitate safe and easy travel between nations in the context of the pandemic.
The airline is set to pilot the mechanism in flights from Hanoi to Seoul on September 12; to London on September 21; and weekly ones to Tokyo, cited VNA.
Vietnam Airlines' Flight VN310 between Hanoi's Noi Bai airport and Tokyo's Narita airport on August 12 was the first of the carrier to pilot the application of the IATA Travel Pass.
The airline hopes that the successful test of the electronic health passport will be a basis for the Vietnamese Government to consider officially recognizing this mechanism, speeding up the resumption of international flights in the near future.
Two Vietnamese universities enter top 500 THE rankings 2022
Ton Duc Thang University and Duy Tan University have made it into the Times Higher Education (THE)'s World University Rankings 2022.
In the latest rankings, Duy Tan University scored 100 points in the criteria of citation to take the lead as the top university in the global rankings, while Ton Duc Thang University earned a total of 99.3 points to be ranked 18th in the world.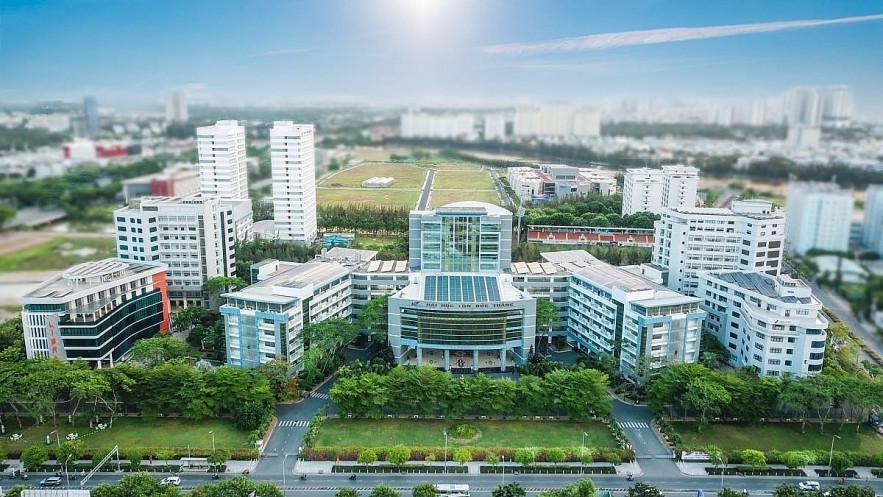 Ton Duc Thang university. Photo: VOV
The three other Vietnamese representatives to make the list include the Hanoi National University, which is in the top 1001 to 1200, while the Vietnam National University in Ho Chi Minh City and the Hanoi University of Science and Technology are among the top 1201+.
THE's World University Rankings 2022 is based on 13 performance indicators, with a primary focus on four core criteria, including teaching, research, knowledge transfer, and international outlook, reported VOV.
According to THE rankings, Oxford University leads the way for the sixth year in a row, while China had two representatives featured among the top 20 for the first time. Meanwhile, the US was the most represented country with 183 educational institutions in the list.
This year's rankings attracted the participation of more than 1,600 universities across 99 countries and territories worldwide.
Vietnam coach plans wise game against Saudi Arabia
Although his team is the clear underdog, coach Park Hang-seo believes Vietnam can overcome difficulties to win their World Cup qualifying match against host Saudi Arabia.
"Saudi Arabia is the leading team in Asia and has home advantage. So the match will be very difficult for Vietnam. But we are well prepared and ready to fight," Vietnam's head coach said.
"Vietnam is the weakest of the six teams in Group B. So Saudi Arabia will be determined to win three points by applying pressure from the beginning. We need to find a way out and to aim for a victory," Park said. "Having to play on the opponent's home turf is also added pressure on Vietnam. But I believe my players will play well and wisely to overcome difficulties."
Saudi Arabia has already played five times in the World Cup, while Vietnam is making it to the final round of qualifiers for the first time.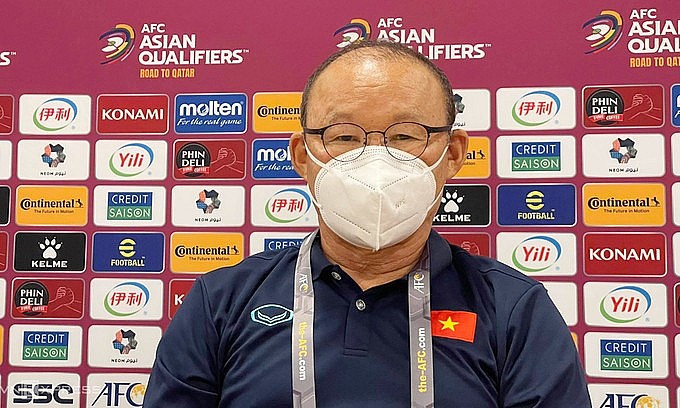 Coach Park Hang-seo in a press conference ahead of Vietnam and Saudi Arabia's World Cup qualifier, September 1, 2021. Photo: VnExpress
Vietnam had earlier lost 0-4 and 0-5 to Saudi Arabia in the 2002 World Cup qualifiers, reported VnExpress.
When a Saudi Arabian reporter wanted to know how Coach Park could change history, he said: "I don't want to answer that question because I was not Vietnam's coach then. But I am sure that this year will be different."
"This is the first time Vietnam has reached the final round of World Cup qualifiers, but we also have experience against opponents from the Middle East in the Asian Cup 2019 and the Asian Games 2018. I believe my players will play well.
"We will uphold the spirit of Vietnam," Park added. "Especially, the match is taking place on Vietnam's National Day. I hope the players are energized to bring joy to the fans."
The clash between Vietnam and Saudi Arabia will take place at the King Saud University Stadium on Sept. 2 (1 a.m. Sept. 3 Hanoi time).
The Vietnamese players will later return to the My Dinh National Stadium in Hanoi to prepare for their next clash with Australia on Sept. 7.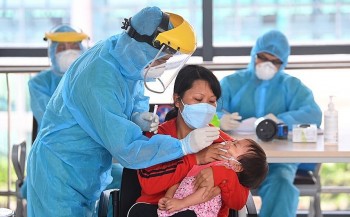 National
Nearly 72 million vaccine doses have been administered nationwide, with 20.7 million people getting their second shot.