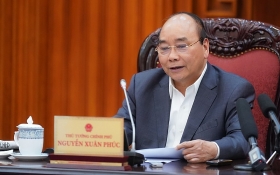 Vietnam Prime Minister Nguyen Xuan Phuc.
Viet Nam was invited to this year's summit as the current ASEAN Chair, according to Foreign Ministry Spokesperson Le Thi Thu Hang.
World's leaders from 20 major economies will join in the first-ever G20 video summit, which is presided by Saudi Arabia. The leaders are expected to agree that the outbreak is a threat to humanity and will set up a mechanism to share information and experiences in fighting the disease, the paper said, citing a draft statement to be discussed at the summit.
"As the world confronts theCOVID-19pandemic and the challenges to healthcare systems and the global economy, we convene this extraordinary G20 summit to unite efforts towards a global response," Saudi Arabia's King Salman said on Twitter.
The World Bank and International Monetary Fund want the G20 to agree on immediate bilateral debt relief to any of the world's 76 poorest countries that make such a request. The UN has made a separate appeal for a £2bn humanitarian response fund to help the world's poorest countries.
But expectations about the practical impact of the summit, bringing together countries representing more than 80% of global GDP, are low. In a sign of the G20's defensive posture, the summit has been hastily assembled largely to prevent countries imposing barriers on exports of medical equipment, or launching competitive efforts to find a potentially hugely profitable vaccine.
Many world leaders are overwhelmed by the financial cost of responding to their individual national crises, and a few are even questioning how long they can tolerate the damage inflicted on their economies by lockdown measures.
The virus has spread around the globe, infecting more than 470,000 people and killing more than 20,000, since it emerged in central China late last year.
Last week, Prime Minister Nguyen Xuan Phuc has proposed ASEAN counterparts to defer the upcoming 36th ASEAN Summit and the ASEAN - New Zealand Leaders' Summit, until the later half of June 2020 in Da Nang.
The move was made as the novel coronavirus (COVID-19) has continued to spread across the region and the world, prompting the World Health Organization to declare it a pandemic on March 11.
In his letter addressed to his ASEAN peers, PM Phuc wrote that "Viet Nam will further consult with ASEAN Member States on the specific date of the Summits."
Over the past time, Viet Nam has made active efforts and at this stage, has completed necessary preparations for the 36th ASEAN Summit, affirmed Phuc.
Given the complex developments of the COVID-19, "thanks to your support and that of other ASEAN leaders, the Chair has issued an ASEAN Chairman's Statement reflecting our collective will to strengthen cooperation in response to the COVID-19 outbreak," Phuc added.
VNF/VGP/Reuters/ The Guardian