Malaysia's king and Queen go into coronavirus quarantine after palace staff test positive
The novel coronavirus crisis has reached the Malaysia's royal family, as the king and queen have been placed under quarantine, after seven palace staff tested positive for COVID-19.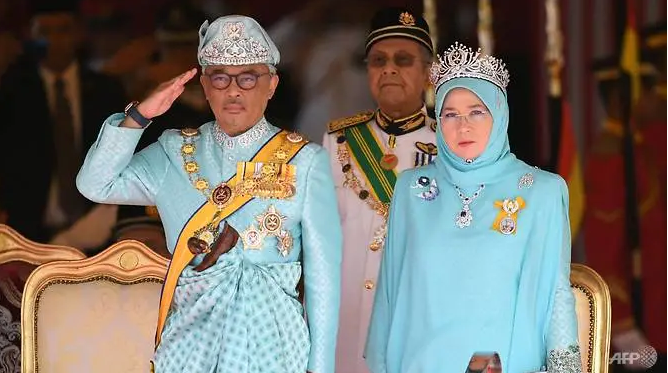 Sultan Abdullah Sultan Ahmad Shah with the queen on Jan 31, 2019 at the welcoming ceremony for the 16th King of Malaysia. (Photo: AFP/ MOHD RASFAN)
In a statement on Thursday (Mar 26), the Istana Negara said that all seven staff members are currently in stable condition at the Kuala Lumpur Hospital.
The Health Ministry is currently identifying the source of infection for the staff members.
Comptroller of the Royal Household Ahmad Fadil Shamsuddin said the king and queen have taken the test at Istana Negara and were tested negative for COVID-19.
"Following this, Their Majesties are now observing a 14-day self-quarantine, starting yesterday (Wednesday)," he added.
The palace statement also said that all close contact and the relevant staff members have been instructed to take the COVID-19 test.
"To ensure that exposure to the virus can be controlled and curbed at Istana Negara, all close contact and the relevant staff members have been instructed to quarantine for 14 days".
The statement also said that the king has been advised not to meet with Prime Minister Muhyiddin Yassin for the weekly pre-Cabinet meeting that was scheduled on Wednesday, and all subsequent sessions until the pandemic situation is over.
There are 2,031 COVID-19 cases in Malaysia, with 23 deaths, as of 5pm on Thursday.
On Wednesday, Muhyiddin announced that the movement control order, which was to be enforced from Mar 18 to Mar 31, has now been extended another two weeks to Apr 14.
More than 3 billion people around the world were living under lockdown on Wednesday as governments stepped up their efforts against the coronavirus pandemic which has left more than 20,000 people dead.
As the number of confirmed cases worldwide soared past 450,000, UN Secretary General Antonio Guterres warned that only a concerted global effort could stop the spread of the virus.
Prince Charles, 71, has tested positive for COVID-19, his office said on Wednesday. His wife, Camilla, 72, tested negative.
Queen Elizabeth's son is the first senior royal to test positive for the virus, as well as the first British royal family member. Prince Albert II of Monaco tested positive last week, according to NPR. And as Variety noted, both royals attended a WaterAid charity event on March 10, where they "sat opposite from one another in a cramped boardroom."
A royal source said that the earliest Charles would have been infectious was March 13. Charles and Camilla went to Highgrove House, his residence in west England, on March 13 and then travelled to their Birkhall residence on the Balmoral estate in Scotland on Sunday.
Queen Elizabeth left London for Windsor Castle on March 19. She is with her 98-year-old husband, Philip. When asked if the queen or Philip had been tested for coronavirus, Buckingham Palace declined to comment.
Archduke of Austria Karl von Habsburg also tested positive last week./.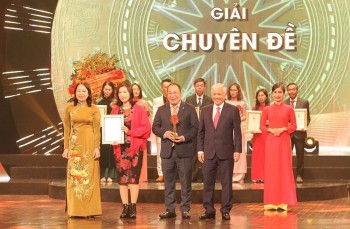 Overseas Vietnamese
VietnamTimes (Viet Nam Union of Friendship Organizations) is a reliable address for overseas Vietnamese to quickly and objectively update political, economic, cultural, and social news. The agency has created a helpful forum and connection between expatriates and the motherland.