Vietnam Proposes Initiatives to Strengthen Cooperation in ASEM
Vietnam has proposed many measures and initiatives to strengthen cooperation within the Asia-Europe Meeting (ASEM)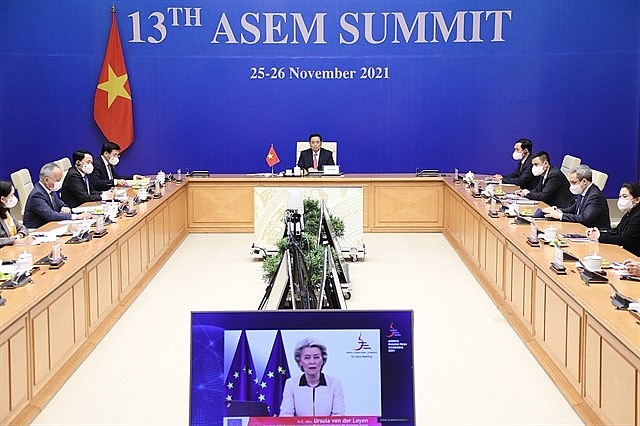 Prime Minister Phạm Minh Chính attended the 13th summit of the Asia-Europe Meeting (ASEM 13) via video conference. Photo: VNA
As a founding member of the Asia-Europe Meeting (ASEM), Vietnam has played an active and proactive part in the ASEM process and proposed many measures and initiatives to strengthen cooperation within the ASEM in all spheres, Deputy Minister of Foreign Affairs Dang Hoang Giang has said.
The official made the comments in an interview granted to the press after Prime Minister Pham Minh Chinh attended the 13th ASEM Summit and activities via videoconference from Nov. 25-26 at the invitation of his Cambodian counterpart Samdech Techo Hun Sen, according to VietnamPlus.
According to Giang, PM Chinh put forward four proposals to enhance cooperation among Asian and European countries while addressing the 13th ASEM Summit on Nov. 26.
The PM said the countries should stay united and join hands to boost global cooperation since no country can single-handedly deal with global issues.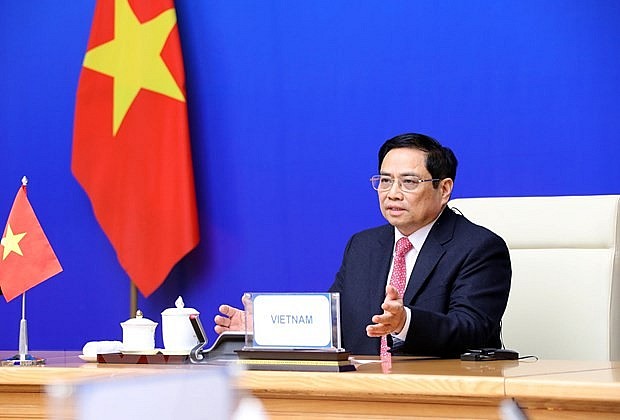 Prime Minister Pham Minh Chinh speaks at the 13th ASEM Summit. Photo: VNA
The government leader said they should cooperate to share and ensure equal access to Covid-19 vaccines and treatment drugs and developed nations should assist developing countries to improve the capacity of coping with global issues.
PM Chinh said it was necessary to step up digital transformation and human resource training for developing and poor countries, while enhancing public-private partnership to mobilise resources for development.
To contribute to this process, Vietnam will organise an ASEM roundtable meeting on the digital economy in 2022.
Besides, the PM also shared Vietnam's efforts and experience in Covid-19 response and socio-economic recovery and development, especially the country's implementation of measures to safely and flexibly adapt to and effectively control the pandemic.
PM Chinh said that through these measures, Vietnam stood ready to strengthen cooperative ties with ASEM nations for the target of peace, development and prosperity in both Asia and Europe.
Multilateral cooperation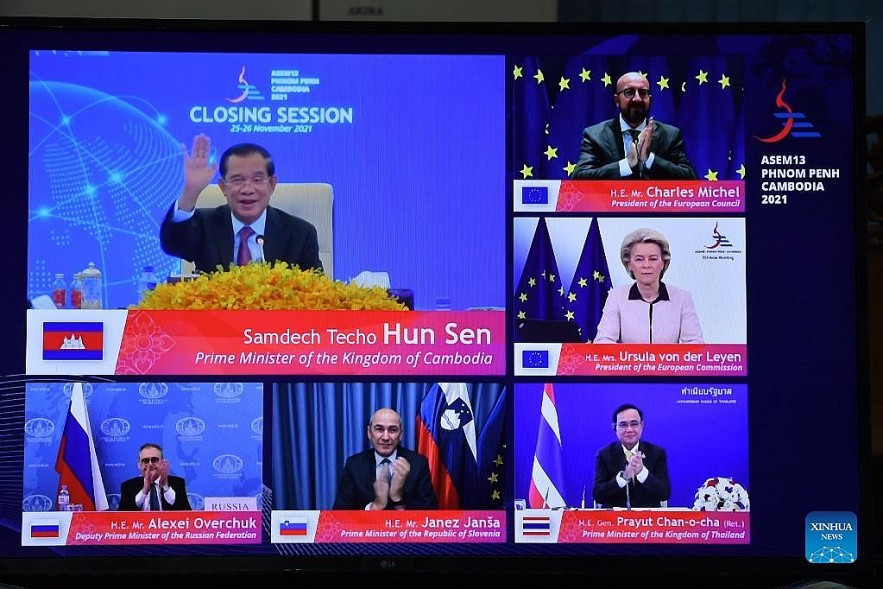 The closing session of the 13th Asia-Europe Meeting (ASEM) Summit. Photo: Xinhua
During the summit, ASEM leaders discussed joint efforts and multilateral cooperation in addressing regional and global challenges, pandemic response, promoting inclusive and sustainable economic growth and recovery, and strengthening social and cultural connections, Viet Nam News reported.
They also shared their views on the political, economic and social situation in the two continents and discussed directions to further promote ASEM cooperation.
They spent a lot of time discussing solutions to deal with the Covid-19 pandemic and regain growth momentum. These include facilitating the circulation of essential goods and timely access to vaccines, technology transfer and expansion of vaccine production scale.
In addition to maintaining a sustainable supply chain, facilitating trade and investment, green transformation, and digital transformation, they emphasised the importance of strengthening Asia – Europe connectivity.
They also shared the common perception that it is necessary to strengthen cooperation to ensure a peaceful and stable environment for development. They reaffirmed their commitment to maintaining peace, stability, ensuring maritime security and safety, freedom of navigation at sea and in aviation, and not obstructing economic activities in accordance with international law, especially the 1982 United Nations Convention on the Law of the Sea..
Established in 1996, the Asia-Europe Meeting is an informal platform for dialogue and cooperation between Asia and Europe.
With its 53 members (30 European and 21 Asian countries plus the EU and the ASEAN Secretariat), it is the biggest international gathering of leaders after the UN General Assembly.
The European group within ASEM comprises the 27 EU member states as well as Norway, Switzerland and the United Kingdom.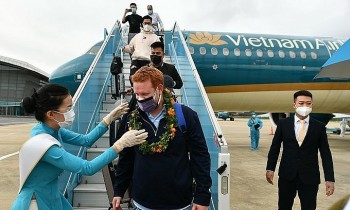 National
Vietnam News Today (Jan. 29): Vietnam records 14,892 new local Covid-19 cases; PM orders prioritizing pandemic control for safe and warm Tet; Vietnam scraps rapid Covid test requirements for int'l passengers; Vietnam-Australia trade hits all time high in 2021.