Vietnam Ranks 5th Among 20 Countries of NFT Owners
According to Finder.com's Global NFT Adoption report, Vietnamese Internet users are more likely to own NFT than other Internet users globally.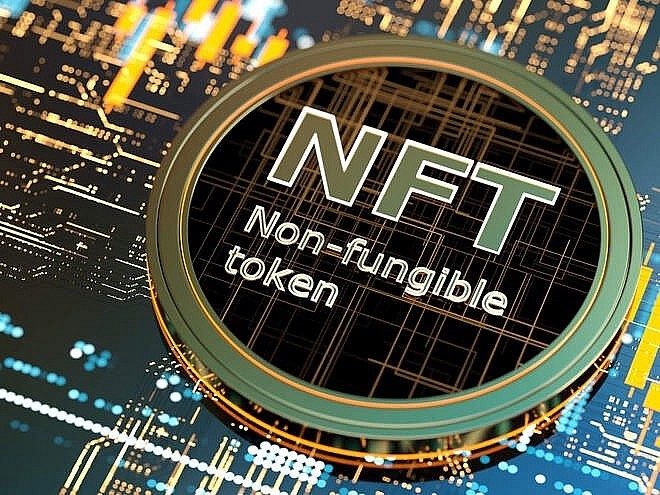 NFT (Non-fungible token) is a type of digital asset with distinctive properties. Illustration
Non-fungible tokens (NFTs) or cryptographic tokens are unique digital signatures or tokens created by using blockchain technology, in particular using relevant platforms that operate on blockchains, which are used for certifying ownership of digital files of real or intangible assets.
As non-fungible tokens (NFT), a blockchain technology, appalls the art world after helping artists sell their digital pieces for millions of U.S. dollars, Vietnamese hopefuls are also expecting a radical shakedown from the launch of the country's first ever NFT-based art marketplace Cong Troi.
Finder.com's survey of more than 28,000 Internet users shows that 17.4% of Vietnamese Internet users own NFT, much higher than the global average of 11.7%.
This puts Vietnam in 5/20 position, ahead of countries and regions such as Singapore, Hong Kong and Australia.
An additional 11.6% of people plan to own NFT in the future which means the adoption rate will hit 29.1%, and Finder.com crypto editor Keegan Francis says that is a conservative forecast.
"NFT in Vietnam is still in its early stages. The percentage of Vietnamese Internet users who are currently aware of NFT is 38% and we expect the adoption rate to increase with awareness.
"Men are currently the biggest adopters, of which 22.7% report owning an NFT compared to 12.4% among women."
The report shows that the Philippines has the highest percentage of NFT holders (32%), followed by Thailand (27%), Malaysia (24%), UAE (23%) and Vietnam (17%).
Japan has the smallest share of NFT holders (2%), followed by the UK and US with 3% each.
Which country has the most NFT owners?
The Philippines has the most NFT owners (32%) out of the 20 countries compared, followed by Thailand (27%), Malaysia (24%), the UAE (23%) and Vietnam (17%). On the other end of the spectrum, Japan has the smallest percentage of Internet users with NFTs (2%), followed by the UK and the US (3% each), Germany (4%), Australia (5%) and Canada (6%).
During the 1970s and 1980s, international art dealers arrived in Vietnam, an uncharted territory of the art world, to snatch the country's invaluable artworks back home at nominal prices.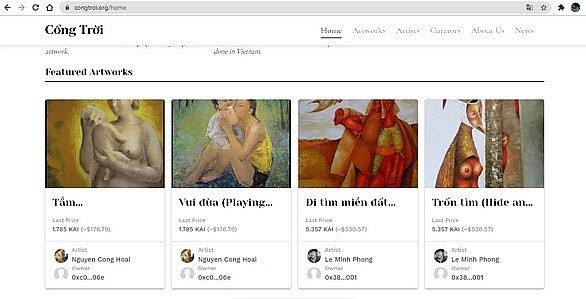 Screenshot shows user interface of Cong Troi, Vietnam's first homegrown non-fungible tokens (NFT) trading platform.
Fast forward to the 2010s, artworks from the iconic graduates of the erstwhile Fine Arts College of Indochina, namely To Ngoc Van, Tran Van Can and Nguyen Gia Tri, whose influences are still seen in Vietnamese art till this day, have just started gaining exposure at the international auction houses, despite having been revered by art lovers worldwide for years.
Now, as the emergence of NFT bode winds of change, Vietnam's art enthusiasts are seeing a chance to rise to the occasion, according to the Tuoitrenews.
Looming risk
Ever since the Beeple bombshell, NFT has consistently made headlines, which draws hordes of hopeful investors into the digitized art trading platforms.
However, experts are also showing skepticism of a new Tulip mania in the making, with risk of market crash looms above each purchase.
On Cong Troi's website, a piece by artist Luong Luu Bien currently holds the crown as the highest priced artwork, being listed at nearly $1,000.
It is revealed that the trading platform takes a 10-percent commission for each transaction successfully made on the website.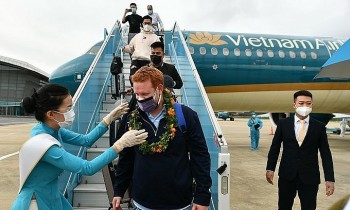 National
Vietnam News Today (Jan. 29): Vietnam records 14,892 new local Covid-19 cases; PM orders prioritizing pandemic control for safe and warm Tet; Vietnam scraps rapid Covid test requirements for int'l passengers; Vietnam-Australia trade hits all time high in 2021.