Vietnam Returning to Normalcy
Positive signs have been seen in the socio-economic life in Vietnam although the Covid-19 pandemic remains complicated and unpredictable.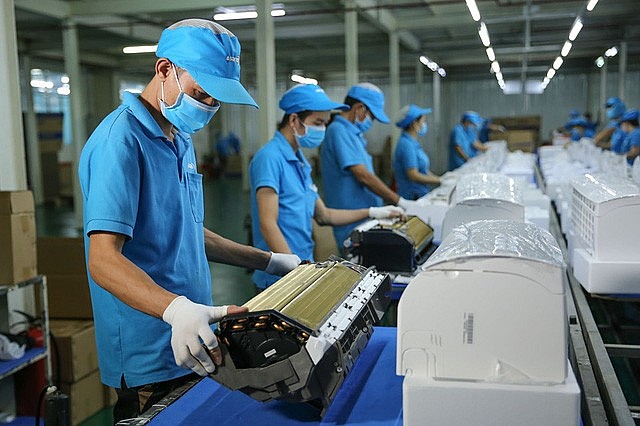 Vietnam's economic outlook in 2022 is optimistic. Photo: VGP
Enterprises are ramping up production to meet rising numbers of export orders while workers, protected by vaccination, are heading back to cities, Nhan dan (People) newspaper said.
Throughout the country, major transport projects are being accelerated to make up for the delays caused by coronavirus. Foreign investment continues to rise while private investment is flowing strongly to the economy through the establishment of new companies and the resumption of "hibernating" enterprises.
Vietnam's economic outlook in 2022 is optimistic after two consecutive years of below-target growth due to the pandemic.
In its latest report, the World Bank took note of Vietnam's strong economic indicators ahead of the Lunar New Year thanks to a vaccination rate of over 73%. Industrial production has continued to grow; total retail sales and consumer services recorded positive growth for the first time since late April 2021; the trade balance maintained a surplus despite decelerating exports; foreign investment pledges and disbursement made a solid start; and credit in January grew at a faster-than-expected rate.
Standard Chartered has stated that Vietnam's medium-term outlook remains positive, with economic growth expected to reach 6.7% in 2022 and 7% in 2023. Vietnam continues to be an important link in the global supply chain and preferred destination of many enterprises. Investment in Vietnam is forecast to recover in 2022 following the hiatus due to Covid-19.
Fitch Ratings is also upbeat about Vietnam's economy, forecasting growth of 7.9% in 2022 and 6.5% in 2023 as a result of recovery in the domestic market and strong export growth.
According to experts, reviving the economy after the pandemic cannot rely on a few drivers only but needs an overarching policy. As such, the Government's Resolution 11 on the socio-economic recovery and development programme has outlined many specific measures for each field, with nearly VND350 trillion (USD15.3 billion) to be injected into the economy.
It is notable that most of the resources and measures will focus on opening the economy and promoting public investment. In the first days of spring, Prime Minister Pham Minh Chinh made an inspection tour of major transport projects to help remove the obstacles facing such projects and urge those in charge to accelerate the disbursement of investment capital.
The final pieces of aviation, tourism, education and entertainment activities are also being restored, clearly signifying the return to a new normal life. Only when enterprises resume their operations, people have stable incomes, and consumer activities return to normal will support activities be truly meaningful. The drivers for economic recovery are "operating" to take the Vietnamese economy back to the region of growth. Strong recovery and development in 2022 will lay a solid foundation for Vietnam's development journey ahead.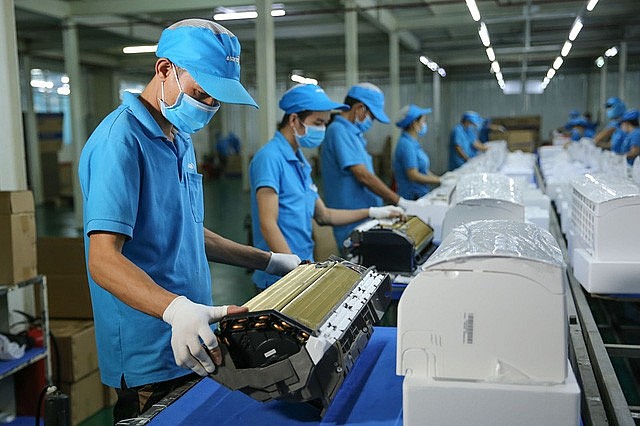 Fitch Ratings is also upbeat about Vietnam's economy, forecasting growth of 7.9% in 2022. Photo: Vietnam Economic News
VOV said Vietnam's manufacturing industry recorded a steady increase in output and orders in January while the number of jobs also rose for the second consecutive month.
It cited a report of London-based information provider IHS Markit showing the Vietnam Manufacturing Purchasing Managers' Index (PMI) rose to 53.7 in January 2022 from 52.5 in December 2021.
The numbers mirror a solid improvement in business conditions that was the most marked since April last year. Both output and new orders increased at a high rate in the opening month of the year as customer demand continued to enhance.
Experts attributed the improvement in total new orders to foreign enterprises' activities, with the fastest growth rate since November 2018.
Companies are also confident in the production outlook for 2022. About 60 percent of respondents expected an increase in output, reflecting the highest level of optimism in the past three years.
A rise in employment was recorded in January, as companies continued to rebuild their workforce following the Delta wave of the pandemic in 2021.
According to IHS Markit, the increase in employment enabled manufacturers to keep on top of workload despite a sharper growth of new orders.
Ready ready for tourism reopening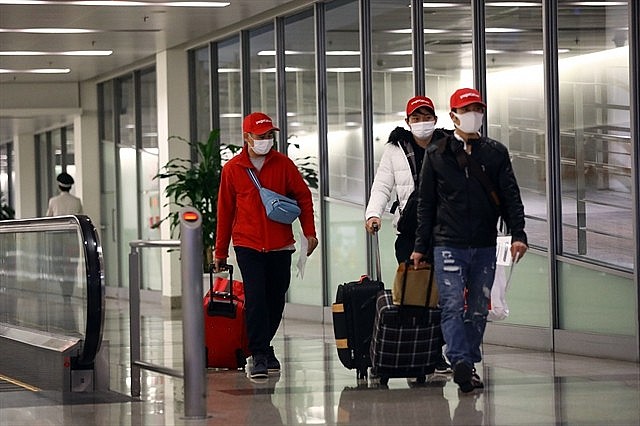 Passengers at Noi Bai International Airport. Photo: VNA
Almost two years on from the border being shut, Vietnam's tourism sector is ready to welcome back foreign tourists from next month, according to Viet Nam News.
In an effort to accelerate economic recovery and revive the tourism sector, the Vietnamese Government decided to fully reopen its borders to foreign tourists from March 15, about three months earlier than previously planned.
Domestic airlines were allowed to resume regular international flights. Restrictions on flight frequency, quarantine and testing requirements were abolished or loosened. Tourists now only need to have a certificate showing a negative Covid-19 test result (test taken within 24 hours prior to arrival in case of rapid test, or 72 hours in case of RT-PCR test).
This policy is in line with other Southeast Asian countries that are planning to fully reopen their borders.
According to Dinh Viet Thang, general director of the Civil Aviation Authority of Vietnam, now is a good time to open as it not only facilitates airlines to restore and re-use their existing capacity, but also presents them an opportunity to access new markets at a time when not all international airlines have resumed their full services./.