Vietnamese People In India Celebrate Lunar New Year
Nearly 100 people of Vietnamese in Chennai (India) attended the Community New Year - Homeland Spring program organized by the Vietnamese Embassy in India on February 15.
Attending the event were Vietnamese Ambassador to India Pham Sanh Chau and Ms. Kavitha Dutt - Honorary Consular Candidate of Vietnam in Chennai.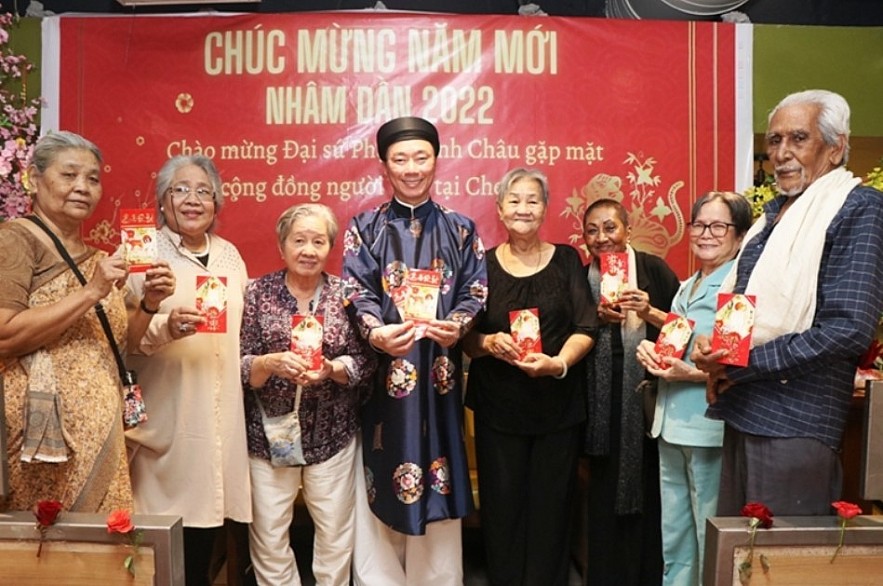 Ambassador Pham Sanh Chau gave lucky money to Vietnamese people in Chennai. Photo: Vietnamese Embassy in India
After struggling through the terrible COVID-19 pandemic, the Vietnamese Embassy in India has made efforts to organize the program "Tet of the Community - Homeland Spring Program" in Chennai. This is an opportunity for Vietnamese people in Chennai to meet and exchange on the occasion of the new year.
On behalf of the Vietnamese community in Chennai, Ms. Alima - President of the Association thanked the Embassy for always caring and creating conditions for Vietnamese in Chennai to attend major events such as National Day on September 2, erecting statues President Ho Chi Minh in New Delhi, especially the meeting with Chairman of the National Assembly Vuong Dinh Hue on his business trip to India. Ms. Alima highlighted that thanks to these activities, Vietnamese people in India always look to the Fatherland with a passionate patriotism despite the distance.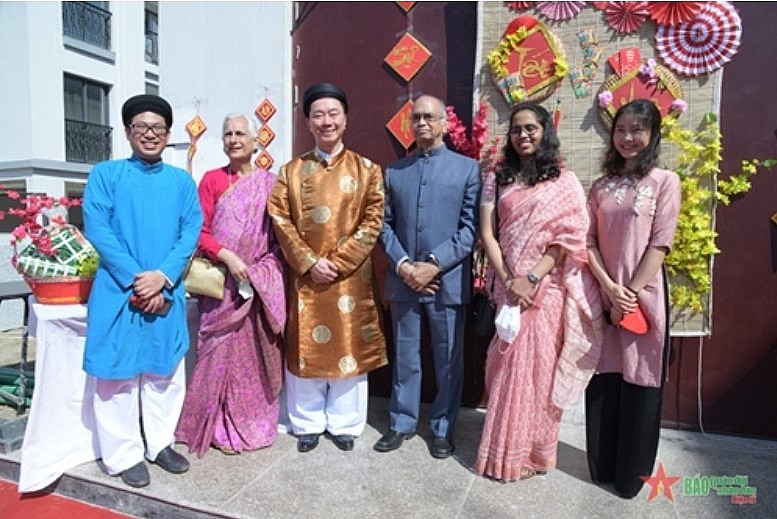 Photo: People's Army Newspaper.
Ambassador Pham Sanh Chau said that although he had been to Chennai and met his relatives many times, this was the first time to celebrate Tet with relatives. Tet plays an important role in Vietnamese traditional culture, as it is an opportunity for all expatriates to return to reunite with their families. This year was even more perfect when the Embassy celebrated Tet in all three places: Hanoi, Delhi and Chennai. With that effort, the Embassy hopes to make Tet closer to all people in India.
The event took place in a warm atmosphere and filled with laughter along with spring music and dance performances by the Vietnamese community.
Chennai is the capital of the state of Tamil Nadu, located in the south of India and takes three hours by plane from Delhi. The climate and living conditions in Chennai have many similarities with the South of Vietnam. Currently, there are more than 100 Vietnamese people living here. Generations of Vietnamese people still preserve the traditional culture and customs of Vietnam.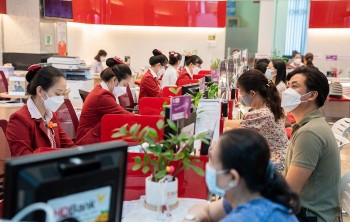 Economy
Vietnam Business & Weather Briefing (August 12): Air passengers reach a record number in July, seafood exports expected to reach 3 billion USD in Q3