Vietnam rice rates again on robust demand
Vietnam's rice export prices hit a more than nine-year this week week as fresh orders trickled in.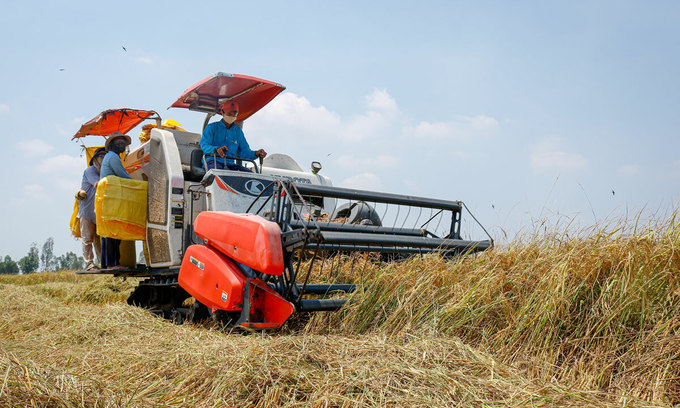 Farmers harvest rice in the southern province of Soc Trang on March 10, 2020. Photo: VnExpress
The country's 5% broken rice prices rose to $515-$520 per tonne on March 25, their highest since December 2011, from $510-$515 last week, according to Reuters.
"Demand is picking up and we're seeing more ships docking at Ho Chi Minh City port for rice loading," said a trader, adding that: "prices are expected to stay high as global demand for the grain is still strong amid the coronavirus pandemic."
Traders said on March 24 the Vietnam Southern Food Corp had won a contract to export 50,000 tonnes of 5% broken rice to Bangladesh, which is traditionally the world's third-biggest rice producer but has turned to imports after repeated floods.
A food ministry official in Bangladesh said the country had approved the purchase of 100,000 tonnes of rice, 50,000 tonnes each from India and Vietnam.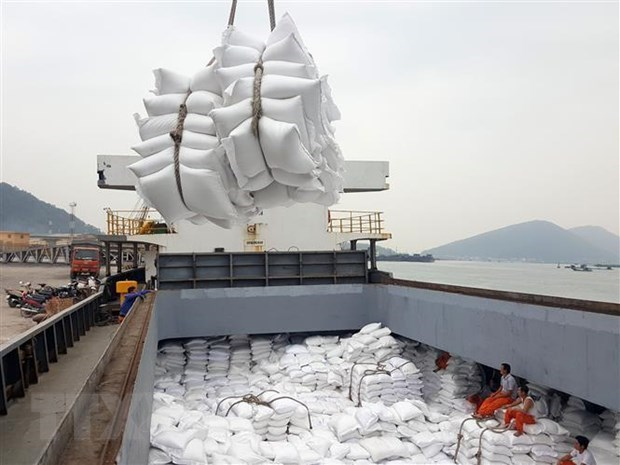 Vietnam's rice export turnover up 10 percent in 2020. Photo: VNA
In top rice exporter India, prices for the 5% broken parboiled variety were unchanged at their highest since mid-February, at $398-$403 per tonne.
"Buyers have increased purchases for April and May shipments," said an exporter based at Kakinada in the state of Andhra Pradesh.
Thailand's benchmark 5% broken rice was offered at $500-$518 a tonne, versus $505-$513 last week.
Some traders attributed the price change to a fluctuation in the exchange rate. The baht has dipped 2.9% versus the U.S. dollar since the start of the month.
Others who quoted prices higher than last week said export rates reflected a rise in domestic prices, which they attributed to tighter domestic supply concerns on anticipation of drought.
"There could be less supply this year, so stockpiling has pushed up domestic prices," a trader said.
Rice sector expected to post high growth this year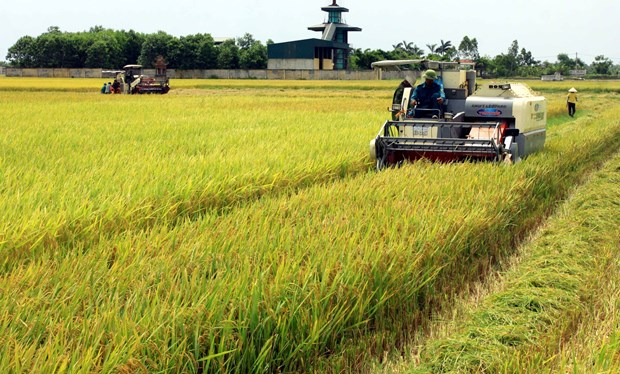 The rice sector is expected to again post high growth this year. Photo: Ministry of Agriculture and Rural Development
Vietnam earned over US$3 billion from exporting rice in 2020, according to the Vietnam Food Association (VFA), a year-on-year increase of more than 10%.
The rice sector is expected to again post high growth this year, when new-generation free trade agreements (FTAs) Vietnam has signed with foreign partners come into play.
Amid the difficulties posed by the ongoing COVID-19 pandemic, rice exporters quickly made appropriate adjustments and actively sought new markets while fully tapping into the advantages brought about by FTAs.
Vice Chairman of the VFA, Do Ha Nam, said 2020 was a successful year for Vietnam's rice exports, which he attributed to increasing demand in many countries and the improved competitiveness of Vietnamese rice around the world.
The EU-Vietnam FTA (EVFTA) has created a major opportunity for Vietnamese rice to enter European markets and then make inroads into other choosy markets, Nam said.
Experts said that if Vietnam wants to maintain rice export growth in 2021 it needs to focus on building a complete rice value chain and controlling quality in production, processing, and distribution.
The VFA predicted that rice exports will continue to grow this year because export markets, such as the Philippines and Africa, are continuing to sign contracts.
Within the framework of the Vietnam-Eurasian Economic Union (EAEU) FTA, EAEU member states have pledged to give Vietnam a tariff quota of 10,000 tonnes of rice for this year.
Vietnam's rice exports to the UK will also enjoy zero percent tariffs without quotas under the recently-signed UK-Vietnam FTA.
To fully tap into the advantages available under FTAs, rice export giants such as the Intimex Corporation JSC, the Loc Troi Group, the VRICE Co., and the Trung An Hi-Tech Agriculture JSC are planning to seek additional importers in markets where Vietnam has signed FTAs, especially in the UK.
The Ministry of Industry and Trade will continue to support exporters via providing timely information on market demand and strengthening trade promotion efforts, Nhan dan (People) reported./.
Vietnam continues rice industry restructuring

Vietnam will continue to restructure the rice industry in the direction of improving efficiency and sustainable development towards the objectives of fully meeting domestic consumption ...