Vietnam saves 4 Filipino fishermen stranded at sea
Four Filipino fishermen were rescued by a Vietnamese fishing vessel after being separated from their ship at sea.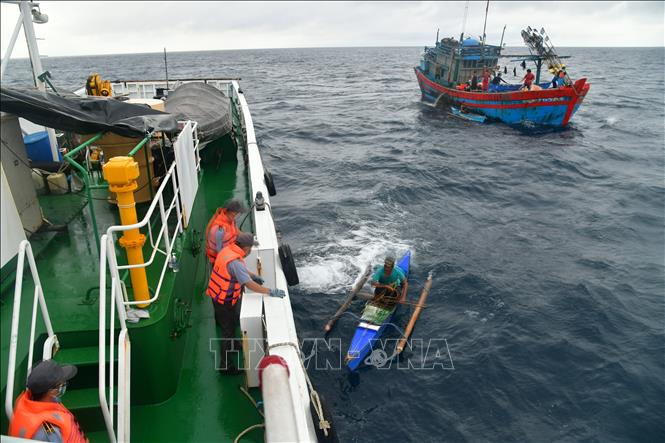 The KN 472 vessel of the Vietnam Fisheries Resources Surveillance receives four Filipino fishermen stranded at sea. Photo: VNA
At around 7 a.m. January 23, Ednor Villacino, 30, Rolly Baleso, 30, Rommel Evan, 32, and Eraed Dayot, 41, departed Filipino fishing vessel Athan to fish. But they got lost and stranded around 24 nautical miles to the southeast of Sand Cay, part of Vietnam's Spratly Islands, Vietnam News Agency reported.
At around 3:30 p.m. the same day, a Vietnamese fishing vessel found and rescued the four fishermen, while broadcasting a distress signal to request help from authorities.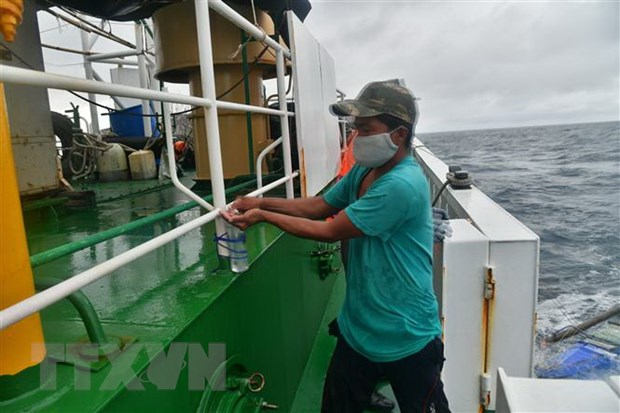 Filipino fishermen take anti-pandemic measures before boarding the KN 472 vessel. Photo: VNA
A vessel of the Vietnam Fisheries Resources Surveillance, at the time operating near South Reef, received the signal and came to the rescue. The four Filipinos, taken to Southwest Cay for medical assistance, are now in stable health, Vietnam Fisheries Resources Surveillance said Monday.
This is not the first time Vietnamese fishermen have rescued Filipinos stranded at sea. In 2019, a Vietnamese boat saved 22 Filipino fishermen after their boat was rammed and sunk by a Chinese vessel in the Bien Dong Sea (internationally known as the South China Sea).
The Chinese vessel rammed a Filipino boat anchored near Reed Bank in the South China Sea, sinking it and abandoning the fishermen on board, the AFP reported, citing a statement by Philippine Defense Secretary Delfin Lorenzana.
The Reed Bank belongs to Vietnam's Spratly (Truong Sa) Archipelago. Vietnam has full legal basis and historical evidence to assert its sovereignty over the Hoang Sa (Paracel) and Truong Sa (Spratly) Islands in the waterway, as well as legal rights over its waters in accordance with the 1982 United Nations Convention on the Law of the Sea (UNCLOS), VNExpress reported.
The Filipino fishermen were later rescued by a Vietnamese fishing boat.
Lorenzana thanked the captain and crew of the Vietnamese boat for saving the lives of the 22 Filipino crew while calling for a formal investigation on the incident and for diplomatic steps to be taken to prevent a repeat of such events.
The Vietnamese fishermen are from Tien Giang Province in the southern Mekong Delta. They continued their fishing voyage after making sure that the Filipinos were safe, said Tien Giang's fisheries officials.
Mixed emotions of the return day

Four doors of the vessel's cellars were nailed with full of 10 tons of fishes, Leo pushed the GPS machine, on which the screen show ...
Overseas Vietnamese
Vice President Vo Thi Anh Xuan had meetings with several Thai leaders and high-ranking officials within the framework of her visit to Thailand to attend the Global Summit of Women (GSW) 2022.