Vietnam, Singapore Important Partners of Each Other
In the first eight months of this year, Singapore made up the largest share of foreign investments in Vietnam with total newly-registered capital exceeding USD 3.6 billion.
Singapore is one of Vietnam's leading investors, injecting more than USD 70 billion into 3,031 valid projects, a meeting in Hanoi heard on August 27, VOV reported.
A groundbreaking ceremony of the Vietnam - Singapore Industrial Park III - VSIPIII - in Binh Duong province in March 2022
The first eight months of 2023 saw 100 countries and territories invest in Vietnam, with Singapore taking the lead, according to the 17th Singapore-Vietnam Connectivity Ministerial Meeting.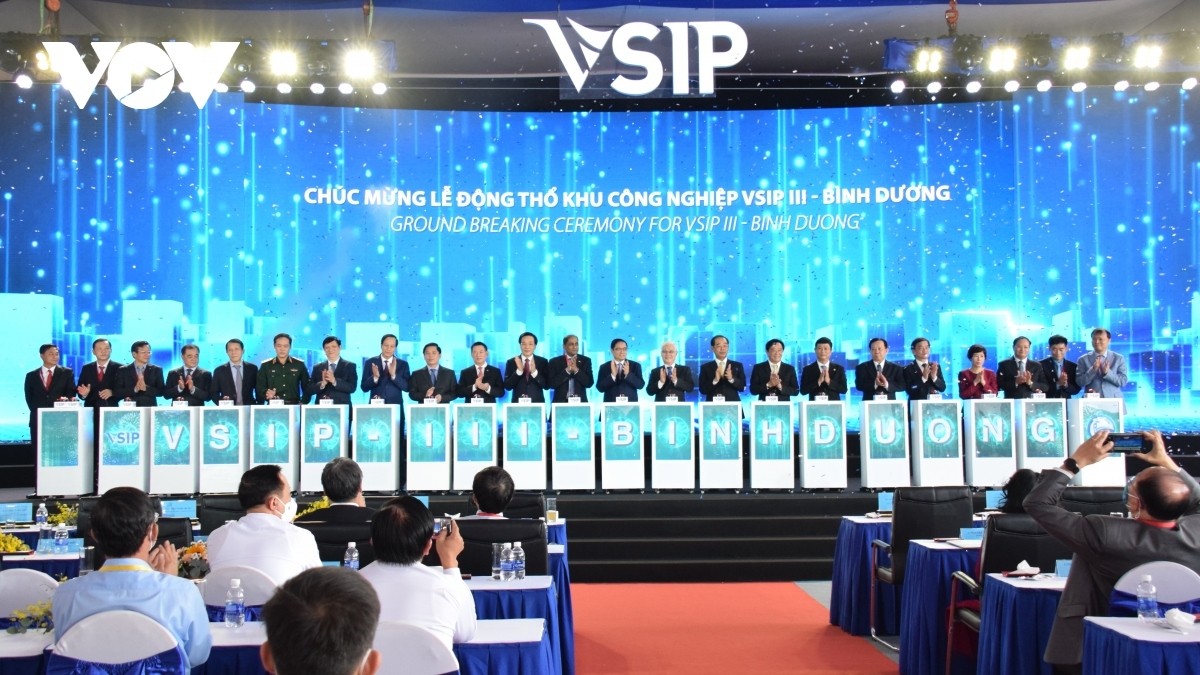 A groundbreaking ceremony of the Vietnam - Singapore Industrial Park III - VSIPIII - in Binh Duong province in March 2022. Photo: VOV
The island state funneled more than USD 3.83 billion into projects of various kinds in Vietnam, making up 21.2% of the total foreign investment in the country.
Singaporean businesses have been operating in various fields in Vietnam, from production and logistics to living and consumption services.
The Vietnam - Singapore Industrial Park (VSIP) model is a success story in economic cooperation between the two countries. Twelve such VSIPs have been established across Vietnam and the two countries have agreed to raise the number to 15 in the coming years.
These VSIPs have so far operated efficiently, using more than 7,000ha of land, attracting about USD 18 billion in investment capital and creating more than 312,000 jobs.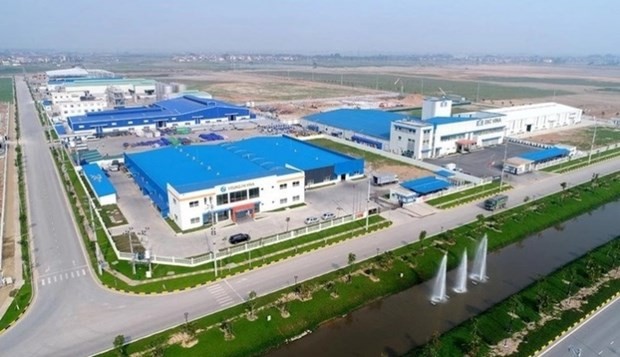 The VSIP in Can Tho City will be the first of its kind in the Mekong Delta. Illustrative photo: Vietnam Finance
Meanwhile, bilateral trade has grown by 11% annually, from USD 15.45 billion in 2018 to USD 31.3 billion in 2022, making Vietnam Singapore's 11th largest trading partner.
Economic cooperation between Vietnam and Singapore spans five pillars: energy cooperation; sustainable development; infrastructure; digital and innovation; and connectivity covering such areas as education, finance, information technology and telecommunications, tourism, investment, trade and services, and transportation.
The 2005 agreement was focused on finance; education and training; transportation; information and communications technology; investment, trade, and services.
According to VNA, at the 17th Vietnam - Singapore Connectivity Ministerial Meeting co-chaired by Vietnamese Minister of Planning and Investment Nguyen Chi Dung and Singaporean Second Minister for Trade and Industry, and Minister for Manpower Tan See Leng, the two sides informed each other about the implementation of the Memorandum of Understanding on Digital Economy - Green Economy between Vietnam and Singapore signed in 2022. They also discussed directions to expand cooperation in new fields such as energy and sustainable development.
The Vietnamese side proposed that the Singaporean side work closely with Vietnam to implement new initiatives within the framework of the connectivity agreement, and at the same time encourage Singaporean businesses to come up with new cooperation initiatives and increase investment in Vietnam.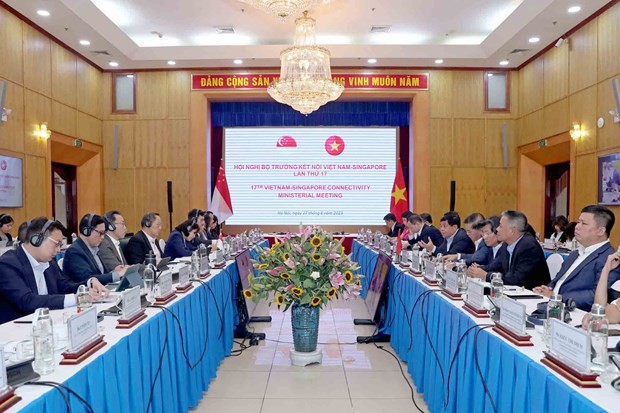 Vietnam and Singapore hold the 17th Connectivity Ministerial Meeting in Hanoi on August 27. Photo: Vietnamese Government Portal
On this occasion, the two ministers witnessed the signing of an MoU on innovation cooperation between the National Innovation Centre of Vietnam and the Advanced Remanufacturing and Technology Centre under Singapore's Agency for Science, Technology, and Research (ASTAR), along with another on cooperation in training Vietnamese interns in the fields of supply chains and logistics between the Vinh Phuc provincial People's Committee and the YCH Group Pte. Ltd of Singapore.
In a related news, Phase 1 of the VSIP project in Vinh Thanh district, the Mekong Delta city of Can Tho, will have its construction started on September 9, according to the municipal People's Committee.
Anthony Tan, General Director of the Can Tho VSIP Joint Stock Company, said that the park in Vinh Thanh district will be an industrial, residential, and logistic service complex meeting green and sustainability criteria.
The Can Tho VSIP project was approved by the Prime Minister and granted the investment registration certificate by the municipal People's Committee in October 2022.
Phase 1 will cover 293.7ha of land and have a total investment of over VND 3.7 trillion (USD 153.8 million). During this phase, the project will also supply support services for factories in nearby areas and Can Tho at large, along with those for laborers working at the VSIP.
The VSIP joint venture, formed by Sembcorp of Singapore and Becamex IDC of Vietnam, is the biggest industrial park developer in the country at present. It set up the first VSIP in southern Binh Duong province in 1996.
So far, 11 VSIPs have been put into operation nationwide, and the one in Can Tho is the first in the Mekong Delta.
New Developments in Vietnam-Singapore Relations

The Vietnam-Singapore relationship achieved results in the past half-century, and will develop strongly and substantively. This is the opinion of delegates attending activities celebrating ...