Vietnam, Singapore Talk Cooperation in Energy Development
Vietnam and Singapore wish to expand cooperation in energy development.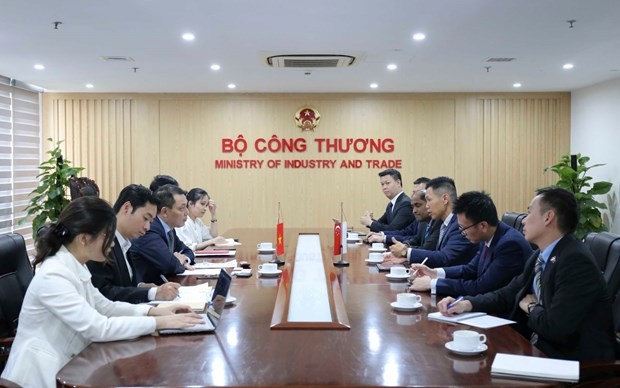 Parrticipants at the working session. Photo: congthuong.vn
Vietnam is willing to cooperate with and learn from Singapore in developing green and sustainable energy industry towards ensuring energy security and safety, VNA reported, citing Deputy Minister of Industry and Trade Dang Hoang An.
The Vietnamese official made the statement during a recent working session with Keith Tan, deputy minister designate of the Singaporean Ministry of Trade and Industry.
The two officials briefed each other of policy priorities for energy development in each country and acknowledged the outcomes of the first meeting of the Joint Working Group to implement the Memorandum of Understanding (MoU) on Energy Cooperation between the two ministries in January this year.
The Singaporean side expressed interest in investment opportunities in energy development in Vietnam, especially renewable energy, in the context that the Prime Minister of Vietnam has approved a national electricity development plan in the 2021-2030 period, with a vision to 2050 (Power Development Plan VIII).
Singapore wishes to cooperate in the energy transition towards realising Vietnam's net zero emissions target, and is also interested in buying electricity from Vietnam, Keith Tan said.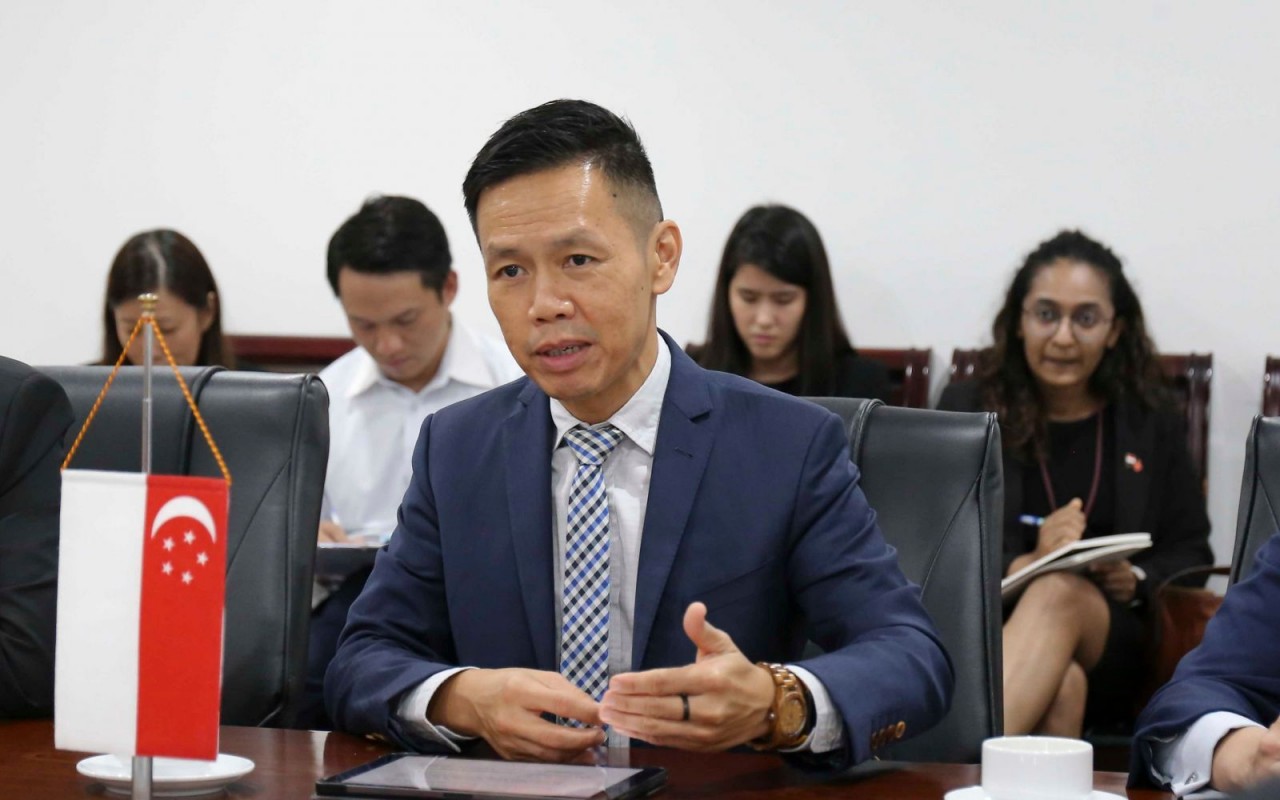 Keith Tan, deputy minister designate of the Singaporean Ministry of Trade and Industry. Photo: congthuong.vn
An applauded Singapore's proposal in promoting energy cooperation between the two countries and effectively implementing the MoU on energy cooperation, saying that the Vietnamese Ministry of Industry and Trade (MoIT) will develop a plan to implement Power Development Plan VIII in the near future.
Singaporean investors need to study, comply with, abide by relevant legal regulations and meet requirements of Vietnam in the process of implementing investment projects in Vietnam, he said.
According to statistics from the MoIT's Asia–Africa Market Department, Singapore is the fifth largest trade partner of Vietnam in ASEAN and the 11th in the world. It is the second largest foreign investor in Vietnam, with the highlight being 13 Vietnam - Singapore Industrial Parks (VSIP) across the country.
Power Development Plan VIII is aimed at ensuring sufficient electricity supply for domestic demand, building a smart and efficient grid system connected with regional countries, cutting GHG emissions from power generation to 204 - 205 million tonnes by 2030 and about 27 - 31 million tonnes by 2050, and ensuring all households gain access to electricity by 2030.
It targets that by 2030, the total capacity of power plants will reach 158,244 MW, excluding exports. About 18.5% of the capacity will come from hydropower, 19% from coal-fired power, 9.4% from gas-fired power, 14.2% from thermal power, 13.8% from onshore wind-powered thermal power, and 13% from solar power.
By 2050, power plants are expected to have a total capacity of 490,500 - 573,100 MW, including 6.3 - 7.3% from hydropower, 4.5 - 6.6% from biomass thermal power, and 14.3 - 16% from offshore wind power. Meanwhile, coal will no longer be used for power generation.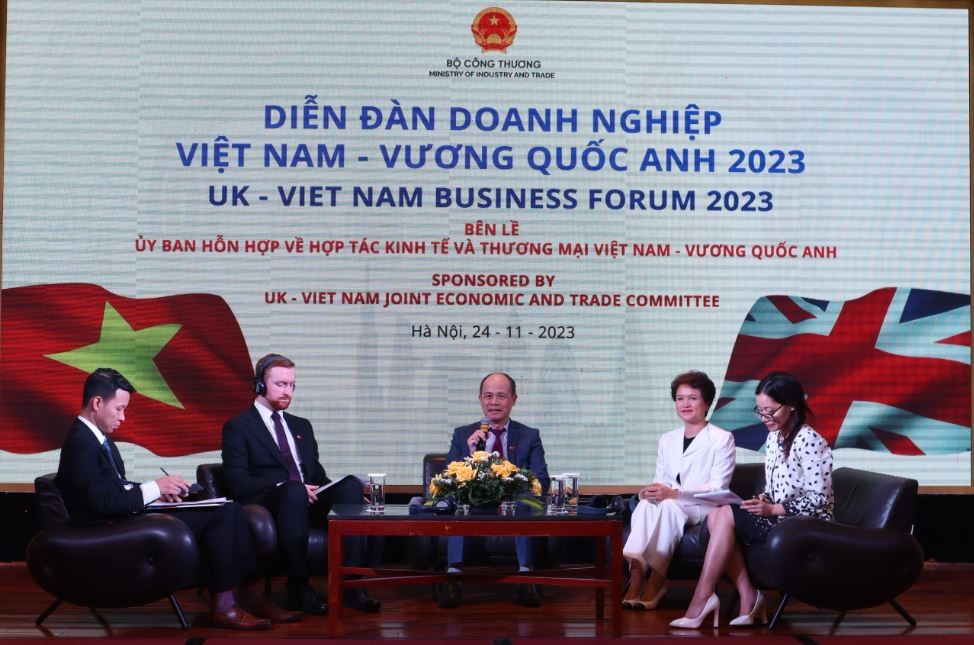 Economy
The dual impulse from FTAs will create more incentives for UK goods and services in the Vietnamese market, as well as increase investment attraction.
December 02, 2023 | 22:32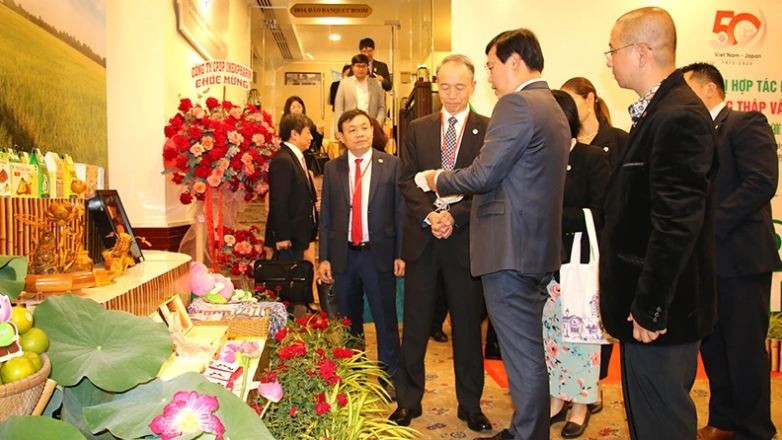 Economy
Japanese businesses expect the soon-to-be-completed road and waterway transportation system will increase investment opportunities in Dong Thap province.
December 02, 2023 | 22:02