Australia, Vietnam Powering on Together With Clean Energy Transition
The brightest energy transition brains in Australia and Vietnam are putting their heads together under a new knowledge sharing partnership to enhance green energy production, secure energy supplies and meet net-zero emissions by 2050.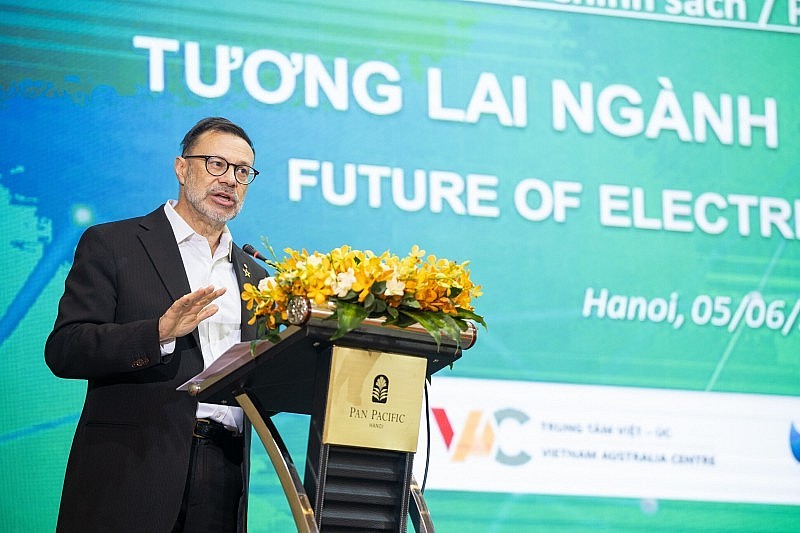 Australia's Ambassador to Vietnam Andrew Goledzinowski delivers a welcome remarks at the Policy Dialogue 'Future of Electricity Vietnam'. Photo: congthuong.vn
The Future of Electricity – Vietnam (FE-V) initiative, launched on June 5 by the Australian Government with support from the Central Economic Committee (CEC), will deepen links between both countries' energy and climate institutions, and focus on enhancing knowledge and efficiency in electricity generation, fuels, grids, markets and consumption.
This event follows a successful visit by Australia's Prime Minister Anthony Albanese, in which Australia and Vietnam's energy transition featured prominently.
FE-V is led by the Australian Government and CEC; and implemented through Australia's Partnerships for Infrastructure program, AMPERES, the Australian National University, and the Commonwealth Scientific & Industrial Research Organisation, according to the Australian Embassy in Vietnam.
It is a bridging step for Australia to build a longer-term and trusted collaboration in the energy sector in the coming years. Notably, Australian Prime Minister Anthony Albanese announced on the occasion of his official visit to Vietnam - a package of AUD105 million - to support Vietnam's sustainable economic growth, in which energy transition is a key area.
Opening the inaugural FE-V policy dialogue, Australia's Ambassador to Vietnam Andrew Goledzinowski said Australia and Vietnam share challenges and aspirations for sustainable, secure, and fair electricity services as a foundation for prosperity and economic growth.
"We're both hungry to accelerate energy transition – Australia aims to have more than 80% of its power through renewables by 2030 and we're investing heavily to upgrade our grids and better coordinate market reforms across our jurisdictions," he said.
"Meanwhile Vietnam has greenified its Power Development Plan 8 (PDP8) in line with COP26 commitments and is making it easier for the international community to support its transition."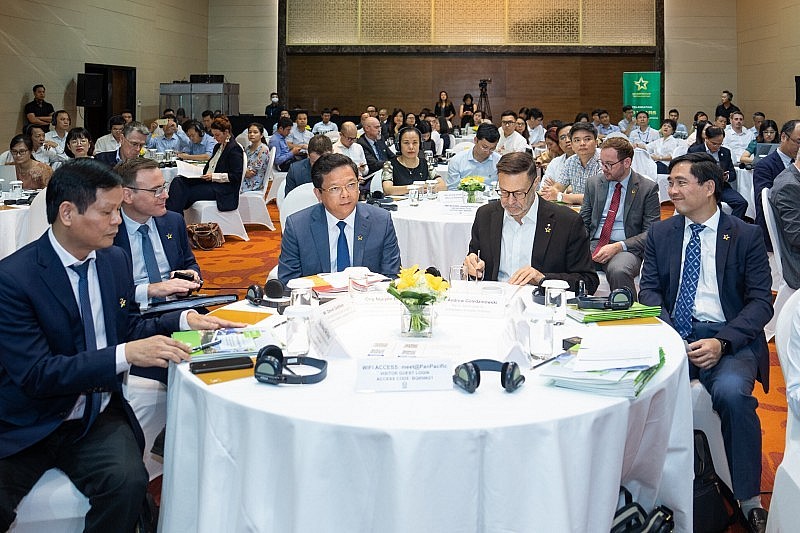 Participants at the Policy dialogue "Future of Electricity - Vietnam". Photo: construing.vn
Like Australia, Vietnam has ambitious plans to reduce reliance on coal, with PDP8 aiming to phase out coal-fired electricity generation by 2050 and turn to wind and solar energy.
Ambassador Goledzinowski said Australia is on the same journey and has much to share with Vietnam.
"In the last quarter of 2022, renewables reached a record high share of Australia's total electricity generation, providing more than 40% of the electricity in the nation's main grid," he said.
"Vietnam's PDP8 is aiming for 75% renewables and storage by 2050 – Australia stands ready to help Vietnam rapidly unlock its vast wind and solar potential."
Today's dialogue will be followed by a roundtable tomorrow where Australian and Vietnamese government agencies and research institutions will discuss transforming power systems, and electricity markets, and how the private sector and state-owned enterprises can better support Vietnam's energy transition.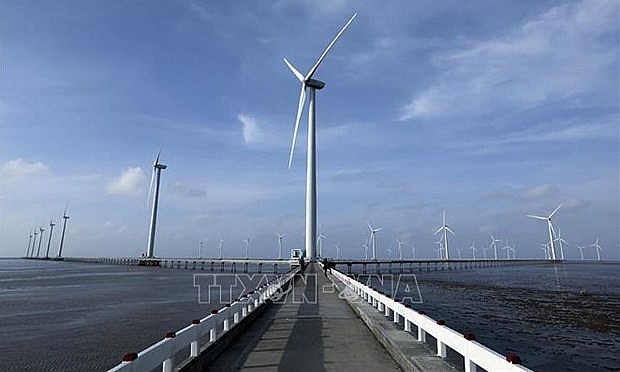 Some of the 62 turbines of the Bac Lieu wind power plant in Bac Lieu province. Photo: VNA
The recently issued National Power Development Plan VIII is considered a breakthrough in the energy sector as it shows Vietnam's determination to gradually eliminate coal and gas-fired power generation and promote renewable energy to achieve the target of net zero emissions by 2050, VietnamPlus said.
Under the plan for 2021 - 2030 with a vision to 2050, approved by the Prime Minister on May 15, only the coal-fired power projects listed in the adjusted Plan VII and those currently under construction will be continued, and there will be no new coal-fired power projects after 2030.
Vietnam targets that by 2050, coal will no longer be used for power generation but biomass and ammoniac instead. Coal-fired power plants aged over 40 years will be closed if they are unable to switch to other fuels.
Meanwhile, renewable energy will receive special priority, expected to account for some 70% of all electricity generation by 2050. Rooftop solar power for self-use will also be facilitated to cover 50% of the roofs of office buildings and civil houses.