Vietnam steps up cooperation with Algeria in information archiving
Vietnamese Ambassador to Algeria Nguyen Thanh Vinh had a working session on July 14 with Abdelmajid Chikhi, advisor to the Algerian President and Director General of the National Archives Centre, to discuss how to intensify cooperation in archiving information between the two countries.
Vietnamese Ambassador to Algeria Nguyen Thanh Vinh works with Abdelmajid Chikhi, advisor to the Algerian President and Director General of the National Archives Centre (Source: VNA)
At the meeting, Vinh appreciated collaboration between the Algerian centre with Vietnamese partners, especially with the Vietnamese Embassy in organising activities in celebration of the 55th anniversary of bilateral diplomatic ties (October 28, 1962-2017).

He expressed his hope that both sides maintain their close cooperation in order to contribute to the two countries' relations.

Abdelmajid Chikhi said he hopes for tighter collaboration with the Vietnamese Embassy as well as the State Records and Archives Department of Vietnam to soon sign a collaboration agreement between the two archives agencies.

Algeria wants to learn from Vietnam's experience in management over national memory records, he said, adding that his agency is willing to support the Vietnamese Embassy in searching information related Emperor Ham Nghi – the eighth Emperor of Vietnam's Nguyen Dynasty (1082-1945) – during his exile in the African nation.
Vietnam's export revenues to Algeria enjoyed a year-on-year increase of 2.1 percent in the first two months of 2020, reported VNA.
According to the Trade Office of Vietnam in Algeria, Vietnam may bolster coffee shipments to the Algerian market as it is the most popular drink of local people.
The African country spends 300 million USD on the import of about 130,000 tonnes of coffee beans each year.
Coffee has been among leading export items of Vietnam to Algeria over the years, accounting for the lion's share of over 50 percent in the Algerian market. Vietnam shipped about 70,000 tonnes of the product to the African nation last year.
Rice also holds huge potential for export in the coming time when the COVID-19 is repelled. Algeria mostly depends on rice imports, buying about 100,000 tonnes of the grain annually. In addition, the country's import tariffs for the food are lower compared to those of others.
In 2019, Vietnam shipped nearly 17,000 tonnes of rice to Algeria, making up for around 16 percent. The increasing number of Asian workers in Algeria has also prompted a surge in rice demand in the country.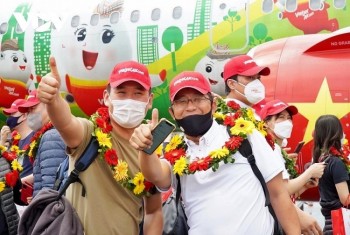 National
Vietnam News Today (Jan. 26): Vietnam reports 15,699 more domestic Covid-19 cases; Vietnam told to reopen to international tourism ahead of SEA Games 31; Germany donates four million more vaccine doses to Vietnam; Vietnam has opportunity to become global leader in renewable energy.