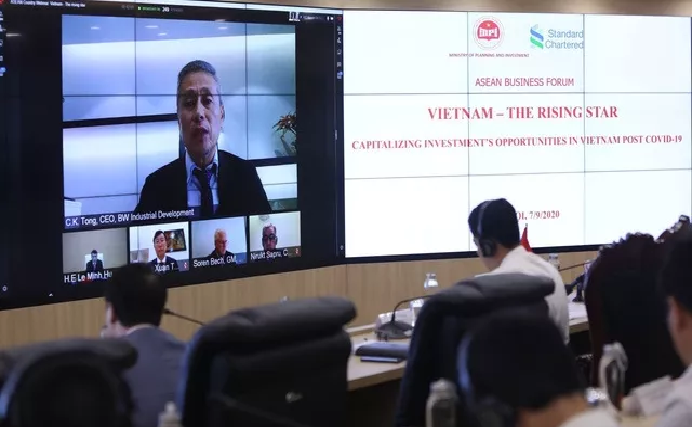 The forum was jointly organised by the Ministry of Planning and Investment, the State Bank of Vietnam (SBV) and Standard Chartered Bank. Photo: Nhan dan (People)
With strong fundamental factors such as a young, dynamic and tech-savvy population, the growing domestic market, the expanding middle class and an open economy, Vietnam continues to offer attractive investment opportunities, said Nirukt Sapru, CEO, Vietnam and ASEAN & South Asia Cluster Markets, Standard Chartered.
Sapru was speaking at a virtual business forum on Vietnam investment environment entitled "Vietnam – The Rising Star: Capitalising investment opportunities in Vietnam post COVID-19" that was held online on September 7 with the participation of approximately 500 international business leaders.
The event was jointly organised by the Ministry of Planning and Investment, the State Bank of Vietnam (SBV) and Standard Chartered Bank, according to Nhan dan (People) daily.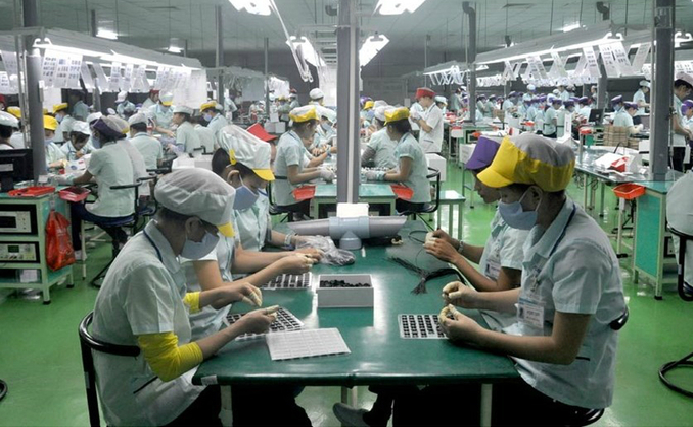 Employees working at a foreign direct investment (FDI) business in Vietnam. Photo: Reuters
Addressing the event, SBV Governor Le Minh Hung emphasised that over the past 20 years Vietnam has always been considered as an attractive destination by foreign investors thanks to many factors including political, economic and social stability and policies facilitating foreign investment.
As a State management agency in the monetary and banking sector, SBV has always focused on well performing the task of ensuring macro stability, currency stability, exchange rate stability, healthy development of the banking sector with high resilience, and meeting capital needs for economic development in a timely manner, Hung noted.
Amid the negative impacts of the COVID-19 pandemic, the Government and SBV have worked out flexible measures to promptly respond to the pandemic and ease its impacts on the economy.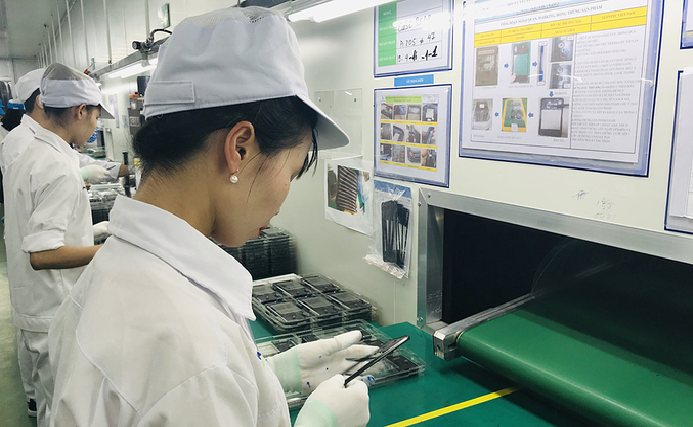 Laborers work in a smartphone production line in Hai Duong Province, northern Vietnam. Photo: VnExpress
"With its existing competitive advantages along with strong reforms of the investment environment, increasing position in the international arena, and effective COVID-19 prevention measures, Vietnam is being highly appreciated by the international community, becoming an attractive and safe investment destination for foreign investors," said Minister of Planning and Investment Nguyen Chi Dung.
Minister Dung said that the COVID-19 pandemic and its devastating consequences have caused nations and international corporations to speed up the investment restructuring process to avoid the dependence on specific countries and partners.
Many countries around the world have issued preferential policies and strong support packages to retain and attract foreign investors and Vietnam is no exception to that trend, Dung noted.
In the future, Vietnam will implement a proactive policy of FDI attraction towards quality, large-scale and high-tech projects which can create favourable conditions for Vietnamese enterprises to participate in the value chain associated with human resource training, research and development, and the promotion of the digital economy.
Vietnam attracts nearly USD20 billion in FDI in eight months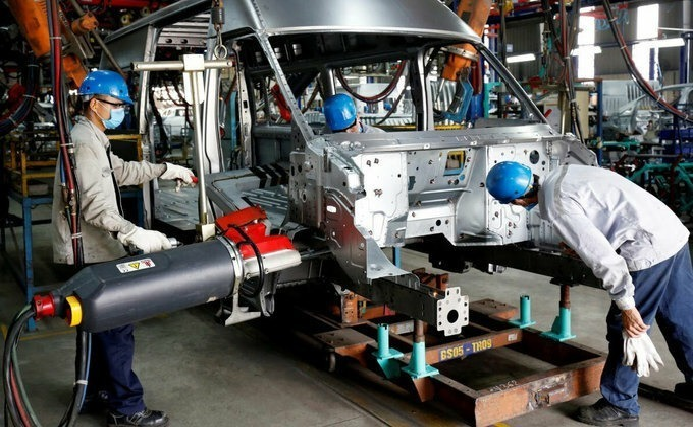 Labourers work at a foreign-invested car factory in Hai Duong Province, northern Vietnam. Photo: Reuters
Foreign direct investment (FDI) commitments totaled USD19.54 billion as of August 20, equivalent to 86.3 percent year-on-year, the Ministry of Planning and Investment reported.
Up to 1,797 new projects were granted licences with total registered investment capital of USD9.37 billion, down 25.3 percent in volume but up 6.6 percent in value from the same period last year.
Of the amount, USD4 billion (41.1 percent) was invested in a liquefied natural gas-fired power plant in the Mekong Delta province of Bac Lieu with a capacity of 3,200 MW by a Singaporean company.
Meanwhile, 718 operating projects were injected with an additional USD4.87 billion, a decrease of 20.9 percent in volume but a rise of 22.2 percent in value year-on-year.
During the period, foreign investors registered USD4.93 billion to contribute capital to or buy shares of domestic companies, equivalent to 51.8 percent of the corresponding time last year.
Due to the coronavirus pandemic, exports by the foreign sector, including crude oil exports, fell by 4.5 percent to USD113.3 billion, accounting for 65.1 percent of Vietnam's export revenue.
Their imports also dropped by 5.3 percent to USD90.8 billion, meaning the sector recorded a trade surplus of over USD22 billion.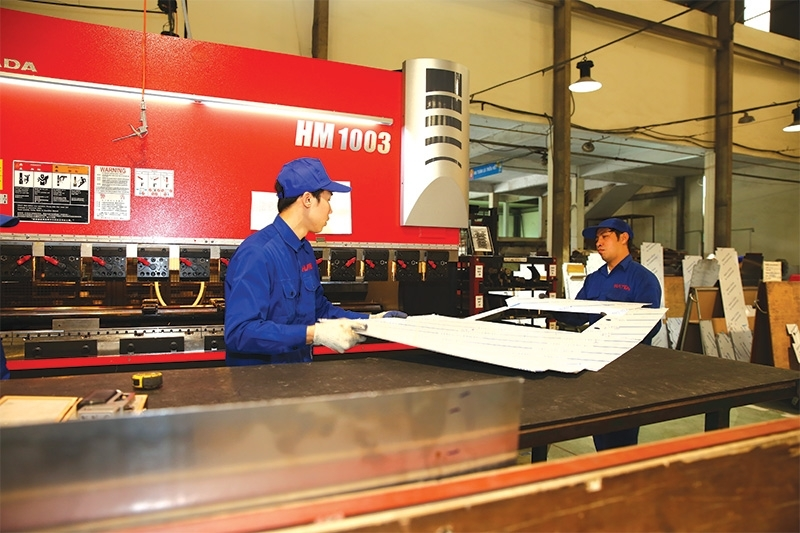 Representative image. Source: Vietnamnet
Processing-manufacturing remained the most attractive, receiving USD9.3 billion, accounting for 47.7 percent of the total, followed by power generation and distribution with over USD4 billion, making up 20.6 percent of the total.
There were 106 countries and territories investing in Vietnam between January and August. Among them, Singapore took the lead with USD6.54 billion or 33.5 percent of the accumulative capital.
It was followed by the Republic of Korea (USD2.97 billion– 15.2 percent) and China (USD1.75 billion – nearly 9 percent).
Data show that FDI was channeled into 59 cities and provinces nationwide. With the natural gas project, Bac Lieu province was the largest FDI recipient during the first eight months, followed by Hanoi and Ho Chi Minh City, which received USD2.86 billion and USD2.62 billion, respectively./.
Rosy Huong