Vietnam to commence human trials on second home-grown COVID-19 vaccine in early March
Early this month, Vietnam will commence clinical trials on its second locally-made COVID-19 vaccine COVIVAC, produced by the Ministry of Health's Institute of Vaccines and Medical Biologicals (IVAC).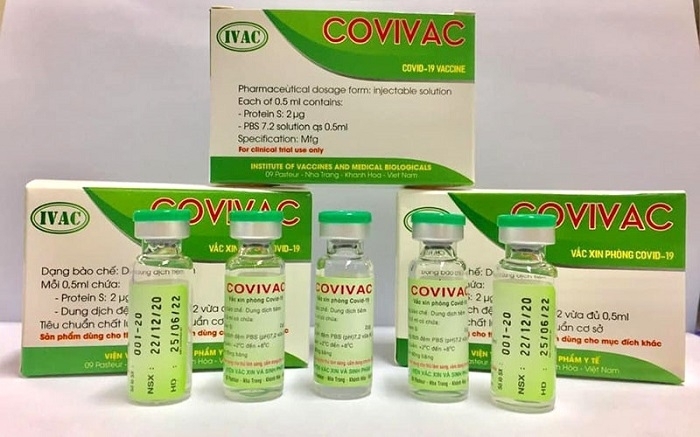 Vietnam's second home-grown COVID-19 vaccine produced by the Institute of Vaccines and Medical Biologicals.
Protecting against new SARS-CoV-2 variants from the UK and South Africa
IVAC's COVIVAC vaccine research project started from May 2020 on the basis of cooperation with the relevant universities, research institutes and international organisations.
IVAC Director Dr. Duong Huu Thai shared that the vaccine phase 1 and phase 2 clinical research protocols have been approved by the National Ethical Council in Biomedical Research and the Ethical Councils at grassroots level.
IVAC is scheduled to kickstart the clinical trials at National Institute of Hygiene and Epidemiology (NIHE) and Hanoi Medical University in early March and will conclude by this October.
According to Dr. Thai, volunteers participating in the study include 120 healthy persons, aged 18-59, both male and female. They will receive two injections of 0.5 ml each (vaccine or placebo injection) 28 days apart.
Phase 1 will study the safety and immunogenicity on four groups of different doses: 1mcg, 3mcg and 10mcg of Protein S antigen without adjuvants and 1mcg with adjuvants, along with a placebo control group (using vaccine-free ingredients) to evaluate safety and immune response to select the two optimal vaccine groups, then moving to Phase 2.
After the 1st injection, the volunteers will be medically monitored for 24 hours at the Hanoi Medical University. After the second, medical monitoring time will be four hours.
Phase 2 will be conducted at the Medical Centre of Vu Thu District, Thai Binh Province. Volunteers will include 300 healthy people, aged 18-75 (of which age 60-75 accounts for about one third), both male and female.
After Phase 1 (after 43 days of injection), if the immunosecurity results are good and the optimal dose is selected, the vaccine will continue to Phase 2. Volunteers will receive two injections of 0.5 ml each (vaccine or placebo injection) 28 days apart.
Phase 2 will study the safety and immunogenicity on two groups of vaccines with the optimal doses selected from Phase 1, with the addition of a placebo control group (which does not contain the vaccine ingredients) and in coordination with data from Phase 1 to assess the safety and efficacy of two vaccine groups in larger populations, from which considering switching to Phase 3.
Dr. Thai said that each dose of COVIVAC vaccine does not exceed VND60,000 (about US$2.6) in cost. The vaccine protects against new variants of the SARS-CoV-2 virus found in the UK and South Africa, he affirmed.
"Very good" protective effect
COVIVAC is a liquid vaccine with or without adjuvants, without preservatives, and the production technology using the Newcastle disease virus (NDV) vaccine vector with the S gene of the SARS-CoV-2 vaccine attached to produce vaccines in chicken eggs containing embryos. This technology is also used to produce vaccines to prevent seasonal flus circulating in Vietnam.
The results of pre-clinical studies in India, the USA and Vietnam have shown both safety and efficacy. After seven months of research (May to December last year), IVAC has successfully produced three consecutive batches on a large scale, with 50,000-100,000 doses per batch.
The vaccine batches for clinical trials have been assessed for quality by the manufacturers and the National Institute for Control of Vaccines and Biologicals, which has certified six batches of finished vaccines. COVIVAC has also undergone preclinical tests for toxicity, immune response, and protective effects on domestic and foreign laboratory animals.
Minister of Health Professor, Dr. Nguyen Thanh Long confirmed that the protection effect of COVIVAC is "very good."
"Previously, we carried out pre-clinical assessment in Vietnam, but the IVAC's COVIVAC vaccine has been evaluated not only in Vietnam but also in the US and India. The test results at the relevant centres were all the same, showing that the vaccine is effective," said the minister.
Assessing the advantages of the IVAC in conducting the research, production and testing of COVIVAC, Minister Long said that this is a multi-centre and international study.
COVIVAX vaccine is developed on the technological lines and vaccine factories available in the country and domestic manufacturers completely master the technologies.
In addition to the NANOGEN's vaccine – Nano Covax, which is in Phase 2 of testing, the minister said that COVIVAC is considered a potential vaccine in the response to the COVID-19 pandemic.
Nano Covax is the first home-grown vaccine and its second phase of human trials stared at the Military Medical University in Hanoi and the Mekong Delta province of Long An on February 26.
In the near future, Vietnam will start clinical trials on the third made-in-Vietnam vaccine produced by the Company for Vaccine and Biological Production No. 1 (VABIOTECH), Long shared, adding that with the production of the vaccine, Vietnam can be proactive in securing supply and ensuring health security, as well as stand ready to serve in pandemic response.
NDO