Vietnam to Purchase an Additional 25 Million Doses of AstraZeneca Vaccine
The Vietnam Vaccine Joint Stock Company (VNVC) on November 2 signed a contract to purchase an additional 25 million doses of the AstraZeneca COVID-19 vaccine with the pharmaceutical multinational company AstraZeneca.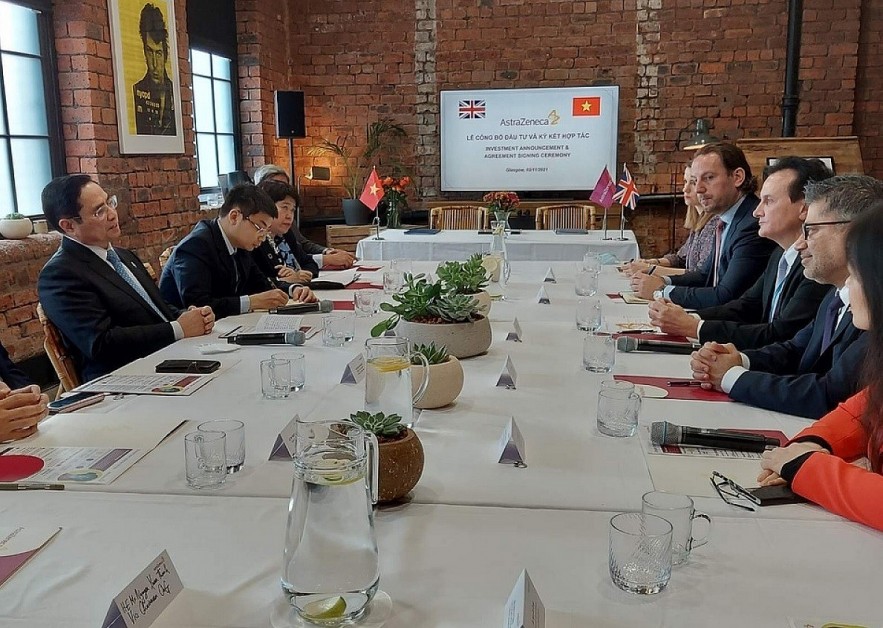 Vietnamese Prime Minister Pham Minh Chinh holds a working session with AstraZeneca Chief Executive Officer Pascal Soriot during his working visit to the UK. (Photo: VNA)
The contract was inked in Glasgow (Scotland) during a meeting between Vietnamese Prime Minister Pham Minh Chinh and AstraZeneca Chief Executive Officer Pascal Soriot.
VNVC last year also signed a contract with AstraZeneca to buy 30 million doses of its COVID-19, and batches of the vaccine have been delivered to Vietnam.
At the signing ceremony, AstraZeneca revealed its plan to pour US$90 million into Vietnam to help improve its pharmaceutical production capacity that enables patients to have better access to high-quality medicine produced in the country. It is expected that three important products will be manufactured and processed by AstraZeneca in Vietnam in the 2022-2030 period.
Both companies signed a document on the supply of AstraZeneca's long-acting antibody combination called AZD7442 in Vietnam. AZD7442 has been designed to increase the durability of the therapy for six to 12 months following a single administration, and to reduce the risk of resistance developed by the SARS-CoV-2 virus.
AstraZeneca will also choose a partner in Vietnam to transfer production technology and provide the necessary expertise to ensure that AstraZeneca's domestically produced products will meet the firm's global standards.
Meeting with CEO Pascal Soriot, PM Pham Minh Chinh expressed his desire for AstraZeneca to expand its long-term investment in Vietnam, and said the Government is committed to creating favourable conditions for the firm to realize its goal.
The Prime Minister also suggested that AstraZeneca support Vietnam in training human resources related to medicine and vaccine production to treat cardiovascular disease, cancer and other illnesses.
For his part, Soriot said AstraZeneca will try its best to deliver all the vaccines signed with Vietnam in the near future despite the fact that the supply is limited.
He also revealed that the first batch of the newly signed contract is expected to be delivered to Vietnam in December 2021.
VOV