Over 55,000 Vietnamese receiving AstraZeneca vaccine, low rate of post-injection reaction shown
Since the AstraZeneca vaccination campaign was launched in Vietnam on March 8, there have been 33% of recipients displaying commonly mild reactions.
As of April 8, all AstraZeneca Covid-19 vaccine recipients in Vietnam have been safe, according to the Ministry of Health (MoH).
MoH approved the AstraZeneca Covid-19 vaccine for use in emergencies on February 1.
AstraZeneca vaccine has been licensed for use in more than 70 countries and territories in the world and also one of the three of its kind approved for use in emergencies by the World Health Organization (WHO) on February 15, Vietnamplus reported.
Vietnam has not yet recorded any cases of blood clots
As of April 7, as many as 55.151 Vietnamese people in 19 provinces and cities have been administered the AstraZeneca Covid-19 vaccine.
The recipients include medical workers directly treating Covid-19 patients, those involve in taking samples, testing, contact tracing, members of Covid-19 community groups, and members of the Steering Committees for disease prevention and control.
There have been 33% of recipients displaying commonly mild reactions such as swelling at the injection site, fatigue, mild fever, headache, and nausea. These reactions are normal which are also detected in other types of vaccines against measles, whooping cough, or tetanus.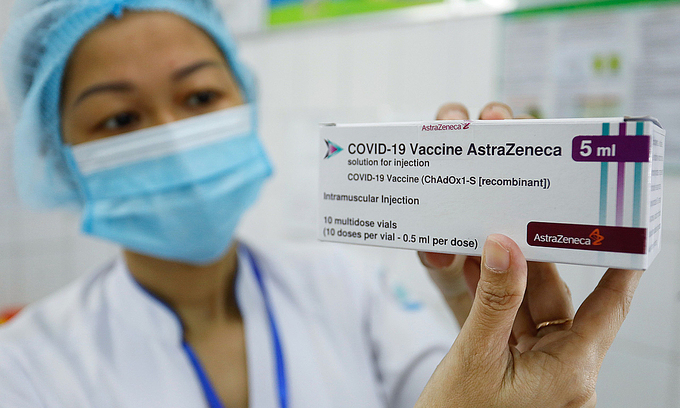 A medical worker holds a box containing Covid-19 vaccine doses by AstraZeneca. Photo by VnExpress/Giang Huy.
There has been 1% of recipients experiencing severe reactions; however, they were timely treated and now are all in stable health conditions.
The post-injection reaction rate in Vietnam is lower than that announced by the producer. The country to date hasn't yet recorded any cases of blood clots after administration.
The immunization rollout in Vietnam has been scientifically implemented, in accordance with the safety regulations.
The vaccination sites meet the requirements of facilities, equipment, and medical workers. The vaccine recipients are screened before injection and have their health closely monitored after the process.
The recipients' information is fully updated on the e-health record system.
Residents need to be calm and proactive
Several countries in the world have recently reported cases of blood clots after receiving the AstraZeneca vaccine. This information has made citizens hesitate to get vaccinated, affecting the coverage of vaccines in each nation, each region as well as in the world.
According to the European Medicines Agency (EMA) and WHO, cases of thrombocytopenia and venous thrombosis after receiving the AstraZeneca vaccine are very rare. The vaccine's benefits far outweigh its risks, they said, adding that countries should continue with their inoculation programs using the vaccine.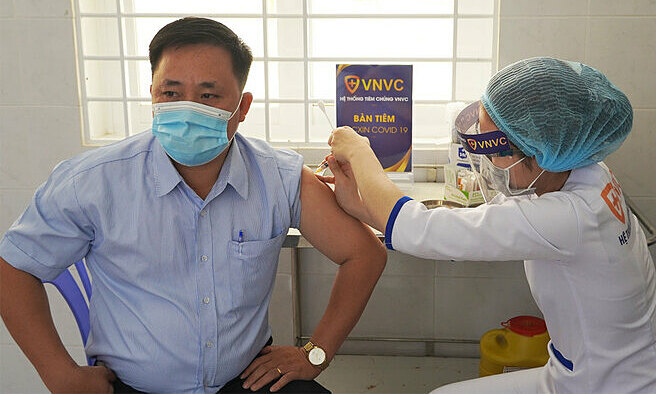 A medical staff in Ba Ria-Vung Tau Province receives his first shot of AstraZeneca's Covid-19 vaccine, March 2021. Photo by VnExpress/Hac Minh.
Vietnamese citizens are told to be calm and proactive in implementing the recommendations on the Covid-19 vaccination.
They are also asked to immediately report to medical facilities if any side effects are discovered.
The National Expanded Program on Immunization and MoH will closely work with WHO and international health agencies to verify information about the link between blood clots and the vaccine.
MoH will continue to take necessary measures so that Vietnamese citizens are safely vaccinated against Covid-19, contributing to soon stamp out the disease.
Vietnam aims to secure around 150 million doses this year to cover 70 percent of its 98 million population from the EU, U.S., Japan, China, India, and Russia.
The country also approved Russia's Sputnik V Covid-19 vaccine for use.
A total of 2,429 Covid-19 patients in the country have been given the all-clear so far, while the death toll remains at 35. Among patients still under treatment, 22 have tested negative for SARS-CoV-2 once, 11 twice and 17 thrice.
Meanwhile, 36,971 people who had close contact with Covid-19 patients or arrived from pandemic areas are under medical monitoring nationwide, with 516 in hospitals, 20,830 in designated facilities, and 15,625 at their accommodations.