Vietnam Tourism Seizes 'Golden' Opportunity in Post-Pandemic Era
After nearly 2 months of fully reopening the border, Vietnam's tourism after the Covid-19 pandemic seems to be off to a good start.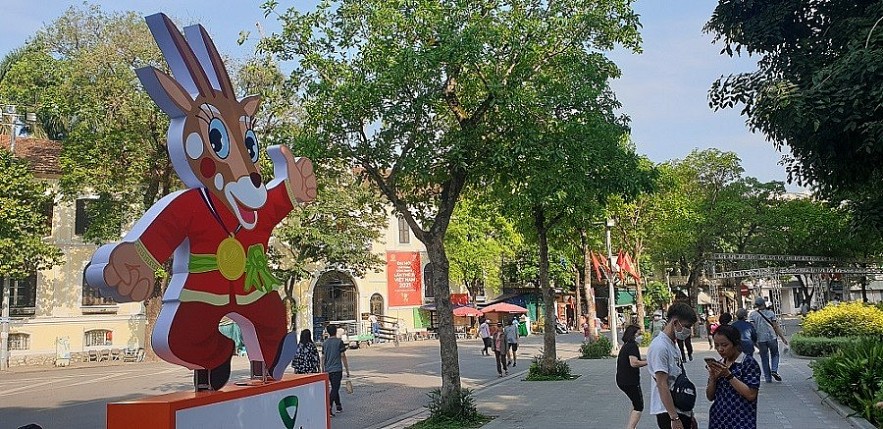 Preparations to welcome SEA Games 31 tourists in Hanoi. Photo: Hong Phuc
Since March 15, Vietnam has officially reopened. Ministries and agencies, from central to local levels, have made full efforts to open the door to international tourism safely and effectively, in accordance with the direction of the Prime Minister.
Creating favorable conditions
Since the reopening, officials continue to follow pandemic prevention regulations. Despite overcoming the pandemic, Vietnam is still vigilant in the fight against Covid-19.
According to statistics of the Vietnam National Administration of Tourism, international visitors to Vietnam in April 2022 were nearly 70,000 arrivals, an increase of 466.7 percent compared to March.
In the first four months of the year, Vietnam welcomed more than 92,000 visitors, an increase of nearly 90% over the same period, of which, there were more than 80,000 arrivals from the time of opening - March 15 until now.
The aviation industry also has "taken off" in recent months. Vietnam has lifted the restriction on operating frequency with international flights from February 15. This is considered important for Vietnam's aviation industry to gradually normalize operations, as it helps normalize international travel to the S-shaped land.
From April 15, the issuance of vaccine passports in Vietnam has been carried out nationwide. Individuals with sufficient vaccination information will be issued a vaccine passport.
The deployment of vaccine passports and foreign countries' recognition of Vietnam's vaccine passports are favorable conditions, "opening" the door to travel between Vietnam and countries around the world. That makes an important contribution to the policy of socio-economic recovery and reopening after the pandemic.
Efforts to "transform"
Currently, the tourism industry is focusing on rebounding from the pandemic, contributing to the goals set out in the 2022 socio-economic recovery and development program. Vietnam strives to welcome 5 million international visitors and serve about 60 million domestic tourists in 2022.
To achieve this goal, the tourism industry is determined to invest in renewing products, services, facilities, human resources, promotion, and digital transformation.
After Covid-19, Vietnam's tourism aims to improve the quality of tourism products; supplementing new products suitable to the new situation, paying attention to high-end resort, eco-tourism and health care products.
The destinations in Vietnam also improve their competitiveness and attractiveness after 2 years of being affected by the pandemic. Currently, the National Administration of Tourism is carrying out the campaign "Live fully in Vietnam", especially on digital platforms.
In the long term, the tourism industry will continue to propose the promulgation of practical policies, creating favorable conditions on the legal basis and digital transformation. This is so that tourism can recover and develop more sustainably, becoming a spearhead economic sector of the country.
Vietnam strives to welcome 5 million international visitors and serve about 60 million domestic tourists in 2022.
Tourism booms with SEA Games 31
Vietnam's tourism is expected to boom when the 31st SEA Games is held.
After 19 years, from 2003 to now, Vietnam has continued to host the SEA Games. This is the largest sporting event in the region, contributing to strengthening the solidarity and friendship among countries in the ASEAN region.
Taking place from May 5 to 23 in the capital Hanoi, 12 provinces and cities, the 31st SEA Games is considered a "golden" opportunity to introduce Vietnam's tourism to international friends.
To prepare for this sporting event, the tourism industry is strengthening communication to introduce the image, country and people of Vietnam to international friends.
"The government and the tourism industry are working hard to implement flexible reopening policies. We believe that from now until the end of 2022, when more international routes are resumed, the number of international visitors to Vietnam will increase."
Pham Quoc Quan, Sun Group chairman in the Southern Region
"Live fully in Vietnam" campaign. Video: Vietnam Tourism Board
On the website of the National Administration of Tourism, information about tours by provinces and cities that organize SEA Games 31 has also been posted.
After nearly 2 months of reopening, Vietnam's tourism is adapting flexibly, seizing every opportunity to make a breakthrough compared to other countries in the region.
With the joint efforts of ministries, localities and businesses, the image of a safe, attractive and friendly country in the new normal has become a strong point to attract international tourists to Vietnam.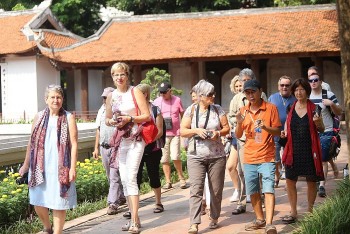 National
Vietnam News Today (May 24): Covid-19: Vietnam records 1,179 new cases, 3,862 recoveries on May 23; Foreign arrivals soar two months after border reopening; Vietnam, Cambodia boost defense ties; Heavy rain floods parts of northern Vietnam.